Ultra crispy chicken wings are coated in sweet, tangy, smoky easy homemade Jing Du style sauce will guarantee you can't stop licking those fingers.
JING DU STYLE CHICKEN WINGS
The inspiration of this crispy Peking chicken wings came from the famous Jing Du spare ribs coated with sweet, tangy, and smoky Jing Du sauce. Some call this as Peking ribs, even though it isn't originally from Beijing.
WHAT IS JING DU SAUCE
Jing Du sauce is quite different from Peking sauce that eaten with Peking roast duck. Peking sauce is made with sweet bean paste (tian mian jiang), sugar, and sesame oil. Though I must tell you that people from Beijing aren't very familiar with this version of Peking sauce. I think this is more of an adaptation for Chinese American cuisine. Most of the time though, people substitute tian mian jiang with hoisin sauce, which is somewhat similar, but I feel like hoisin sauce is sweeter compared to tian mian jiang.
Jing Du sauce has a sweet, tangy, and smoky profile in it.
HOW TO MAKE JING DU SAUCE
Jing Du sauce is made usually made with Shaoxing wine, Worcestershire sauce, sugar, ketchup, dark soy sauce. I also added Chinese black vinegar and also a bit of plum sauce and it turned out amazing. So the color of my Jing Du sauce is a bit darker compared to the usual more reddish Jing Du Sauce.
Here's how you can easily make the sauce:
1. Combine all the sauce ingredients in a saucepan or wok


2. Cook over medium heat until it starts to bubble and the sugar melts and the sauce will start to thicken a bit


3. The sauce should be slightly thickened but it can coat the back of the spoon or spatula

WHY I USE CORNSTARCH TO FRY THE CHICKEN
Starch like cornstarch is very commonly used for deep frying compared to wheat flour in Asia. I've learned from Cook's Illustrated that cornstarch contains higher percentage of amylose and amylopectin starch molecules compared to regular wheat flour. Those two starches that form crosslink and reinforce the coating structure and provide you with that crispiness.
HOW TO MAKE REALLY CRISPY CHICKEN WINGS
It's no longer a secret that double frying the chicken wings (or pretty much anything) will really give you that extra crispiness.
1. Marinade the chicken
Marinade the chicken in wine, sugar, a bit of cornstarch for at least one hour or overnight if you have the time


2. Preheat cooking oil in a deep pot, about 2-inches deep of oil
3. Coat the marinated chicken in cornstarch. Shake off any excess


4. First frying: To cook the chicken
Preheat the oil to about 300 F (if you have deep-fry thermometer). We will fry the chicken over medium heat, about 8-10 minutes or until the chicken is cooked through (no longer oozing out blood). The purpose of the first frying is to cook the chicken. They won't get really crispy just yet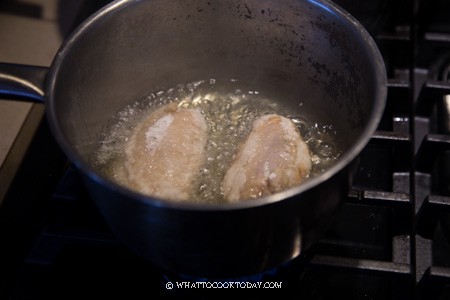 5. Place the fried chicken on an absorbent paper towel and continue to fry in batches


6. Let them cool down a bit before you go for the second frying
7. Second frying: To crisp the chicken
Bring the oil back up to heat again to 375 F. Fry the chicken wings in batches again for the second time, about 4-5 minutes. Place them on a rack to cool down slightly before proceeding to the next step. In fact, you can keep them warm in the oven and toss into the sauce just before serving


8. Toss the chicken wings back to the Jing Du sauce you prepared earlier

Here's just to show you how the chicken wings look like before being smothered in the Jing Du Sauce.

Here's all coated with Jing Du sauce and garnished with some chopped green onion for some color contrast.

The family loves the sweet, tangy, and smoky version of Jing Du sauce. The addition of Chinese black vinegar and plum sauce really adds a nice tartness and sweetness to the sauce, which is perfect for a fried chicken wings like this.
Seriously fingers licking good and the chicken stays crispy so much longer too.


Will you please excuse me and my sticky fingers?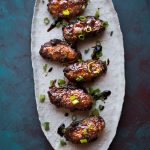 Twice-fried Crispy Chicken Wings with Jing Du Sauce
Ingredients
Garnish:
1

stalk

green onion

finely chopped
Instructions
Marinade the chicken wings:
Marinade the chicken wings with marinade ingredients for at least 1 hour or overnight if you have the time
Prepare the sauce:
Combine all ingredients for Jing Du sauce in a bowl and set aside
First frying:
Preheat about 2-inch of cooking oil in a deep pot over medium heat. If you have deep fry thermometer, it should read about 300 F

Coat the chicken wings in the cornstarch evenly

Fry over medium heat for about 8-10 minutes until pale brown. Don't overcrowd the fryer and fry in batches

Remove the fried wings to an absorbent paper towel or set up a rack over a baking sheet to place the chicken to let excess oil drip. Let them cool down while you cook the sauce
Cook the sauce:
Pour the Jing Du sauce into a wok/skillet

Bring to a boil and then lower to let it simmer until sugar dissolves

The sauce thickens slightly
Second frying:
Bring the oil back to heat, a higher temperature this round, 375 F. Fry the chicken wings for the second time, about 5 minutes. The chicken wings will be golden brown and crispy this round

Remove to place on a cooling rack. Keep them warm in the oven until you are ready to toss them in a sauce
Toss the fried wings in the sauce:
Toss the fried wings in Jing Du sauce to make sure they are coated. Garnish with chopped green onion and serve immediately
Nutrition
Serving:
2
wings
|
Calories:
189
kcal
|
Carbohydrates:
6
g
|
Protein:
12
g
|
Fat:
13
g
|
Saturated Fat:
3
g
|
Polyunsaturated Fat:
3
g
|
Monounsaturated Fat:
5
g
|
Cholesterol:
46
mg
|
Sodium:
186
mg
This blog post contains affiliate links. I earn a small commission when you made purchase at no extra cost to you. Learn more.