These gluten-free, vegan, soft and chewy dumplings are served in palm sugar syrup and coconut sauce. Something so simple but so satisfying at every level!
This dessert is called bubur biji salak in Indonesia. Bubur means porridge/congee in Indonesian. They are called as biji salak because of the shape resemblance to the seeds found in the middle of snake fruits (Salak). This fruit is native to Indonesia, but you can find them across Southeast Asia. Honestly though, I do not like to eat snake fruits. They are pretty well loved by most locals though. I guess just like durian, salak is not my thing. Though durian and salak are totally not related and different in taste. These are the two fruits I don't like.
But this bubur biji salak is not made with snake fruit. It's just the name because of the shape resemblance like I mentioned earlier. Something so simple though, is seriously so satisfying in every level. Perhaps because I grew up with this. In case you haven't noticed, lots of cooking, baking, and dessert in Southeast Asia has coconut milk/cream in them.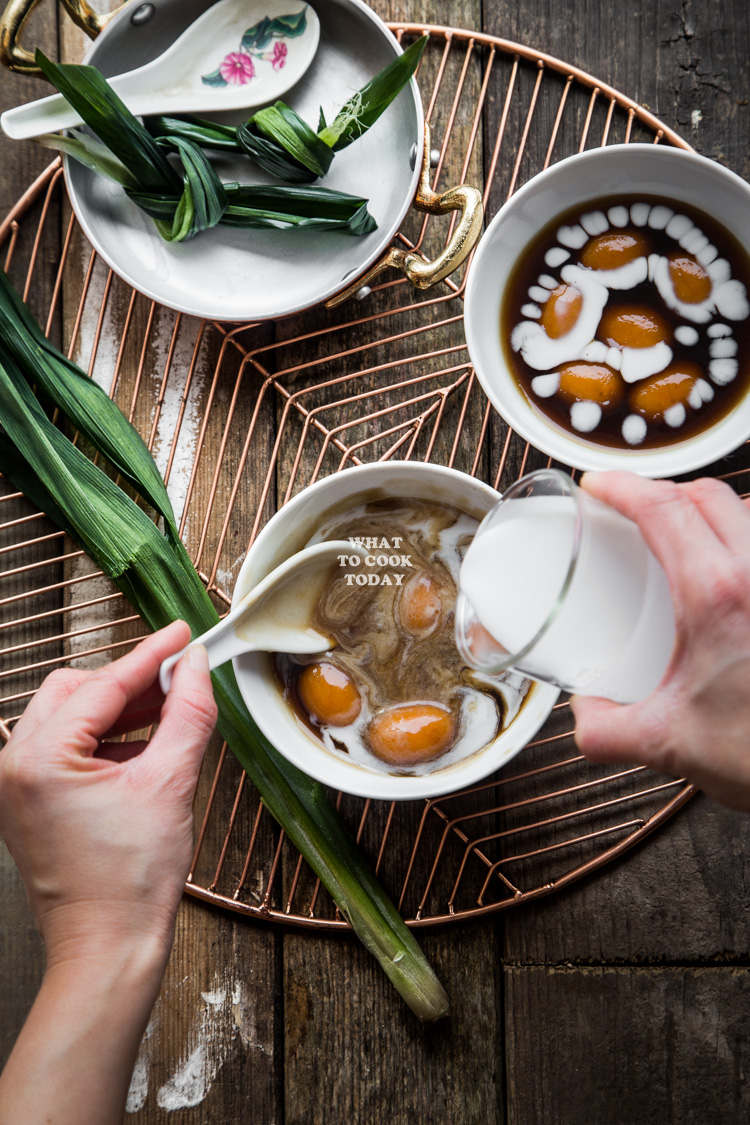 These bubur biji salak is not overly sweet, but just the right amount to be called dessert and to satisfy that craving for sweets

Kolak Biji Salak (Sweet Potato Dumplings with Coconut Sauce)
These gluten-free, vegan, soft and chewy dumplings are served in palm sugar syrup and coconut sauce. Something so simple but so satisfying at every level!
Total Time:
1
hour
23
minutes
PIN RECIPE
PRINT RECIPE
Ingredients
Sweet potato dumplings:
500

gr

sweet potatoes (peeled)

250

gr

tapioca flour

more or less depending on the water content in your sweet potatoes

1/2

tsp

salt

Warm water as needed

see notes
Syrup:
1200

ml

water

3

pandan leaves

knotted

200

gr

coconut sugar

palm sugar/dark brown sugar

1/2

tsp

salt

45

gr

tapioca starch/flour + 3 Tbsp of water
Instructions
Make biji salak:
Cut the sweet potatoes into large cubes and place in steamer and steam for about 15-20 minutes over high heat until fork-tender. Drain off some water after steaming if any. Mashed the sweet potatoes while still warm with a fork or you can put it in a blender or use an immersion blender to blend until smooth

Sprinkle in the salt and tapioca starch and knead the dough with your hand until you can get a smooth dough.  If it feels a bit dry, you can add a bit of warm water, likewise, if it's too wet, add a bit more tapioca flour. Roll the dough into an oval shape about 2 inches in size
Prepare sugar syrup:
While the sweet potatoes are steaming, prepare a medium to large pot and pour in 1200 ml of water. Bring to a boil and then add in the sugar, pinch of salt and pandan leaves. Lower the heat to let it gently simmer for 15 minutes and keep it warm on very low heat while you are preparing the rest
Prepare coconut sauce:
In another small saucepan, add in the coconut cream, water, and salt and let it heat on low heat for about 15 minutes. Do not boil the coconut cream. Turn off the heat and set aside
Cook the biji salak and thicken the syrup:
When ready to serve, place the sweet potato dumplings in the syrup. Bring it to a gentle boil and cook until the sweet potato dumplings float to the top. Give the tapioca flour + water mixture a stir and pour it in and continue to stir. The syrup will thicken and get shiny and start to bubble. Remove from the heat
How to serve:
This dessert can be served warm or room temperature. Ladle some sweet potato dumplings along with the thickened syrup into a serving bowl and drizzle with a generous amount of coconut cream sauce and enjoy!
Notes
The amount of water depends on the sweet potatoes. You may not need much to be able to make a dough or you may need a bit more water.

You might like Bubur Sum Sum (Indonesian sweet coconut rice porridge) too 😉
[disclosure]