Savory Meat-Stuffed Tang Yuan – Soft and chewy glutinous rice balls are stuffed with savory ground meat and served with pork ribs and shiitake mushroom soup made with Instant Pot

Christmas is just a few weeks away. Winter Solstice festival (Dong Zi) is usually on December 22, but this year it's on December 21. I posted Tang Yuan with Lava Peanut Filling recipe few days ago. I need to share this Hakka Savory Meat-stuffed Tang Yuan too.

My mom never actually cooked Savory Tang Yuan before because she doesn't like savory versions. My paternal grandmother always prepares Hakka Savory Tang Yuan every year for Winter Solstice festival. I used to not like it as much too as a kid. I thought it's weird to eat savory tang yuan because mom always made the sweet version like THIS and THIS.


They say "Absence makes the heart grows fonder" is how I would describe why I made this Hakka Savory Meat-Stuffed Tang Yuan 🙂 I supposed I'm also on a mission to expose my kids to as many foods that I grew up eating as I can so that at least they won't become total aliens when it comes to Asian and Southeast Asian food.


My mom usually does not use hot water to prepare the tang yuan dough, however, with tang yuan that is filled with either savory or sweet filling, it's easier to work with the dough when they are mixed with hot water. It makes them more pliable and easier to stretch when you wrap the dough around the filling.


These Hakka Meat-stuffed tang yuan look like Asian fish balls, but they do not taste like one. Asian fish balls are usually springy and firm. These are soft and chewy. If you have an instant pot, making this is even more convenient.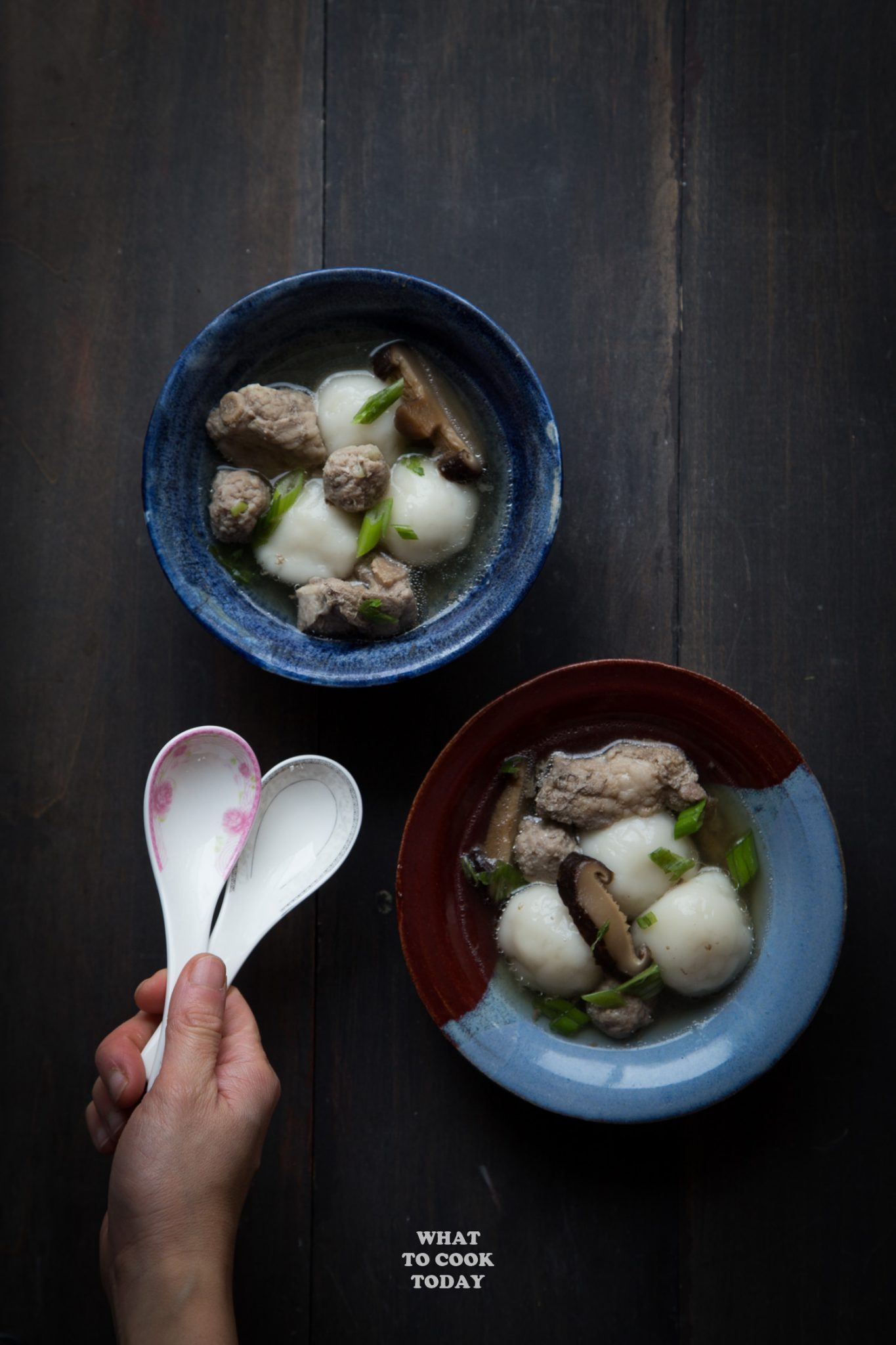 *Recipe is written for 6-quart Instant Pot. Cooking time should remain the same for 8-quart size but will take longer to pressurize. For mini duo (3-quart), I suggest to half the recipe and use the same amount of time to cook*
Hakka Savory Meat-Stuffed Tang Yuan
Ingredients
Filling for tang yuan:
100

gr

ground/minced pork

with some fat

1

egg yolk

1

tsp

cooking wine

1

tsp

sesame oil

1

tsp

cornstarch

½

tsp

salt

small pinch

¼

tsp

sugar

small pinch
Garnish:
1

stalk

green onion

finely chopped
Instructions
Prepare the filling:
Place all ingredients for filling in a mixing bowl. Stir to mix everything into a meat paste in one direction with a chopstick. Pinch off a small amount and cook in boiling water and have a taste. Adjust seasoning as needed. Cover and let marinate in the fridge for 30 minutes. Roll into 28 meatballs
Prepare tang yuan:
Place the flour in a large mixing bowl. Start with 100 ml of hot boiling water (make sure it's really hot) and stir with a spoon and when it's not too hot anymore, knead with your hands until you get a non-sticky dough that is soft and pliable. If it's too dry, add a bit more water, it shouldn't be too wet that it sticks to your hands or bowl but you should be able to form a smooth stretchy though that is easy to work with without breaking

Divide the dough into 4. Work with one dough at a time while keeping the rest covered, knead the dough again. Divide the dough into 7 equal pieces and place them on a plate and cover with cling wrap to prevent from drying. Repeat with the white dough. Once you have those, take one dough and flatten with your palm and stretch it to about 4-inch in diameter. Take the meatball and place it in the middle of the dough. Gather the side of the dough and shape into balls and roll them in between your palms to make it round. Cover with a cling wrap. Repeat with the rest of the dough
Cook tang yuan:
Bring a large pot of water to a rolling boil. Cook the tang yuan until they float to the top and let them cook for another minute and then scoop them up and put them in a bowl of room temperature water to prevent them from sticking to each other
Prepare the soup (with instant pot):
Place the ribs, shiitake mushrooms, and dried shrimp in the insert of instant pot. Add 6 cups of water. Close the lid. Press pressure cook, high pressure and set the time to 15 minutes (12 minutes will do to, but 15 minutes make the ribs really fall off the bone soft). Do 10 minutes natural release after that. Scoop up scum if any. It's pretty minimal when I cook with instant pot. Season with salt to your taste
Prepare the soup on stove-top:
Blanch the pork ribs in boiling water for 5 minutes. Clean the pot and then place the ribs back in the pot followed by dried shrimp and shiitake mushrooms. Add 6 cups of water. Bring to a boil and then lower the heat to simmer. Close the lid and let it cook for about 30-45 minutes or until ribs are tender. Season with salt to your taste
Putting everything together:
Portion out the tang yuan into an individual serving bowl. Ladle the hot soup over the tang yuan and portion out some ribs and mushrooms. Garnish with chopped green onions and serve immediately
Notes
If you have extra ground meat, you can make them into meatballs for the soup too
Recommended products:
CHECK OUT THESE OTHER TANG YUAN RECIPES:
PUMPKIN TANG YUAN
TANG YUAN WITH LAVA PEANUT FILLING
TANG YUAN (WITH NATURAL COLORS)
SAVORY TANG YUAN WITH FISH MAW SOUP