Soft and chewy colorful Tang Yuan or known as wedang ronde in Indonesia are served in sweet ginger broth and made with only natural colors. Naturally vegan and gluten-free.
Happy Dongzhi festival to all of you who are reading this and celebrating it. Dongzhi is a celebration of the arrival of winter. We call it Tang Chek in Hokkien dialect. In Indonesia, tang yuan is known as wedang ronde. I don't like winter, but I'm all about celebrating with food 😉 I talked at length about this celebration here if you are interested in reading. Tang Yuan is usually made as part of this celebration, though my mom made them for Chinese New Year and our wedding a few years ago too.
Like I've mentioned many times probably that the Chinese love anything in "round" shape which signifies the union in this case. The family gathers together in this event. I'm thousands of miles away from home, but I've been making tang yuan every year for my kids so that they are familiar with this celebration too.
TANG YUAN / WEDANG RONDE IS EASY TO MAKE
You only need glutinous rice flour, water, and food coloring (if you choose to use). However, if you just mix the flour with water, you will have a hard time rolling the dough into little balls. They crack so easily that it's frustrating. Read below to see what I do to make the dough easier to handle.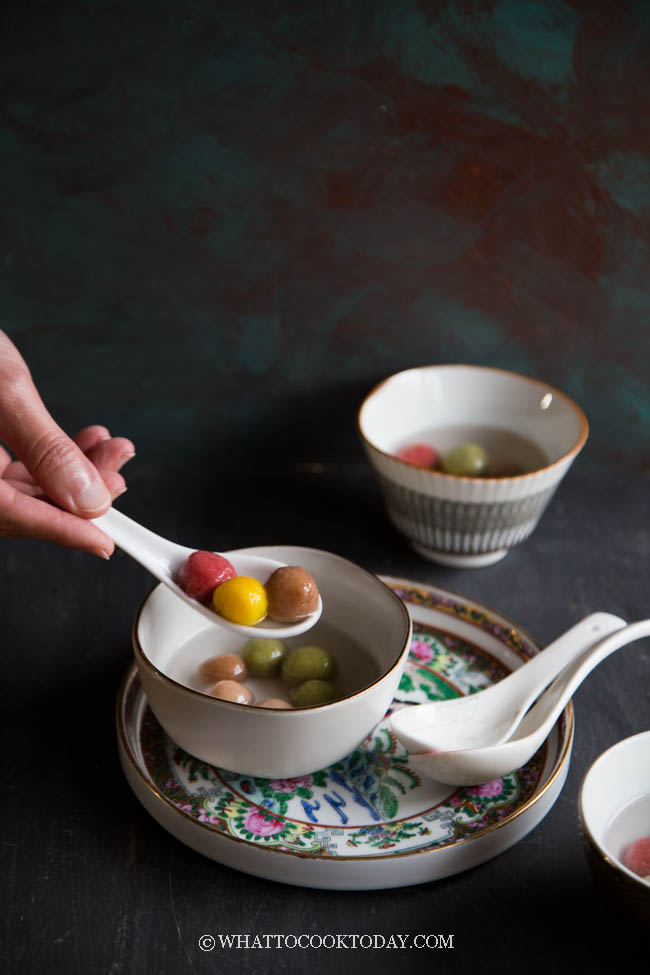 DIFFERENCE BETWEEN YUAN XIAO AND TANG YUAN
There's another version of glutinous rice ball known as yuan xiao. Many people think that yuan xiao and tang yuan are the same thing. They are similar but different. Yuan xiao also has the same appearance as tang yuan, however, the making of yuan xiao is different from tang yuan. With yuan xiao, the filling, which usually rolled into round balls, need to be solid or firm enough because they will be dipped in water and then roll in glutinous rice flour until fully coated and has thick enough coating. Where as tang yuan, we prepare the dough and the filling separately. The filling is then wrapped with the dough. Yuan xiao is best prepared and eaten on the same day as they cannot be kept as they will crack if refrigerated. Tang yuan can be made ahead and kept frozen.
WHY YOU WILL LIKE THIS TANG YUAN RECIPE
1. Natural colors
Instead of using artificial food coloring, you can use powdered flavors such as matcha powder, cocoa powder, cinnamon powder, turmeric, etc to color tang yuan.
2. Dough is easy to handle
I've tried adding agar agar and also I've tried cooking half of the dough and then mixed with the flour and while all those work to make the dough easier to handle, they are a bit more work and not everyone has agar agar powder too. In this simplified version of the recipe, I only use hot boiling water and it makes the dough very easy to work with and pliable and less likely to crack when you roll them into balls.
3. Can be made ahead
I have made this in a bigger batch and then freeze them and they can be kept for up to 3 months. So I can have freshly cooked tang yuan whenever I want.
HOW TO MAKE TANG YUAN / WEDANG RONDE WITH NATURAL COLORS
1. DECIDE HOW MANY COLORS YOU WANT TO MAKE
If you want to make 4 different colors, divide the amount of flour, sugar, in the recipe into 4. Mix the flour, icing sugar, and powdered flavor (if using) for each. I used cocoa, turmeric, matcha, and red yeast rice powder in this photo.


2. MAKE THE DOUGH
Add about 25 ml of hot boiling water into each of the flour mixture and stir to mix with a spoon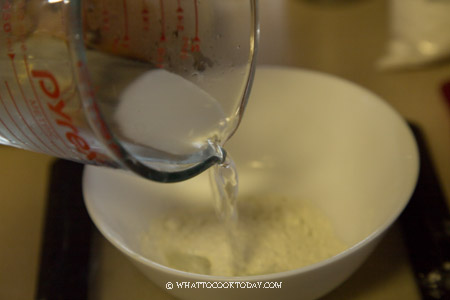 Then use a clean hand to mix and knead into a non-sticky dough. Add hot water as needed to form a dough. The dough will be soft and pliable because of the hot boiling water/juices.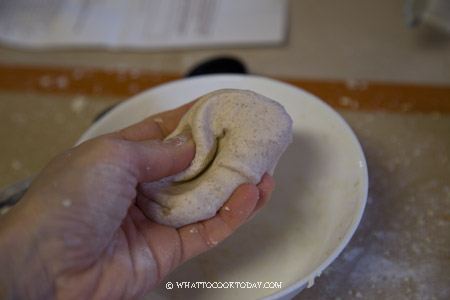 Cover them with plastic wrap and work with one dough at a time to prevent them from drying out
3. SHAPE THE DOUGH
Separate the doughs into small doughs (probably about 15-20 small doughs) and then roll into small balls.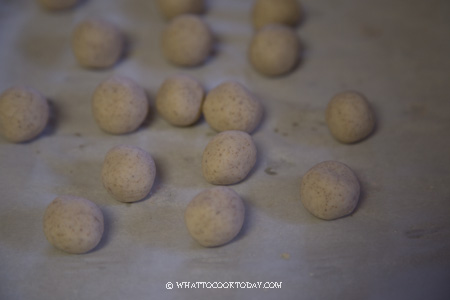 4. COOK THE DOUGH
Bring a large pot of water to a boil. When they are rolling boil, add the tang yuan balls and cook until they float to the top. Use a slotted spoon to remove them from the pot and submerge them in a fresh water briefly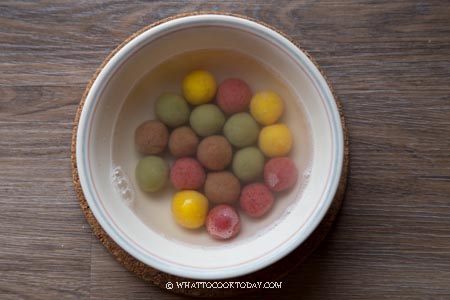 5. SERVE
Portion out the cooked balls into serving bowls and ladle the sweet ginger soup over it and serve.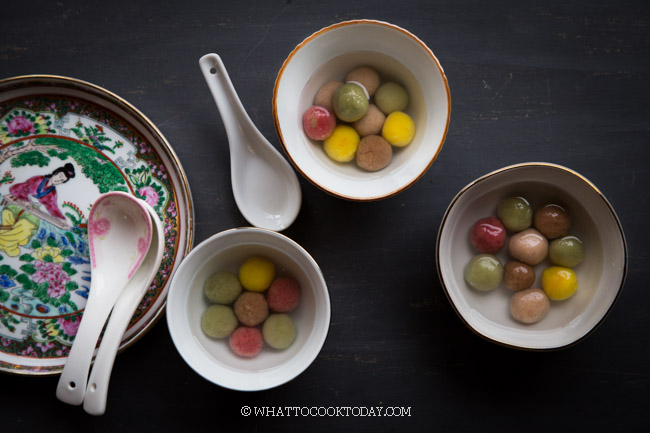 HOW TO STORE COOKED TANG YUAN
Cooked tang yuan will harden when they are kept in the refrigerator. Keep them in a container in a fresh water for up to 2 days max. You can reheat them on the stove in a boiling water to soften and then serve them with sweet ginger soup.
HOW TO STORE UNCOOKED TANG YUAN
Place the small dough balls on a baking sheet lined with parchment paper, not touching each other. Put them in the freezer for 15 minutes and then transfer to a freezer bag, they won't stick to each other anymore. They can be kept in the fridge for up to 3 months. Do not thaw and they go to hot boiling water to cook until heated through.

DIFFERENT VARIATIONS OF TANG YUAN
1. Tang yuan with sweet fillings
A few years ago, my mom made some with peanut fillings, which is very delicious and not hard to make too.
2. Savory tang yuan
Last year I made savory versions served in fish maw broth! and Hakka-style stuffed with minced meat inside.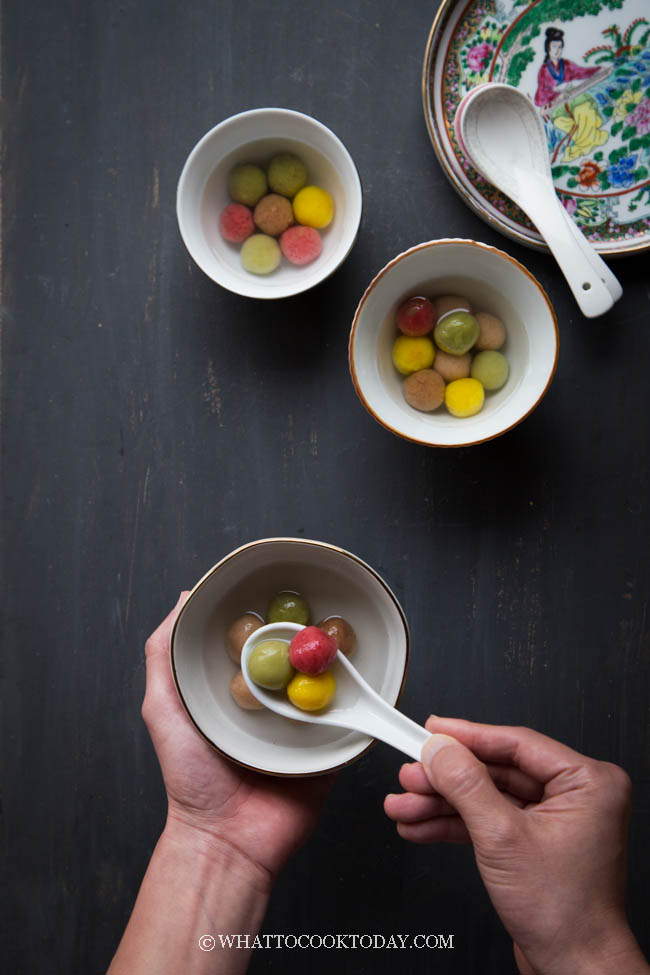 DID YOU MAKE THIS DONGZHI TANG YUAN WITH NATURAL COLORS RECIPE?
I love it when you guys snap a photo and tag to show me what you've made 🙂 Simply tag me @WhatToCookToday #WhatToCookToday on Instagram and I'll be sure to stop by and take a peek for real!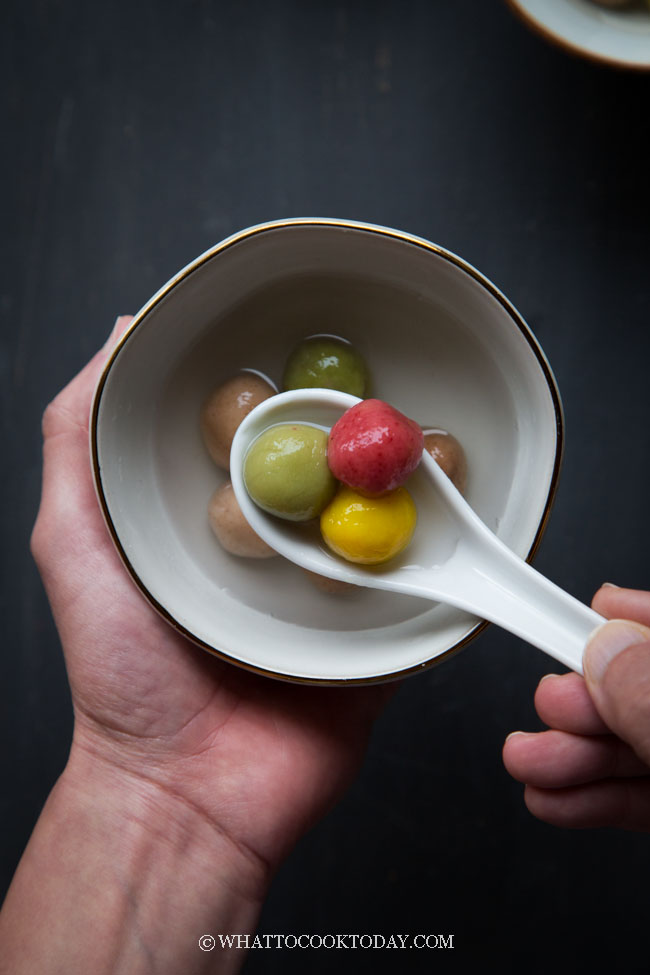 Tang Yuan (Sweet Glutinous Balls Dessert) - Wedang Ronde
Ingredients
The sweet ginger broth:
4

cups

water

50

gr

fresh ginger

thinly sliced

100

gr

brown sugar

more or less according to your taste

3

screwpine leaves /pandan

knotted
Instructions
Prepare the sweet ginger broth:
Bring 4 cups of water to a boil. Add in ginger, screwpine leaves, and sugar. Bring it back to a boil and then lower the heat to let it simmer for about 30 minutes. Have a taste and add more sugar to your taste
Make the dough:
Weigh 50 gr of glutinous rice flour and 10 gr of icing sugar each, and powdered flavors to color (if using), into 4 different mixing bowls (for 4 different colors). Whisk to mix

Add 25 ml of hot boiling water into each of the flour mixture and stir to mix with a spoon and then use a clean hand to mix and knead into a non-sticky dough. Add hot water as needed to form a dough. The dough will be soft and pliable because of the hot water. Cover them with plastic wrap and work with one dough at a time to prevent them from drying out
Shape the dough:
Separate the doughs into small doughs (probably about 15-20 small doughs) and then roll into small balls. You should have no problem with the dough breaking because the dough is so soft and pliable. Keep the small balls covered with plastic wrap too. Continue with the rest
Cook the tang yuan:
Bring a large pot of water to a boil. When they are rolling boil, add the tang yuan balls and cook until they float to the top and let them cook for another minute. Use a slotted spoon to remove them from the pot and submerge them in a fresh water briefly
Serve:
Portion out the cooked balls into serving bowls and ladle the sweet ginger soup over it and serve
How to store cooked tang yuan:
Cooked tang yuan need will harden when they are kept in the refrigerator. Keep them in a container in a fresh water for up to 2 days max. You can reheat them on the stove to soften and then serve with sweet ginger soup
How to store uncooked tang yuan:
Place the small dough balls on baking sheet lined with parchment paper, not touching each other. Put them in the freezer for 15 minutes and then transfer to a freezer bag, they won't stick to each other anymore. They can be kept in the fridge for up to 6 months. Do not thaw and they go to hot boiling water to cook until heated through
Recommended products:
You might also like these tang yuan recipes:
HAKKA SAVORY MEAT-STUFFED TANG YUAN
SAVORY GLUTINOUS RICE BALLS IN FISH MAW SOUP (TANG YUAN)
PUMPKIN TANG YUAN
TANG YUAN WITH LAVA PEANUT FILLING