Make soft and chewy tang yuan served in savory soup with chicken, fish maw and mushrooms.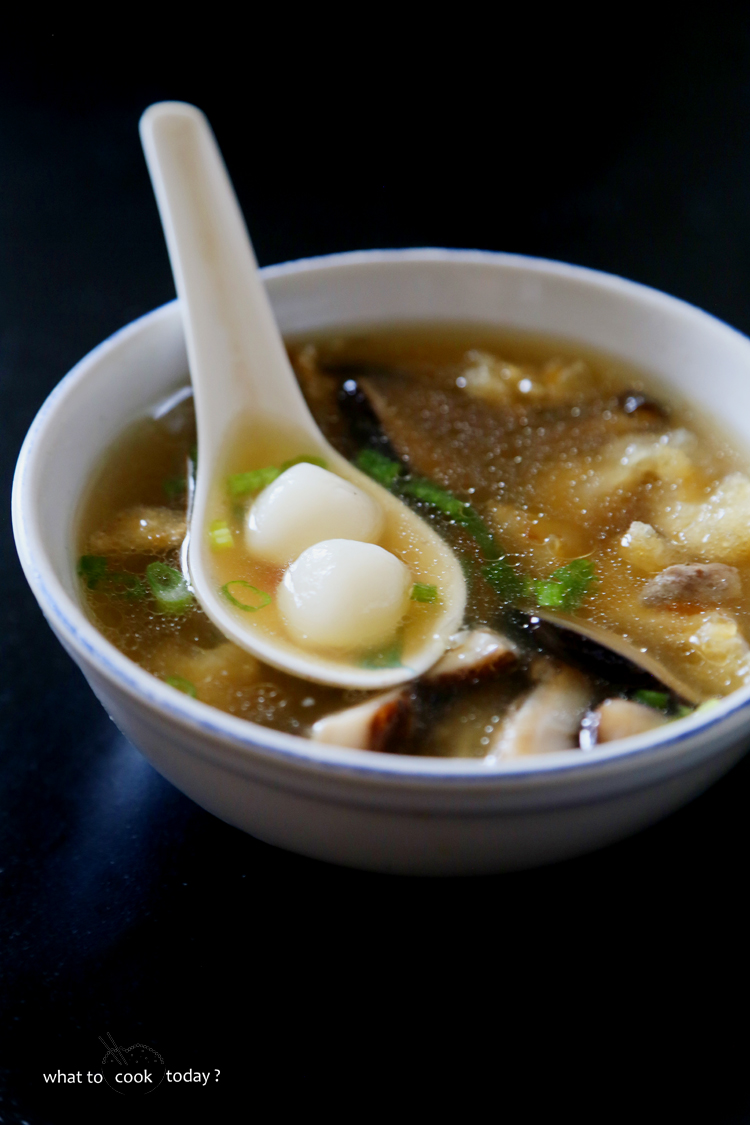 The DongZhi festival or known as winter solstice celebration is around the corner. I talked about it in my other post on glutinous rice ball with peanut fillings. It's one of the significant celebrations in the Chinese tradition.
I loved making tang yuan since I was a little kid. So, I really wanted my kids to know about this culture too. They are still young to really understand what it's all about, but they sure had fun helping me shaped the little balls. Honestly speaking, I had only had savory glutinous rice balls once in my entire life until this post. I had it because my grandma (my dad's side) made the savory tang yuan. My mom always made the sweet version. With all the Christmas cookies, baking that I did and got from friends, I decided we (or actually I) needed a little break from the sweets. After all, there's only so many sweets one can have – said no one ever! My sister got me some fish maw. I love to cook it in a soup. So, I decided to make a soup and throw in some tang yuan in there. It may sound weird, but I really enjoyed it, especially in this wintry weather.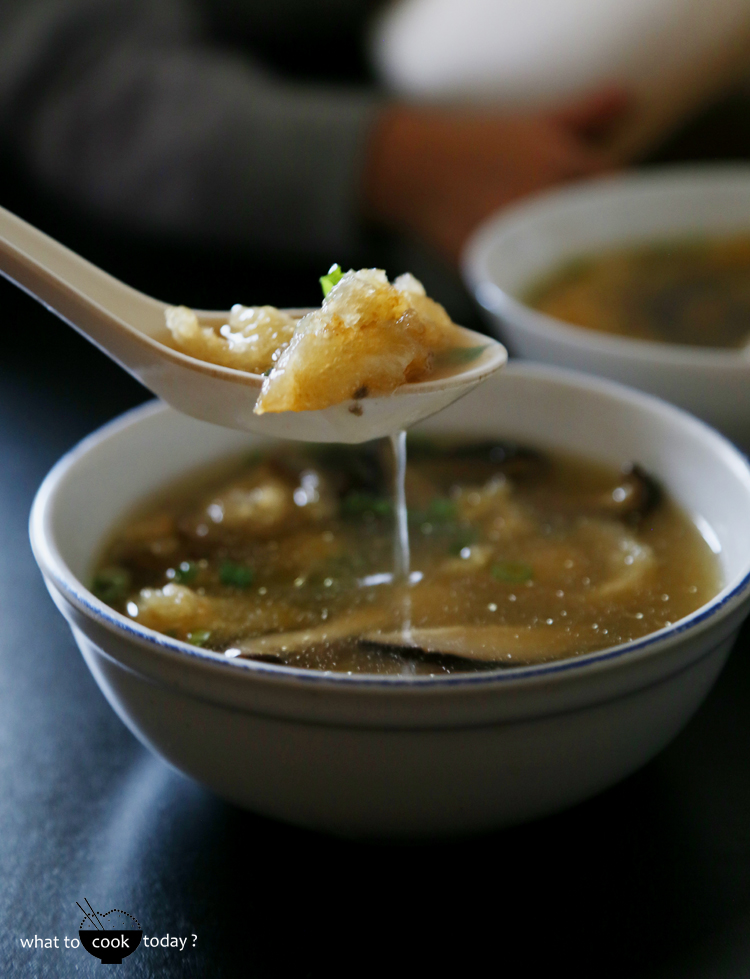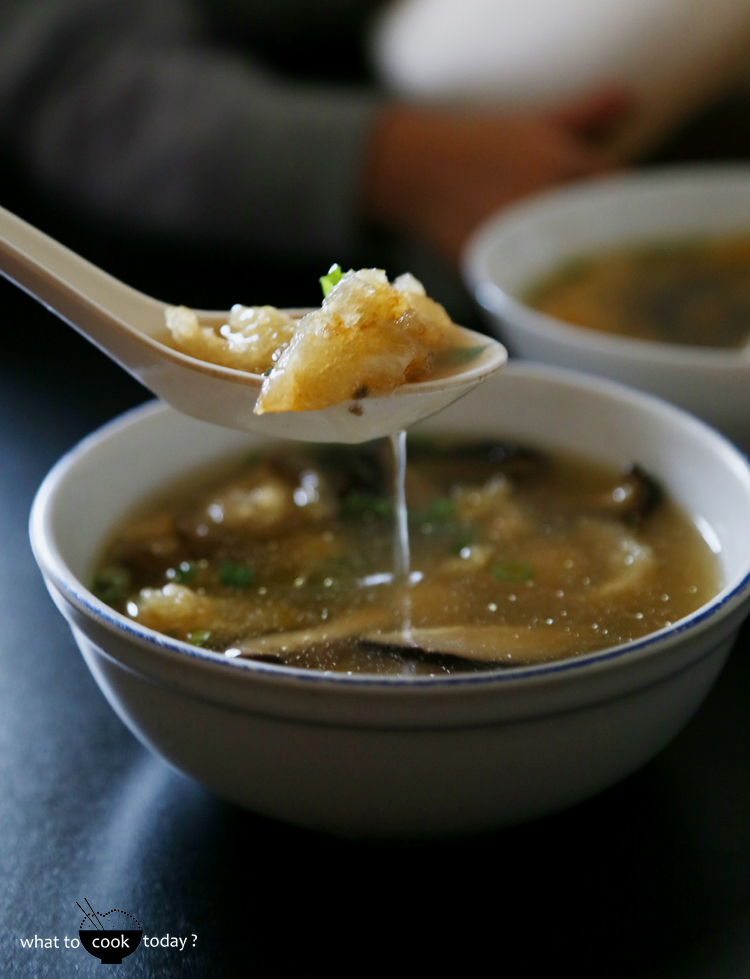 DID YOU MAKE THIS SAVORY TANG YUAN IN FISH MAW SOUP RECIPE?
I love it when you guys snap a photo and tag to show me what you've made 🙂 Simply tag me @WhatToCookToday #WhatToCookToday on Instagram and I'll be sure to stop by and take a peek for real!
Savory Tang Yuan in Fish Maw Soup
Ingredients
Fish maw soup:
30

gr

fried fish maw- cut into big chunks

soaked in hot water until soft - about 20-30 minutes

1

Tbsp

cooking oil

2

cloves

garlic

minced

1-

inch

fresh ginger

peeled and bruised to release flavor

2

boneless skinless chicken thighs

cut into small bite size

4

cups

chicken stock

4

shiitake mushrooms

soaked and sliced
Garnishes:
2

stalks green onion

finely chopped

Fresh cilantro leaves
Instructions
Prepare the dough:
Place the flour in a large mixing bowl. Gradually add in hot boiling water and stir with a spoon and when it's not too hot anymore, knead with your hands until you get a non-sticky dough that is soft and pliable. If it's too dry, add a bit more water, it shouldn't be too wet that it sticks to your hands or bowl

Divide the dough into 4. Work with one dough at a time while keeping the rest covered, knead the dough again. Pinch off some equal size of smaller dough and place them on a plate. It's up to you how big or small you want the tang yuan to be. Take one and roll into round balls. Repeat with the rest

Bring a large pot of water to a boil. When they are rolling boil, add in the glutinous balls and let them cook until they float to the top and let them cook for another minute. Use a slotted spoon to remove them and submerge them in cold/room temperature water briefly to prevent them from sticking to each other
Prepare the soup:
Preheat a large pot on high heat. Add the cooking oil. Add in garlic and ginger and saute until they are fragrant, about 30 seconds. Add the mushrooms and chicken pieces and continue to saute until fragrant and chicken turn opaque in color

Add the chicken stock and bring to boil. Lower the heat to let it gently simmer for about 30 minutes. Add the fish maw and continue to cook for another 10 minutes. Add seasonings and adjust to your taste. Be careful not to overcook the fish maw or they will be all mushy
When ready to serve:
Portion the glutinous rice balls in the bowl. Generously ladle the hot soup over with some fish maw, mushrooms and chicken meat. Garnish with some green onions and fresh cilantro leaves
YOU MIGHT ALSO LIKE THESE TANG YUAN RECIPES:
TANG YUAN / KUIH EE (WITH NATURAL COLORS)
PUMPKIN TANG YUAN
HAKKA SAVORY MEAT-STUFFED TANG YUAN
TANG YUAN WITH LAVA PEANUT FILLING