Soft and chewy tang yuan (glutinous rice balls) recipe with easy black sesame filling in sweet ginger broth is one of our family's favorites tang yuan. This is a healthier version without using any butter for the filling and it is still very tasty.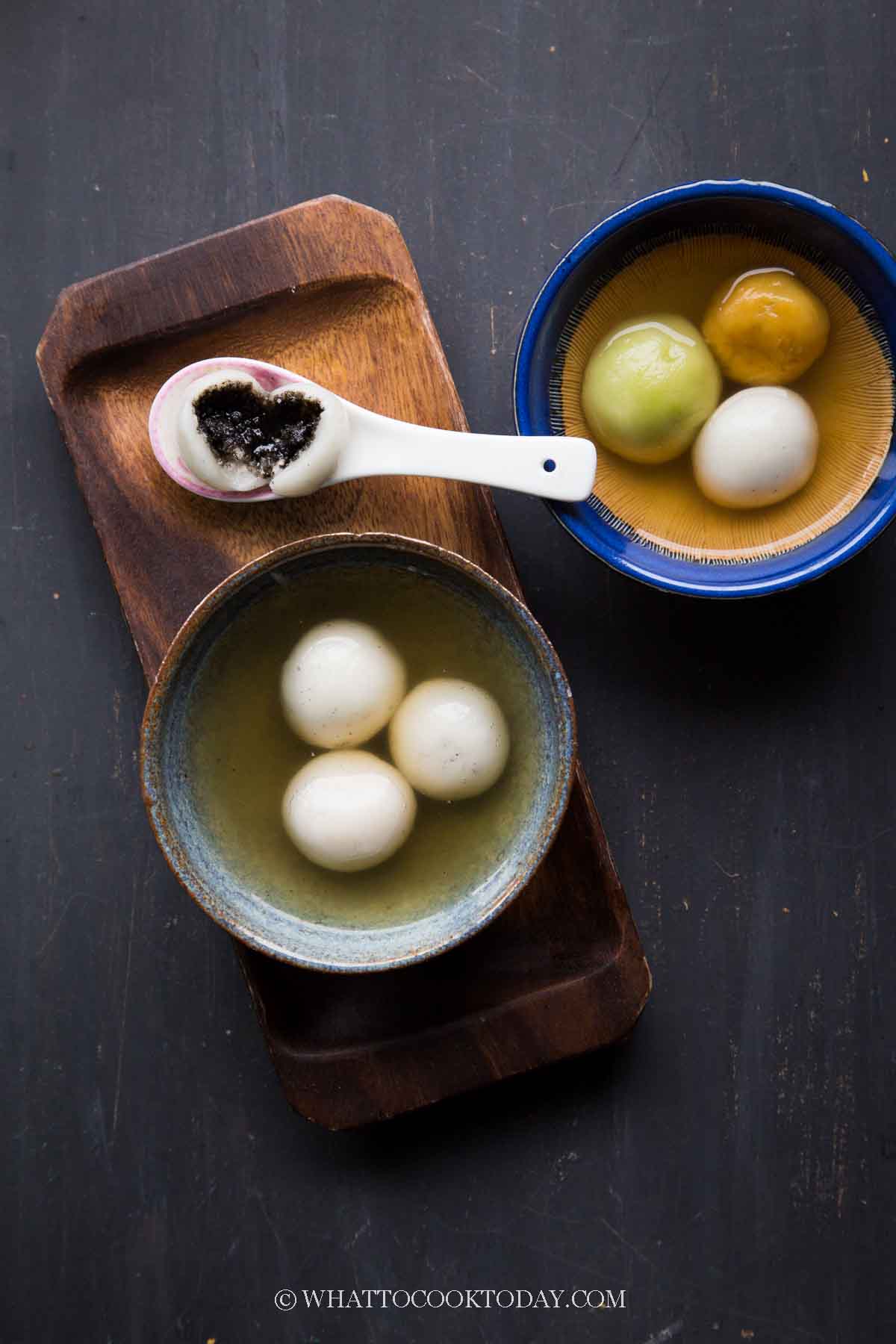 Black sesame tang yuan is one of my kids' favorites. They love the nutty and aromatic black sesame seeds. I never grew up with tang yuan filled with a sweet or savory filling. My mom usually makes the plain colorful tang yuan with no filling. We always had so much fun rolling the dough into small colorful balls too.
The recipe rundown
Taste: I love the lightly sweetened black sesame filling. Toasting the seeds definitely add some depth of flavor
Texture: The soft and chewy glutinous rice balls are just so addictive
Ease: Both the dough and filling are easy to prepare
Pros: The dough is easy to work with and doesn't tear easily
Black sesame seeds, black sesame powder, or black sesame paste
Some of you may ask which one of these can be used to make the black sesame filling. The recipe calls for toasted black sesame seeds, but if you can get black sesame powder or black sesame paste from the store, feel free to use them for convenience. You can also make your own black sesame powder or black sesame paste from black sesame seeds if you are interested. Simply omit the sugar if you use black sesame paste that has been sweetened.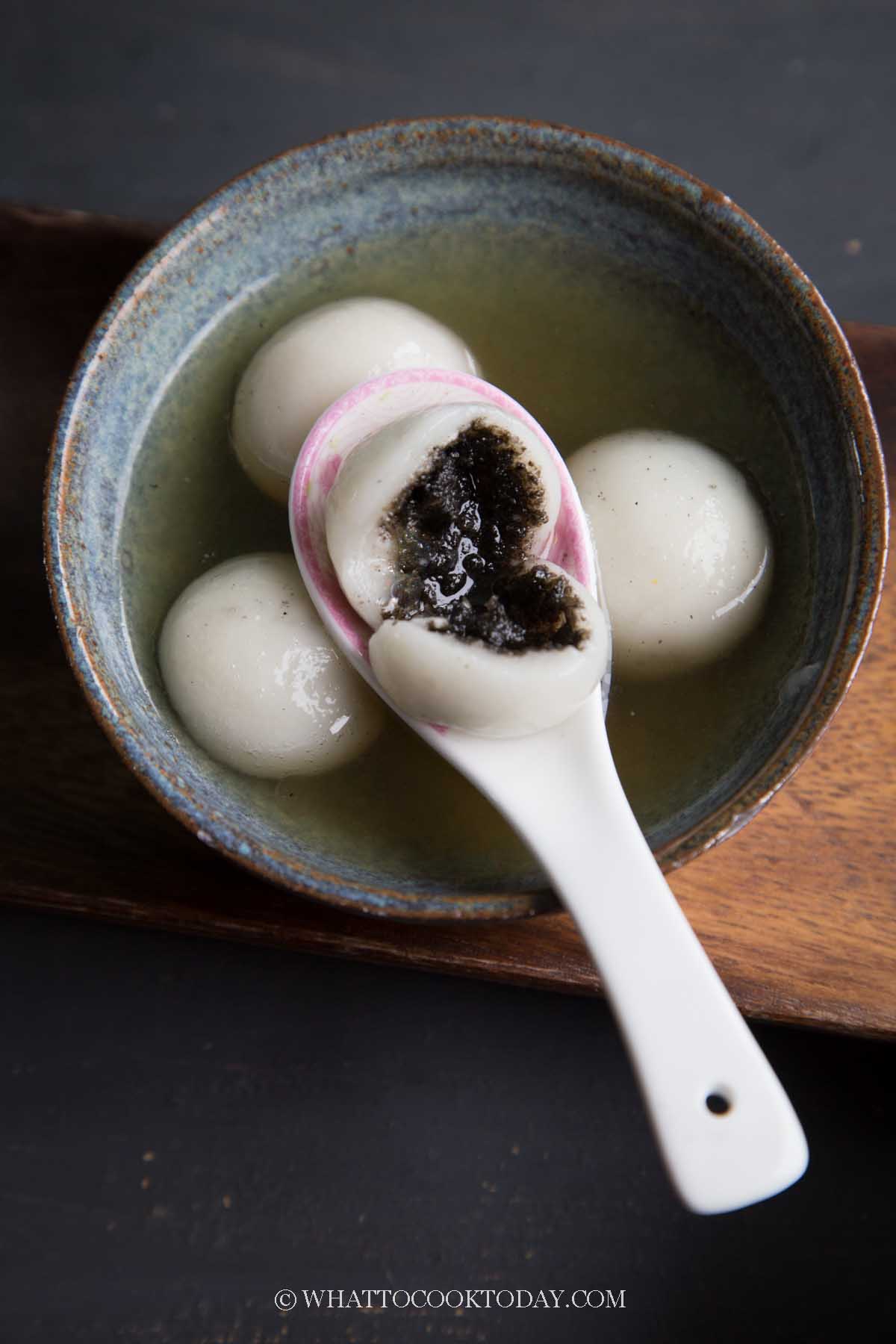 How to easily make black sesame tang yuan from scratch
1. Prepare the sweet ginger broth
Bring 4 cups of water to a boil. Add ginger, screwpine leaves, and sugar. Bring it back to a boil and then lower the heat to let it simmer for about 30 minutes. Have a taste and add more sugar if you like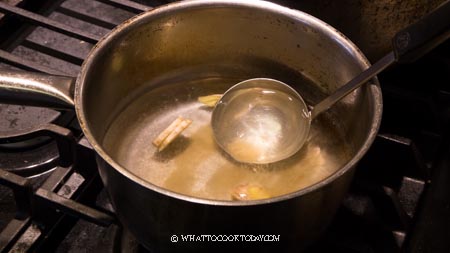 2. Prepare the filling
Mix black sesame seeds powder, sugar, and oil and stir until the mixture is combined and pasty. If you use black sesame paste, simply omit the sugar if the paste has been sweetened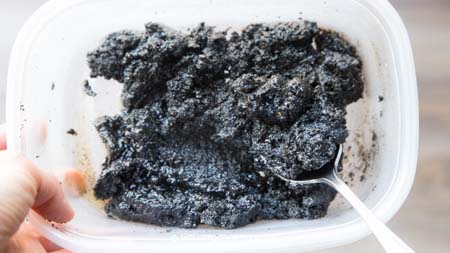 3. Prepare the dough
Place the flour and icing sugar in a large mixing bowl. Stir to mix. Start with 100 ml of hot boiling water (make sure it's really hot) and stir with a spoon and when it's not too hot anymore, knead with your hands until you get a non-sticky dough that is soft and pliable. If it's too dry, add a bit more warm water, it shouldn't be too wet that it sticks to your hands or bowl but it should be a smooth and stretchy dough. Sorry, I forgot to snap photos for this step, but you can see it in the video.
4. Shape and fill the dough
Bring a large pot of water to a boil to cook the tang yuan. Divide the dough into 28 portions. Work with 1 dough at a time and keeping the rest covered with plastic wrap or a damp cloth. Take one dough and make an indentation in the middle and stretch to form a bowl.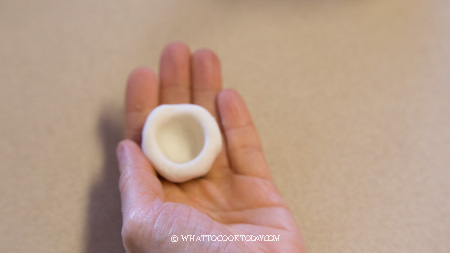 Fill the dough with a scoop of black sesame filling you prepared earlier. Gather the side of the dough and enclose it and roll them in between your palms to make it round


Make sure you seal the tang yuan nicely or the filling will leak out when you cook them. If the dough gets dry, dab with some water and then gently roll it smooth. Cover with plastic wrap and continue with the rest


5. Boil the tang yuan
When water comes to a rolling boil, add the tang yuan


Cook until they float to the top.


Use a slotted spoon to remove them and submerge them in a large bowl of water to prevent sticking. The water doesn't need to be ice cold. I just use regular room temperature water


6. To serve
Portion out the cooked tang yuan into serving bowls and ladle the sweet soup over it and serve immediately. Tang yuan can be served warm or at room temperature

Varieties
To make different colors using a powder: you can add 1 Tbsp matcha, beetroots, cocoa powder, etc when you mix the glutinous rice flour with icing sugar.
To make different colors using food coloring or essence/extract: You can use any food coloring or essence/extract like pandan or ube flavor.
To make different colors using pumpkin, sweet potatoes or other squash: You can follow this pumpkin tang yuan recipe and substitute the pumpkin with other mashed veggies of your choice and adjust the amount of water as needed.
Tips
1. Make sure the liquid you use for the dough is boiling hot. This is the key to make the dough soft and pliable and won't break easily when you shape and wrap the filling inside
2. Prepare the filling the day before if you plan ahead
3. Make sure you submerge the cooked tang yuan in water to prevent them from sticking to each other
How to store uncooked tang yuan
1. Place the shaped and filled tang yuan on a baking sheet lined with parchment paper
2. Place them in the freezer for 1 hour
3. Then transfer to a zip lock bag, push all the air out and seal
4. They can be kept in the freezer for up to 3 months
5. When ready to serve, bring water to a boil and you can cook them frozen without thawing. Cooking time may be longer when frozen
Did you make this black sesame tang yuan recipe?
I love it when you guys snap a photo and tag to show me what you've made 🙂 Simply tag me @WhatToCookToday #WhatToCookToday on Instagram and I'll be sure to stop by and take a peek for real!
Easy Tang Yuan with Black Sesame Filling (Healthier version)
Ingredients
Easy black sesame filling:
Sweet ginger broth:
4

cups

water

50

gr

ginger

100

gr

brown sugar

or use muscovado or coconut sugar for unrefined sugar

3

pandan leaves

knotted
Instructions
Prepare the sweet ginger broth:
Bring 4 cups of water to a boil. Add ginger, screwpine leaves, and sugar. Bring it back to a boil and then lower the heat to let it simmer for about 30 minutes. Have a taste and add more sugar if you like
Prepare the filling:
I bought toasted black sesame seeds so I don't need to toast mine anymore. If yours are untoasted, you can put them on a dry pan and toast them for 10-15 minutes over low heat until they smell nutty. Remove and let them cool down

Transfer to a food processor and pulse a few times until they turn into powder. Mix with sugar and oil and set aside
Prepare the dough:
Place the flour and icing sugar in a large mixing bowl. Stir to mix. Start with 100 ml of hot boiling water (make sure it's really hot) and stir with a spoon and when it's not too hot anymore, knead with your hands until you get a non-sticky dough that is soft and pliable. If it's too dry, add a bit more warm water, it shouldn't be too wet that it sticks to your hands or bowl but it should be a smooth and stretchy dough
Shape and fill the dough:
Bring a large pot of water to a boil to cook the tang yuan. Divide the dough into 28 portions. Work with 1 dough at a time and keeping the rest covered with plastic wrap or a damp cloth. Take one dough and make an indentation in the middle and stretch to form a bowl. Fill the dough with a scoop of black sesame filling you prepared earlier. Gather the side of the dough and enclose it and roll them in between your palms to make it round. Make sure you seal the tang yuan nicely or the filling will leak out when you cook them. If the dough gets dry, dab with some water and then gently roll it smooth. Cover with plastic wrap and continue with the rest
Boil the tang yuan:
When water comes to a rolling boil, add the tang yuan and cook until they float to the top and let them cook for another minute. Use a slotted spoon to remove them and submerge them in a large bowl of water to prevent sticking. The water doesn't need to be ice cold. I just use regular room temperature water
To serve:
Portion out the cooked tang yuan into serving bowls and ladle the sweet soup over it and serve immediately. Tang yuan can be served warm or at room temperature
Notes
You can also use same amount of black sesame powder or black sesame paste to make the filling. If the black sesame paste has been sweetened, simply adjust the amount of sugar or omit altogether to suit your taste