Tang Yuan with Lava Peanut Filling – Soft and chewy sticky rice balls are filled with creamy and melty sweetened peanut filling and served in sweet ginger broth. In Original and Matcha Flavor. Gluten-free and vegan-friendly.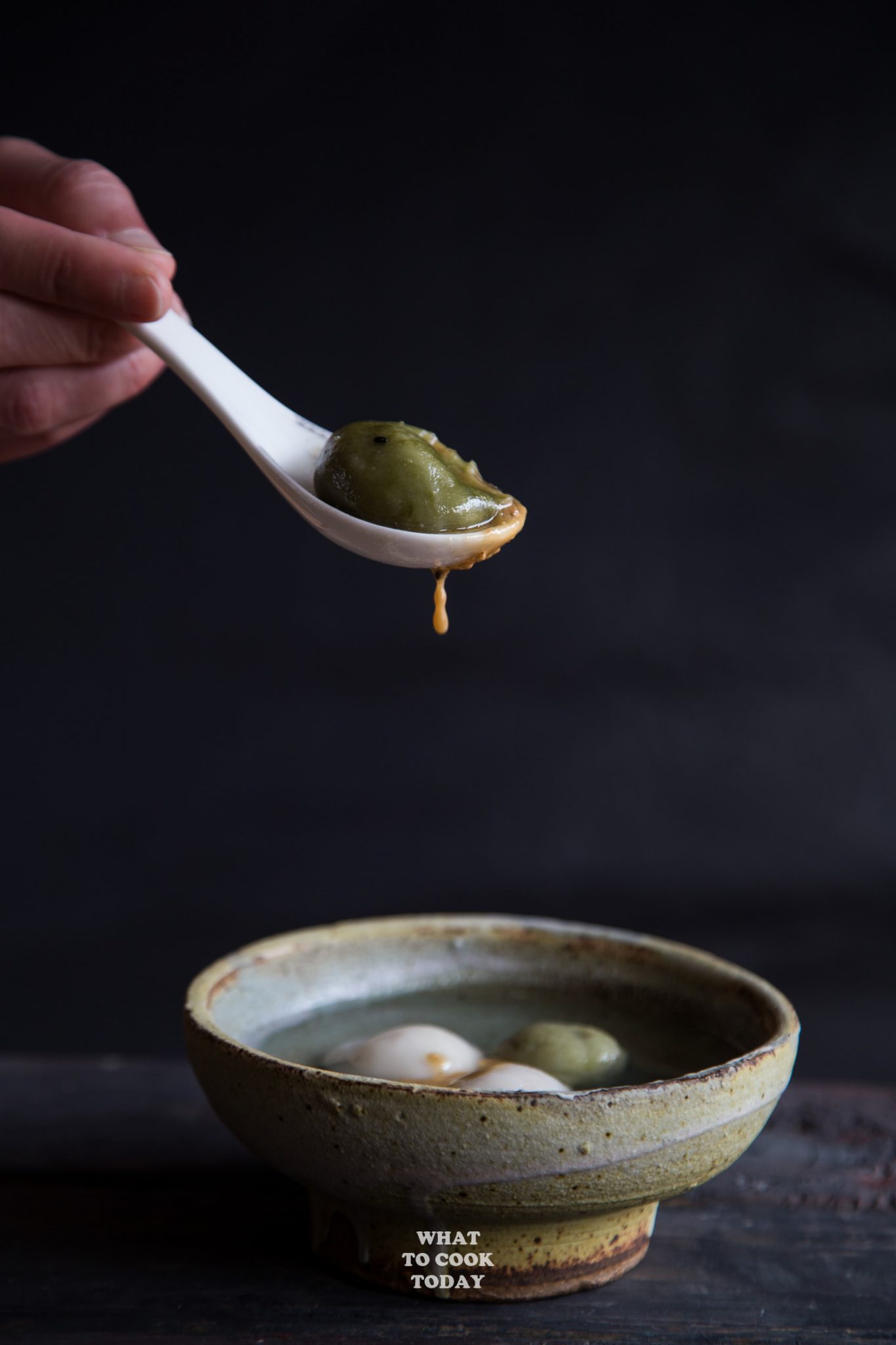 Glutinous rice balls or known as tang yuan in Chinese is a traditional food that is eaten in special occasion. December 22 (or sometimes December 21) is one of the days that people eat tang yuan. It is a Dong Zhi Festival or known as Winter Solstice. It is one of the most important days that is celebrated by the Chinese. Family usually gathers on Dong Zhi.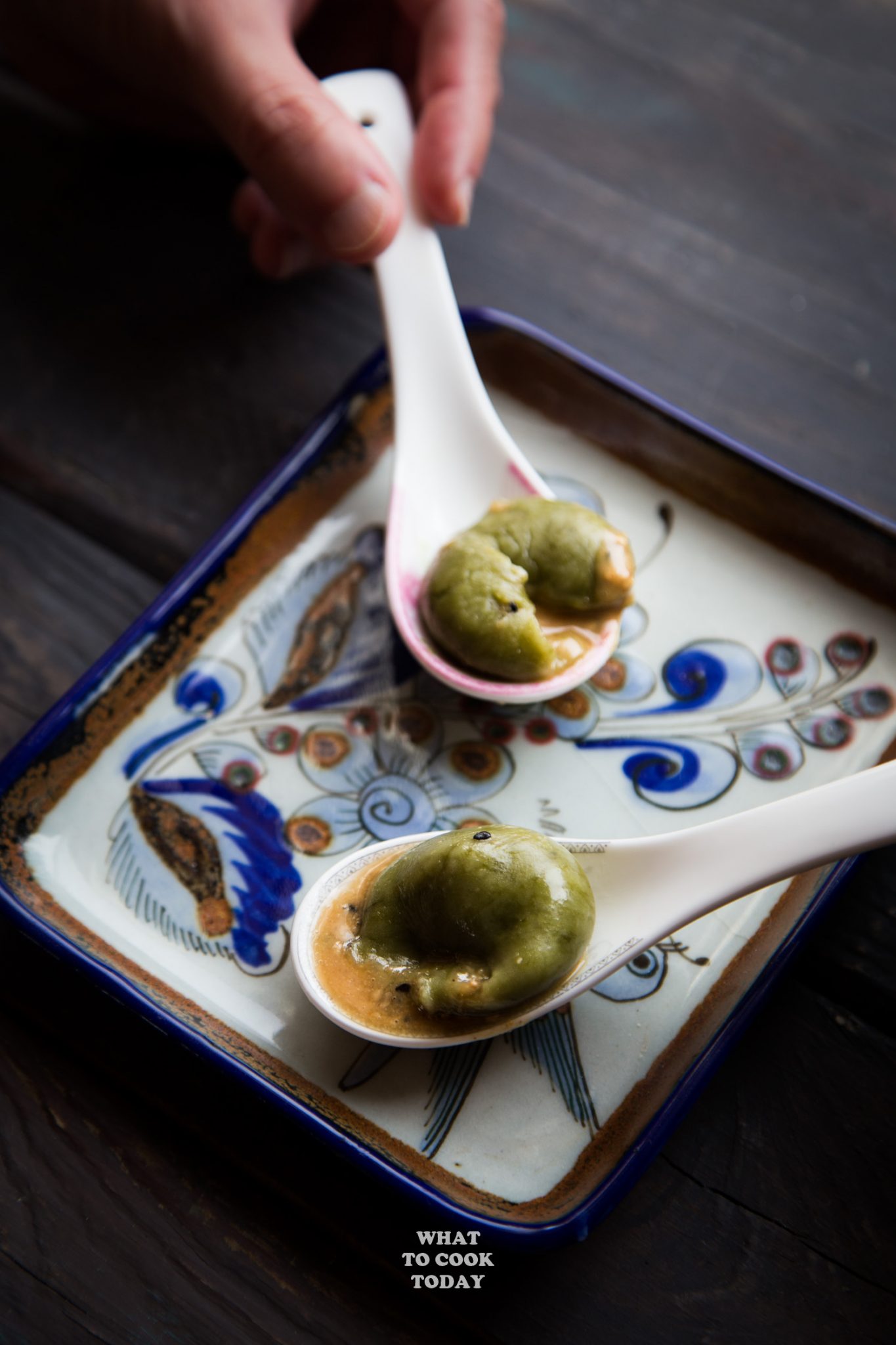 The round shape of Tang Yuan signifies the reunion in this occasion. Tang yuan is usually made of glutinous rice flour. It can be prepared plain or stuffed with fillings like red bean, sesame paste, peanuts, etc. We usually serve it with sweet soup made of ginger, screwpine leave and sugar.
I love making tang yuan since I was little. All three of us would sit on the table the night before and my mom would prepare the dough in different colors and to us, that was like a "play dough" 🙂 We even had a competition to see who finished making the tang yuan. It was my fond childhood memories. We also believe that once you have eaten tang yuan, you are older by one year 😉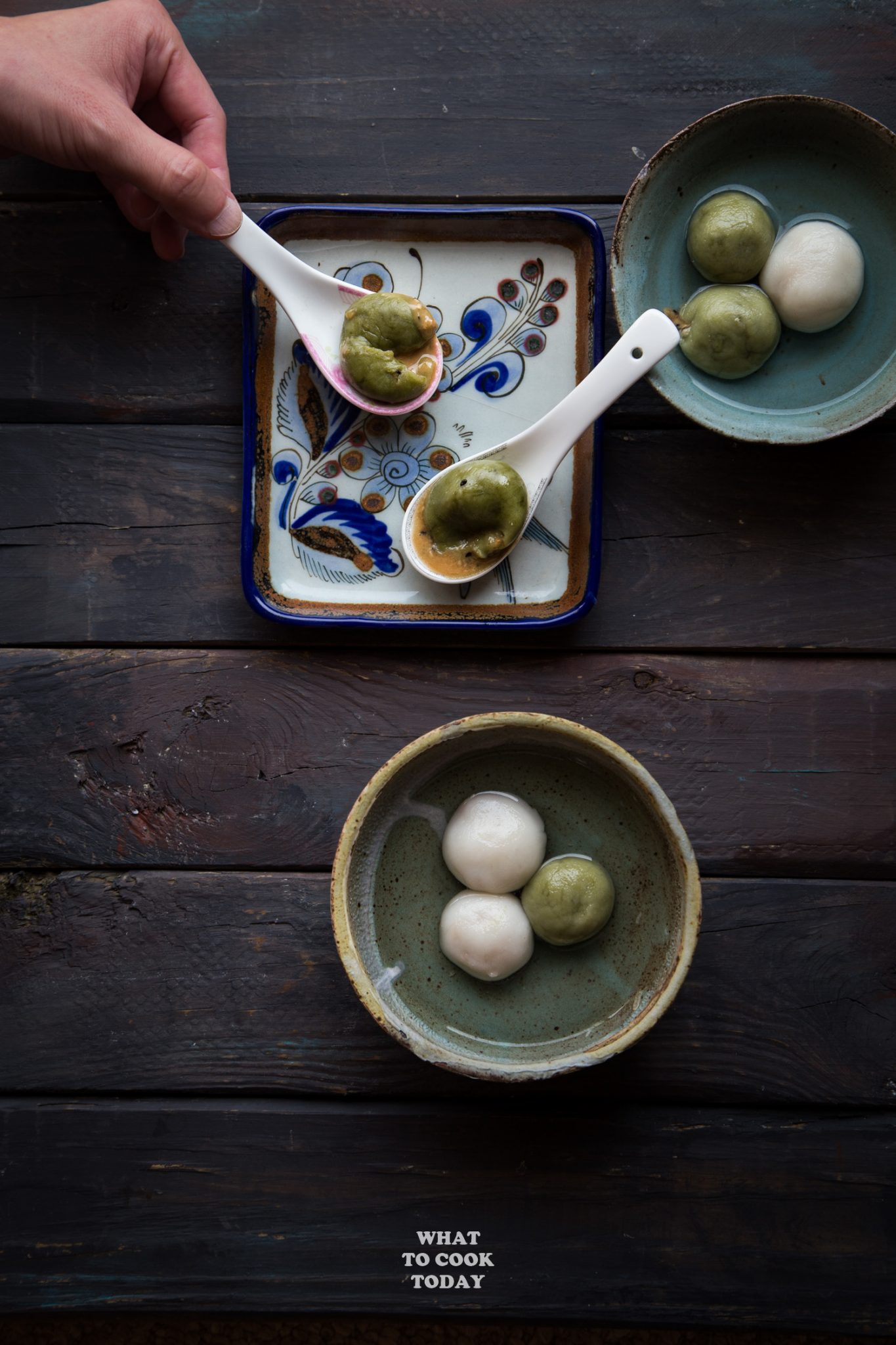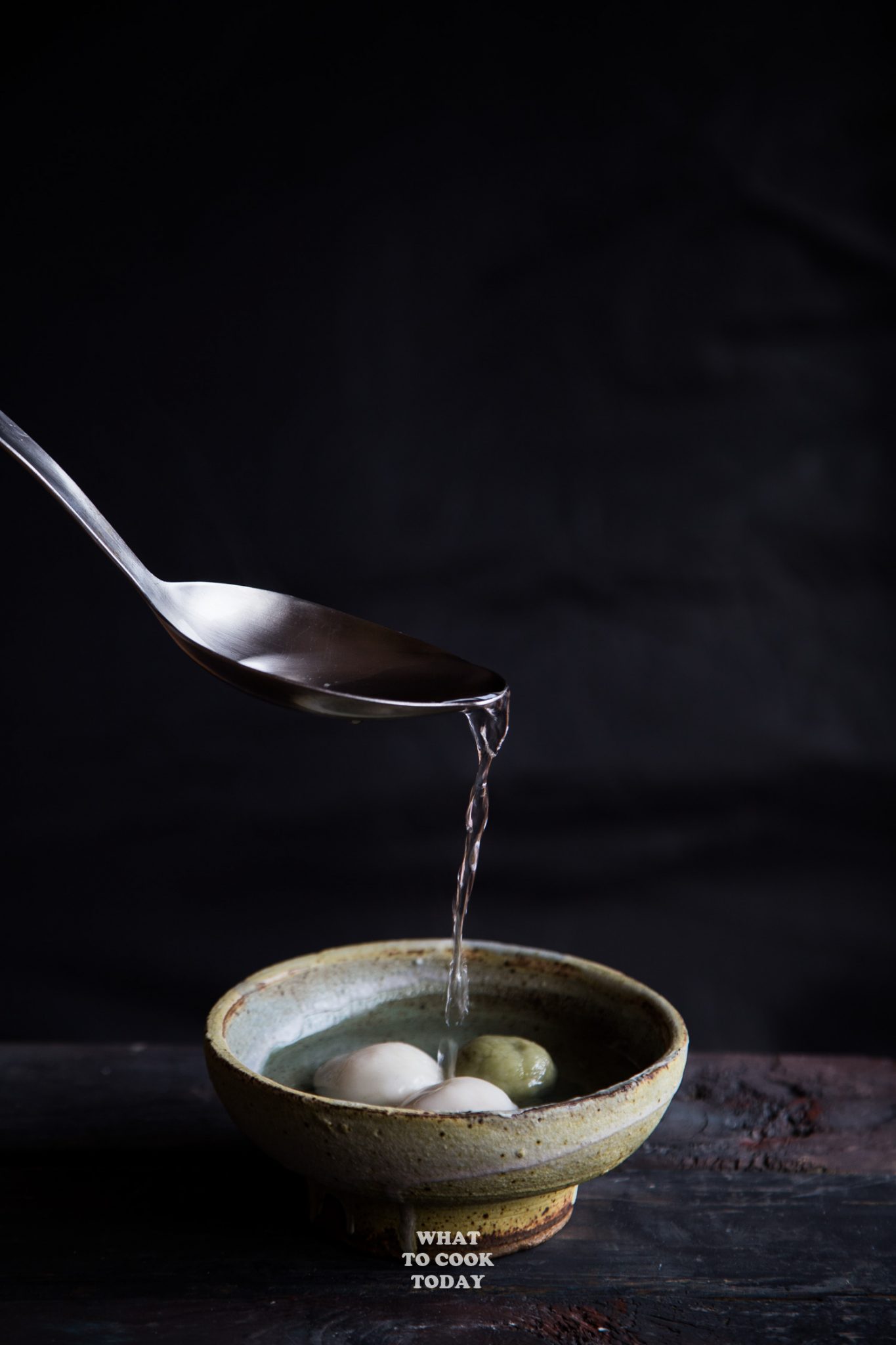 I have to take a quick bite to take this shot. Tough job right? Tough because I only got to bite it not freaking eating it yet!!!!


*This post contains affiliate links, which support this site at no extra cost to you
Tang Yuan with Lava Peanut Filling
Soft and chewy sticky rice balls are filled with creamy and melty sweetened peanut filling. In original and matcha flavor. Gluten-free and Vegan friendly
PIN RECIPE
PRINT RECIPE
Ingredients
If you are making the dough with food coloring:
200

gr

glutinous rice flour

100

ml

boiling water

Start with 80 ml water (not hot)

you may need more or not

5

gr

agar agar powder

choose vegan version if you are a vegan

1

tsp

matcha powder

optional
The filling:
1/4

cup

creamy peanut butter

you may have left over

1/4

cup

coconut oil or butter

softened (but not melting)

1/4

cup

honey

2

Tbsp

mixture of white and black sesame seeds

optional
The sweet ginger broth:
4

cups

water

20

gr

fresh ginger

3

screwpine leaves /pandan

knotted

50

gr

coconut sugar

or use brown sugar

150

gr

sugar
Instructions
Making the filling (can be prepared several days before):
Mix the ground peanuts with honey and coconut oil. It will be sticky but that helps the fillings to stay together when you wrap. Cover and chill in the fridge for 1 hour. On the day you are going to make the tang yuan, get them out from the fridge to let it soften a bit and roll them into individual small balls, about 30 balls. Cover and put them in the freezer this time and let chill for at least 15 minutes
Making the dough:
Place agar agar in a bowl (if using) Add 100 ml of boiling water. Stir and the agar agar will thicken. Add 2 Tbsp glutinous rice flour and continue to stir into paste

Add this paste to the glutinous rice flour. Gradually add in water (not hot) a bit by a bit and knead with your hands until the dough comes together soft and pliable. If it's too dry, add a bit more water, it shouldn't be too wet that it sticks to your hands or bowl


Work with one dough at a time while keeping the rest covered, knead the dough again and then separate into two equal portion. Add matcha powder to one of the portion and knead in the powder to get green color. Pinch off some equal size of smaller dough and place them on a plate. Repeat with the white dough.

Once you have those, take one dough and flatten with your thumbs and shape it into a bowl-like, take the peanut ball and place in the middle of the dough. Gather all the side of the dough and shape into balls and roll them in between your palms to make it round. Place them on a clean kitchen towel and cover with another damp kitchen towel. I found that it helps while working on the rest, I kept the tang yuan chilled in the fridge so the peanut filling won't soften and the tang yuan will start to stick to the plate. Repeat with the rest of the doughs
Making the sweet ginger broth:
Bring 4 cups of water to a boil. Add ginger, screwpine leaves, and sugar. Bring it back to a boil and then lower the heat to let it simmer for about 30 minutes. Have a taste and add more sugar if you like
Cooking the glutinous rice balls:
Bring large pot of water to a boil. When they are rolling boil, add in the glutinous balls and let them cook until they float to the top. Use slotted spoon to remove them and submerge them in cold water
Serving the glutinous rice balls:
Portion out the cooked balls into serving bowl and ladle the sweet soup over it and serve
Notes
Adding agar agar powder makes the texture of the tang yuan more springy and the dough is less likely to tear when you have to put filling in it

You might also like these tang yuan recipes:
TANG YUAN (GLUTINOUS RICE BALLS IN SWEET GINGER BROTH)
SAVORY GLUTINOUS RICE BALLS IN FISH MAW SOUP (TANG YUAN)