Soft and chewy sticky rice balls are filled with simple sweetened peanut filling or the oozy /molten lava peanut filling and served in sweet ginger broth. Gluten-free and vegan-friendly.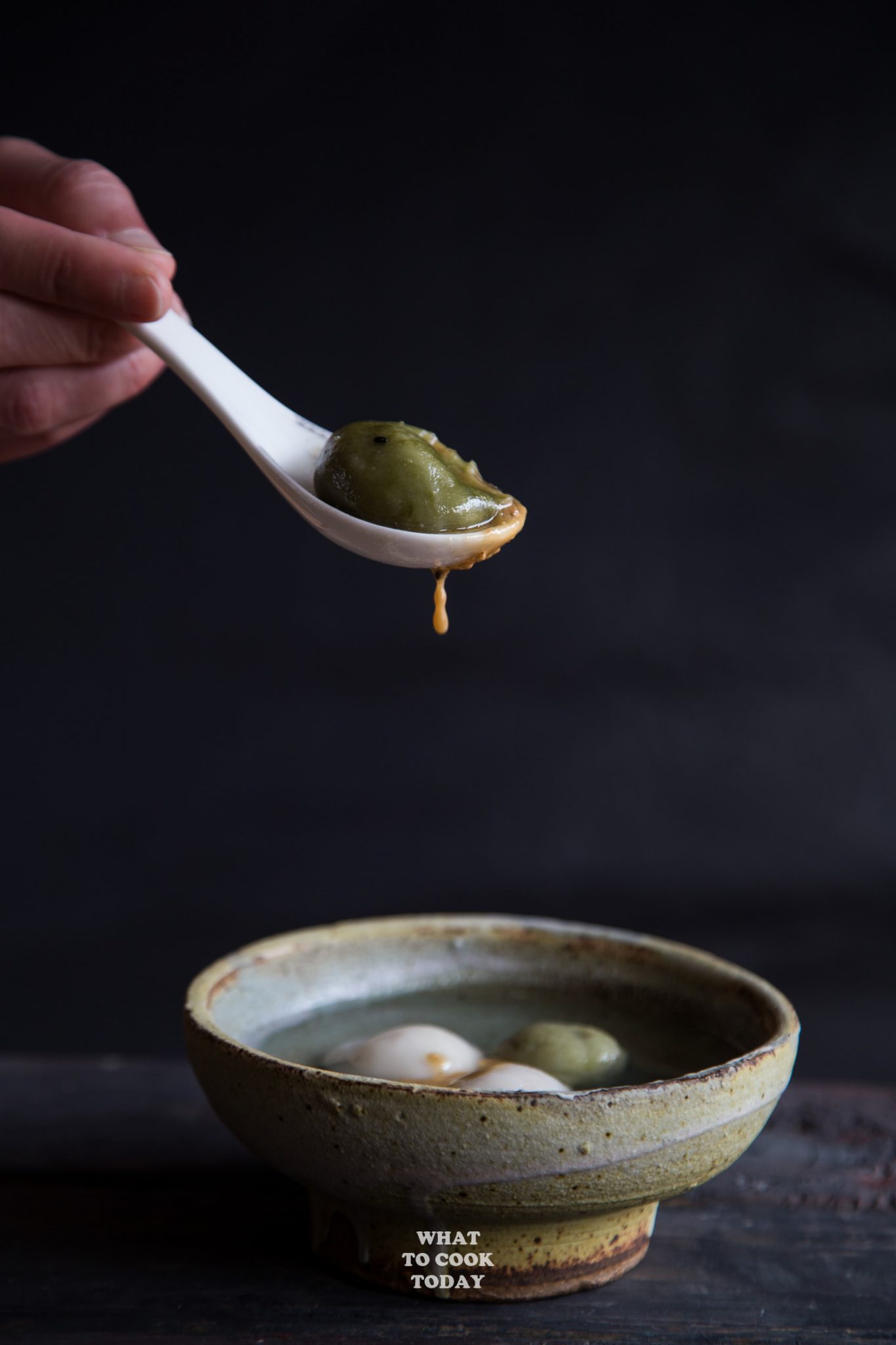 Glutinous rice balls or known as tang yuan in Chinese is a traditional food that is eaten on a special occasion. December 22 (or sometimes December 21) is one of the days that people eat tang yuan. It is a Dong Zhi Festival or known as Winter Solstice. It is one of the most important days that is celebrated by the Chinese. The family usually gathers on Dong Zhi.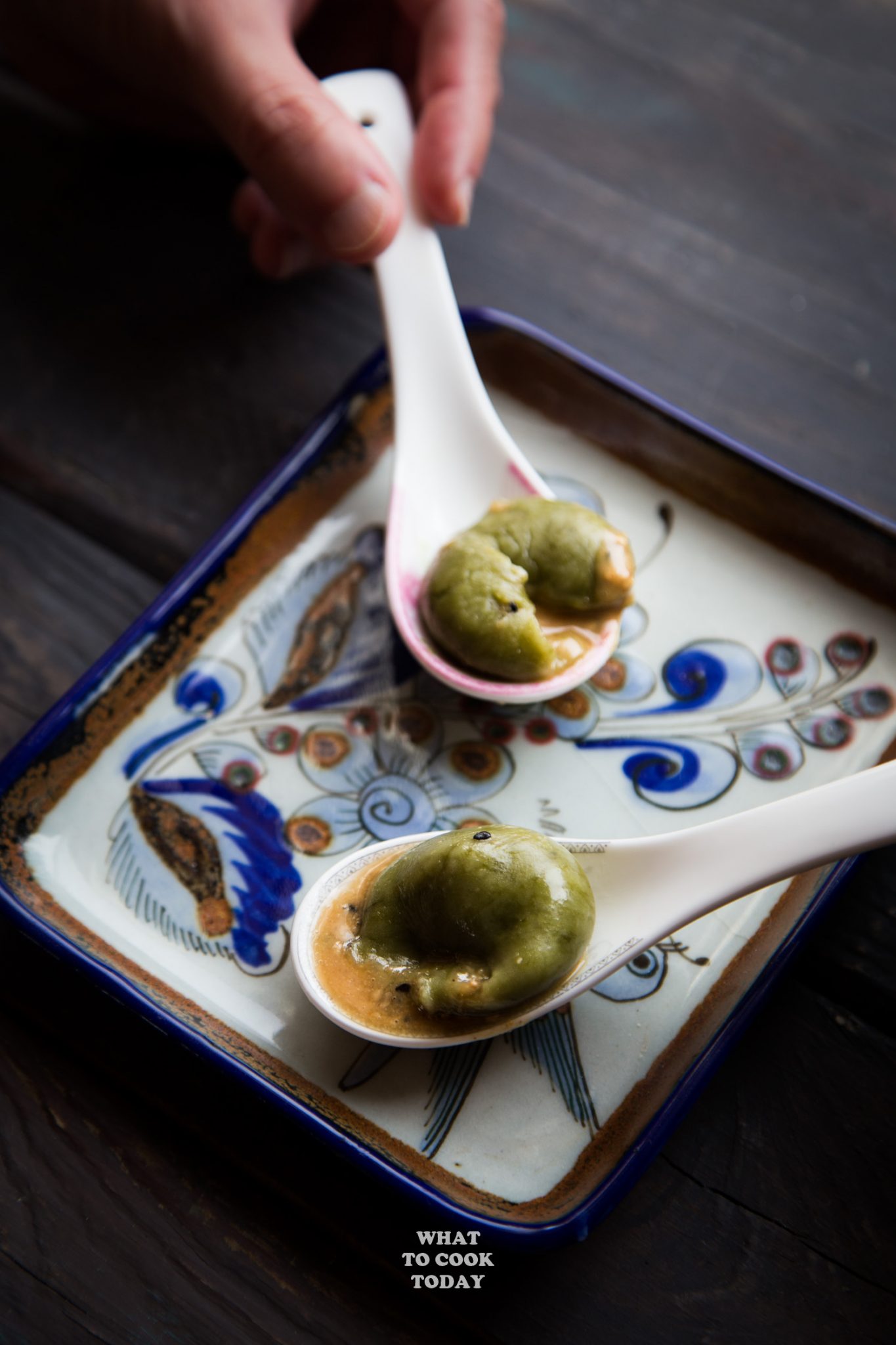 The round shape of Tang Yuan signifies the reunion on this occasion. Tang yuan is usually made of glutinous rice flour. It can be prepared plain or stuffed with fillings like red bean, sesame paste, peanuts, etc. We usually serve it with sweet soup made of ginger, screwpine leaves, and sugar.
In this post, you will see that I include two types of peanut filling, one is the oozy (molten lava) peanut filling and another one is just a regular peanut filling. I like both. The non-oozy one is easier to handle, to be honest. The oozy peanut filling has a higher chance of leaking out if you don't wrap it properly. The peanut filling can be made using creamy peanut butter or other nut butter if you don't want to use peanuts.
These are tang yuan with simple peanut filling (as shown in the video).


These are tang yuan with oozy peanut filling.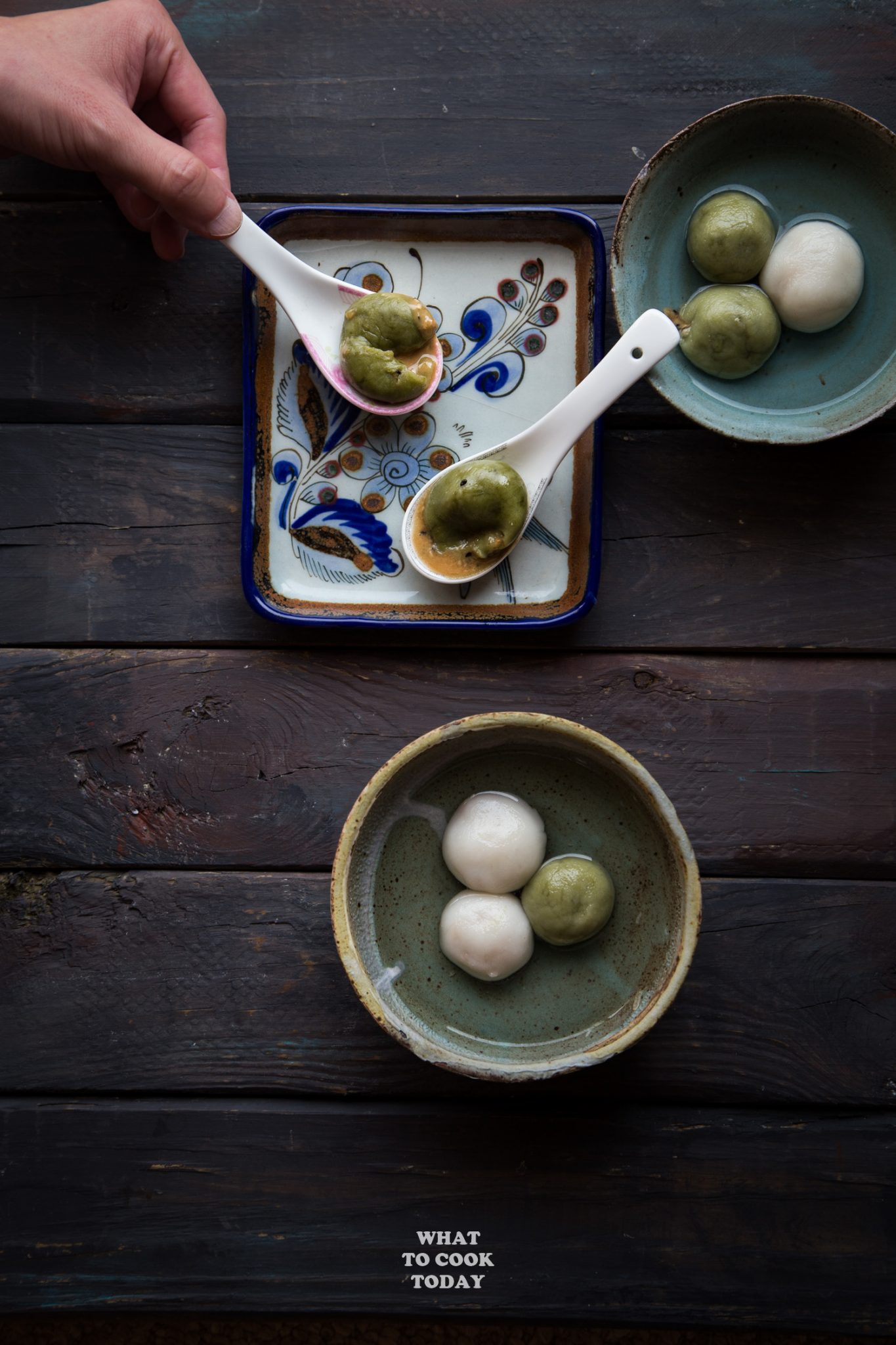 HOW TO PREPARE OOZY PEANUT FILLING FOR TANG YUAN
1. Mix the peanut butter with sugar and butter/coconut oil.


2. Stir into a sticky paste. Cover and chill in the refrigerator for 30 minutes


3. Portion them out and roll into round balls the best you can and place on a baking sheet lined with parchment paper and put them in the freezer this time and let them chill while you are preparing the dough.

HOW TO PREPARE SIMPLE PEANUT FILLING FOR TANG YUAN
Put the roasted peanuts in a food processor and pulse a few times until they almost turn into powder


Add sugar, oil, salt and stir to combine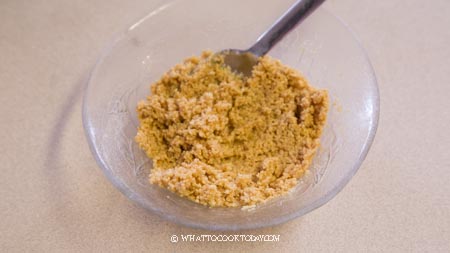 HOW TO WRAP TANG YUAN WITH FILLING
1. Take one dough and make an indentation in the middle and stretch to form a bowl.


2. Take one of the peanut ball (for molten lava peanut) or scoop the peanut filling and place it in the middle of the dough. Gather the side of the dough and enclose it and roll them in between your palms to make it round.


3. Make sure you seal the tang yuan nicely or the filling will leak out when you cook them, especially if you make the molten lava filling. If the dough gets dry, dab with some water and then gently roll it smooth. Cover with plastic wrap and continue with the rest

HOW TO MAKE SURE THE FILLING DOESN'T LEAK OUT
1. STRETCHY PLIABLE DOUGH
This is why it's important to have hot boiling water when you make the dough. This will make a dough that is soft and stretchy and easy to work with
2. FREEZE THE PEANUT FILLING (FOR MOLTEN LAVA FILLING)
You need to make sure you freeze the peanut filling so it's easy to wrap
3. DON'T STRETCH THE DOUGH TOO THIN
Do not stretch the dough too thin as it won't be able to "support" the filling inside and making the dough break and filling to leak out when you boil them
DID YOU MAKE THIS TANG YUAN WITH PEANUT FILLING RECIPE?
I love it when you guys snap a photo and tag to show me what you've made 🙂 Simply tag me @WhatToCookToday #WhatToCookToday on Instagram and I'll be sure to stop by and take a peek for real!
YOU MIGHT ALSO LIKE THESE TANG YUAN RECIPES:
COLORFUL TANG YUAN WITH NATURAL COLORS
PUMPKIN TANG YUAN WITH TAPIOCA PEARLS AND COCONUT MILK
HAKKA SAVORY MEAT-STUFFED TANG YUAN
SAVORY GLUTINOUS RICE BALLS IN FISH MAW SOUP (TANG YUAN)
Tang Yuan with Peanut Filling (Glutinous Rice Balls) - 2 ways
Ingredients
To color the dough- use either one: (optional)
For molten lava peanut filling:
100

gr

creamy peanut butter or almond butter

6 Tbsp + 1/2 tsp. make sure to stir the peanut/almond butter if using natural type

60

gr

roasted unsalted peanuts

1/3 cup

40

gr

softened butter

1/8 cup

20

gr

sugar

1 1/2 Tbsp

1

Tbsp

white sesame seeds

roasted (optional)
For regular peanut filling:
The sweet ginger broth:
4

cups

water

100

gr

sugar

1/2 cup or brown sugar (yield darker broth)

50

gr

fresh ginger

1.7 oz

3

screwpine leaves /pandan

knotted
Instructions
Prepare the sweet ginger broth:
Bring 4 cups of water to a boil. Add ginger, screwpine leaves, and sugar. Bring it back to a boil and then lower the heat to let it simmer for about 30 minutes. Have a taste and add more sugar if you like
Prepare the filling (can be prepared several days before):
For molten lava peanut filling, put the roasted peanuts in a food processor and process until they almost turn into powder. Mix the peanut butter with sugar and butter. Cover and chill in the freezer for 30 minutes or longer. After that, portion them out into 28 portions and roll them into round balls the best you can and place on a baking sheet lined with parchment paper and put them in the freezer again and let them chill while you are preparing the dough

For regular peanut filling, put the roasted peanuts in a food processor and pulse a few times until they almost turn into powder. Add sugar, oil, salt and stir to combine
Prepare the dough:
Place the flour, icing sugar, and matcha powder (if you choose to use) in a large mixing bowl. Stir to mix. Start with 100 ml of hot boiling water (make sure it's really hot) or pandan juice (boil it to make sure it's hot) and stir with a spoon and when it's not too hot anymore, knead with your hands until you get a non-sticky dough that is soft and pliable. If it's too dry, add a bit more water, it shouldn't be too wet that it sticks to your hands or bowl but it should be a smooth and stretchy dough
Shape and fill the dough:
Bring a large pot of water to a boil to cook the tang yuan. Divide the dough into 28 portions. Work with 1 dough at a time and keeping the rest covered with plastic wrap or a damp cloth. Take one dough and make an indentation in the middle and stretch to form a bowl. Take one of the peanut ball (for molten lava peanut) or scoop the peanut filling and place it in the middle of the dough. Gather the side of the dough and enclose it and roll them in between your palms to make it round. Make sure you seal the tang yuan nicely or the filling will leak out when you cook them, especially if you make the molten lava filling. If the dough gets dry, dab with some water and then gently roll it smooth. Cover with plastic wrap and continue with the rest

If you use molten lava filling, keep the tang yuan chilled in the fridge so the peanut filling won't soften and the tang yuan will start to stick to the plate. Repeat with the rest of the doughs
Cook the glutinous rice balls:
When water comes to a rolling boil, add the tang yuan and cook until they float to the top and let them cook for another minute. Use a slotted spoon to remove them and submerge them in a large bowl of water to prevent sticking. The water doesn't need to be ice cold. I just use regular room temperature water
Serve:
Portion out the cooked balls into serving bowl and ladle the sweet soup over it and serve
Notes
You can also use creamy peanut or almond butter and omit the oil in the recipe
Recommended products: