Learn how to easily make pandan juice and pandan extract with fresh or frozen pandan leaves. It is so much better than artificial pandan extract.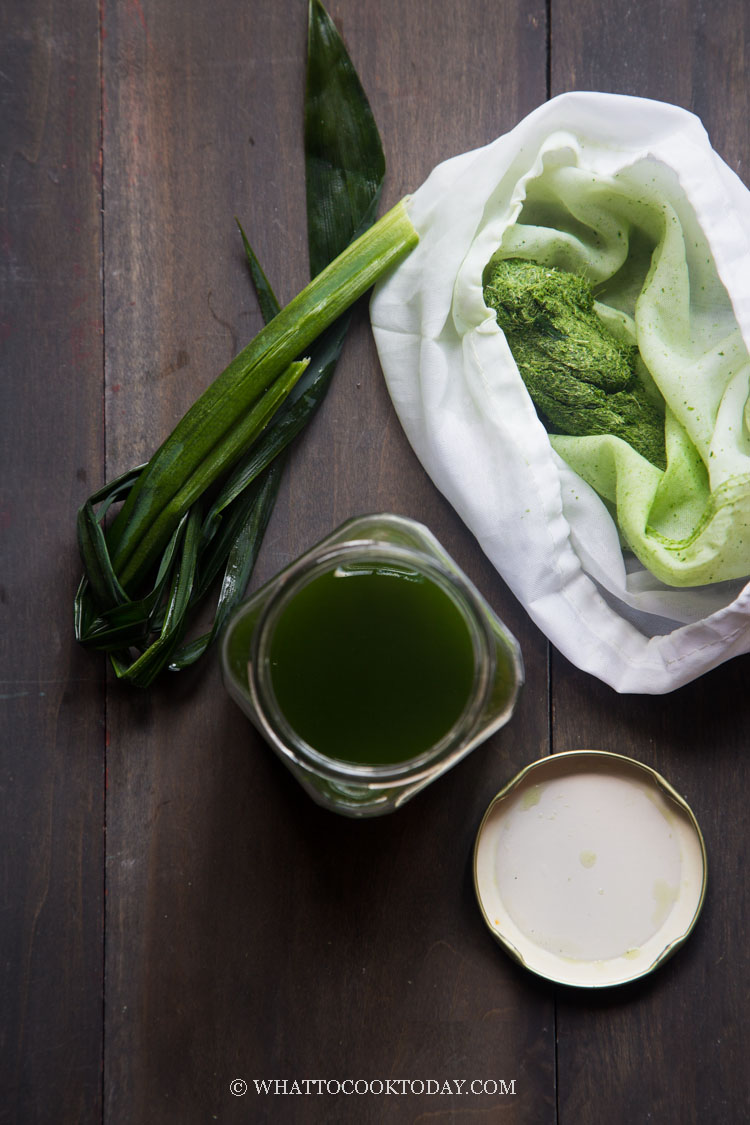 Pandan is one of the quintessential ingredients in Southeast Asian and South Asian cooking. Both pandan leaves and their juices/extract are used a lot in both savory and sweet dishes.
WHAT IS PANDAN LEAF?
Pandan leaf is also known as screwpine leaf. It has an amazing aroma that I'm not sure how to describe. It's pleasant, sweet, and mild at the same time. I think I've mentioned before in my other post that my late dad used to place whole bunch of fresh pandan leaves in the car as an air freshner. Smelled amazing (and makes me hungry thinking of all the food flavored with pandan leaves lol).
Unfortunately, I had no luck growing my own pandan leaves, not here in Minnesota where winter is so brutal. My mom had pandan leaves growing out of her ears back in Indonesia! ENVY!!! These pandan leaves shown in the photos were actually sent by one of my readers from Texas. They were homegrown. Lucky me!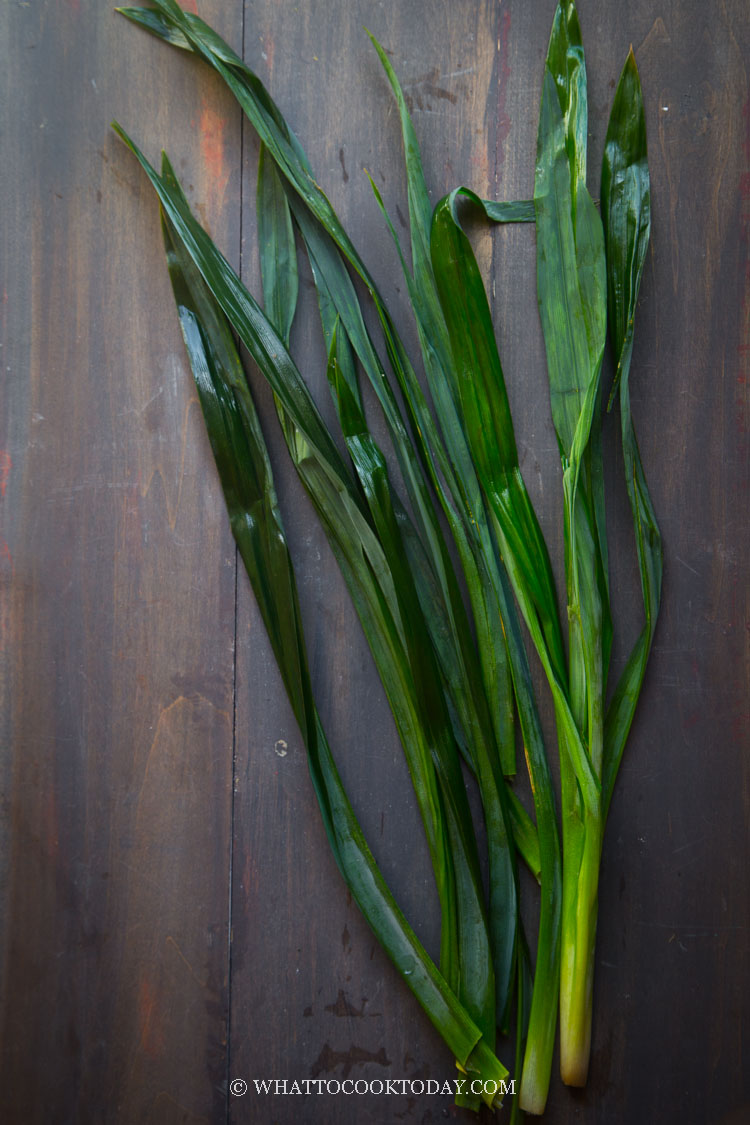 HOMEMADE PANDAN JUICE AND EXTRACT IS SO MUCH BETTER
I've bought some artificial pandan extract before and it smelled and tasted horrible. OMG! You opened up the bottle to have a whiff and I could immediately tell it's artificial. It tasted artificial too 🙁 Then I asked my mom to buy some from Indonesia and Singapore and they were the same. If any of you reading this know a really good store-bought pandan extract, please fill me in. I haven't found one that smell or taste good. So, that's the reason why I'm still making my own pandan juice and extract
BOTH FRESH AND FROZEN PANDAN LEAVES CAN BE USED TO MAKE PANDAN JUICE AND EXTRACT
Sometimes I could find fresh pandan leaves at Asian grocery stores, but not always. Most of the time, they come in frozen, which is fine too.
DIFFERENCE BETWEEN PANDAN JUICE AND PANDAN EXTRACT
Pandan juice is basically what you get when you blend the leaves with water. Pandan extract is the sediment that accumulates at the bottom of the jar of pandan juice after you leave it for 18-20 hours. The sediment is basically the pigment, chlorophyll, that gives pandan its green color. The water on the top layer is discarded and the sediment is your pandan extract.
HOW TO EASILY MAKE PANDAN JUICE
1. Choose mature pandan leaves, not old, but mature. Which is usually have darker green in color compare to young shoots
2. Wash the leaves with clean water to get rid of any sands or dirts
2. Cut them up with scissors into about 1-inch piece or smaller if you want to. Pandan leaves are extremely fibrous and so they need to be broken down before you throw them in the blender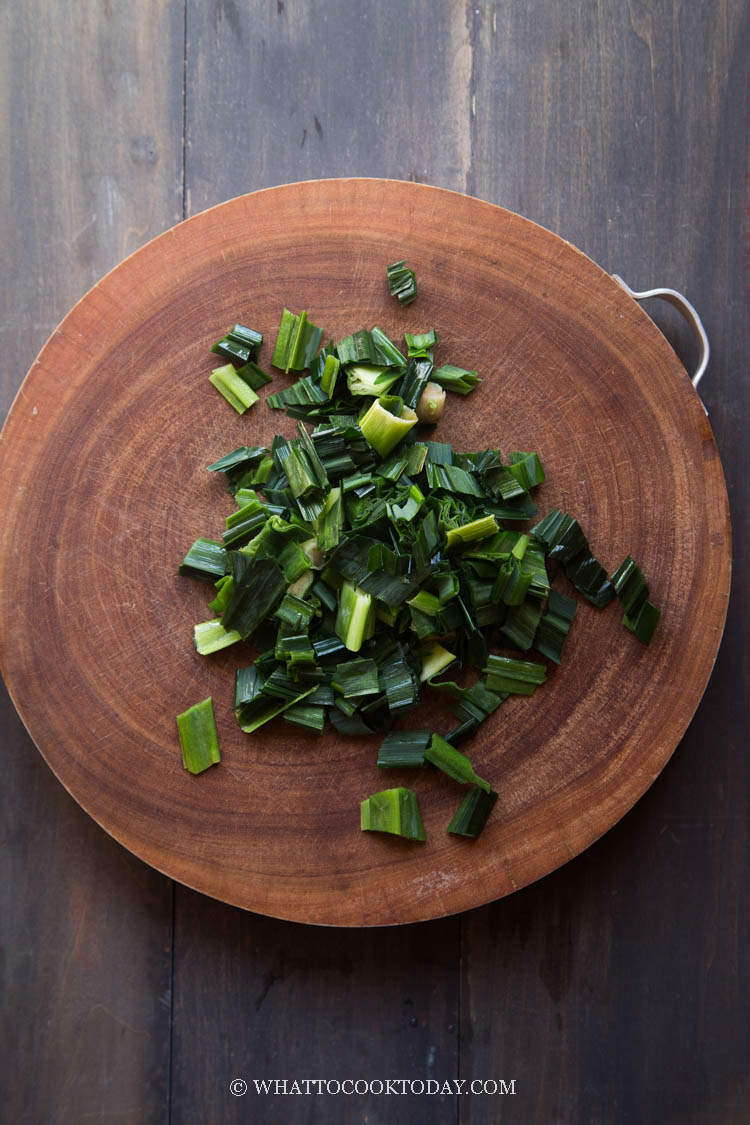 3. Put them in blender with water and blend away
4. Strain or use a cheese cloth
I used a cheese cloth to squeeze the juice out, but you can use fine strainer and really squeeze them out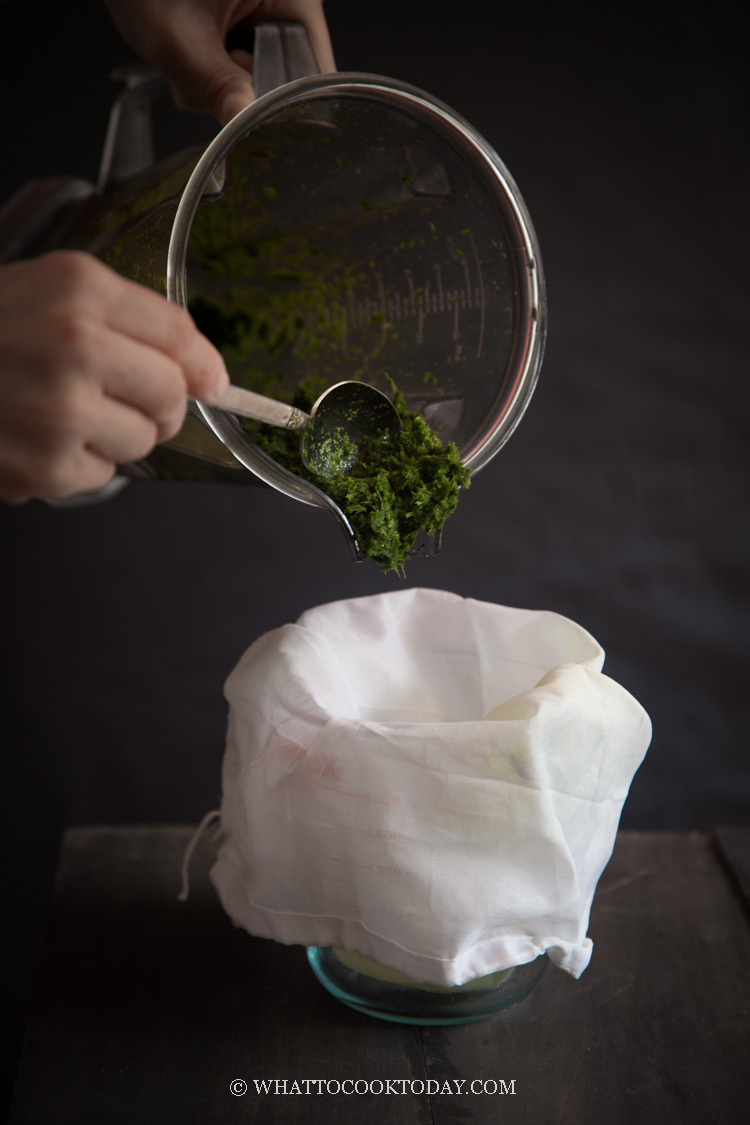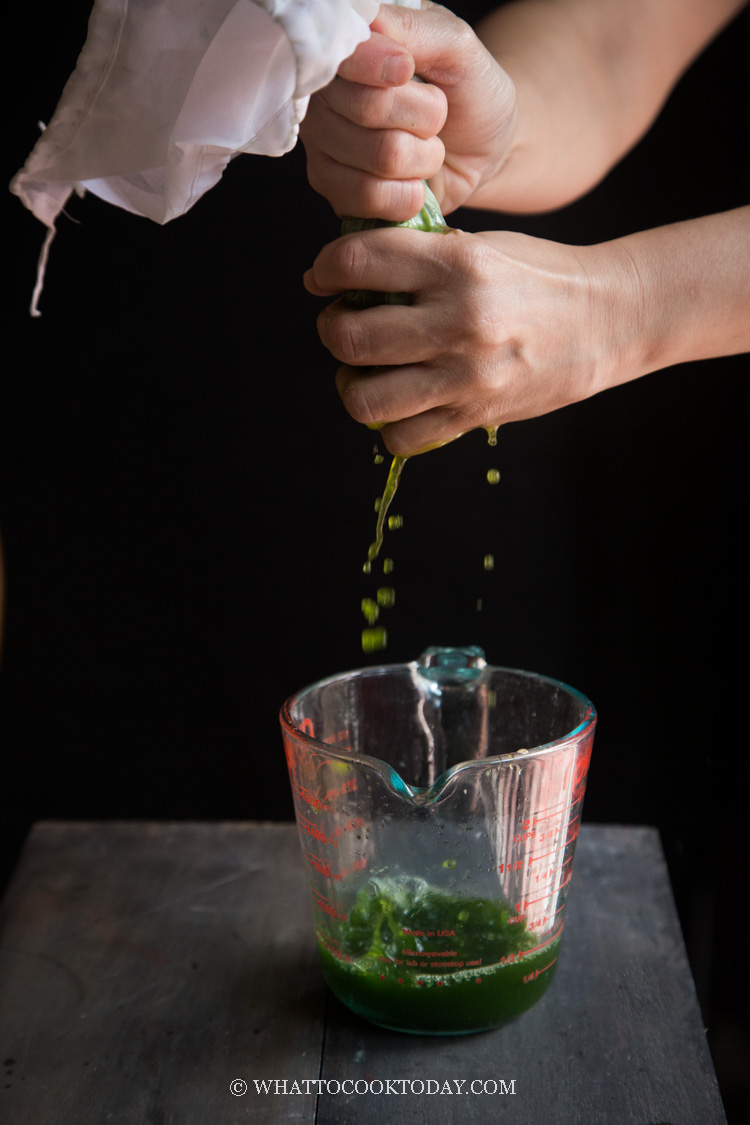 5. Transfer to a glass jar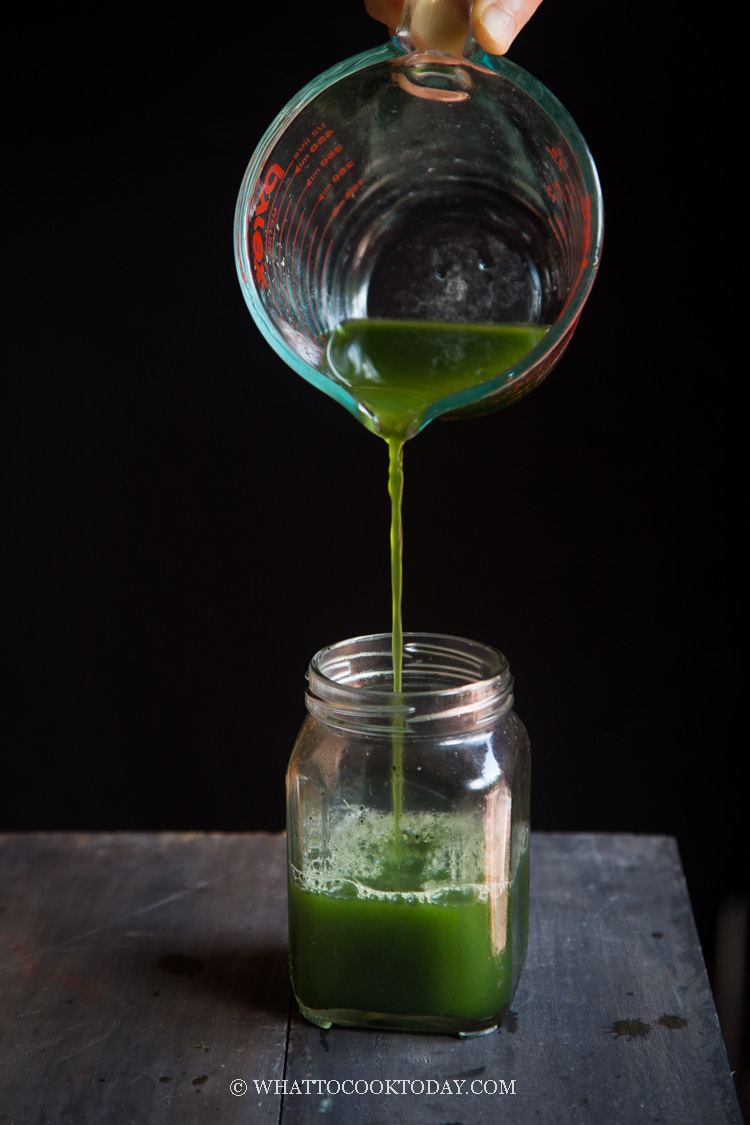 6. There you have it…pandan juice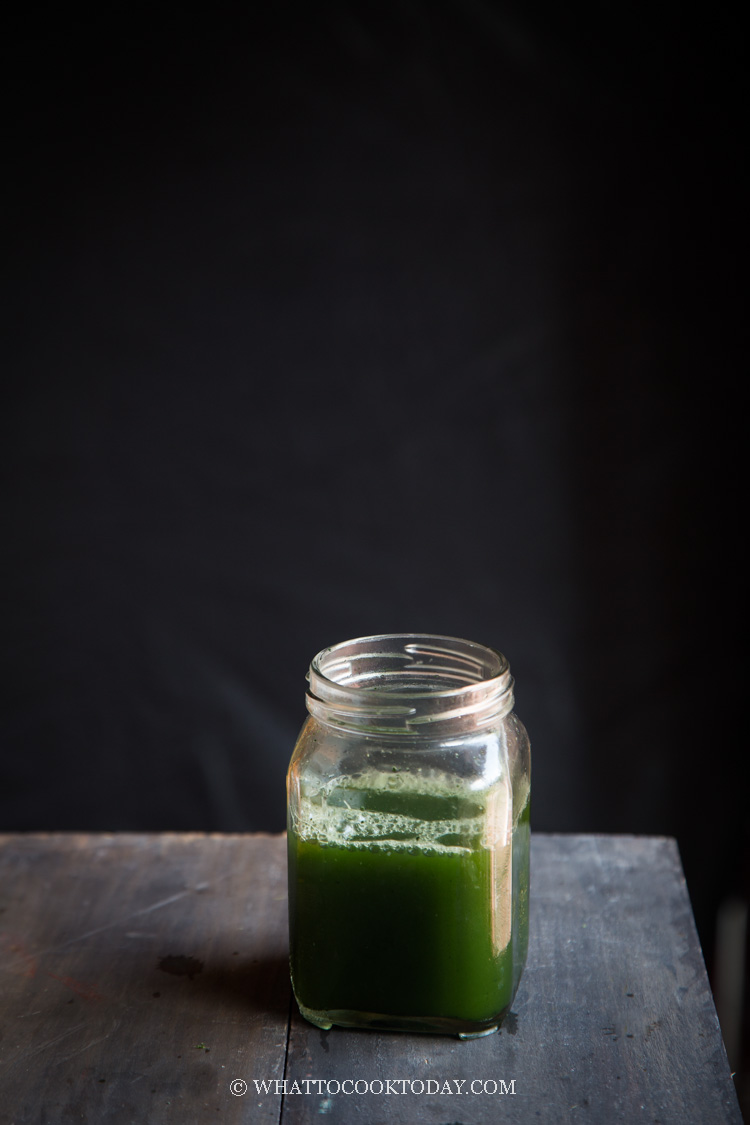 7. You can go probably two more rounds with the pandan pulps by adding some water and you will get a more diluted pandan juice
RECOMMENDED TOOLS FOR MAKING PANDAN JUICE AND EXTRACT
Kitchen shears
Cheesecloth or fine strainer
Really good blender. I use this one
HOW TO EASILY MAKE PANDAN EXTRACT
The steps for making pandan extract are the same with pandan juice. For pandan extract the additional step is you need to leave the pandan juice in the refrigerator for about 18-20 hours. The green sediment will sink to the bottom of the jar. You discard the water and the sediment is pretty much your extract. Easy peasy!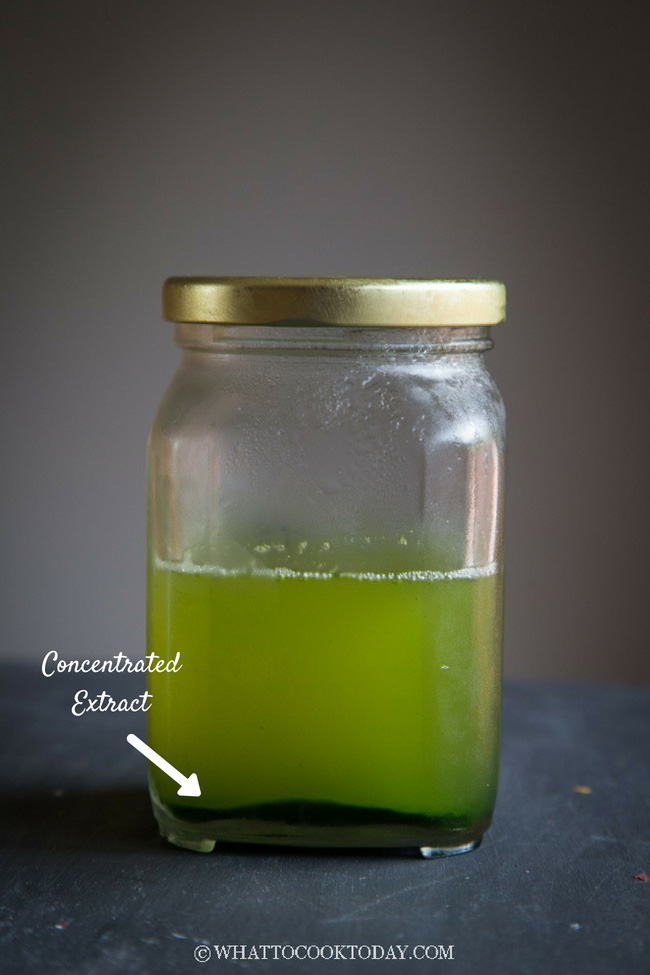 WHEN TO USE PANDAN JUICE AND WHEN TO USE PANDAN EXTRACT
Pandan juice is a watery version of pandan extract. You can use this to flavor rice, or desserts that allows more liquid/water for example: cendol, agar agar jelly cake, pandan mille crepe cake, pandan cinnamon rolls, pandan liu sha bao
Pandan extract is a concentrated and has very little water in it. You can pretty much use it in recipes that needs very little water/liquid for example: French macarons, cakes recipes, etc. Pandan extract tastes more bitter because it is concentrated. So, be aware of not using too much in the recipe or you will taste that bitter taste.
HOW TO STORE PANDAN JUICE AND PANDAN EXTRACT
They need to be stored in the refrigerator and can be kept for up to 7 days. After that, they will start to smell rotten. I usually do not recommend freezing pandan juice and its extract because the flavor gets weak and they tend to separate, but I have tried freezing them and used them in the recipe and have no issue with it. You can freeze them in the freezer but try not to keep longer than one month or the aroma of the pandan won't be as aromatic.
What's your favorite recipe(s) using pandan juice or extract?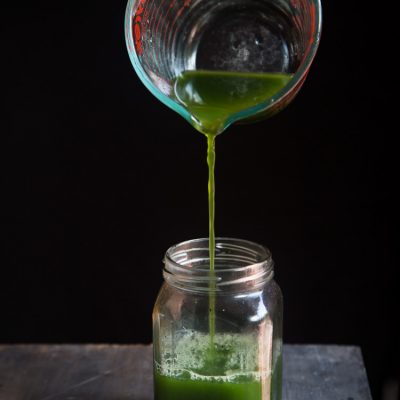 How To Make Pandan Juice and Pandan Extract
Learn how to easily make pandan juice and pandan extract with fresh or frozen pandan leaves. It is so much better than artificial pandan extract.
For pandan extract:
18
hours
PIN RECIPE
PRINT RECIPE
Ingredients
30

gr

pandan leaves (screwpine leaves)

fresh or frozen

1

cup

water
Recommended tools:
Instructions
Wash the pandan leaves to get rid of sands or dirt

Cut into a 1-inch piece with kitchen shears. Do not put into the blender whole. Pandan leaves are very fibrous and need to be broken down into smaller pieces
For pandan juice:
Blitz away until the leaves are reduced to pulps

Transfer to a cheesecloth, which I used. You can use fine mesh strainer too. Squeeze all the juice out as much as you can

You get your pandan juice. Transfer to a glass jar and store in the refrigerator for up to 1 week. After that, they will start to smell bad. You can even go two more rounds with the pulps and add more water to get a more diluted version of pandan juice if you want
To get the pandan extract:
Once you transfer the pandan juice to the glass jar and store in the refrigerator, let them sit undisturbed for 18-20 hours. The green sediment will start to accumulate at the bottom of the jar. This is your extract. Discard the liquid layer on the top and you can use the extract at the bottom