Thank you Idaho Spuds for sponsoring this post. VeggieMash mashed potatoes are a blend of 100% Idaho® grown potatoes and real vegetables for a new take on a family favorite!
Super Easy Mashed Potato Bacon Thyme Gratin made with Idaho Spuds VeggieMash topped with crispy bacon and aromatic thyme will quickly become your family favorite.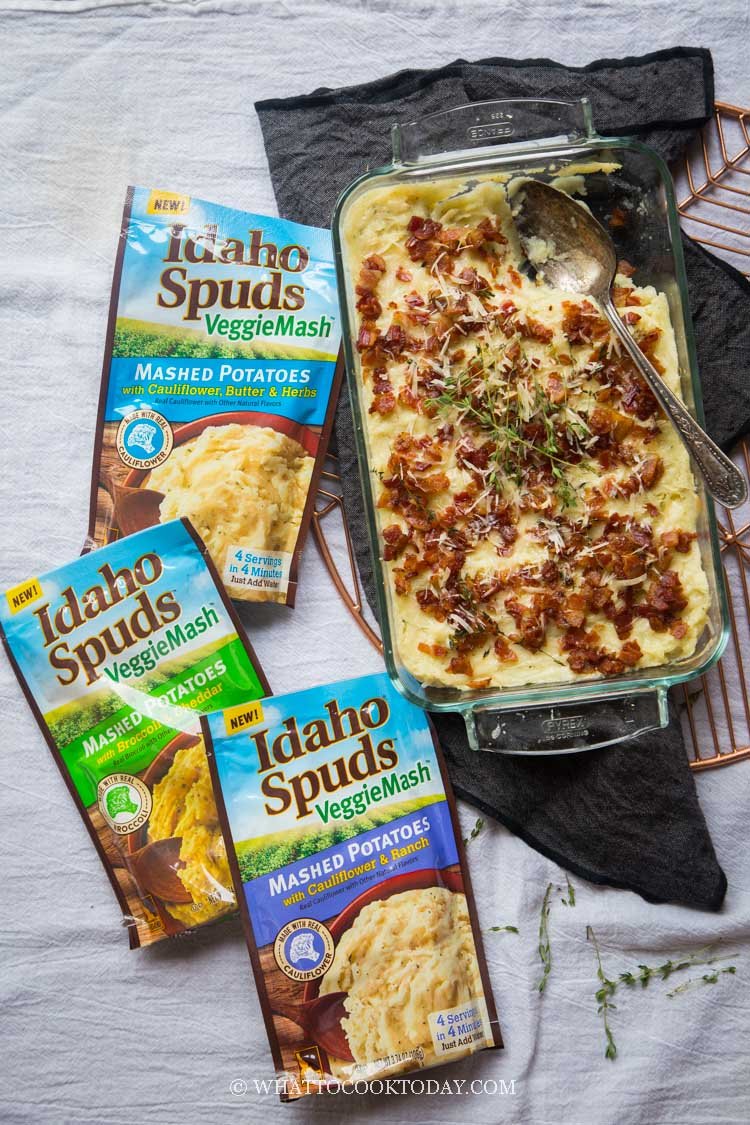 Click on the tags in the above image to shop directly!
Mashed potatoes is one of the dishes that many people find comfort in, including our family and I can't be more excited to share with you guys this super easy mashed potatoes bacon thyme gratin using Idaho Spuds VeggieMash.
WHY I LIKE IDAHO SPUDS VEGGIEMASH
All Idaho Spuds products start with 100% Idaho® Potatoes. That's a real deal to me! The Idaho Spuds' new VeggieMash is also made with real vegetables. Oh yes..not only you have tasty potatoes, but also real vegetables that even picky eaters won't notice when they eat.
WHY YOU WILL LIKE THIS SUPER EASY MASHED POTATOES BACON THYME GRATIN
1. Seriously easy
Thanks to Idaho Spuds VeggieMash, we cut out the work for making mashed potato from scratch. All you need to do is mixed Idaho Spuds VeggieMash with boiling water and you have smooth creamy mashed potatoes in no time. Don't take my words for it. Try them!
2. A complete meal of its own
These mashed potatoes can be served as a meal. Thanks to VeggieMash, I don't have to cook another vegetable side dish.
3. Tasty and flavorful
VeggieMash is the star ingredient in this recipe and sure is a tasty way to include more vegetables in our meal
ONLY 5 INGREDIENTS (IF YOU COUNT WATER) TO MAKE THIS SUPER EASY MASHED POTATOES BACON THYME GRATIN
Idaho Spuds VeggieMash
Boiling water
Slices of bacon
Parmesan cheese
Fresh thyme leaves

TIPS FOR MAKING THIS MASHED POTATOES BACON THYME GRATIN WITH IDAHO SPUDS VEGGIEMASH
1. Bake the bacon
You can cook the bacon on the pan too, but I found that baking the bacon, especially when you have 12 slices, in the oven is really convenient
2. Use cooling rack for crispy bacon
I found that using a metal cooling rack to cook the bacon in the oven really makes crispy bacon
3. All you need is boiling water for the VeggieMash. Simple as that
I used VeggieMash Mashed Potatoes with Cauliflower & Ranch for this recipe but I've also tried Cauliflower,Butter & Herbs, and Broccoli & Cheddar varieties as well. I love all the varieties and have made several dishes using them. Click HERE to check where you can buy VeggieMash in your local stores.
Whether you are trying to get your family to eat more veggies, or simply looking for easy tasty mashed potato recipes, this Super Easy Mashed Potatoes Bacon Thyme Gratin will certainly fit the bills!
DON'T MISS THE GIVEAWAY
Idaho Spuds is giving away an assortment of Idaho Spuds VeggieMash product to 20 lucky winners from August 20, 2018 to September 9,2018.
Here are few ways you can enter to win the giveaway with the following options:
Please click here to learn more about Idaho Spuds VeggieMash
Check out the Idaho Spuds Facebook page!
Check out the Idaho Spuds Instagram page!
a Rafflecopter giveaway

Terms & Conditions :Giveaway is open to U.S. residents only and must be at least 18 years old and up. Only one winner per household
Super Easy Mashed Potatoes Bacon Thyme Gratin
Ingredients
2

pouches

(3.74 oz each) Idaho Spuds VeggieMash

4

cups

boiling water

12

slices

bacon

8

oz

Fresh Parmesan cheese

grated

Small handful of fresh thyme leaves
Instructions
Cook the bacon in the oven:
Preheat oven to 400 F. Place the baking rack 3rd from the top. Line your baking sheet with aluminum foil. Place a metal cooling rack on top of the baking sheet. Line the bacon on the cooling rack, not overlapping or they will stick together and bake for about 15-20 minutes. Remove from the oven and let them cool down. Don't turn off the oven yet

Crumbled into small pieces and set aside
Make mashed potatoes:
Pour 4 cups of boiling water in a large mixing bowl. Stir in the entire two pouches of VeggieMash, 1/2 of the grated Parmesan cheese, thyme leaves and stir to moisten all potatoes and to mix well
Putting it together:
Transfer the mashed potato to about 12x12 inch baking dish, about 2-3 inches deep. Sprinkle with bacon bits you made earlier followed by the rest of the grated Parmesan cheese.

Pop this into the oven and bake for 15 minutes until the cheese melted and the top is slightly golden brown. Remove from the oven and serve while still warm
Have you tried VeggieMash? What's your favorite dish to make with VeggieMash? I'm all ears!!
I was selected for this opportunity as a member of CLEVER and the content and opinions expressed here are all my own.