The Best Pandan Cinnamon Rolls -Taking the classic cinnamon rolls and infused it with pandan flavors and frosted with pandan cream cheese icing. So..Soooo good people!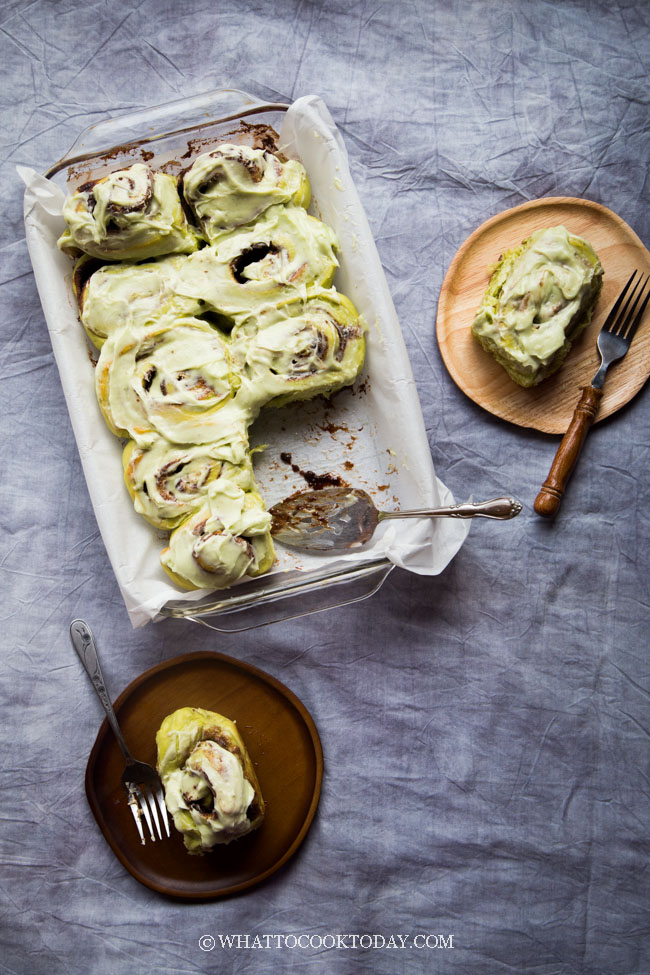 WHO NEEDS CINNABON WHEN YOU CAN MAKE THE BEST PANDAN CINNAMON ROLLS AT HOME
Nothing against Cinnabon really. I love their cinnamon rolls too. I can't tell you how many times we walked by Cinnabons at the mall and my daughter would beg me to get one of their rolls.
The daughter said "Mama, can we make our own cinnamon rolls one day?" And that question lead to this Pandan Cinnamon Rolls!! I love cinnamon rolls, but I've never thought about making my own. I love pandan leaves even more though. The aroma is amazing! seriously amazing!
THE BEST PANDAN CINNAMON ROLLS ARE TRULY THE BEST! NO JOKE!
The family highly approves these pandan cinnamon rolls. I've tested several recipes and truly this is the best! Let me tell you why!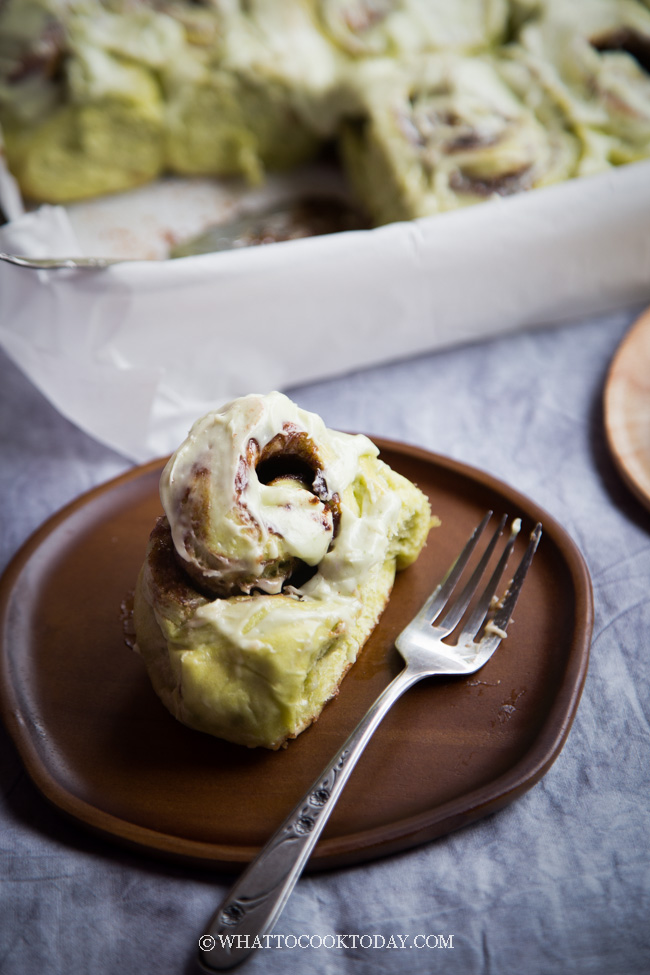 1. SOFT AND SLIGHTLY CHEWY
The rolls are so soft yet they have that slightly chewy texture, which the family really loves.
2. THE MIDDLE PART IS THE BEST
I cannot wait to make my way through the middle part of the rolls, which are like the softest ever! I save the best for last.
3. AMAZING PANDAN FLAVOR
I know pandan is like a foreign language (literally!) and foreign ingredient to many American cooks and bakers. This is like the "vanilla" in Southeast Asia. I love the aroma of pandan A LOT! But, if you don't have any, you can always omit and use warm milk instead to make regular cinnamon rolls. It gives a beautiful natural green color too.

WHAT IF I DON'T WANT TO USE PANDAN JUICE AND PANDAN EXTRACT FOR THIS CINNAMON ROLLS
Then you just make yourself regular cinnamon rolls because this recipe is adapted from the classic cinnamon rolls. Just substitute the warm pandan juice with warm milk and the pandan extract for icing with vanilla extract. Easy peasy!
WHAT IS THE SECRET TO SOFT CINNAMON ROLLS
I used to think I need to use cake flour to make these rolls soft, but nope! This recipe uses bread flour, which according to Ambitious Kitchen, make these rolls really soft and moist. I have to agree. It adds that chewy texture, which is really amazing!

HOW TO MAKE THE BEST PANDAN CINNAMON ROLLS
1. Warm the pandan juice
Warm the pandan juice to about 110F (38C). Take care not to heat it up to much or the yeast will die when you sprinkle them on later
2. Sprinkle the yeast over the warm juice and wait for 10 minutes
Once it turns foamy, you know the yeast is activated
3. Add sugar, eggs, and butter to yeast mixture
4. Stir flour and salt together and gradually add this to the yeast mixture and use dough attachment to knead the dough for 8 minutes
5. Cover and let the dough rise for 60 minutes
6. Prepare filling and icing while waiting for the dough to rise
7. Once doubled in size, use your clean fingers to make an indentation. It should stay. If it is, your dough is ready, if not, let it rise a bit longer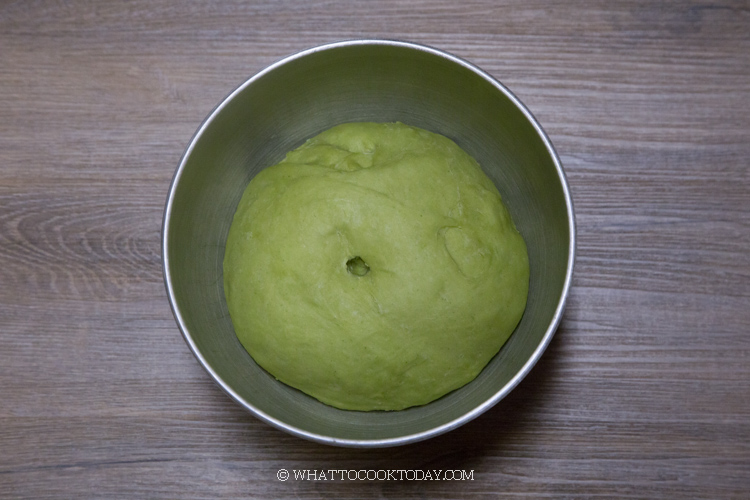 8. Roll the dough
Roll it out into a 9×14 inch rectangle shape


9. Spread with softened butter or coconut oil


10. Sprinkle the cinnamon sugar mixture
Use your fingers to lightly press it onto the butter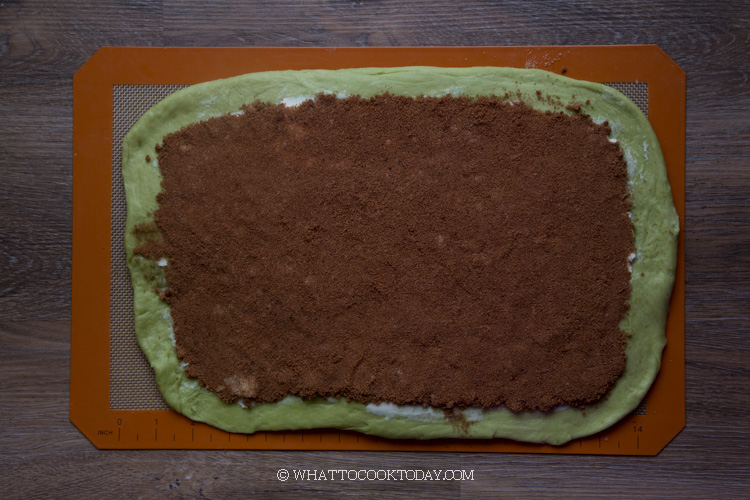 11. Roll the dough up from the short side. Roll it tightly


12. Cut into 10 equal pieces with sharp serrated knife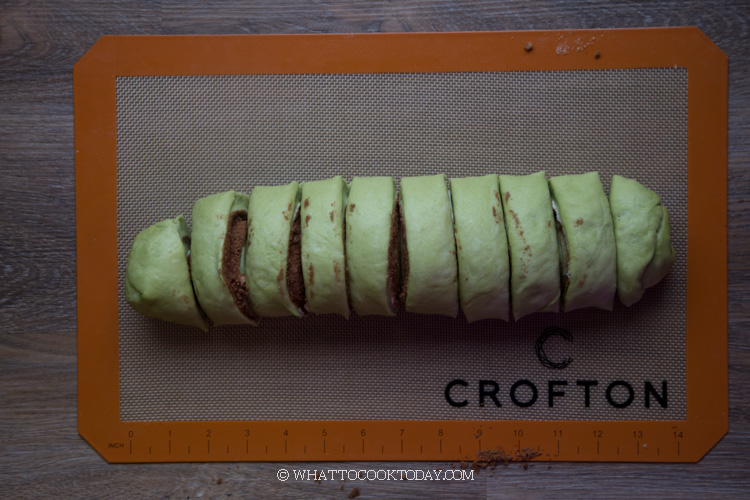 13. Line baking pan with parchment paper
14. Place the rolls on the pan, cover with plastic wrap and let them rise again for another 30 minutes


15. Bake at 350 F for 15-20 minutes
Bake just until the edge is lightly brown. This is to make sure we keep the center soft and moist. The important part of the rolls 😉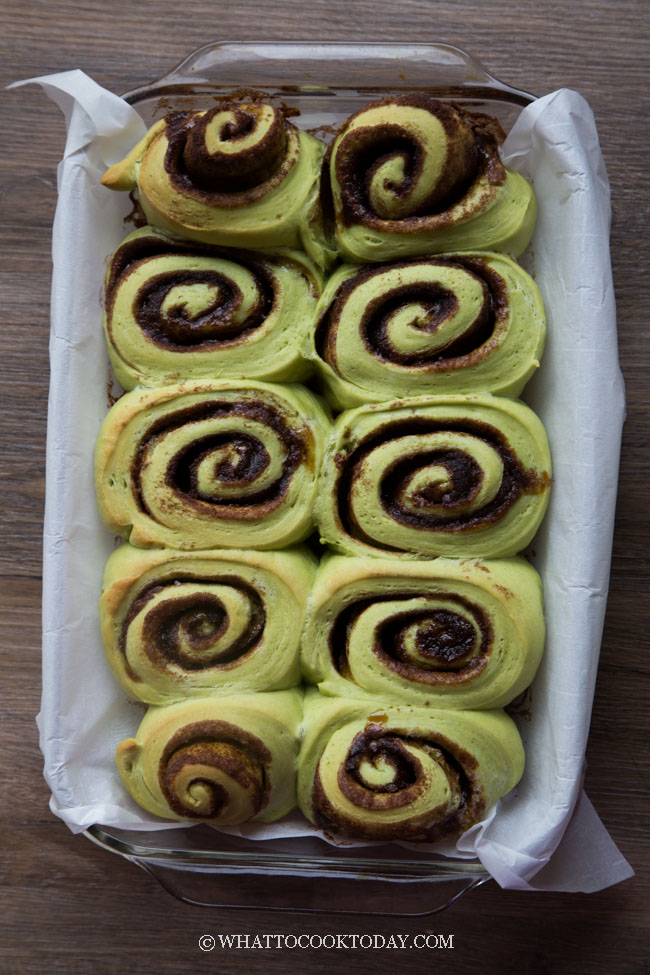 16. Wait 5 minutes and then frost the rolls with icing

Now, your job is try not to eat too many of these. I'm serious! It's hard!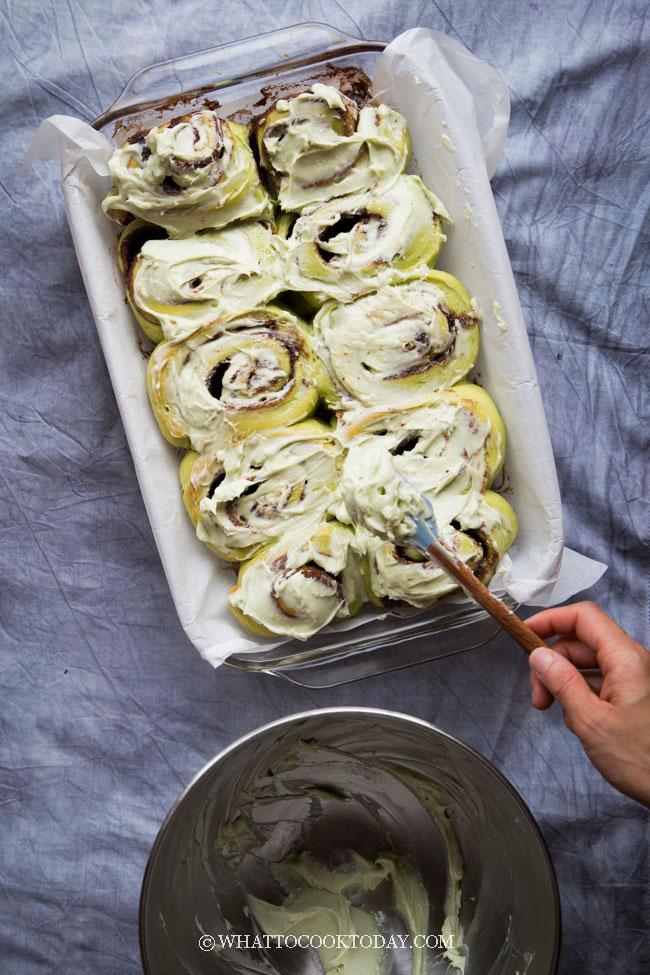 My 4 and 7 years old ate two of these huge pandan cinnamon rolls in a day! Those two hungry beasts!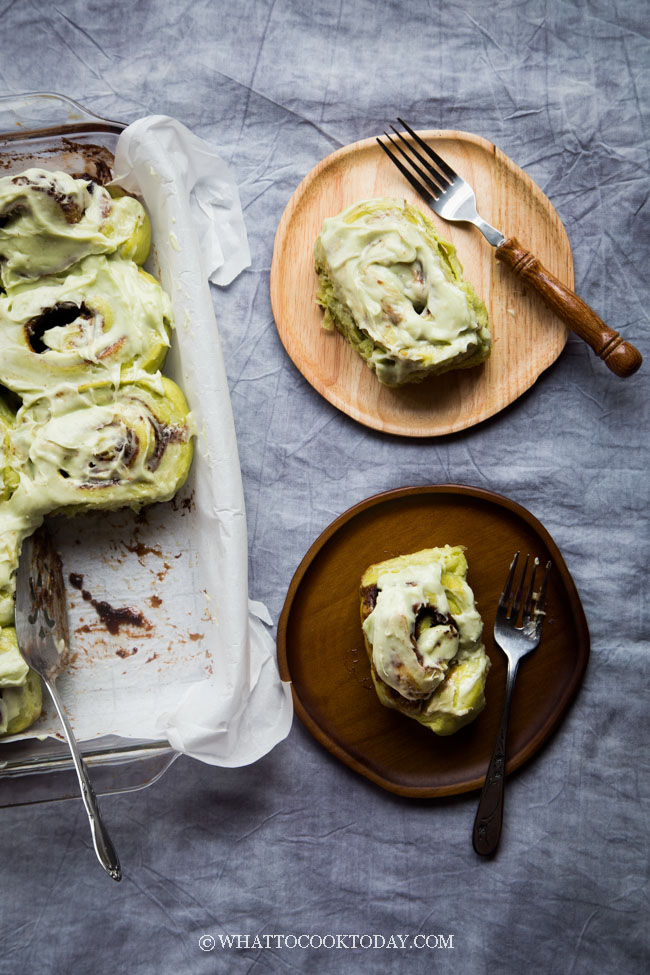 HOW TO MAKE PANDAN CINNAMON ROLLS AHEAD OF TIME
There are two ways you can do this:
1. First rise in the refrigerator
This is after the dough is done kneading. You place it in a lightly oiled bowl and then cover and pop it in the refrigerator until the next day. The next day, just get it out from the refrigerator and punch the dough down and roll it back into a ball. Cover and let it rest for another 1 hour before shaping.
2. Refrigerate after first rise
This method is a bit faster if you want to save time. After the first rise for 60 minutes, follow the recipe to fill the dough and roll it up tightly and cut into 10 pieces and place them on the baking pan. Cover and pop them in the refrigerator. The next day, get them out from the refrigerator. Let them rise again and then bake.
HOW TO STORE LEFTOVER PANDAN CINNAMON ROLLS
They can be kept at room temperature for up to 2 days. Make sure you cover them with plastic wrap to prevent them from drying out. After that, they need to be kept in the refrigerator for up to 1 week. You can freeze them by individually wrapping it up and place in freezer friendly bag.
HOW TO REHEAT PANDAN CINNAMON ROLLS
If frozen, get them out from the fridge to thaw or you can let them thaw in the refrigerator overnight. Cover the roll in aluminum foil and then reheat at 400F for about 15 minutes or until warm. You can also reheat in the microwave for about 45-60 seconds depending on how large the rolls is.
These pandan cinnamon rolls are due for a repeat VERY soon!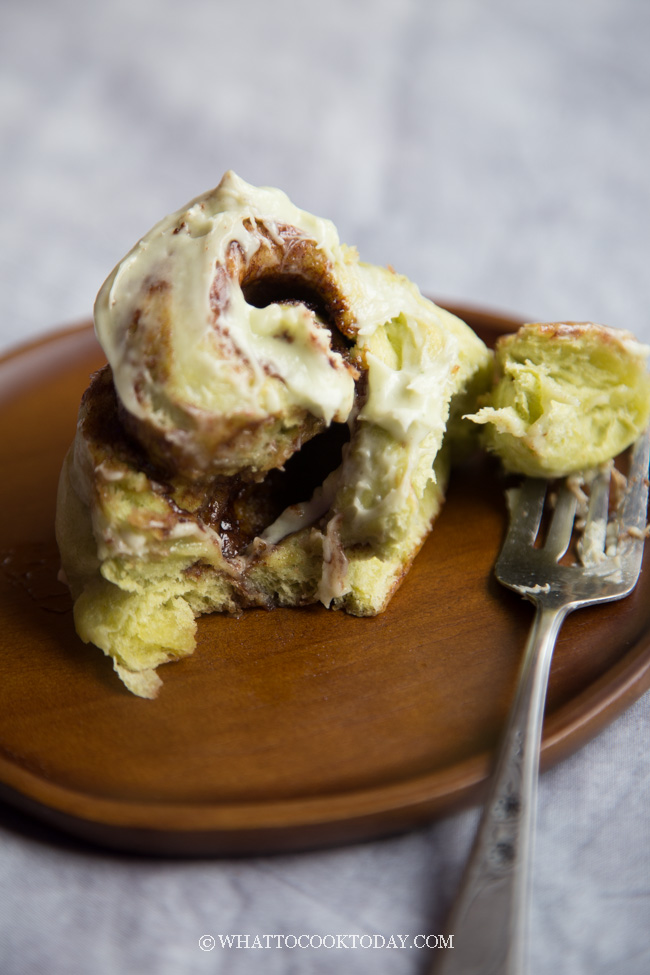 Recipe was originally made by adding raisins and without cream cheese frosting. I've updated the recipe without raisins and with pandan cream cheese frosting (soo good!)
Recipe is adapted from Ambitious Kitchen
The Best Pandan Cinnamon Rolls
Ingredients
Dough:
180

ml

pandan juice

3/4 cup, double the recipe

2 ¼

teaspoons

active dry yeast

54

gr

coconut oil

1/4 cup, melted

50

gr

sugar

1/4 cup

1

large egg

at room temperature

1

egg yolk

495

gr

bread flour

about 3 cups

¾

tsp

salt
Filling:
72

gr

solid coconut oil or softened butter

1/3 cup

135

gr

brown sugar

2/3 cup, packed

2

tbsp

ground cinnamon
Icing:
120

gr

cream cheese

4 oz, softened

35

gr

powdered sugar

1/3 cup

3

Tbsp

pandan extract

homemade, or you can use 1/2 tsp pandan essence

3

Tbsp

solid coconut oil

you can use softened butter
Instructions
Prepare pandan juice at least 24 hours before:
Double the recipe for how to make pandan juice because you will need 180 ml (3/4 cup) of the juice and 3 Tbsp of the extract (the concentrated form that sink to the bottom). You can also use store-bought pandan essence and omit adding homemade pandan extract
Preparing the dough:
Warm the juice to about 110F (38 C). Pour this into a mixing bowl of electric mixer/stand mixer. Sprinkle in the yeast in the warm pandan juice and let it sit for 10 minutes and it will get foamy. Add sugar, melted coconut oil/butter, and eggs in the yeast mixture

Mix flour and salt in another bowl and stir to mix. Gradually add this to the yeast mixture and the dough will start to come together. Continue to knead the dough on medium speed for 8 minutes

Place the dough in a lightly oiled bowl, turn to grease all sides, cover the bowl, and let the dough rise for 60 minutes, or until it's nearly doubled in bulk. In winter time, I need to place this in the oven that I preheat to 100 F and then turn off and wait 10 minutes then place the dough in there to rise

Once the dough doubled in size, use your finger to make an indentation, if it stays, your dough is ready
Prepare the filling and frosting:
Place all the ingredients for filling, except for butter, in a medium bowl and stir to mix

In another mixing bowl, add all the frosting ingredients. Use a whip attachment or whisk to beat until the frosting is fluffy and creamy. Cover and keep in the refrigerator
Shaping the dough:
Once the dough has risen, gently punch the dough down to deflate it, transfer it to a lightly greased large parchment paper (not wax paper) or silicon mat. Roll the dough into a 9x14 inch rectangle

Spread the dough with coconut oil or butter, leaving about 1-inch around the edges

Starting with a short end, roll the dough tightly into a log and cut it into 10 equal slices

Place the rolls in a 9x13 pan (that's what i used), or 9x9 square pan or even round. Cover the pan and let the buns rise until they're nearly doubled, about 30 minutes

Preheat the oven to 350 F. Uncover the rolls, and bake them until they're golden brown, about 15 minutes (my weird oven took 20 minutes)

Remove the rolls from the oven. Let the rolls cool down for 5 minutes. Spread the frosting over the rolls