Khai Look Khoey or known as son-in-law eggs are blistered hard-boiled eggs served with addicting spicy tamarind sauce. This is one of my favorite easy recipes that I made often.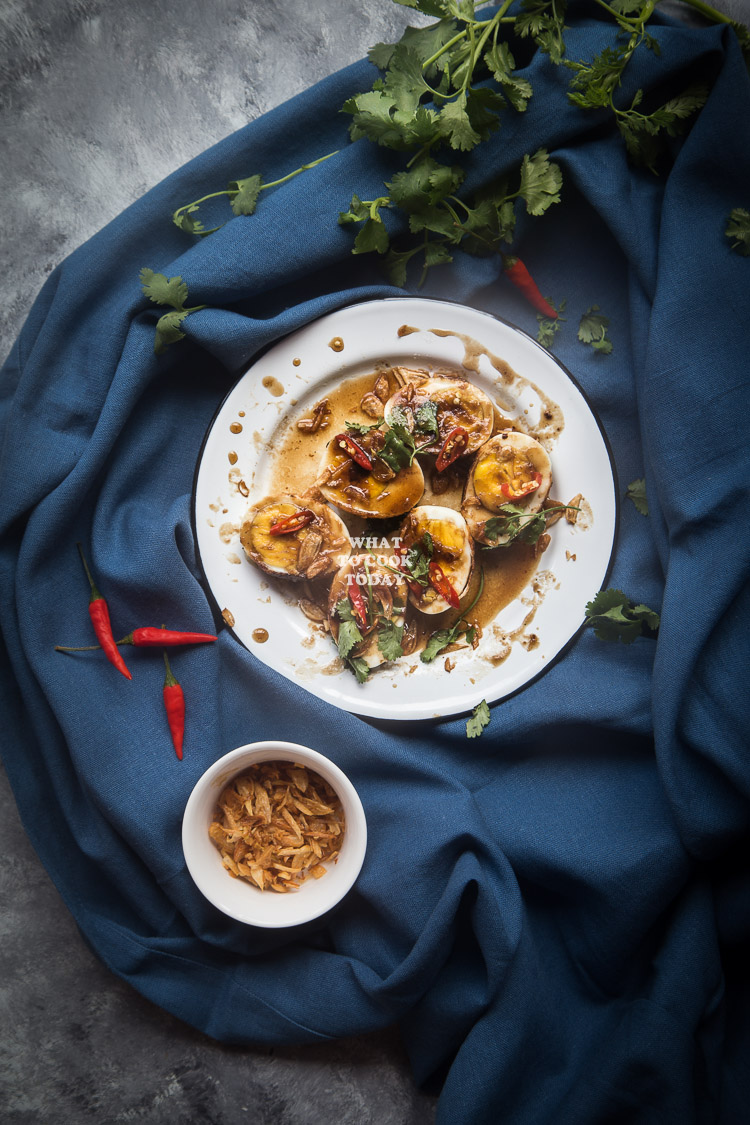 I think I've mentioned before that I can run out of anything in the fridge and as long as I have eggs in the fridge, we have a meal. Like literally! This is one of my favorite eggs recipes. EVER! (besides the egg sambal!).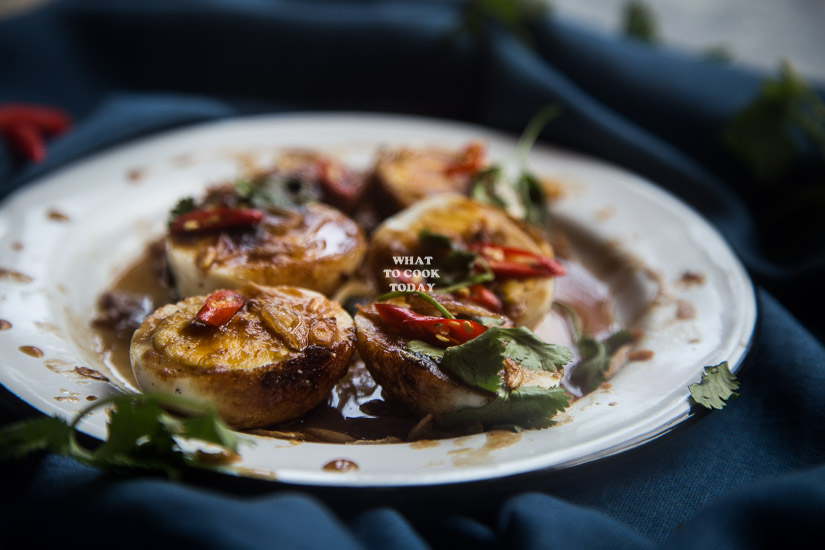 WHY IT'S CALLED SON-IN-LAW EGGS
Thai Son-in-law eggs are hard-boiled eggs blistered in hot oil until golden brown all over and then smothered in sweet, spicy, tangy tamarind sauce. So, some of you may wonder why in the world it is named Son-in-law eggs. Well, legend has it that a guy made this dish to impress his future in-laws. Well, they were so impressed that they named this dish as such 🙂
TAMARIND (ASAM JAWA)
In case you have never used tamarind before, they are very commonly used in cooking in Southeast Asia. This son-in-law recipe calls for tamarinds and it is what makes this dish special. They are naturally sweet and fragrant. The tartness derives from tamarind is different than that of vinegar. It has that mild fragrant sweet aroma. I love it. My mom used to buy a whole box of sweet tamarinds before Chinese New Year (that's the only time they are available at our hometown) for snacking.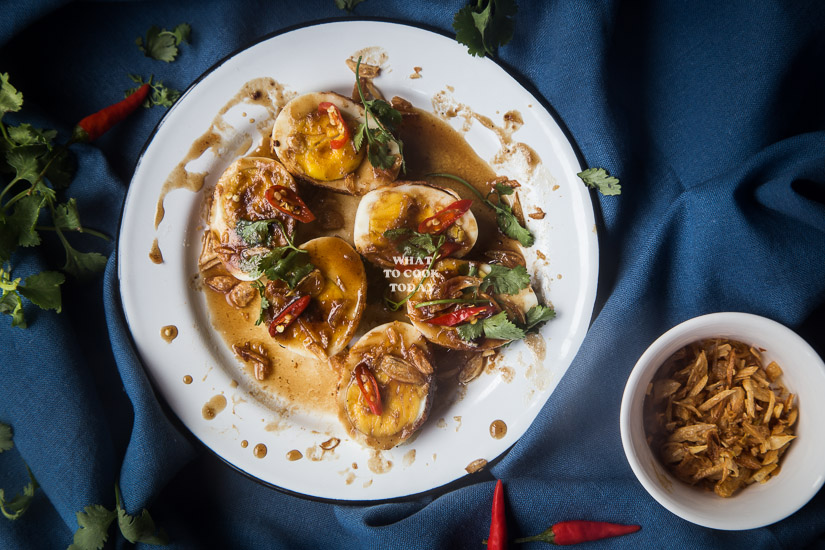 DEEP FRY OR PAN FRY THE EGGS
Some people will deep fry the eggs, but just pan frying it with some oil will achieve the same blistered crunchy eggs too.
VARIETIES YOU CAN DO WITH SON-IN-LAW EGGS
Traditionally, hard-boiled eggs are used for son-in-law eggs. But in this modern world, I don't see why you can't adapt it 😉
1. Soft-boiled eggs
Instead of hard-boiled eggs, you can make soft-boiled eggs.
2. Fried eggs
You know..like the breakfast fried eggs? yeah…I love it with this son-in-law sauce smothered on top
3. Different type of eggs
Small eggs like quail eggs would be perfect for son-in-law eggs too. My son LOVES (like A LOT kinda love!) quail eggs! I'm not sure why. Perhaps it's the size. Duck eggs would be perfect too.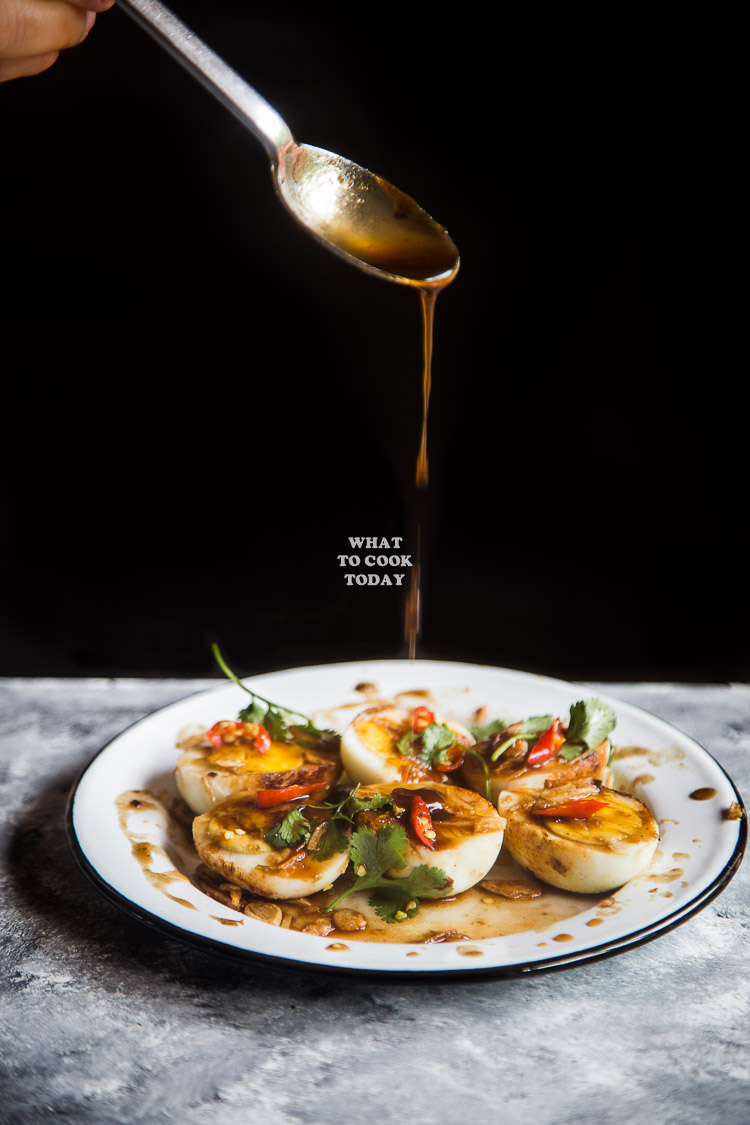 If you give these Khai Look Khoey a chance, I believe you will love it too. I omit the chili for my kids. They love the sauce.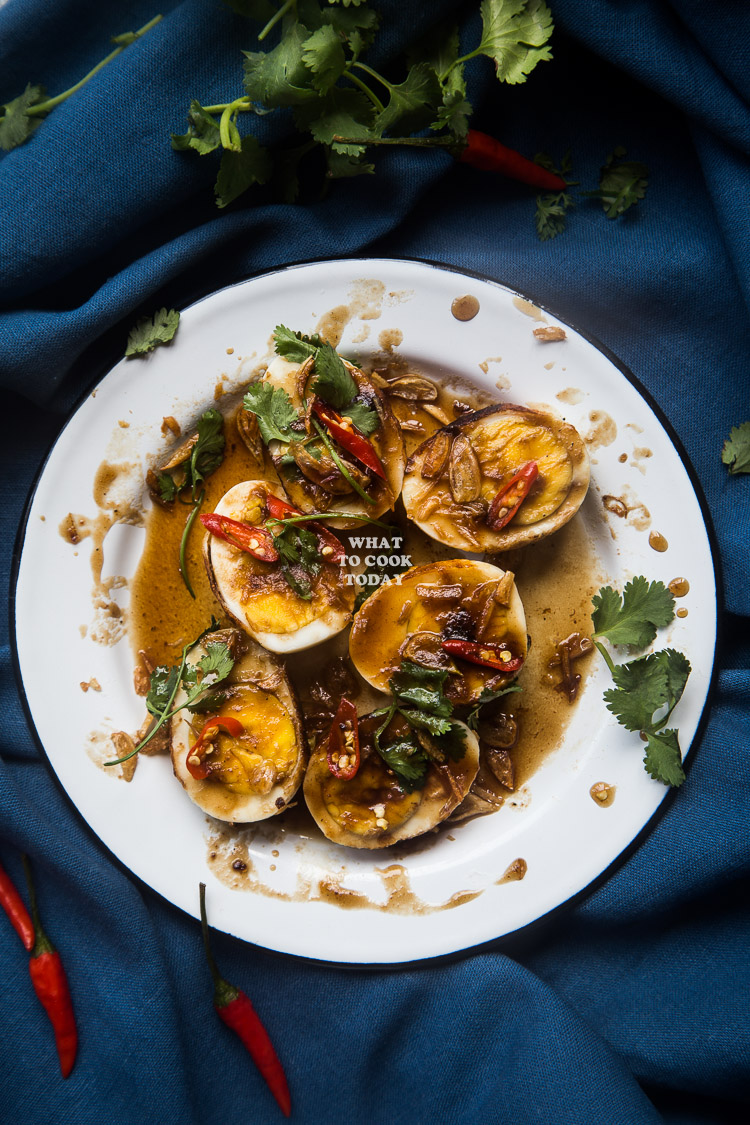 Khai Look Khoey (Thai Son-in-law eggs)
Khai Look Khoey or known as son-in-law eggs are blistered hard-boiled eggs served with addicting spicy tamarind sauce. This is one of my favorite easy recipes that I made often.
PIN RECIPE
PRINT RECIPE
Ingredients
Garnishes:
2

Tbsp

Crispy shallots

Small bunch of fresh coriander leaves

1

Thai red chili

chopped or sliced at an angle
Instructions
Let the eggs sit at room temperature for about 15 minutes before cooking. Bring a medium pot of water (enough to cover the eggs) to a rolling boil. Gently add the eggs into the pot. Turn off the heat and cover the pot with lid and let sit for about 12 minutes

Remove from the pot and rinse with cold water to stop the cooking. Peel the shells off and set aside and pat dry with absorbent paper towel to prevent splattering when you pan fry later
Making the sauce:
Place the tamarind in a small bowl. Add in the hot water and let sit for 15 minutes. Use the back of the spoon to gently press on the tamarind paste that has softened and continue to do so until it turns into mush

In a small saucepan, add in the softened tamarind, sugar, and fish sauce. Cook until the sauce turns into a thin syrup consistency. If it's too thick, add a bit more water. If it's too thin, reduce the sauce a bit longer. Have a taste, it should be sweet, tangy, and savory
Putting together:
Make sure the surface of the boiled eggs are dry before you pan fry them. Preheat cooking oil in a frying pan, about 1/2-inch in height. When the oil is hot, lower the heat to medium, gently place the eggs in the pan and use a slotted spoon to turn the eggs around to let them blister and turn golden brown all over. They turn brown very quickly, so watch the heat and lower it further if needed

Remove from the pan into a paper towel. Cut into half and place on serving platter. Drizzle with tamarind sauce, crispy shallots, fresh coriander leaves, and chili. Ready to serve
This blog post contains affiliate links. I earn a small commission when you made purchase at no extra cost to you. Learn more.