7-Minute Soft-boiled Eggs with Creamy Edamame Dressing – Learn how to make perfect 7-minute soft-boiled eggs with custardy yolks served with simple, refreshing and creamy edamame dressing. So perfect as is or served with salad. You want to drizzle the dressing on pretty much everything.
I thought about buying the pre-shelled edamame (I'm allowed to be lazy, aren't I?), but my kids love to eat edamame from the pods, so that's what stops me from buying the pre-shelled ones. I usually like to eat them from the pods too, I think it's fun. But when I need to use the bean itself for the recipe, I can't pop the pod in my mouth to pop the beans out. Well, technically I could, but yeah…everyone will have a share of my saliva! Popping the beans out from the pods by hands is just not as fun 🙂

Anyways, this 7-minute soft-boiled eggs with creamy edamame dressing is seriously one of my favorites. The custardy yolks with the refreshing and creamy edamame dressing are such perfect combinations.
In this photo, I show you how an extra minute can change the consistency of the yolks.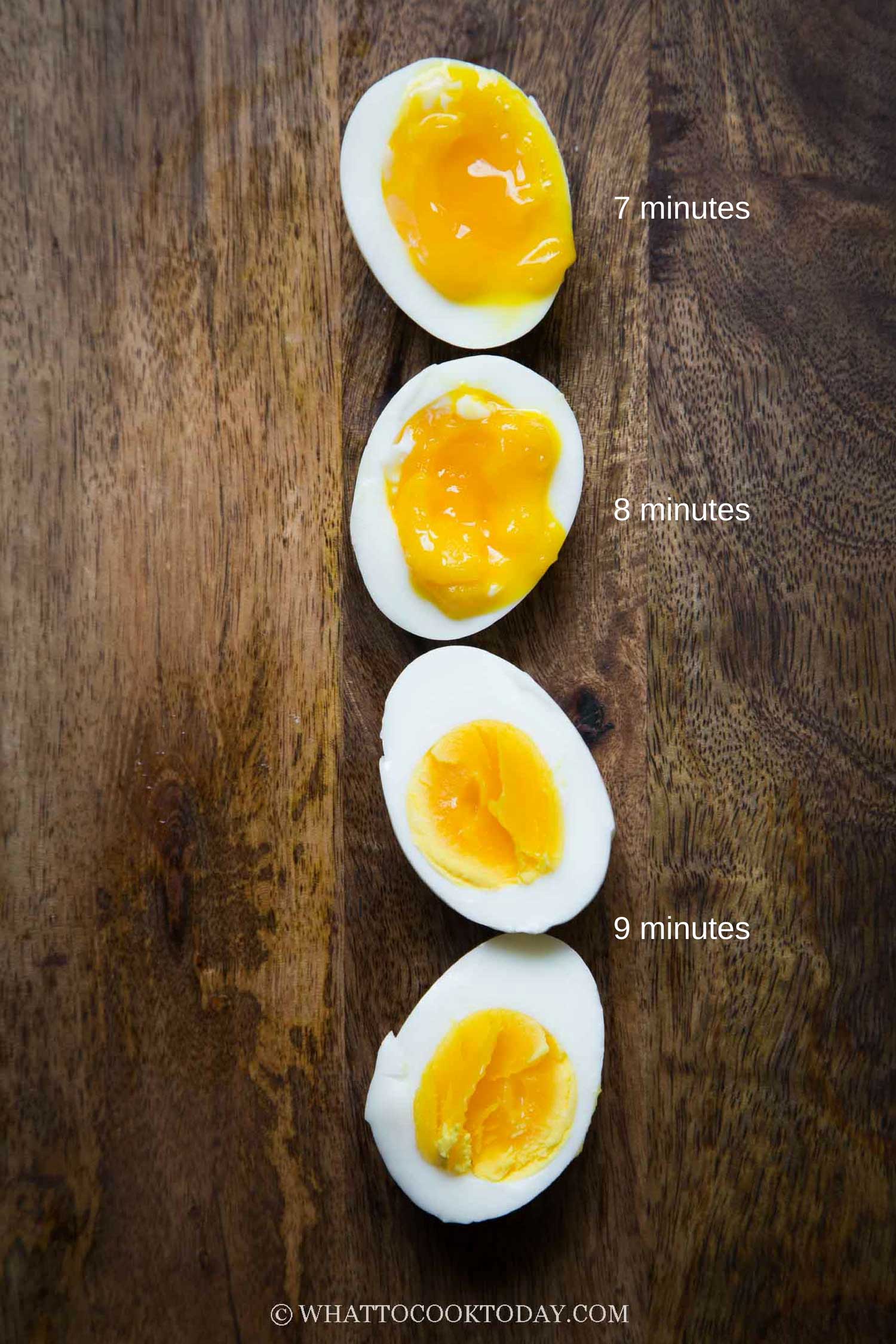 HOW TO MAKE A PERFECT 7-MINUTE SOFT-BOILED EGGS
1. Prepare ice water bath
This is crucial to stop the cooking process as quickly as possible. Eggs are heat-sensitive, any extra seconds can affect the outcome
2. Let eggs come close to room temperature
I recommend taking the eggs out from the refrigerator about 15 minutes before you want to boil them. This will help to prevent the egg shells from cracking when come into contact with the hot boiling water
3. Use digital timer
Yes, the timing is very important here. I usually use the digital timer on my phone instead of my usual dial kitchen timer that's not very precise
4. Set the timer a bit less than 7 minutes
Yes, I know it's called 7-minute eggs, but if you set it all the way to 7 minutes, by the time you get them to the ice water bath, it may be a bit over 7 minutes. So, for this recipe I set it to 6 minutes 50 seconds
5. Let them cool down
The boiled eggs are easier to peel when they have cooled down. Otherwise, the shells might still cling to the egg whites and you will have bumpy surface from peeling off the egg whites too
CAN I MAKE THE CREAMY EDAMAME DRESSING DAIRY FREE?
You can do so by substituting the sour cream with coconut cream. It's not really an equal substitution in terms of sourness, but if you like coconut, this will make a nice creamy edamame dressing with slightly different taste profile.
HOW TO STORE BOILED EGGS AND CREAMY EDAMAME DRESSING
Eggs: The soft-boiled eggs can be stored in the refrigerator for up to one week, with out without it shells. I do not recommend freezing simply because the egg white doesn't hold up well after freezing.
Edamame dressing: The dressing can be store in the refrigerator for up to 5 days and I do not recommend freezing the dressing either because it has sour cream and dairy product just doesn't do well after freezing.
7-Minute Soft-boiled Eggs with Creamy Edamame Dressing
Ingredients
Creamy edamame dressing (makes about 1 cup):
Seasonings:
½

tsp

salt

½

tsp

sugar

½

tsp

ground pepper
Instructions
Cook the eggs (Can be done one day before):
Bring the eggs out about 5 minutes before cooking to let them come close to room temperature. Bring a medium pot of water to a boil. When the water is rolling boil, use a spoon to gently lower the eggs to the boiling water. Lower the heat a bit, but make sure the water is still simmering gently. Set timer to 7 minutes

When the timer is up, transfer the eggs carefully to the ice water and let them sit there for 5 minutes to stop the cooking process quickly. It's easier to peel the shells when the eggs are cool. If you are doing this one day before. Store them in the fridge with the shells on and peel the next day
Prepare the dressing:
Bring a medium pot of water to a boil. Add Edamame and boil for about 5 minutes. Discard water and shell the beans

Place the edamame beans and the rest of the dressing ingredients and seasonings in a blender and puree until smooth and creamy. Add a bit more oil if it's too thick
To serve:
Cut the eggs into half and arrange on serving platter. The yolks will be custardy and slightly runny if you cook for 7 minutes. Scoop about 1 tsp of dressing on each half of the egg. Reserve dressing on the side if you need to drizzle more

Serve with salad or on its own. So delish and refreshing!
This blog post contains affiliate links. I earn a small commission when you made purchase at no extra cost to you. Learn more.