Savory Moong Dal Pancakes and Simple Yogurt Sauce – Learn how to make this simple yet amazingly delicious Indian savory moong dal pancakes that are perfect as a breakfast dish or as an accompaniment to other meals.
Okay, so here's a little background of Indian food and me. I never knew about Indian food until I lived in Singapore for few years. Growing up, I had no exposure to Indian food. There is a very tiny Indian community in the hometown where I grew up, but still, you don't find much Indian food being sold there. Indian food is well-known for heavy spices, which I love. Indonesian food has lots of spices and herbs too, but they are almost a different set of spices and herbs being used. I love Indian food now after Singapore! I felt like I had been missing out all these years, but again, I had no exposure to it. I only grew up with Indonesian and Indonesian Chinese food. With the recent trend of Indian food, it's even easier to find food Indian restaurants. We have a couple of our favorites here in Minnesota too.
Anyway, let's talk savory moong dal pancakes, shall we?
WHAT IS MOONG DAL?
Moong dal is also known as mung beans. These tiny green color beans are widely used across Asia, Europe, Middle East, anywhere but the United States 🙂 until of course recently!
There is also a variety called split mung beans, where the outer shells have been removed to expose the yellow flesh. This recipe calls for split mung beans. Here are several recipes that use split mung beans in sweet and savory dishes.
IS MOONG DAL GOOD FOR YOU?
Moong dal is packed with protein, carbohydrates, and fiber. They are great for those who are vegetarian, vegan, or simply just want to have meatless meals some days. They are a cheap source of protein and easy to grow and that's why they are highly popular. Moon dal is naturally gluten-free too. So yes, moong dal is definitely good for you, but it's not a magic food that you can overload on its own too. Everything in moderation and variety is important too.


TIPS ON HOW TO SUCCESSFULLY MAKE SAVORY MOONG DAL PANCAKES
This savory moong dal pancakes is pretty fool-proof and the batter is very forgiving, so the chances of you messing up is pretty slim. Still, it's nice to share few tips to make things go smoother
1. Soak the mung bean for at least 4 hours
Soaking will soften the beans and also helps to remove some of the indigestible carbs, oligosaccharides, that causes bloatness/flatulence.
2. Stir the batter each time before you cook the pancakes
This is important. The starch tends to settle at the bottom. So give it a good stir so you get a good result for the pancakes

WHAT CAN I SERVE MOONG DAL PANCAKES WITH?
These savory moong dal pancakes can be served as is with the simple yogurt sauce on. You can replace tortilla wrap and used this protein-packed wrap instead. You can also serve it with other vegetable side dishes, curry dishes. These are just to mention a few.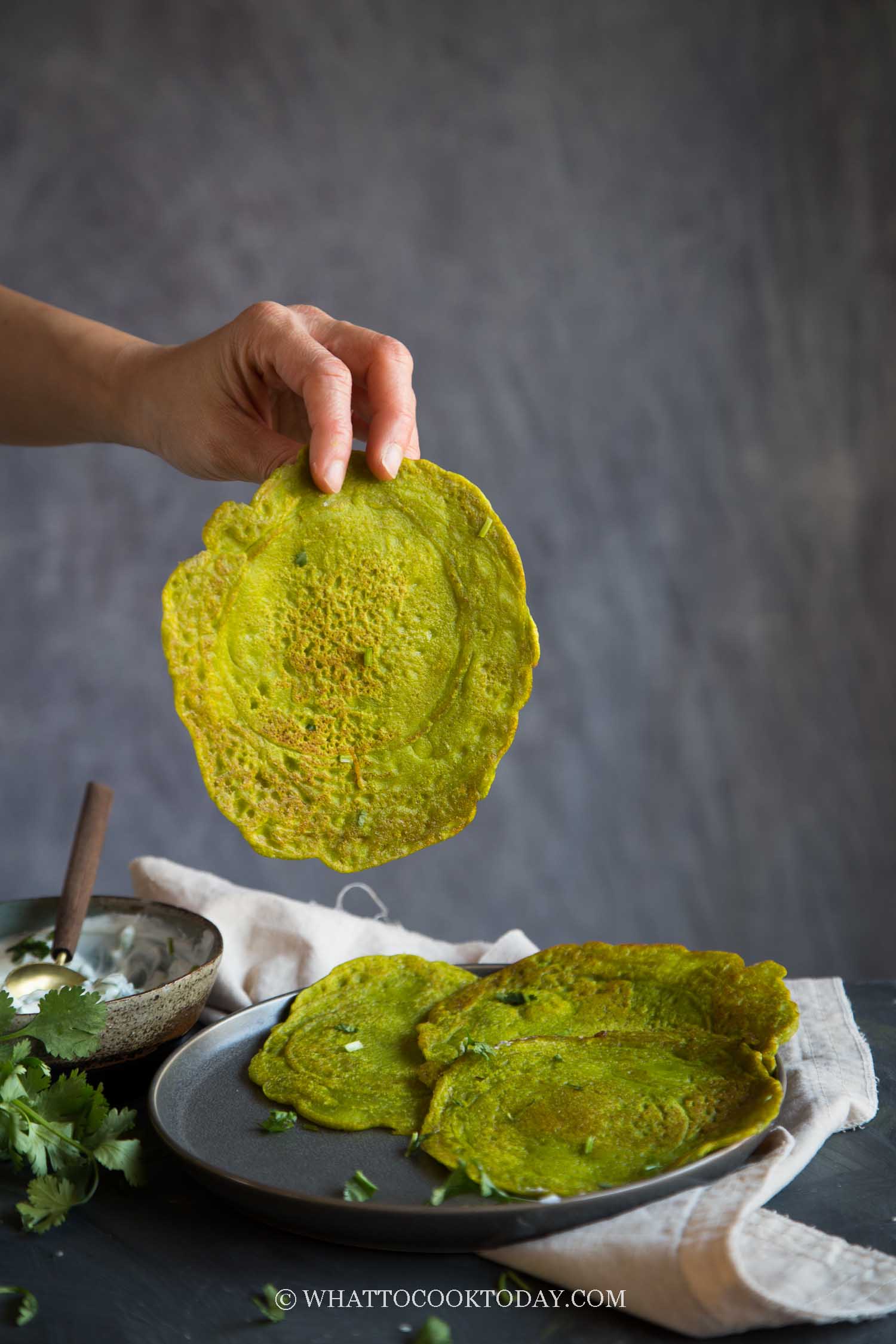 This savory moong dal pancake has become my husband's favorite. Even the kids love this pancakes. Don't be alarmed by the greenish color of the pancakes. That is naturally from the cilantro leaves that I blended together with the moong beans to make the batter.
This blog post contains affiliate links. I earn a small commission when you made purchase at no extra cost to you. Learn more.
The recipe is adapted from Madhur Jaffrey's Vegetarian India cookbook, which I totally enjoy cooking from!
Savory Moong Dal Pancakes and Simple Yogurt Sauce
Ingredients
Pancakes:
1

cup

moong dal (split mung beans)

¾

cup

water

2

cloves

garlic

1

cup

packed cilantro leaves

roughly chopped

1

tsp

salt

1

large

shallots

¼

tsp

ground turmeric powder

6

Tbsp

cooking oil
Simple yogurt sauce:
1

cup

plain yogurt

¼

tsp

salt

Freshly ground black pepper

Pinch of red pepper flakes/chili powder
Instructions
Soak the beans:
Place the beans in a large mixing bowl and pour clean water in to cover the beans and let them soak for at least 4 hours. Discard water after that and they are ready to be used
Simple yogurt sauce:
Lightly beat the yogurt with a fork and then stir in the salt and the rest of the ingredients. Cover and chill in the refrigerator. They can be kept in the refrigerator for max 1 week. Do not freeze
Prepare the batter:
Place all the ingredients for pancakes, except for turmeric powder and cooking oil, into the blender and blend until smooth. Stir in the turmeric powder. I add the turmeric last, so it won't stain the blender all yellow. Pour the mixture into a large mixing bowl
Cooking:
Preheat non-stick frying pan over medium heat. Add about 1 tsp of cooking oil and swirl to coat the base. Give the batter a stir each time before you ladle it

Ladle about 1/3 cup and pour into the center of the pan. Let it cook for about 2 seconds and then use the back of the spoon to gently spread the batter outward in a continuous spiral motion to form a roughly 7-inch circle. You don't want to disturb the bottom layer when you are spreading

Drizzle another teaspoon of oil just outside the rim of the pancake. Cover and cook for about 1 minute. Uncover and then flip over and cook without over for another 1 minute. Transfer to a plate

Repeat with the remaining batter and don't forget to give the batter a good stir each time before cooking
Serving:
Serve the pancakes with the simple yogurt sauce on the side