Ube Coconut Ice Cream (with Ube Crinkle Cookies) – Learn how to make this dairy-free soft and creamy ube coconut ice cream topped with soft ube crinkle cookies. This is a summer staple everyone must try!
You might think I don't know what the heck ube is or how to pronounce it (oo-bay), this tuber root vegetable has gained significant popularity lately. My first exposure to ube was in Hawaii when I saw dessert and cakes made with ube. Then my own experiment with ube crinkle cookies has changed our lives forever. Our kids absolutely in love with those cookies AND this ube coconut ice cream! separately OR TOGETHER! Sorry, I didn't mean to yell! But, I got a bit too excited with the combination of both together!
This ube coconut ice cream can be served as is without the ube crinkle cookies, but if you happen to make some on the same day like I did, please put them together!

Like I've mentioned before that fresh ube is not available where I'm at. The best I could find was this frozen grated ube.

TIPS ON HOW TO SUCCESSFULLY MAKE UBE COCONUT ICE CREAM
1. Blender
I put everything in the blender to get a smooth mixture and it really just makes life so much easier
2. Add eggs
I know some of you may think it's a hassle having to cook the ice cream mixture now because of the eggs, but trust me, I think it's worth it! I love having eggs in the ice cream because it makes it soft and velvety
3. Control the heat
Combination of ube and coconut is just so good I decided not to use heavy cream instead. When you cook the ice cream mixture, make sure it's over low to medium heat. DO NOT EVER LET IT COMES TO A BOIL! This will "break" the coconut and make it frothy
4. Chill the mixture before churning
I like to chill the ice cream mixture after that for until the next day because it churns so much better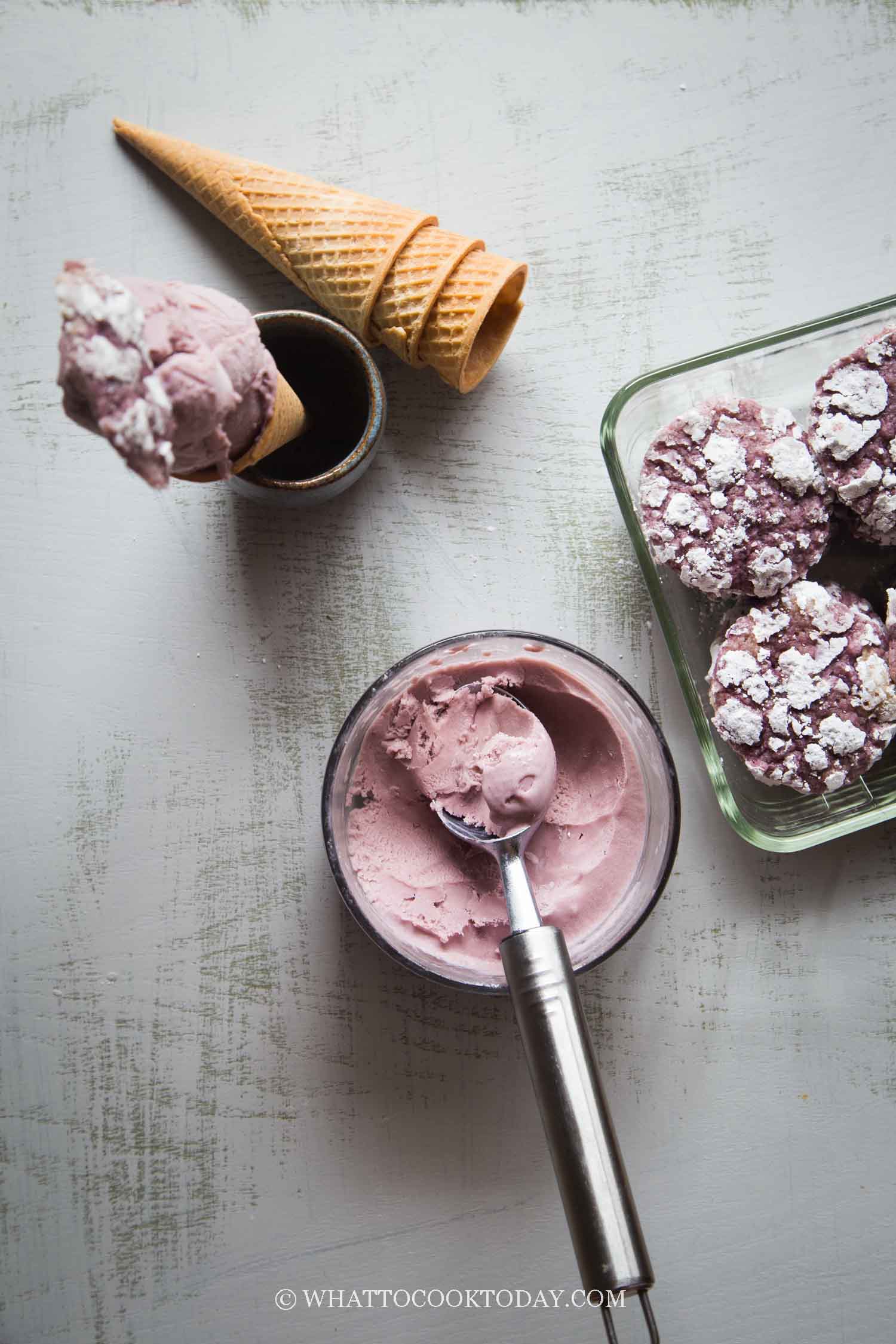 Our summer is just not the same without the addition of this creamy ube coconut ice cream. The mild taste of ube is just enough to let you know that hey..I'm here! without overwhelming your ube coconut ice cream experience!

This blog post contains affiliate links. I earn a small commission when you made purchase at no extra cost to you. Learn more.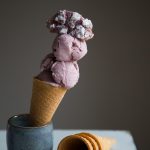 Ube Coconut Ice Cream (with Ube Crinkle Cookies)
Ingredients
1

cup packed

mashed ube - see notes

or ube jam (ube halaya)

1 ½

cup

coconut milk

⅓

cup

sugar or more to your taste

cut down if using sweetened ube jam

2

large

eggs

beaten

1

tsp

ube extract

¼

tsp

salt
Instructions
Place all the ingredients in a blender and blend until smooth. Pour into a medium saucepan and stir until the mixture comes to a gentle simmer (do not boil). Cook until it coats the back of the spatula. Remove from the heat and let it cool down some and then cover with cling wrap and refrigerate overnight. I feel that it churns the best when I refrigerate it overnight (maybe it's just my ice cream maker)

When ready to churn, follow your ice cream maker instruction. Pour this into freezer-friendly ice cream tubs. If you serve immediately, it's more of like a soft-serve consistency. Freeze for about 4 hours and ready to be served as ice cream

Scoop some ice cream into cones or cups and you can crumble in the ube crinkle cookies or just place it on top of the ice cream for presentation
Notes
If using frozen grated ube, squeeze as much water out from the ube as possible after thawing. Then steam them for 20 minutes and mash it with a fork while warm