Traditional crinkle cookies with a hint of ube or purple sweet potatoes is a HUGE hit in our house. The recipe can be made with egg or without egg. All the tips you need to know to get the perfect crinkles and to prevent the powdered sugar from melting.
Purple crinkle cookies
These amazingly soft ube or purple ube or sweet potato crinkle cookies are a twist from the classic crinkle cookies. They have become one of our family favorites every year. I like the crusty cookies on the outside but the inside is soooo soft, gooey and just melt in your mouth!! It has that hint of purple sweet potato that I love. Even if you don't think you will like purple sweet potato or ube, you will not mind it in these cookies. For Real!
*Please note that I will mention both Ube or purple sweet potatoes in this post, but they are not the same thing. I tried the recipe with ube and two different types of purple sweet potatoes. The recipe can be made with any of the three*
*Please note that I will mention both Ube or purple sweet potatoes in this post, but they are not the same thing. I tried the recipe with ube and two different types of purple sweet potatoes. The recipe can be made with any of the three*
What is ube?
Ube is a popular purple yam that originated in the Philippines. It is being used extensively in desserts in the Phillipines. It has a nice purple hue and has a subtle flavor and a creamier texture but not as sweet compared to purple sweet potatoes, which tend to be drier in texture. Don't be mistaken this with the taro, which is also called yam, but it's not the same kind of yam as ube. I have used ube in ube coconut ice cream and ube bibingka galapong
Why we love these ube crinkle cookies
1. The recipe uses mashed ube or purple sweet potatoes and not only using extract. So I can actually taste some ube in the cookies
2. The cookies are not overly sweet. You can adjust by adding more if you have a sweet tooth.
3. Now you can make eggless ube crinkle cookies by replacing the egg with ground flax seeds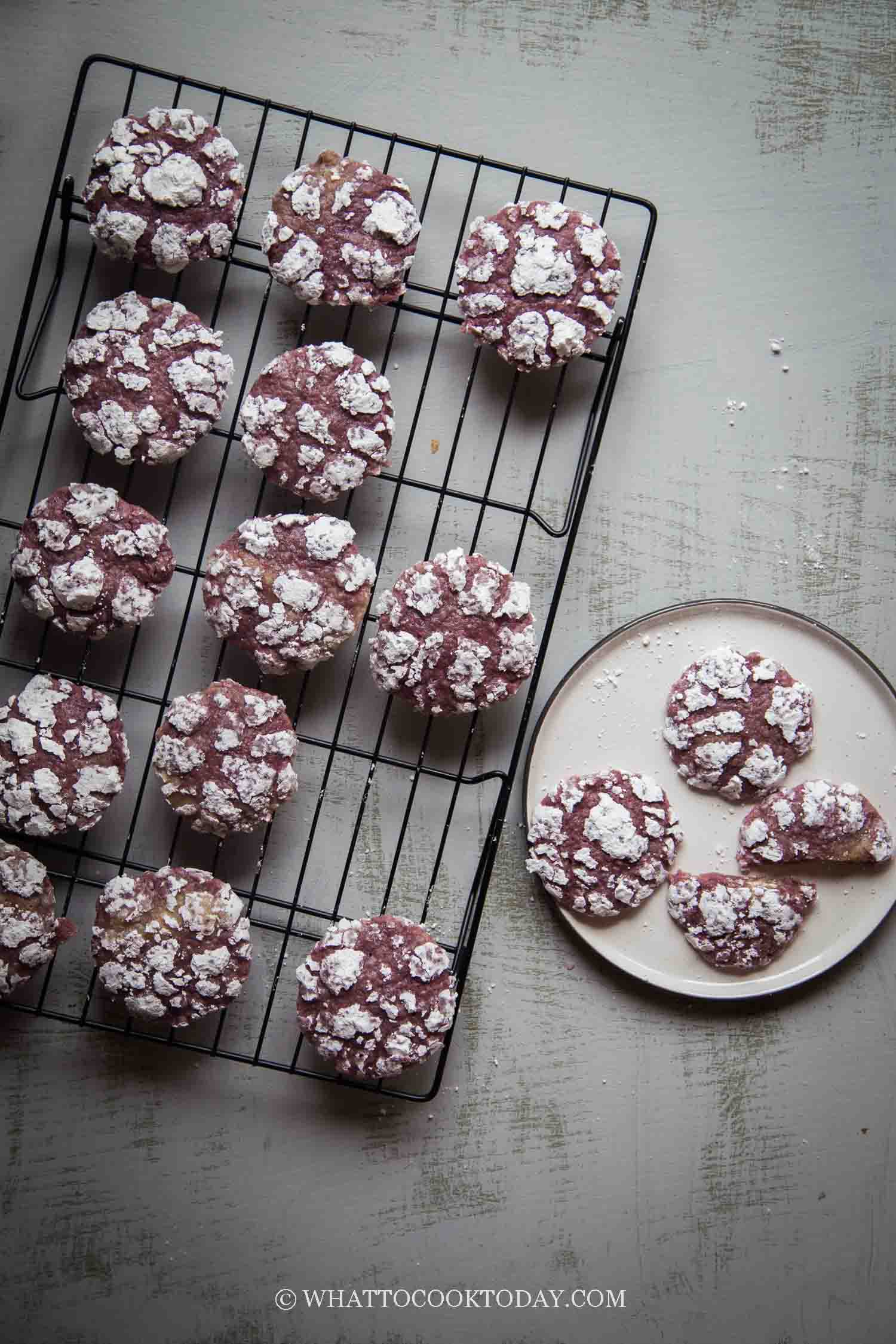 You can read about the different purple sweet potatoes and ube in this purple sweet potato chiffon cake.
Substitute for fresh ube yam
If you can't find fresh ube (I couldn't), here are options of what you can use:
1. Frozen grated ube
They are widely available at Asian grocery store at the frozen aisle
2. Ube halaya (Ube jam)
You can use store-bought ube halaya or homemade ube halaya
3. Ube powder
You can reconstitute or rehydrate the ube powder and use it in any recipe that calls for ube
4. Stokes or Okinawan sweet potatoes
They are not exactly the same as ube yam, but it's an acceptable substitution as well
Other ingredients used in this recipe
1. All-purpose flour
I use unbleached all-purpose flour with gluten content somewhere between 8-11% can be used
2. Baking powder
I use double-acting baking powder
3. Salt
A tiny pinch really brings out the flavor. I use fine sea salt in this recipe
4. Butter
I use unsalted butter. You can use salted butter and just omit the salt in the recipe
5. Granulated sugar
You can also use caster sugar
6. Light brown sugar
Light brown sugar adds some moisture and gives a chewier texture to cookies. I try to balance between the granulated sugar and light brown sugar by using 50:50 for that balance of crisp and chewiness in texture
7. Ube extract/essence
Ube extract is available at Asia grocery store. This is the one I use and I really like it. It helps to maintain the purple color. Otherwise, you cookie without it will sure turn into green or blue in color
8. Whole egg
I use a large chicken egg, about 50 grams in weight without the shell
9. Egg yolk
The egg yolk adds more richness and keep the cookies moist and again, for that more fudgy texture
Why the ube cookies turn green or blue after baking?
The acid-base balance is what causing the purple color to change color. Anything basic (alkaline) will turn the purple color greenish or bluish. Ingredients like egg whites and baking powder are more alkaline and causing the color to change. This doesn't alter the taste of your cookies. It's just the appearance.
How do you fix this? please add ube extract or purple food coloring to make sure you get the nice vibrant purple color.
Why the ube crinkle cookies don't crinkle?
1. Make sure you measure ingredients correctly
Too much flour will make your cookie tougher and won't expand and give you that crinkle look
2. Don't overbeat the butter and sugar
The butter and sugar in cookie don't have to be beaten until fluffy like in making a cake. If you incorporate too much air into the cookie dough, the structure will be weak and it will deflate when you take them out from the oven, no fun!
3. The dough needs to be chilled for at least 4 hours
This is a very sticky dough and chilling the dough is a must, 4 hours in the refrigerator or 2 hours in the freezer
4. Roll the cookie dough in sugar only after the oven is done preheating and ready for baking.
Once you coat with icing sugar, they need to go on the baking sheet and into the oven for baking
5. Avoid touching the cookie dough too much after coating with sugar
6. The dough may be too cold
If the dough is too cold, the cookies may not spread properly and will stand tall. If that's the case, you can leave the dough out on the counter for 10-15 minutes after shaping them into balls and coat with sugars. Then apply another coating of powdered sugar just before baking
How to get that perfect crinkles on crinkle cookies and prevent icing sugar from melting?
No matter how much icing sugar I coat the cookie dough with, it seems like they just get absorbed into the dough during baking and disappear. So I ended up with cookies that barely have any crinkle effect on top. Finally, after doing a bit of research, I learned from reviewers at King Arthur's Baking that rolling the cookie dough in granulated sugar first and then heavily coat with icing sugar helps to prevent the icing sugar from melting or being absorbed by the cookie dough. You guys, this trick works like a charm!
The cookies have that light taste of ube or purple sweet potatoes in it, which is really nice! Kids really are digging these cookies. I have to actually hide these cookies away from them LOL!
These crinkle cookies are made with Stokes purple sweet potato (with brownish purple skin).

These crinkle cookies are made with ube.

How to freeze unbaked ube crinkle cookies
Prepare as directed in the recipe up to chilling the dough for at least 4 hours and then roll them into little balls. I place the balls on a baking sheet, not touching each other, and then place them in the freezer for 1 hour. They will firm up and then I transfer them to a freezer bag to save space. When ready to bake, arrange on a baking sheet lined with parchment paper and let them sit for about 10 minutes, then roll in granulated sugar, and then heavily coated with powdered sugar.
How to freeze baked ube crinkle cookies
Let the baked cookies cool down completely. Place the cookies on a baking sheet lined with parchment paper, not touching each other and freeze for 1 hour and then transfer to a container in a single layer in between sheets of parchment paper. Simply thaw them at the kitchen counter before serving.

Did you make this ube crinkle cookies recipe?
I love it when you guys snap a photo and tag to show me what you've made 🙂 Simply tag me @WhatToCookToday #WhatToCookToday on Instagram and I'll be sure to stop by and take a peek for real!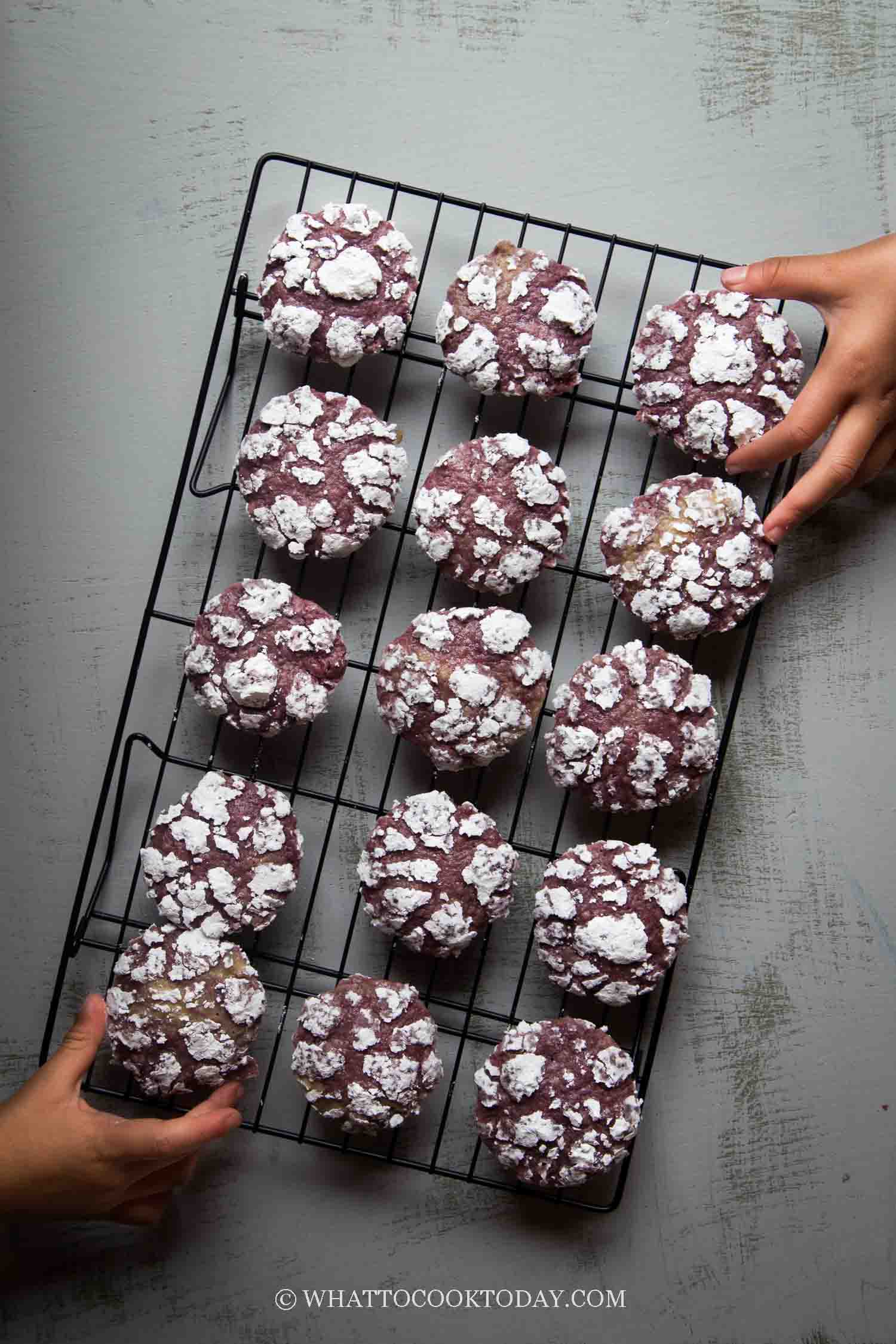 You may also like this red velvet cream cheese crinkle cookies
You may also like these recipes using ube
Ube or Purple Sweet Potato Crinkle Cookies (with Egg or Eggless)
Ingredients
Instructions
For eggless version:
Mix ground flax seeds with water and let it sits for 10-15 minutes
Prepare ube or purple sweet potatoes:
If using fresh ube, Okinawan purple sweet potatoes, or Stokes purple sweet potatoes, peel the skin and then cut into large chunks and steam for about 15 minutes or until easily mash with fork. You can also microwave on high for 8-10 minutes or until soft.

If using frozen grated ube, thaw and pour off any excess liquid. Steam for about 10-15 minutes or until easily mashable. Pour off any excess liquid if any. Transfer to a food processor to blend until smooth consistency

Get 113 grams of ube or purple sweet potatoes to make cookies, you can keep the rest for other use
Prepare cookie dough:
Place the dry ingredients in a mixing bowl and whisk to mix. Set aside. Use an electric mixer to cream the butter and sugar until creamy and pale on high speed, about 2 minutes. Add room temperature egg and egg yolk (for egg version) or soaked flax seeds (for eggless version). Cream again until just combined. Add ube or purple sweet potatoes, food coloring or ube extract and beat until jut combined

Add the flour mixture in 3 batches. You can switch to a spatula and let it mix until just combined. Don't overwork the dough. The dough will be very sticky at this point. As long as you don't see any more pockets of flour, you are done mixing
Chill the cookie dough:
Cover the mixing bowl and chill the dough in the fridge for at least 4 hours or in the freezer for about 2 hours. It is best if you can do it overnight. The longer you chill, the flavor will be more intense too and it's easier for you to work with the dough too
Shape the cookies:
Preheat oven at 350 F (180 C) for a conventional oven. You may want to lower the temperature by 20 degrees if you use a convection oven. When the oven is done preheating, scoop about 1 1/2 Tbsp (about 30 grams/scoop # 40) of the cookie dough out. With your lightly oiled palms, roll the dough into a round dough ball. The cookie dough is still sticky but easier to work with because it's cold. Place it on a lined cookie sheet, about 2 1/2-3 inches apart

Cover each one in granulated sugar first and then generously roll them in icing sugar. This step prevents the icing sugar from being absorbed by the dough and you won't get the crinkle effect. Roll them about 2-3 times in the icing sugar to make sure each ball is well-coated or the confectioners' sugar will not show much after baking
Baking:
Pop them into the oven, 3rd rack from the top.Let them bake for 12 minutes for really soft cookies or 13-14 minutes if you want them crispier on the outside. The edge will set but the center is still soft when you pull them out from the oven. You don't want to overbake if you want a soft and chewy texture. Overbaking these cookies will give you a cakey texture. Let them cool on the baking sheet for 10 minutes then transfer to a cooling rack.

They taste better the next day onwards as I find that the texture is slightly chewier compared to when just freshly baked on day one IMHO
Storing:
Let the cookies cool down completely and then keep in air-tight container. They can be kept at room temperature for about a week. If you want to keep the longer, freeze them

I notice that after chilled in the fridge or kept frozen, the cookies have an even "chewier" texture (if you enjoy that!). My kids like them that way 🙂
Notes
If you use mashed purple sweet potatoes instead of ube, the texture is going to be drier because purple sweet potatoes has less moisture. In this case, you want to add a about 1/2 teaspoons of milk  or water as needed if the dough is dry. The cookie dough is supposed to be moist and sticky
Recommended products:
Nutrition
Nutrition Facts
Ube or Purple Sweet Potato Crinkle Cookies (with Egg or Eggless)
Amount per Serving
% Daily Value*
* Percent Daily Values are based on a 2000 calorie diet.