This article is to show you how you can rehydrate or reconstitute dry ube powder for use in cooking or baking in just a few simple steps.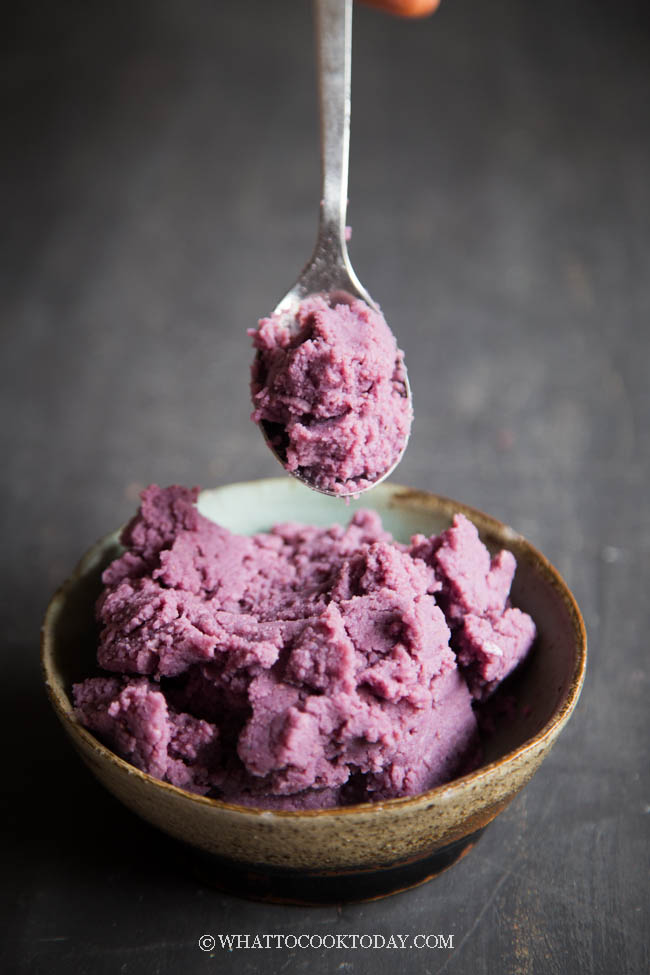 WHAT IS UBE?
I never really knew about ube until after I moved to the U.S. Ube is a purple yam that originated in the Philippines. This tuber is widely used in Southeast Asia for cooking and baking, especially sweets and desserts. It has grown in popularity of late.
ARE UBE, TARO, AND PURPLE SWEET POTATOES THE SAME THING?
No they aren't. Many often mistaken ube and taro as the same thing. They are not. In Indonesia, Singapore, and Malaysia, taro is more commonly used. Ube has a deeper purple pinkish color while taro is almost pale in color. Ube and taro almost have that same taste profile, pretty mild and earthy in taste, but enough to give that pleasant creaminess.
Because of its purple color, some also think ube and purple sweet potatoes are the same things and they are not. Purple sweet potatoes are sweeter in taste and the purple color is very intense. Sweet purple potato is also drier in texture compared to ube.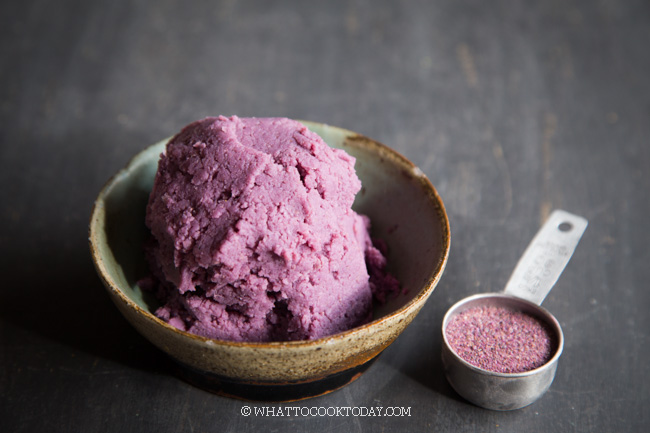 CAN I USE UBE POWDER IN COOKING AND BAKING?
Absolutely! Where I am, I can only get ube in frozen grated form or in powdered form. I used both all the times in baking bread, cakes, desserts. This is the ube powder I got from the Asian store. They only have this brand so I can't comment if other brands of ube powder will yield the same amount after hydration. I don't think it will be off too much though.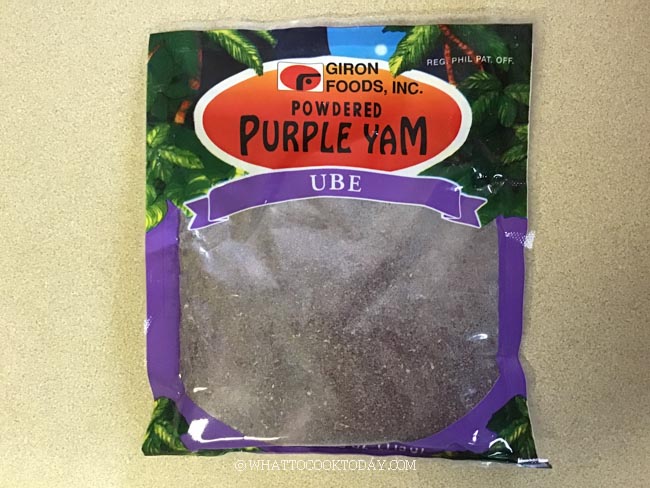 HOW TO REHYDRATE UBE POWDER
1. Place ube powder in a medium sauce pan. Add water and cook over medium heat. Bring to a boil and then lower the heat to medium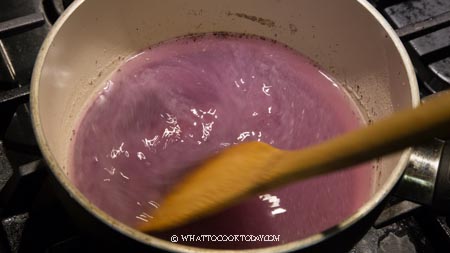 2. Keep stirring until ube powder absorbs the water and gets thicker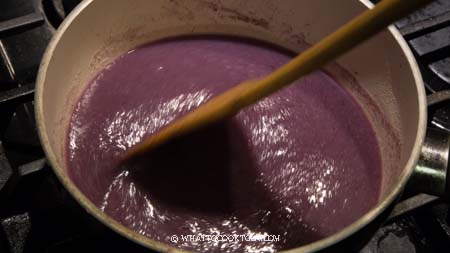 3. Dry ube powder is grainy in texture. Rehydrated ube feels soft and shouldn't feel grainy, if it's still grainy, keep cooking. It should feel smooth and taste like mashed ube. As the hydrated ube cools down, it will thicken further and gets even smoother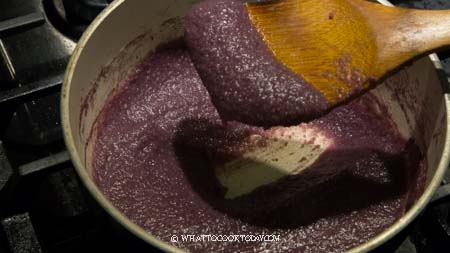 HOW TO SUBSTITUTE UBE POWDER TO FRESH UBE
You will follow the steps to rehydrate the ube first. For 50 grams (1/4 cup) of dry ube cooked with 1 cup of water, I get about 287 grams of hydrated ube. Simply use this to substitute for the amount of mashed ube called for in the recipe.
The yield amount is just a reference, the yield may also affected by the brand of ube powder you use, but I would imagine it shouldn't be off by too much?!?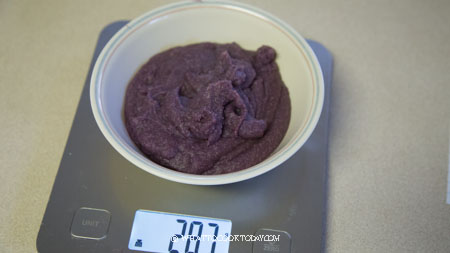 IDEAS FOR RECIPES USING UBE
These are the two I've shared in this blog so far:
Ube coconut ice cream
Ube crinkle cookies
You can definitely also used this to make ube bread, cakes, steamed buns, and also as a sweet fillings like ube halaya (ube jam)
DID YOU REHYDRATE UBE POWDER WITH THIS RECIPE?
I love it when you guys snap a photo and tag to show me what you've made 🙂 Simply tag me @WhatToCookToday #WhatToCookToday on Instagram and I'll be sure to stop by and take a peek for real!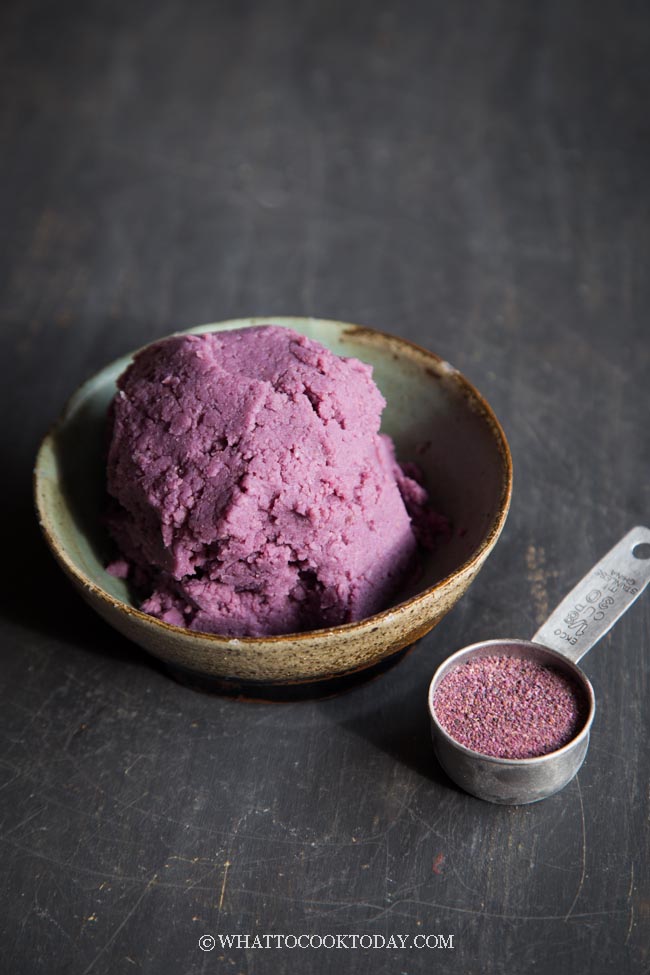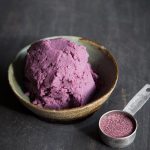 How To Rehydrate / Reconstitute Ube Powder
Ingredients
50

gr

ube powder

1/4 cup

240

ml

water

1 cup
Instructions
Place ube powder in a medium sauce pan. Add water and cook over medium heat. Bring to a boil and then lower the heat to medium. Keep stirring until ube powder absorbs all the water and gets thicker and paste-like consistency

Dry ube powder is grainy in texture. Rehydrated ube feels soft and shouldn't feel grainy, if it's still grainy, keep cooking. It should feel smooth and taste like mashed ube

Remove from the heat and let it cools down completely. Store in the fridge for up to one week. Keep them frozen for up to one month