Make wobbly soft half-boiled eggs just like the ones served in Singapore coffee shop (kopitiam) with this very easy recipe to go with amazing kaya toast.
It's usually about 6 am when I went to kopitiam (an old school coffee shop) with my dad when I didn't have school. Sleepyhead I was but I love going to kopitiam with him. He would order me half-boiled eggs, kaya toast, and hot tea with condensed milk. The half-boiled eggs always accompanied by white pepper powder and few drops of soy sauce. I can tell you, it's one of my most favorite memories with him. One that makes me smile and tear up at the same time. I miss you dad! This post is definitely for you 🙂 A childish thought "Do they have Kopitiam in heaven?"
WHAT ARE HALF-BOILED EGGS?
Half-boiled eggs are different with soft-boiled eggs. Half-boiled eggs do not maintain their shapes after you crack the shells. The white and the yolks are literally only half-cooked. You need a spoon to eat half-boiled eggs. Soft-boiled eggs usually refer to the softness and creaminess of the yolks but the whites are usually fully-cooked. Though to be honest, the two terms are used interchangeably when one talks about kopitiam style half-boiled eggs. Some will still refer to them as soft-boiled eggs. too.
INGREDIENTS
You only need 4 things to make a perfect half-boiled eggs:
1. Chicken eggs: You can use white or brown chicken eggs. The cooking temperature will differ slightly.
2. Water: Of course you need water to cook the eggs 🙂
3. Soy sauce: This adds nice umami to the half-boiled eggs
4. Ground white pepper: It's a must for me to have ground white pepper to go with the half-boiled eggs. It's just not the same without it
HOW TO MAKE PERFECT SINGAPORE COFFEE SHOP HALF-BOILED EGGS
Half-boiled eggs are made by cooking the eggs in water that has been boiled vigorously, heat turned-off and then eggs are submerged in the boiled water and covered with a tight-fitting lid to let the residual heat cooks the eggs until they are half-cooked. Here's the step-by-step:
1. GET THE EGGS OUT FROM THE FRIDGE: Let them sit at room temperature for about 5 minutes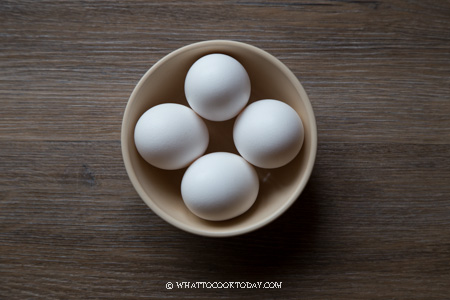 2. BRING WATER TO A ROLLING BOIL: While waiting for the eggs, bring water in a saucepan to a rolling boil


3. TURN OFF HEAT AND LOWER EGGS INTO THE WATER: Use a spoon to lower the eggs into the hot water


4. CLOSE THE LID: The residual heat will gently cook the eggs


5. SET TIMER TO 7 MINUTES: I suggest using digital timer on the stove or your phone for accuracy


6. REMOVE EGGS FROM THE WATER: When the timer is up, use a spoon to quickly remove the eggs from the hot water to a bowl to stop the cooking process

HOW TO PEEL HALF-BOILED EGGS
These coffee shop half-boiled eggs are really very very soft and it's almost impossible to be peeled like regular hard-boiled eggs or soft-boiled eggs. Here's how my mom usually does it:
1. CRACK IT: Use the back of the spoon to gently crack the egg shell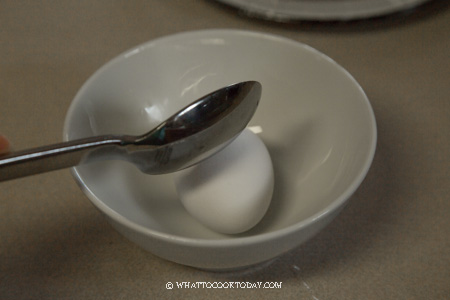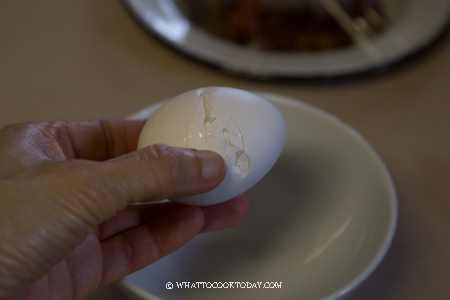 2. OPEN IT: Use your hand to open it up at the crack and let the yolk slips out into a bowl


3. SCRAPE IT: Use a spoon to scrape the remaining egg white that clings to the inner shell. The egg white is very soft and custard-like


4. SERVE IT: serve it in a bowl with few drops of soy sauce and freshly ground white peppercorns. HEAVEN!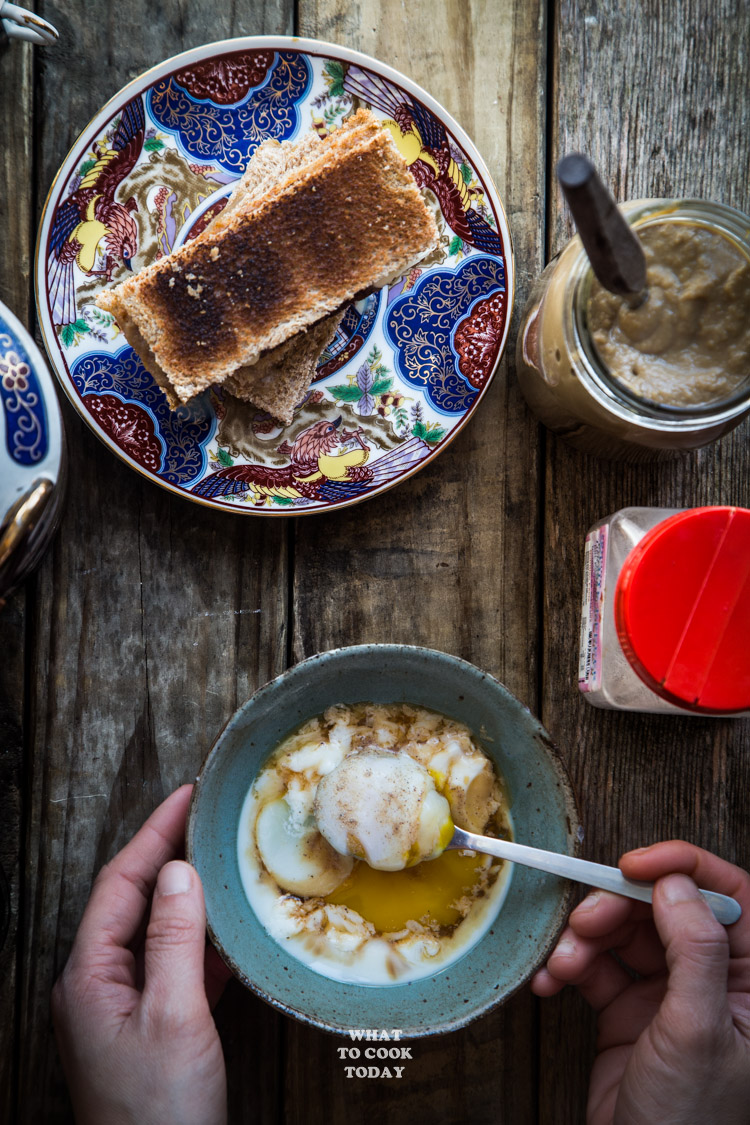 COOK'S TIPS YOU NEED TO KNOW
Timing is everything when it comes to cooking eggs, especially half-boiled eggs like this. The cooking time can vary between 1-2 minutes
1. WHITE EGGS VS BROWN EGGS
Brown eggs might have "thicker" shells compare to white shells, so you might have to add another minute or so, in other words, you will have to experiment, but 5-6 minutes is the minimum I would imagine
2. SIZE OF EGGS
The eggs that I used were large grade A white shells and about 58 grams each. Large eggs will need longer time
3. TEMPERATURE OF EGGS
IF YOU LET THE EGGS OUT FOR 5 MINUTES : You need 7 minutes for white eggs, about 8 minutes for brown eggs
IF YOU LET THE EGGS REALLY COME DOWN TO ROOM TEMPERATURE (30 MINUTES ON THE COUNTER): You need 5 minutes for white eggs, about 6 minutes for brown eggs
4. FOR FIRST-TIMER MAKING HALF-BOILED EGGS
I suggest starting with 4 eggs at a time to get the hang of it.
HALF-BOILED EGGS, KAYA TOAST, AND MILK TEA SET
In Indonesia, Singapore, and Malaysia, half-boiled eggs like this are typically served with kaya toast and hot beverage like milk tea. Details can be found at this 10-minute kaya recipe post (seriously check out that kaya recipe!)


Breaking that yolk with a spoon and scooping it into my mouth was the highlight of the whole experience for me! I don't eat it with any other peppers! only white pepper powder!! It's never the same without it.
Mom made half-boiled eggs at home every morning for us too before we headed to school. This often accompanied by cream crackers sprinkled with sugar and soaked in hot milk. So the cream crackers were soft when we ate them! It sounded so strange and probably gross you think, but it's like THE thing back in those days! ohhh…the good old days!
DID YOU MAKE THIS SINGAPORE COFFEE SHOP HALF-BOILED EGG RECIPE?
I love it when you guys snap a photo and tag to show me what you've made 🙂 Simply tag me @WhatToCookToday #WhatToCookToday on Instagram and I'll be sure to stop by and take a peek for real!

Make wobbly soft half-boiled eggs just like the ones served in Singapore coffee shop (kopitiam) with this very easy recipe to go with amazing kaya toast.
For baking/ kueh making: I highly encourage to weigh ingredients with a digital kitchen scale instead of using measuring cups as they are not very accurate especially when it comes to recipe that requires precision.
GRAMS TO CUPS CONVERSION (UNSIFTED)
INGREDIENTS
4

eggs

large chicken eggs

-

(about 58 gr each)

4

cups

rolling-boiled hot water

White pepper powder
INSTRUCTIONS
Get the eggs out from the fridge first:
Get the eggs out from refrigerator 5 minutes before getting ready to cook. This is important because if it's cold from the fridge, the eggs might crack when coming into contact with the hot boiled water
Cook the eggs with residual heat:
Bring 4 cups of water to a rolling boil in a saucepan. Turn off the heat and remove the pan from the stove. Use a slotted spoon to gently lower the eggs into the water and cover with a lid and set a timer for 7 minutes
Test one egg for doneness:
After 7 minutes, use a spoon to get the eggs out and submerge in cold water or you can immediately use the back of the spoon to crack the shell and let the egg slip out into a bowl. Use the spoon to scrap the remaining egg whites clinging to the inner shell

The egg white should be white in color and runny, soft custard-like, while the yolk appears to be whole but it's very soft and very runny when you break it with a spoon. If you see this, then you have yourself kopitiam style soft-boiled eggs, If the white is still transparent, it needs another minute
Serving:
Season with white pepper powder and a little bit of soy sauce and if you have a toast, I like to mop the yolk with the toast! HEAVEN!
RECOMMENDED PRODUCTS:
This blog post contains affiliate links. I earn a small commission when you made purchase at no extra cost to you. Learn more.