Roasted spaghetti squash served with aromatic ginger broth, crispy garlic, tender slices of chicken, and fresh herbs will be one of your favorite comfort food.
Speaking about procrastination, these almost-forgotten spaghetti squash chicken ginger noodle soup photos have been sitting in a folder for almost a year now! In fact, I have so many foods that I've cooked that I haven't even published on this blog yet. One day people..one day they will show up here!
I tried spaghetti squash last year and I have to say that I got hooked ever since. I have a weakness for anything that looks like strands of noodle. This strands of spaghetti squash don't even taste like noodles, but the resemblance gives me that noodle placebo effect if I can put it that way.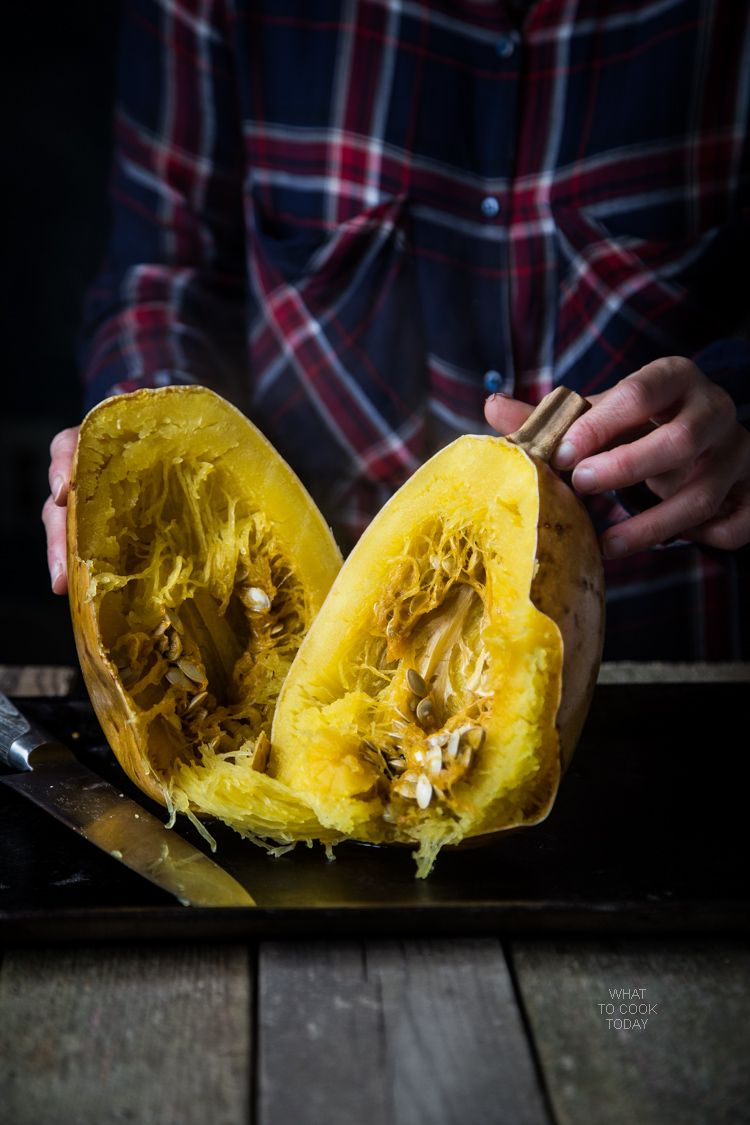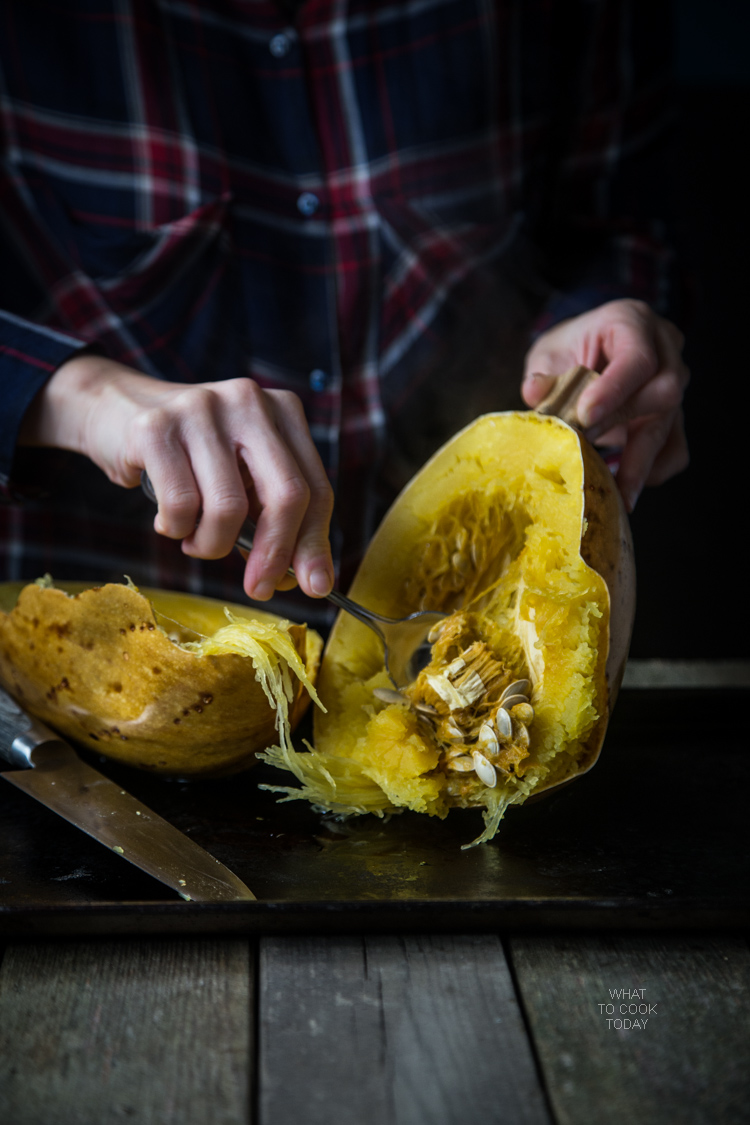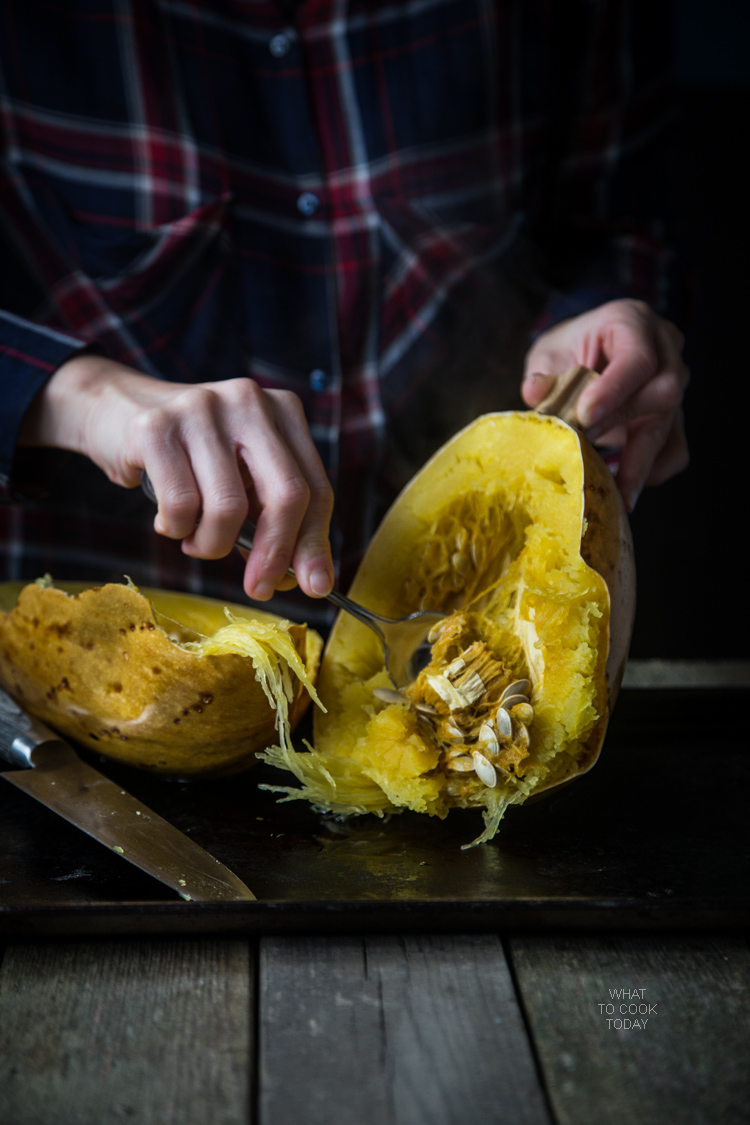 I love to make a stir-fry with it, "noodle soup", or tossed them with sauce to resemble a tossed noodle.
Spaghetti Squash Chicken Ginger Noodle Soup
Ingredients
About 3 lbs of spaghetti squash
Broth:
1

large onion

5

lbs

mixture of bone-in chicken thigh and drum sticks

1

lb

chicken wings

3

oz

(about 90 gr) ginger

peeled and cut into 1/2-inch thick slices

water

2

Tbsp

fish sauce

Salt to taste

Pinch of sugar
Garnishes:
Crispy garlic

Fresh herbs like basil and mint leaves

Fresh cilantro leaves

1

stalk

green onion

thinly sliced

Chili pepper flakes

optional
Instructions
Cooking the spaghetti squash:
Preheat oven to 400 F. Rinse the spaghetti squash with clean water. Wipe dry. Use a fork to pierce the squash all over. Place the squash on an aluminum-lined baking sheets and let it cook for 1 hour or until you can easily pierce the skin to the flesh easily with a knife. Once done, remove from the oven and let it cool down for few minutes

Use a knife to halve the squash. Use a spoon to scoop out the seeds. You may discard or keep the seeds to roast for later if you like. Use a fork to "fluff" the squash and it will give you the strands of spaghetti look. Set aside
Preparing the broth (can be prepared the day before):
Place the chicken thighs, drumsticks, and wings in a large pot and cover with water. Bring to a boil and let it boil for about 5 minutes. Turn off the heat and discard the liquid. Use a clean running water to rinse off the scums and impurities from the chicken pieces and the pot

Place the chicken back into a clean pot. Add ginger and onion. Cover with water, about 2-inches above the chicken. Bring to a boil and then lower the heat and let it gently simmer for the next 25 minutes or until the chicken is cooked through

Remove the chicken thighs and drumstick from the broth while the broth is still in a gentle simmer. When the chicken is cool enough to handle, remove the bones from the thighs and drumstick. Place the bones back into the pot and let it simmer away for another 1 hour. Strain the broth and discard all the other solids. Season the broth with fish sauce, salt, and a pinch of sugar to your taste. This way your soup is flavorful and you are not overcooking the chicken that will give you tasteless meat. If you are preparing ahead, cover and keep the chicken in the refrigerator until the next day. Slice the chicken only when you are ready to serve it the next day
When ready to serve:
Bring the broth back to a boil. Portion out the spaghetti squash into an individual serving bowl. Top with chicken meat and generously ladle the hot broth over the strands of squash and chicken pieces. Serve immediately with fresh herbs and green onions. Sprinkle some crispy garlic and chili pepper flakes (if using)
Making the chicken broth may sound like a lot of work when you look at the recipe, but actually, it's not and trust me, no store-bought chicken broth can compare to homemade one period! They can be made ahead too.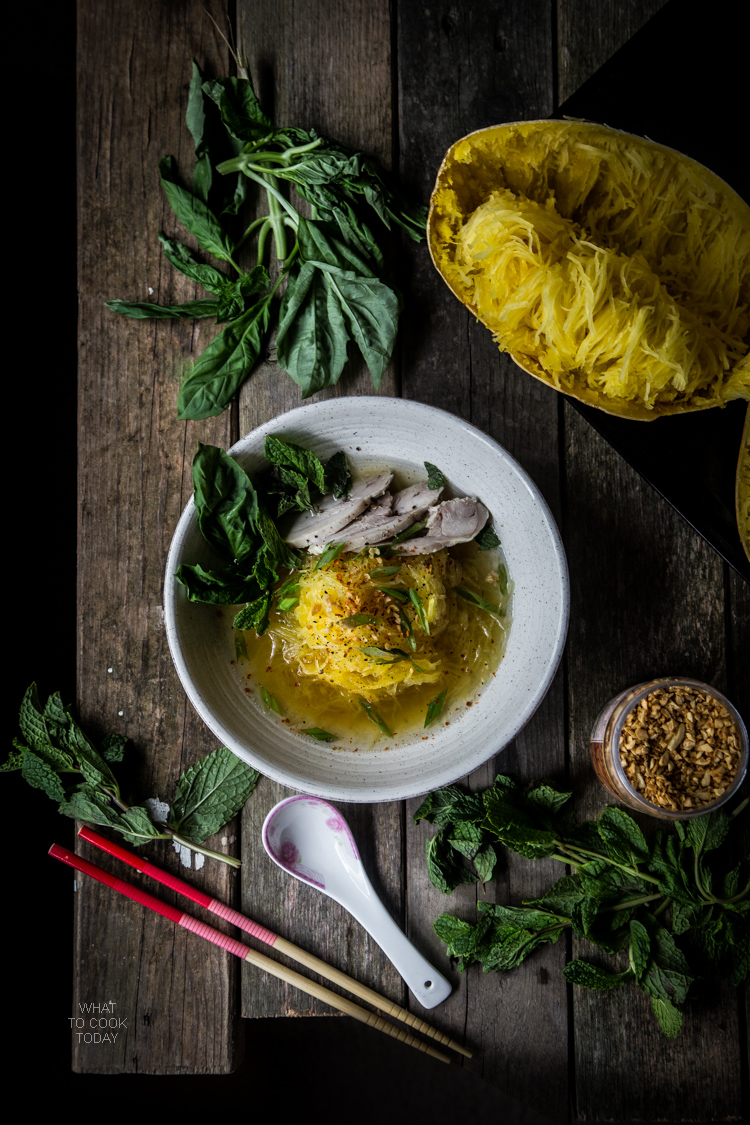 I now look forward to spaghetti squash when it's in season!

You might like the Easy Spaghetti Squash Bowl in Spicy Asian Sauce too