Learn how to make this delicious savory Cantonese turnip cake or known as lo bak go (kue lobak). The savory cake is steamed and then pan-fried.


I remember the middle-age man who rode on his motorcycle with a large rectangle shape crate securely position on the passenger seat passed by our neighborhood calling out "kue kue" (means cake, but not the sweet cakes as you imagine)before dinner time almost everyday selling lots of savory snacks. We would wave and called "kue kue" too and he would stop in front of our house. He would open up his crate and in there you would see all these delicious food siu mai, cheung fun (steamed rice rolls), jian dui (sesame balls), savory daikon/radish cake, and many other typically seen dim sum items. Lo Bak Go is one of my favorites. His version is actually deep-fried. We call this Kue Lobak in Indonesia and Lo Bak Go in Cantonese.
If you make this at home, you will soon learn that homemade lo bak go or kue lobak is truly the best. I love lo bak go with stronger daikon taste and aroma and you can usually achieve this at home or when you dine at restaurants which have a great dim sum.
Most of the store-bought ones usually have more flour and less daikon taste, which is suitable for stir-frying, but I like this steamed version and then pan-fried. The pan-frying creates this thin golden crust on the outside.

This is an easy and pretty fool-proof recipe that mom gave me and I've made it several times since. I thought I was in heaven when I had this for breakfast two days in a row !!!! I will definitely be making this again very soon.

DID YOU MAKE THIS LO BAK GO RECIPE?
I love it when you guys snap a photo and tag to show me what you've made 🙂 Simply tag me @WhatToCookToday #WhatToCookToday on Instagram and I'll be sure to stop by and take a peek for real!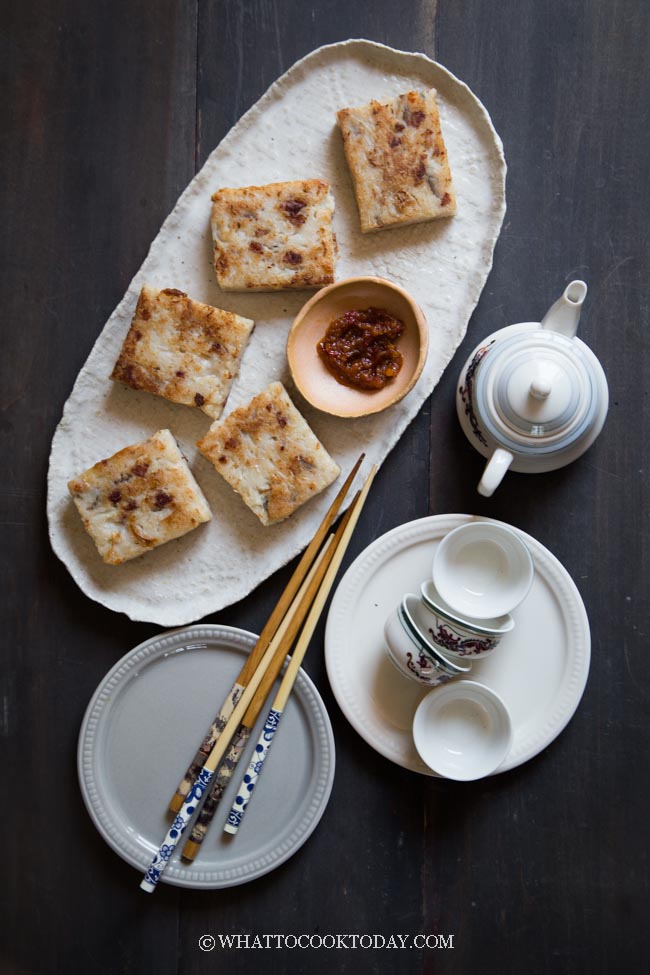 How To Make Lo Bak Go (Dim Sum Turnip Cake)
Ingredients
For batter:
300

gr

rice flour

450

ml

water

¼

tsp

sugar

1

tsp

salt
Filling:
2

Tbsp

cooking oil

5

shallots

peeled and finely chopped

50

gr

dried shrimps

soaked in water and finely chopped

2

links

Chinese sausage

remove the casing and finely chopped

500

gr

Chinese turnip (daikon)

already peeled weight
Seasonings:
1

tsp

sugar

½

tsp

white pepper powder

Salt to taste
Instructions
Combine the rice flour, water, salt, and sugar. Stir into smooth batter

Preheat wok/skillet. Add in cooking oil. Saute shallots, garlic and fragrant, about 1 minute. Add the dried shrimp and saute for another minute. Add Chinese sausage and cook for another 1 minute until fragrant. Add in the shredded daikon and stir fry until it softens. They will release some juices too, which is fine. Add seasonings and have a taste and adjust to your liking. Turn off the heat and let it cools down for about 5 minutes

Meanwhile, get your steamer ready on high heat ready for steaming. Give the rice flour mixture a stir and then pour into the wok/skillet and continue to stir to combine everything first (without turning on the fire on the stove yet). Then turn the heat back on over low heat and continue to stir until the mixture started to just thicken but still pourable, if you cook until it's too thick, your cake will come out really hard after steaming. Remove from the heat. Pour the mixture into the pan. Spread the batter as evenly as possible

Grease a 7 x 7 inch pan, or you can line with parchment paper at the bottom of the cake for easier release later. You need a 7 x 7 inch round pan if you use 6 quart-instant pot (the cake will be taller)
If steaming on the stove:
Steam on high heat for 50 minutes or until toothpick inserted into the middle of the cake is no longer wet. At the end of cooking time, It may still appear to be soft and wet. Don't panic, let it cool down completely (about 4 hours or so) before attempting to cut into slices. It will firm up nicely for you.

You can serve as is or put a bit of oil in a non-stick pan and then pan-fry the cake before serving. Serve with chili sauce on the side
If pressure cooking with Instant Pot:
Pour 2 cups of water in the inner pot. Place a trivet in. Place the pan on top of the trivet. Close the lid and turn the steam release valve to sealing. Set the timer to 35 minutes and then do natural release. At the end of cooking time, It may still appear to be soft and wet. Don't panic, let it cool down completely (about 4 hours or so) before attempting to cut into slices. It will firm up nicely for you.
Pan frying:
Cut the cake into desired size. Heat up a little bit of oil on a non-stick pan and pan fry both sides until lightly golden brown and serve with your favorite chili sauce or as is
You might also be interested in trying out Singapore Fried Carrot Cake