Learn how to make the cotton soft and fluffy purple sweet potato chiffon cake dotted with chunks of purple sweet potatoes.

Chiffon cake gets TONS of love in this house. Whenever I made chiffon cake, it disappears like in a matter of one day! My two kids who aren't really fans of cakes will eat this moist, soft, and airy chiffon cake like they are candies 🙂
When I saw purple sweet potatoes go on sale, I always grab them. I love eating them on their own or making desserts with them. This super-soft purple sweet potato chiffon cake is one of my favorites. The subtle pastel color and biting into some tiny chunks of purple sweet potatoes are just awesome.
Which purple sweet potatoes to use
You can use any two of the following for this recipe. I usually use Okinawan purple sweet potatoes because they are easier to find where I am compared to Stokes purple sweet potatoes.
1. Stokes purple sweet potatoes
I seriously not sure if there's a different name for this but I saw many refer to this type as Stokes Purple Sweet Potatoes
2. Okinawan purple sweet potatoes
Okinawan purple sweet potatoes have lighter pale skin, but a deep purple color on the inside. Who would have guessed right?
Can I use purple yam or ube to make this chiffon cake?
Because ube is a yam and not a potato, I didn't include it as one of the purple sweet potatoes. But, yes you may. Simply replace in the same quantity.
Important Tips for success
1. Separate the yolks and the whites while they are still cold. Then leave them at room temperature before using
2. Never EVER grease your chiffon tube pan anywhere. The cake needs to cling to the pan to rise
3. The purple sweet potatoes may change color because of acid/base balance. It doesn't affect the taste of the cake, just the color. I recommend adding purple sweet potato powder, purple food coloring, or ube extract so you still have that nice pinkish purple hue
4. Cut the sweet potatoes into tiny pieces so they won't sink to the bottom of the cake during baking
5. The baking temperature and the time I listed out are just for reference. You need to know your oven and adjust accordingly
6. Invert the cake immediately after banging the pan on the counter 3-4 times to minimize shrinkage
7. Do not attempt to unmold the cake until it has cooled down completely

How to make purple sweet potato chiffon cake
1. Separate the egg yolks from the whites and let them sit out for 20-30 minutes at room temperature. The meringue whips better at room temperature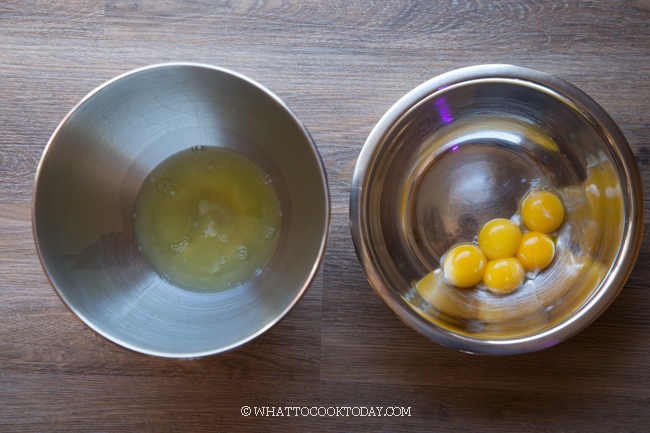 2. Peel the skin off sweet potatoes and cut them into tiny pieces. Steam over high heat for about 5-7 minutes. and some for mashing. Mash the potatoes while they are hot. Set aside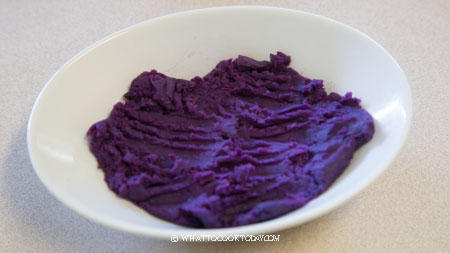 Remove the amount required in the recipe and cut into tiny pieces


3. Whisk the egg with mashed sweet potatoes, sugar and cooking oil, then add coconut milk and ube extract or purple food coloring. In a separate mixing bowl, mix the dry ingredients


4. Place the egg whites in a clean bowl. You will have trouble whipping your meringue if there's a trace of grease in your utensils or bowls. Beat the egg whites on medium speed (speed 6 on KA) until frothy, add cream of tartar/lemon juice/vinegar and whip until it turns whitish, about 1 minute. Gradually add the sugar as you beat, about 1 minute apart. Continue whipping on medium speed until you reach a stiff peak with a slight bent on the tip when you lift the meringue up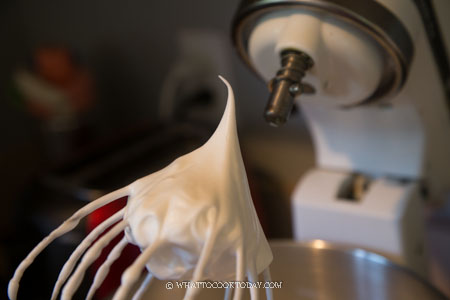 5. Gently fold 1/3 of the meringue into the thick batter using a whisk. Continue on with the second 1/3 of the meringue again to mix. Continue to do this until you are done with the meringue


6. Switch to a rubber spatula. Swipe down and fold over motion again to make sure we are combining the batter and the meringue. Sometimes some batter at the bottom of the bowl didn't get mixed with the meringue


7. Coat the tiny pieces of sweet potatoes with about 2-3 teaspoons of cake flour. Shake off excess. This will help to prevent the potatoes from sinking to the bottom during baking


8. Add the coated sweet potatoes into the batter and gently swipe down and fold over again using a rubber spatula for 3-4 times to combine


9. Gently pour the batter into the pan. Give the pan a few gentle shakes to even out the batter. Give the pan 3-4 firm taps on the counter. Use a skewer to run a zig zag motion to pop any large bubbles inside the batter. Tap the tube pan on the counter 3-4 times again before putting into the oven


10. For 7 inch cake, bake in a preheated oven for 60 minutes. For 8 inch cake, bake for 65-70 minutes on the middle rack or until a cake tester comes out clean with just a few dry crumbs. It shouldn't be wet. The top of the cake should be dry to touch and springy when you gently press on it


11. Once out of the oven, give the pan 3-4 taps on the counter to prevent the cake from sinking. Then carefully invert the pan upside down immediately. Your chiffon pan may have the little stands for you to inver. Please don't be tempted to remove from the pan if it's still warm. It takes about one to two hours to cool down completely


12. Once it's cool down completely, use an offset spatula to run through the edge of the cake to help release the cake. Use a skewer to loosen the tube area. Gently push the base of the pan up. Use an offset spatula again to run through the bottom of the cake to help release it from the base of the pan

Did you make this super-soft purple sweet potato chiffon cake recipe?
I love it when you guys snap a photo and tag to show me what you've made 🙂 Simply tag me @WhatToCookToday #WhatToCookToday on Instagram and I'll be sure to stop by and take a peek for real!

This recipe was last published in October 2018 and I have updated it with new photos, more information for success and a video tutorial on March 7, 2022.
Super Soft Purple Sweet Potato Chiffon Cake
Ingredients
WET INGREDIENTS:
4

egg yolks

from large eggs about 55-58 gr each (with a shell)

67

gr

mashed purple sweet potatoes

16

gr

sugar

90

ml

coconut milk

you can also use dairy or nut milk

27

ml

cooking oil

67

gr

tiny pieces of purple sweet potatoes

½

tsp

ube extract
DRY INGREDIENTS:
80

gr

cake flour

plus more to coat purple sweet potato pieces

⅛

tsp

salt
MERINGUE:
4

egg whites

room temperature

¼

tsp

cream of tartar

or 1/2 tsp lemon juice or vinegar

53

gr

sugar
WET INGREDIENTS:
5

egg yolks

from large eggs about 55-58 gr each (with a shell)

80

gr

mashed purple sweet potatoes

20

gr

sugar

120

ml

coconut milk

you can also use dairy or nut milk

30

ml

cooking oil

80

gr

cubed cooked purple sweet potatoes

½

tsp

ube extract
DRY INGREDIENTS:
100

gr

cake flour

plus more to coat purple sweet potato pieces

¼

tsp

salt
MERINGUE:
5

egg whites

room temperature

½

tsp

cream of tartar

70

gr

sugar
Instructions
Make sure your chiffon cake pan does not have a non-stick coating or your cake will not rise. The cake needs to cling to the side of the pan to rise tall

Preheat your oven to 330 F (165 C) for a conventional oven. If you have a convection oven, I suggest lowering the temperature by 25 F (15 C)
STEAM THE PURPLE SWEET POTATOES:
Peel the skin off sweet potatoes and cut into tiny pieces. Steam over high heat for about 5-7 minutes. Remove the amount required in the recipe and cut into tiny pieces and some for mashing. Mash the potatoes while they are hot. Set aside

Separate the egg yolks from the whites while they are still cold because they are easier to separate when they are cold. Then let them sit out for 20-30 minutes at room temperature. The meringue whips better at room temperature
PREPARE THE CAKE BATTER:
Whisk the egg with mashed sweet potatoes, sugar and cooking oil, ube extract/food coloring, then add coconut milk. Sift in the cake flour and salt
WHIPPING THE MERINGUE:
Place the egg whites in a clean bowl. You will have trouble whipping your meringue if there's a trace of grease in your utensils or bowls. Beat the egg whites on medium speed (speed 6 on KA) until frothy, add cream of tartar/lemon juice/vinegar and whip until it turns whitish, about 1 minute. Gradually add the sugar as you beat, about 1 minute apart. Continue whipping on medium speed until you reach a stiff peak with a slight bent on the tip when you lift the meringue up. Then turn the speed to lowest and whip for 1 minute to smooth out large air bubbles
FOLDING THE MERINGUE:
Gently fold 1/3 of the meringue into the thick batter using a whisk. Continue on with second 1/3 of the meringue again to mix. Continue to do this until you are done with the meringue and switch to a rubber spatula. Swipe down and fold over motion again to make sure we are combining the batter and the meringue. Sometimes some batter at the bottom of the bowl didn't get mixed with the meringue

Coat the tiny pieces of sweet potatoes with about 2-3 teaspoons of cake flour. Shake off excess. This will help to prevent the potatoes from sinking to the bottom during baking

Add the coated sweet potatoes into the batter and gently swipe down and fold over again using a rubber spatula for 3-4 times to combine
BAKING:
Gently pour the batter into the pan. Give the pan a few gentle shakes to even out the batter. Give the pan 3-4 firm taps on the counter. Use a skewer to run a zig zag motion to pop any large bubbles inside the batter. Tap the tube pan on the counter 3-4 times again before putting into the oven

For 7 inch cake, bake in a preheated oven for 60 minutes. For 8 inch cake, bake for 65-70 minutes on the middle rack or until a cake tester comes out clean with just a few dry crumbs. It shouldn't be wet. The top of the cake should be dry to touch and springy when you gently press on it.

Don't be alarmed if your cake has some cracks on top. What you are looking at will become the bottom of your cake
COOLING:
Once out of the oven, give the pan 3-4 taps on the counter to prevent the cake from sinking. Then carefully invert the pan upside down immediately. Your chiffon pan may have the little stands for you to inver. Please don't be tempted to remove from the pan if it's still warm. It takes about one to two hours to cool down completely

Once it's cool down completely, use an offset spatula to run through the edge of the cake to help release the cake. Use a skewer to loosen the tube area. Gently push the base of the pan up. Use an offset spatula again to run through the bottom of the cake to help release it from the base of the pan
STORING:
If you have the patience to wait, once the cake has cooled down completely and you have unmolded the cake, wrap it up in a cling wrap or store in an air-tight container and the flavor and texture gets even better the next day

The cake can be kept at room temperature for 2-3 days if it's not very humid where you are. Keep in the fridge, well-covered to prevent drying out if it's really humid
Notes
Recipe adjustment for different tube size:
 For 6 inch tube: use 3 eggs and multiply by 0.75 the rest of the ingredients. Bake for 50 minutes
For 9 inch tube: use the same recipe with 8-inch tube pan recipe (the one I posted on the recipe card)
For 10 inch tube: use 8 eggs and multiply by 2 the rest of the ingredients. Bake for 70-80 minutes
Recommended products:
Nutrition
Serving:
1
slice
|
Calories:
173
kcal
|
Carbohydrates:
20
g
|
Protein:
5
g
|
Fat:
8
g
|
Saturated Fat:
3
g
|
Polyunsaturated Fat:
1
g
|
Monounsaturated Fat:
3
g
|
Trans Fat:
1
g
|
Cholesterol:
98
mg
|
Sodium:
75
mg
|
Potassium:
153
mg
|
Fiber:
1
g
|
Sugar:
10
g
|
Vitamin A:
2928
IU
|
Vitamin C:
2
mg
|
Calcium:
22
mg
|
Iron:
1
mg