Learn how to make the cotton soft and fluffy purple sweet potato chiffon cake dotted with chunks of purple sweet potatoes and its natural purple coloring.
SOFT AND FLUFFY PURPLE SWEET POTATO CHIFFON CAKE
Chiffon cake gets TONS of love in this house. Whenever I made chiffon cake, it disappears like in a matter of one day! My two kids who aren't really fans of cakes will eat this moist, soft, and airy chiffon cake like they are candies 🙂
I went to a farmer's market a few weeks ago and saw this beautiful purple sweet potatoes or sometimes called purple yam. Let's talk a little bit about the purple sweet potatoes before we proceed to the baking part, shall we?
DIFFERENT TYPES OF PURPLE SWEET POTATOES
PURPLE SWEET POTATOES
I seriously not sure if there's a different name for this but I saw many refer to this type as Stokes Purple Sweet Potatoes

UBE (PURPLE YAM)
I haven't seen ube roots in person, which is also known as a purple yam in the Philippines and Hawaii. Ube is only available in a grated and frozen form where I am.
OKINAWAN PURPLE SWEET POTATOES
Okinawan purple sweet potatoes have lighter pale skin.
WHICH PURPLE SWEET POTATO TO USE FOR THIS CHIFFON CAKE?
So, to make the long story short, use the purple sweet potatoes that have brown purplish skin. Why? I found out that these purple sweet potatoes will not make your cake turns green or brown or other color but purple. The so-called Okinawan purple sweet potatoes that I used to make the purple sweet potatoes crinkle cookies will change the color of the batter.
Now that we get the purple sweet potato questions out of the way, let's get started to bake, shall we? A while ago I wrote this detailed guide and explanation on how to make soft and fluffy pandan or classic chiffon cake and so you are welcome to read more in detail if you are curious.
5 SIMPLE STEPS TO MAKE PURPLE SWEET POTATO CHIFFON CAKE
STEP ONE – COOK THE PURPLE SWEET POTATOES
Cut the sweet potatoes into 1-inch cubes and then steam for 5-7 minutes. 80 gr will be mashed and 50 gr will be cut into small chunks.


STEP TWO – PREPARE THE THICK BATTER
1. Separate the egg yolks from the white and let them sit out for 30 minutes at room temperature. The meringue whips better at room temperature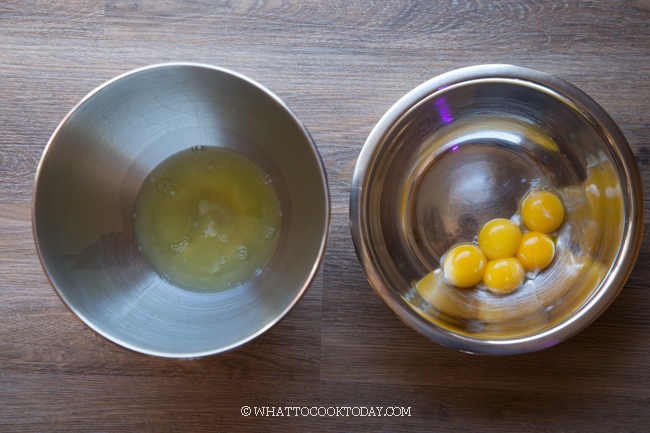 2. Whisk the egg with mashed sweet potatoes, sugar and cooking oil, then add coconut milk


3. In a separate mixing bowl, mix the cake flour, salt, and baking powder
4. Gradually add the cake flour to the egg batter while mixing. Mix until smooth. There will be some lumps from the purple sweet potatoes


STEP THREE – WHIP THE MERINGUE
1. Preheat your oven to 330 F before you whip the meringue
2. Place the egg whites in a clean bowl. You will have trouble whipping your meringue if there's trace of grease in your utensils or bowls. Beat the egg whites on medium speed until frothy, add cream of tartar and whip until it turns whitish. Gradually add the sugar as you beat. I beat them for around 4-5 minutes until a stiff peak just started to form. When you hold your whisk up and your meringue holds its shape


STEP FOUR – FOLD THE MERINGUE TO THE BATTER
Gently fold in 1/4 of the meringue into the thick batter. Using a rubber spatula, swipe from the side and gently fold over to mix and then continue. Repeat this motion several rounds. Continue on with second 1/4 of the meringue again to mix. Continue to do this until you are done with the meringue and the batter and meringue are nicely mixed

STEP FIVE – TRANSFER TO CAKE PAN AND BAKE
1. Arrange the cubed purple sweet potatoes on the bottom of the cake pan

2. Gently pour in the batter to the cake pan and sprinkle with few cubes of the sweet potatoes and then continue to pour again and repeat the same


3. Pop any visible air bubbles with toothpicks if any or tap the cake pan on your countertop a few times to release air bubbles


4. Bake in the oven at 330 F for 50 minutes. Do not open the oven door for the first 30 minutes.
What you see here will be the bottom of the cake later. So don't be alarmed if there are some cracks


5. Immediately invert the cake to prevent the cake from collapsing because of its own weight. Let it cool down completely before attempting to release the cake from the pan

This is how the cake looks like after inverted. Smooth top with no cracks!

And here's my daughter trying to show you how soft, spongey, and airy this chiffon cake is.

I'm a huge fan of purple sweet potatoes and this purple sweet potato chiffon cake definitely is one of my favorite chiffon cake varieties! Love how the cubed purple sweet potatoes adorn the chiffon cake on top (and inside too)


The purple sweet potatoes I used did not change the color of the cake into some funky colors. They are not easy to find here in Minnesota though, except in this one specific farmer's market that carries lots of Asian ingredients.

I wish I could offer you a piece or two to try!! seriously! This is due for a repeat very soon.

This blog post contains affiliate links. I earn a small commission when you made purchase at no extra cost to you. Learn more.
Purple Sweet Potato Chiffon Cake (Tried and True Recipe)
Ingredients
WET INGREDIENTS:
3

egg yolks

from large eggs about 55 gr each (with a shell)

50

gr

mashed purple sweet potatoes

12

gr

sugar

70

ml

coconut milk

20

ml

cooking oil

30

gr

cubed purple sweet potatoes
MERINGUE:
3

egg whites

room temperature

¼

tsp

cream of tartar

40

gr

sugar
WET INGREDIENTS:
5

egg yolks

from large eggs about 55 gr each (with a shell)

80

gr

mashed purple sweet potatoes

20

gr

sugar

120

ml

coconut milk

30

ml

cooking oil

2 Tbsp

50

gr

cubed purple sweet potatoes
DRY INGREDIENTS:
100

gr

cake flour sifted

¼

tsp

salt
MERINGUE:
5

egg whites

room temperature

½

tsp

cream of tartar

60

gr

sugar
Instructions
Make sure your chiffon cake pan does not have a non-stick coating or your cake will not rise. The cake needs to cling to the side of the pan to rise tall
STEAM THE PURPLE SWEET POTATOES:
Peel the skin off sweet potatoes and cut into 1-inch chunks. Steam over high heat for about 5-7 minutes. Remove the amount required in the recipe and cut into small cubes and some for mashing. Mash the potatoes while they are hot. Set aside

Once the sweet potato has cooled down, coat the cubed sweet potatoes with some cake flour. Shake off excess. This will help to prevent the potatoes from sinking to the bottom during baking

Separate the egg yolks from the white and let them sit out for 30 minutes at room temperature. The meringue whips better at room temperature
MIXING THE THICK BATTER:
Whisk the egg with mashed sweet potatoes, sugar and cooking oil, then add coconut milk. In a separate mixing bowl, mix the dry ingredients

Gradually add the cake flour to the egg batter while mixing. Mix until smooth and no lumps. Strain the batter if necessary to get rid of any lumps
WHIPPING THE MERINGUE:
Preheat your oven to 330 F. Place the oven rack 3rd from the top

Place the egg whites in a clean bowl. You will have trouble whipping your meringue if there's a trace of grease in your utensils or bowls. Beat the egg whites on medium speed until frothy, add cream of tartar and whip until it turns whitish. Gradually add the sugar as you beat. I beat them for around 4-5 minutes until it just begins to form a stiff peak. Stop here. You will know you get to the stiff peak when you hold your whisk up and your meringue holds its shape
FOLDING THE MERINGUE:
Gently fold in 1/4 of the meringue into the thick batter. Using a rubber spatula, swipe from the side and gently fold over to mix and then continue. Repeat this motion several rounds. Continue on with second 1/4 of the meringue again to mix. Continue to do this until you are done with the meringue and the batter and meringue are nicely mixed
BAKING:
DO NOT grease your chiffon pan. The cake needs to cling to the pan to rise. Give the pan a strong tap on the side for a few times before pouring in the batter to remove any air bubbles

Arrange 1/3 of the cubed purple sweet potatoes at the bottom of the chiffon cake pan. Gently pour some of the batter in and sprinkle with few more purple sweet potatoes and repeat this step until you run out of the purple sweet potatoes. Smooth the batter with rubber spatula. Give the pan a firm tap on the counter again to remove any bubbles or you can use toothpicks to do so

For 6-inch chiffon cake: 330 F (165 C) for 35-40 minutes , then lower temperature to 300 F (150 C) for 5-10 minutes. For 7-inch chiffon cake: 330 F (165 C) for 40-45 minutes, then lower temperature to 300 F (150 C) for 5-10 minutes

Don't be alarm if your cake has some cracks on top. What you are looking at will become the bottom of your cake. I find that baking at this temperature in my oven prevents the cake from cracking

Once out of the oven, carefully invert the pan upside down. Your chiffon pan may have the little stands for you to invert, but I find it not high enough. I use a low glass jar and set the inverted pan on top of the jar and let it cool down completely. Please don't be tempted to remove from the pan if it's still warm. It takes about one to two hours to cool down completely

Once it's cool down completely, use a spatula knife to run through the edge of the cake to help release the cake. Gently push the base of the pan down. Use the knife again to run through the top of the cake to help release it from the base of the pan. There you have it !!! 🙂 Enjoy and try to finish it within 3 days (which I'm sure it will be gone before then)
Notes
Recipe adjustment for different tube size:
 For 6 inch tube: use 2 eggs and multiply 0.4 the rest of the ingredients. Bake for 35-40 minutes , then lower temperature to 300 F (150 C) for 5-10 minutes
For 9 inch tube: use the same recipe with 8-inch tube pan recipe (the one I posted on the recipe card)
For 10 inch tube: use 8 eggs and multiply 1.6 the rest of the ingredients. Bake for 50-55 minutes, then lower temperature to 300 F (150 C) for 10-15 minutes
Recommended products: