This is not your typical Asian fried rice / nasi goreng. The fried rice is made with an umami salted fish or known as ikan asin in Indonesia.


Salted fish fried rice is popular in Asia. I grew up eating Indonesian-style salted fish fried rice. We call it nasi goreng ikan asin. Ikan asin means salted fish. The salted fish chicken fried rice in this recipe uses spices and seasonings closer to Southeast Asian taste profile, savory and spicy 🙂
What is salted fish?
Salted fish is basically fish cured in salt for the purpose of preserving them longer. This is one of the oldest methods of preserving food as we all know it. Many people, especially if you are not familiar with Asian food/ingredients, find salted fish a real turn-off. I mean..the smell/the aroma! It's incredibly strong and pungent. It's not for the faint of heart for sure. Not the first Asian food you want to try for sure LOL!
What kind of salted fish to use?
There are wet and dry salted fish. Both are cured in salt but the wet version is packed in oil while the dry one is not packed in oil. The store owner where I usually shop for Asian ingredients, recommended the wet version, which I really like actually. It's a salt-cured threadfin packed in soybean oil. The fish are still tender and the aroma is punchier (in a good way if you like salted fish). The dry version can be really tough sometimes. You can use any kind you like or made with any fish,  just make sure you choose the ones that are about medium soft.
Important tips
1. Use a day-old cooked rice is the best. The rice is dry and won't clump together when you make fried rice with it
2. Use high-quality salted fish. They can be pricey, but you get what you pay for
3. Make sure the wok or skillet is really hot when you stir fry the rice for the best result
4. Refrain from seasoning with more salt until you tasted everything at the end and adjust as necessary

How to make salted fish chicken fried rice (nasi goreng ikan asin)
1. Keep your leftover rice in the fridge if you plan ahead. They will be nicely dry and perfect to make fried rice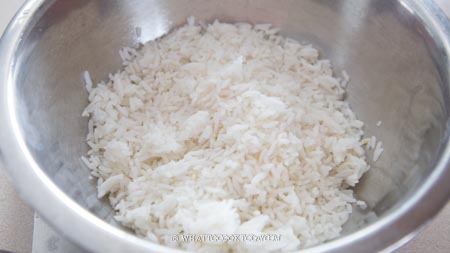 2. Cut the chicken into bite-size and marinate with pepper, salt, and cornstarch while you prepare other things
Toast the candlenuts or macadamia nuts on a dry pan over medium heat until they are aromatic and nutty
Remove the bones from the salted fish. Mince it into tiny pieces. They will disintegrate during cooking too, so you don't have to chop them too finely. Put all the aromatics ingredients in a food processor and blend into a paste
3. Preheat a large skillet or a wok. When it's hot, add 1 Tbsp of oil. Add the salted fish and fry over medium heat until fragrant, about 1-2 minutes. Salted fish actually smells good when you cook them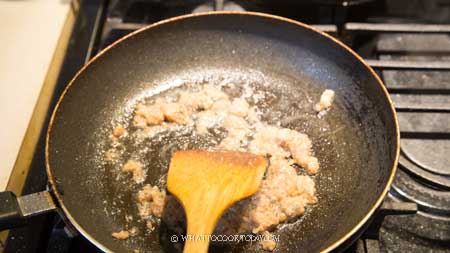 4. Push it to the side of the wok or skillet. Add another tablespoon of oil and add the aromatic paste that you grind earlier. Stir fry for 2 minutes until fragrant. Push them to the side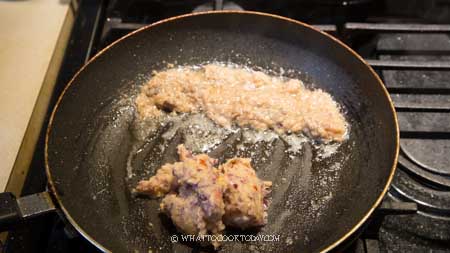 5. Add the marinated chicken pieces and stir fry until they turn opaque. Stir to combine everything and saute for another 30 seconds or so.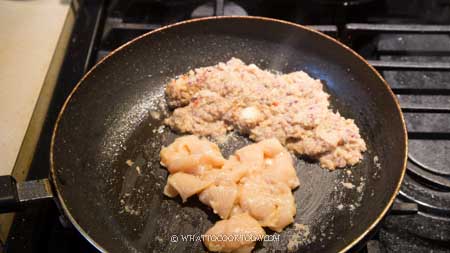 6. Make a well in a middle or push everything to the side of the skillet or wok. Add the rest of the oil, crack in eggs. Scramble the yolks a little bit and then let them cook undisturbed for about 10 seconds


7. Start scrambling a bit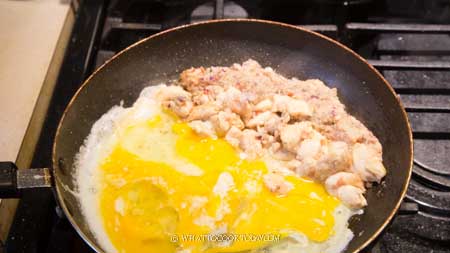 8. When they are about 70% cooked, meaning you still see some wetness and eggs are not entirely solidified, up the heat to high now and add the rice along with the seasoning (don't add salt yet, you may not need it)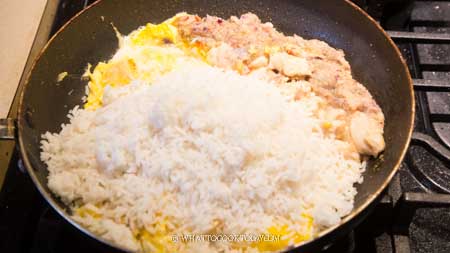 9. Stir to combine everything. Make sure the rice are mixed together with the rest of the ingredients


10. Have a taste and see if it's salty enough for you or not. If not you can add a bit more salt. Adding a bit more sugar will bring out the taste too. When you are happy with the taste, turn off the heat. Garnish with chopped green onion and serve immediately

Did you make this salted fish chicken fried rice recipe?
I love it when you guys snap a photo and tag to show me what you've made 🙂 Simply tag me @WhatToCookToday #WhatToCookToday on Instagram and I'll be sure to stop by and take a peek for real!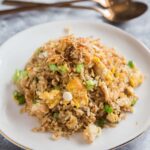 Salted Fish Chicken Fried Rice (Nasi Goreng Ikan Asin)
Ingredients
Instructions
Prepare the rice:
Keep your leftover rice in the fridge if you plan ahead. They will be nicely dry and perfect to make fried rice

If you don't have any leftover rice, you can also cook the rice on the same day and spread the rice out on a large baking pan to let it cool down faster. It may take a few hours to cool down completely and to dry them out a bit. Use a fan to help you cool it down if you can
Things to prepare before cooking:
Cut the chicken into bite-size and marinate with pepper, salt, and cornstarch while you prepare other things

Toast the candlenuts or macadamia nuts on a dry pan over medium heat until they are aromatic and nutty

Remove the bones from the salted fish. Mince it into tiny pieces. They will disintegrate during cooking too, so you don't have to chop them too finely

Put all the aromatics ingredients in a food processor and blend into a paste
Start cooking:
Preheat a large skillet or a wok. When it's hot, add 1 Tbsp of oil. Add the salted fish and fry over medium heat until fragrant, about 1-2 minutes. Salted fish actually smells good when you cook them

Push it to the side of the wok or skillet. Add another tablespoon of oil and add the aromatic paste that you grind earlier. Stir fry for 2 minutes until fragrant. Push them to the side

Add the marinated chicken pieces and stir fry until they turn opaque. Stir to combine everything and saute for another 30 seconds or so. Make a well in a middle or push everything to the side of the skillet or wok. Add the rest of the oil, crack in eggs. Scramble the yolks a little bit and then let them cook undisturbed for about 10 seconds, then start scrambling a bit, when they are about 70% cooked, meaning you still see some wetness and eggs are not entirely solidified, Up the heat to high now and add the rice along with the seasoning (don't add salt yet, you may not need it). Stir to combine everything. Make sure the rice are mixed together with the rest of the ingredients

Have a taste and see if it's salty enough for you or not. If not you can add a bit more salt. Adding a bit more sugar will bring out the taste too. When you are happy with the taste, turn off the heat. Garnish with chopped green onion and crispy fried shallots and serve immediately
Nutrition
Serving:
1
generous serving
|
Calories:
1058
kcal
|
Carbohydrates:
88
g
|
Protein:
73
g
|
Fat:
44
g
|
Saturated Fat:
6
g
|
Polyunsaturated Fat:
11
g
|
Monounsaturated Fat:
23
g
|
Trans Fat:
1
g
|
Cholesterol:
514
mg
|
Sodium:
2907
mg
|
Potassium:
1533
mg
|
Fiber:
4
g
|
Sugar:
7
g
|
Vitamin A:
814
IU
|
Vitamin C:
28
mg
|
Calcium:
188
mg
|
Iron:
5
mg