Learn how to make this popular Filipino purple yam jam or known as ube halaya without any butter, condensed milk, and evaporated milk. It is a dairy and vegan ube halaya. It is delicious but without overly sweet. Ube halaya is a dessert on its own or it can be used in other recipes.
My first recipe ever created using ube as an ingredient was these ube crinkle cookies. I love anything potatoes and yams. We don't have ube in Indonesia so I never knew about it until I moved here to Minnesota and started to cook and bake. I saw it sold in a frozen pack and finally realized that it's ube. I can't get fresh ube, but I'm grateful at least I can get the frozen grated ube or the ube powder. Ube powder is a bit hard for me to get as it's not always available, but the frozen grated yam is widely available here.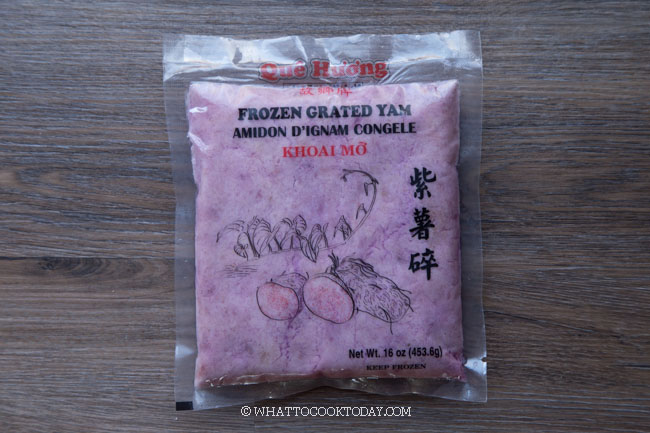 What is ube halaya (halayang ube) ?
Ube is Filipino purple yam, don't be mistaken with the Stokes or Okinawan purple sweet potatoes. They have slightly different texture and taste. The color of fresh ube yam can range from pinkish purple to deep purple color. Ube halaya or halayang ube is Filipino dessert/jam made with mashed cooked ube, condensed milk (or coconut milk), butter, and sugar cooked on the stove until thickened and then pour into a container or molds to let it cools down and the refrigerated. It is a dessert on its own or used in other recipes.
Ube halaya without condensed milk, evaporated milk, and butter
I have been wanting to make ube halaya for such a long time. It's a super popular Filipino dessert or should I say jam or both? 🙂 But looking at the ingredients for regular ube halaya it needs condensed milk, evaporated milk, and butter. It's a super yum and rich dessert indeed. I only have ube, coconut milk, and I coconut oil. I was wondering if I could make it just a bit healthier and not with as much dairy. So I tried the recipe I saw here and it turned out really good. I like this version just as much. It is not traditional of course but I can tell you that it's still very tasty and easy to make too.
Ingredients
1. Cooked ube
You can use fresh ube of course, frozen grated ube, or ube powder. If you use ube powder, follow this how to rehydrate ube powder before proceeding with the recipe. Other substitute for ube can be Stokes purple sweet potatoes or Okinawan purple sweet potatoes.
2. Coconut milk
Coconut milk is a great alternative to condensed milk and evaporated milk. It is dairy-free and it has nice coconut aroma, which is common in most Southeast Asian cooking and baking. I suggest using Asian-style canned unsweetened coconut milk
3. Maple syrup
I use 100% pure maple syrup to substitute for refined sugar. You can also use agave nectar
4. Coconut oil
I use cold-pressed coconut oil instead of butter. You can also use cooking oil like grapeseeds oil or avocado oil or any other neutral-tastint oil of your choice
5. Salt
A small pinch of salt brings out a great flavor to the ube halaya

How to make Ube halaya without condensed milk, evaporated milk, and butter
1. If using frozen grated ube, thaw and pour off any excess liquid. Steam for about 10-15 minutes or until easily mashable. Pour off any excess liquid if any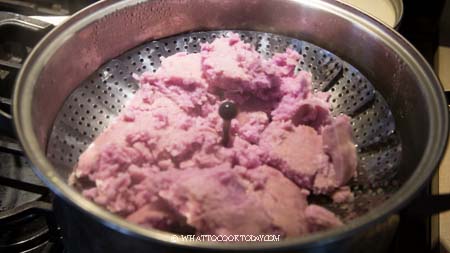 2. Place coconut milk, coconut oil or cooking oil, and maple syrup in a large heavy-bottom pot and stir just until the coconut oil is melted or the coconut milk is gently simmering, but not boiling


3. Add the cooked ube and continue to stir


4. The mixture won't be smooth yet


5. Use an immersion blender or simply pour this into a blender and blend until smooth and pour back into the pot and cook over medium-low heat until the mixture just comes to a gentle simmer again and then remove from the heat. If you want it thicker you can cook it longer. Please note that it will thicken further as it cools down

How long to cook ube halaya?
The cooking time can vary from 15 minutes to 30 minutes or longer sometimes. It depends on the consistency you want. I only cook mine for 15 minutes before I want to use it as a spread/jam. If you want it thicker and serve it as a pudding, cook it a bit longer. Please note that it will thicken further as it cools down
How to use ube halaya
1. Ube halaya with cheese
The Filipino likes to eat ube halaya with latik (coconut caramel), grated cheese. Imagine the combination of sweet and savory! To die for!
2. As an ingredient in baking
I use it to make ube ice cream, ube crinkle cookies, ube steamed buns, ube chiffon cake, ube Swiss roll, ube muffins, ube pandesal, ube bread, ube cheesecake. I mean…need me to go on?
3. As a filling
I use it as a filling for puff pastry and steamed buns too

How to store ube halaya
1. Refigerator
Transfer the ube halaya to a container and let it cools down completely, then cover and keep in the fridge for maximum of one week
2. Freezer
You can portion them out keep them in the freezer for maximum of 3 months for the best result. Simply thaw in the fridge overnight
Did you make this dairy-free and vegan ube halaya recipe?
I love it when you guys snap a photo and tag to show me what you've made 🙂 Simply tag me @WhatToCookToday #WhatToCookToday on Instagram and I'll be sure to stop by and take a peek for real!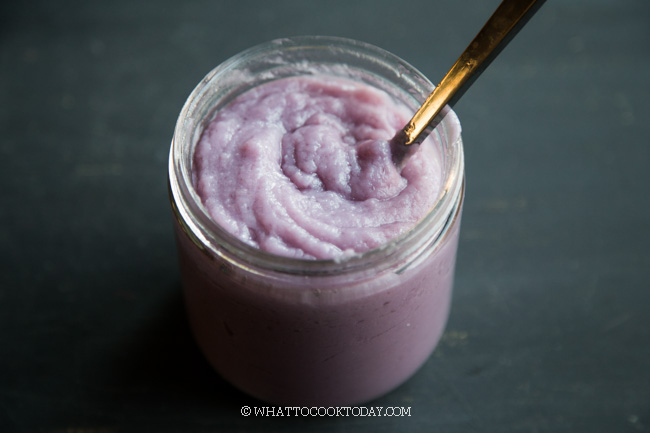 Recipe is adapted from here with slight modifications.
Ube Halaya / Ube Jam (Vegan and Dairy-free) - Healthier version
Ingredients
500

gr

cooked ube

1.1 lbs, or use Okinawan or Stokes purple sweet potatoes

375

ml

coconut milk

1 1/2 cups

65

gr

coconut oil

1/4 cup, or use cooking oil

65

ml

maple syrup

1/4 cup, more to your taste

⅛

tsp

salt
Instructions
Prepare the ube:
If using fresh ube, Okinawan purple sweet potatoes, or Stokes purple sweet potatoes, peel the skin and then cut into large chunks and steam for about 15 minutes or until easily mash with fork until smooth

If using frozen grated ube, thaw and pour off any excess liquid. Steam for about 10-15 minutes or until easily mashable. Pour off any excess liquid if any. Put in a food processor and process until smooth
Cooking:
Place coconut milk, coconut oil or cooking oil, and maple syrup in a large heavy-bottom pot and stir just until the coconut oil is melted or the coconut milk is gently simmering, but not boiling

Add the cooked ube and continue to stir. The mixture won't be smooth. Use an immersion blender or simply pour this into a blender and blend until smooth and pour back into the pot and cook over medium-low heat until the mixture just comes to a gentle simmer again and then remove from the heat. If you want it thicker you can cook it longer. If you want to use it to make ube crinkle cookies, cook it a bit longer so it's thicker. Please note that it will thicken further as it cools down
Storing:
Transfer to a glass jar and allow to cool completely before storing in the fridge. A layer or "skin" may form as it cools down. Not a big deal, simply stir it and it will be back to smooth and creamy again

Keep in the fridge for a maximum about a week. Please note that ube halaya may harden a bit after refrigeration because of the coconut oil, which turns solid when it's cold. Simply let it sit at room temperature for 30 minutes or so and then stir and it should soften. For longer storage, freeze them and use in 3 months for best result
If you like ube, you may also like these: