Learn how to make this easy silky and smooth steamed whole fish topped with Chinese preserved radish (chye poh) and mushrooms.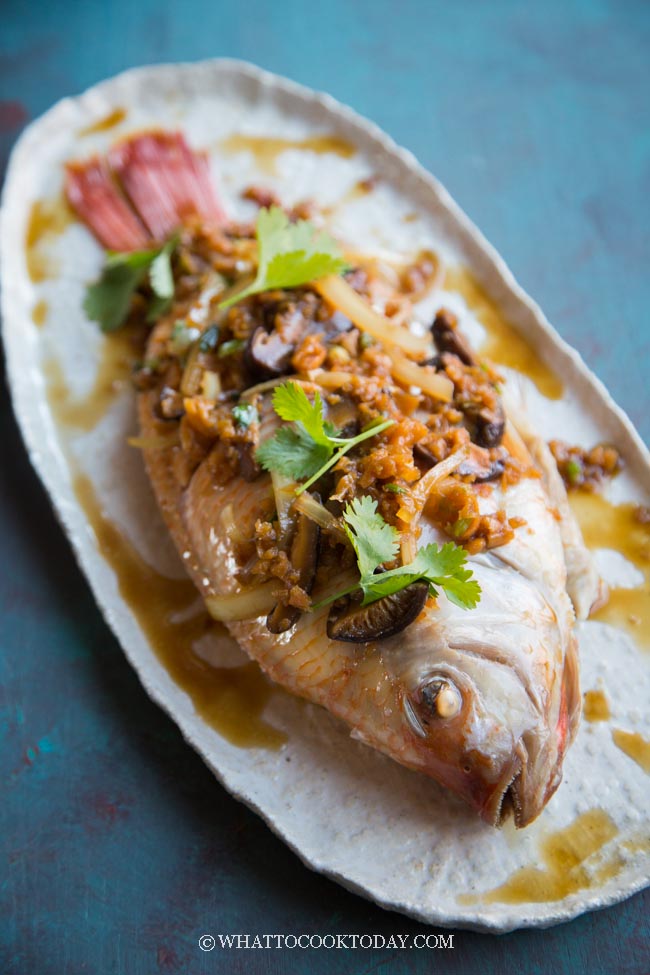 I went to Costco the other day and saw beautiful fresh tilapia and I got some. We love fresh whole fish for steaming. I grew up with many steamed whole fish dishes. My mom and I love to eat fishes.
The recipe rundown
Taste: It has a good balance of savory and slightly sweet from the sweet preserved radish and umami from the shiitake mushrooms, which complements the fish and seasonings well
Texture: Silky smooth flesh of the fish with slightly crunchy chye poh
Difficulty level: Easy
Pros: Fast to make and perfect for daily weeknight cooking, it's healthy and a good source of protein
Cons: It can be daunting to some people if they need to clean and gut the fish on their own
Ingredients
1. Whole fish
If you can get fresh, by all means, get it. It does make a difference. What kind of fish to use? this recipe is suitable for any white flesh whole fish like tilapia, seabass, grouper, snapper, pomfret. Just to mention a few.
2. Chinese preserved radish (chye poh)
Get a sweet chye poh if you can find one. It is still pretty salty in taste but I like that hint of sweetness too. This usually comes in a pack and widely available in pretty much any Asian grocery store. I get the one that has been finely chopped. Chye poh also comes in large pieces, and strips
3. Dried shiitake mushrooms
Dried shiitake mushrooms add some umami flavor to the dish. It is also widely available in any Asian grocery store
4. Onion
You can use white or yellow onion
5. Dark soy sauce
This is mainly to add a bit of color to the dish and a bit of sweetness
6. Light soy sauce
You can use regular or reduce-sodium soy sauce if you prefer
7. Sugar and salt to taste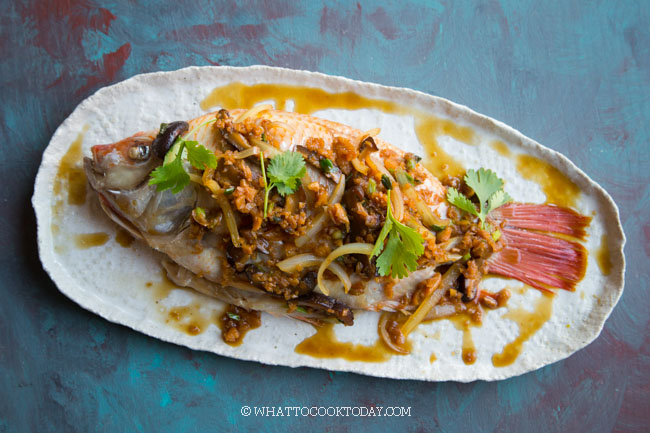 How to cook steamed whole fish with chye poh and mushrooms
1. Prepare chye poh and mushrooms
Soak chye poh in water for about 3-5 minutes. This is to get rid of extra saltiness. Squeeze out the excess liquid after soaking and discard the soaking water. Finely chop the chye poh into small pieces if it's not chopped already


Give the shiitake mushrooms a rinse with water. Soak shiitake mushrooms in hot water until really soft, about 15 minutes. Squeeze out extra liquid and cut into slices. Keep the soaking liquid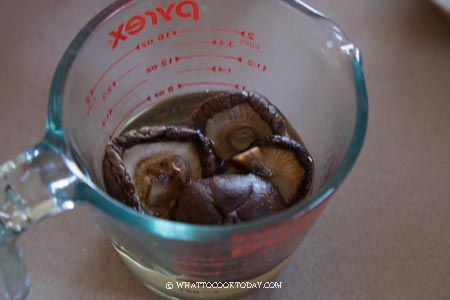 2. Prepare the fish
I got my fish already scaled and gutted. Refer to the recipe card on how to scale and gut the fish if you have to do it on your own.
Clean fish by rubbing some salt on the skin and inside. Rinse off and pat the fish really dry with an absorbent paper towel.
Make a few slits on the fish where the flesh is thick


3. Cook the chye poh and mushrooms
Get one onion and cut into slices. Preheat a pan or skillet, add cooking oil. Stir fry the onion until soft, about 3 minutes.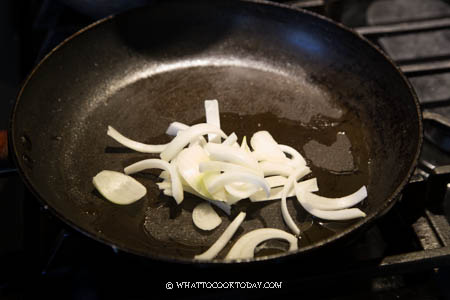 Add chye poh and mushrooms and continue to stir fry for another minute.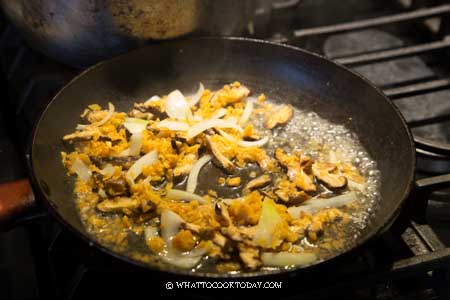 Add the seasonings and bring to a simmer and cook for another minute. Have a taste. It should be savory with a hint of sweetness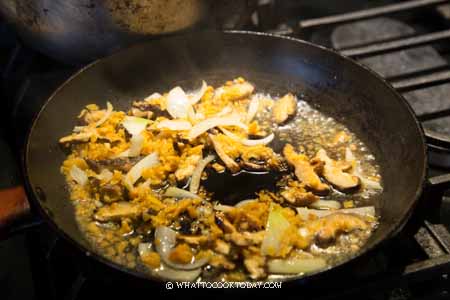 Garnish with chopped green onion. Remove from the heat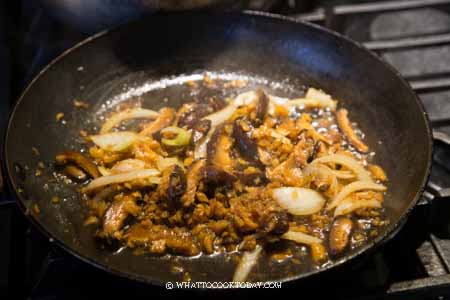 4. Steam the fish
Get one onion, peel and cut into large wedges, arrange this on a steaming plate and place the fish on top of this onion bed. This prevents the fish from sticking to the steaming plate and it helps to cook the fish evenly on both sides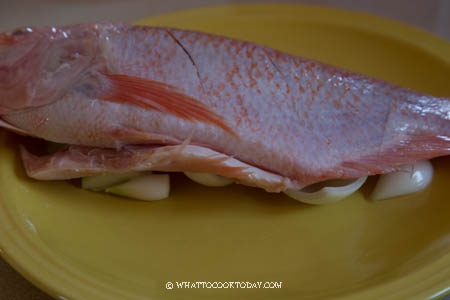 Steam the fish for 12 minutes over high heat and then turn off the heat and let it sit in the steamer for another 2 minutes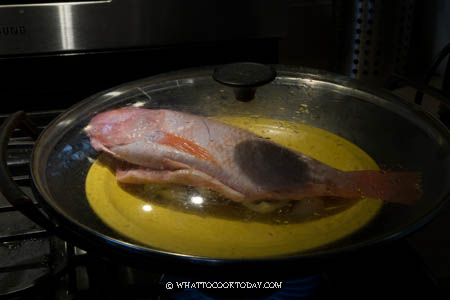 Uncover the lid and you will see some liquid in the steaming plate, pour off the liquid


5. Serving
Top the steamed fish with the cooked chye poh and mushrooms mixture. Garnish with few sprigs of fresh cilantro leaves. Serve immediately as part of multi-course meal

Did you make this steamed whole fish with chye poh and mushrooms recipe?
I love it when you guys snap a photo and tag to show me what you've made 🙂 Simply tag me @WhatToCookToday #WhatToCookToday on Instagram and I'll be sure to stop by and take a peek for real!

More steamed fish recipes you may like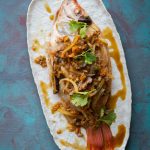 Chinese Steamed Whole Fish with Preserved Radish (Chye Poh) and Mushrooms
Ingredients
Seasoning:
2

tsp

dark soy sauce

1

Tbsp

soy sauce

1

tsp

sugar

1

Tbsp

shaoxing wine

or dry sherry

¼

cup

chicken stock or liquid from soaking mushroom
Garnish:
1

stalk

green onion

finely chopped

cilantro leaves
Instructions
Prepare chye poh and mushrooms:
Soak chye poh in water for about 3-5 minutes. This is to get rid of extra saltiness. Even though it's sweet chye poh, it is still very salty. Squeeze out the excess liquid after soaking and discard the soaking water. Finely chop the chye poh into small pieces if it's not chopped already

Give the shiitake mushrooms a rinse with water. Soak shiitake mushrooms in hot water until really soft, about 15 minutes. Squeeze out extra liquid and cut into slices. Keep the soaking liquid
Prepare the fish:
I got my fish already scaled and gutted. If you can get one that is already prepared, that's great. You can save some steps from having to gut the fish and remove the scales. You can have this done by the fishmonger or some grocery store will do it for you with a small fee. If you are comfortable doing this yourself, don't let me stop you
How to scale the fish:
This can be a messy process. Get a large plastic bag and do this inside the bag or the scales will fly off everywhere. Use the back of the knife and run it up and down against the scales and they will come off. Rinse with water until it's clean
How to easily gut fish:
Simply use a sharp knife to cut the belly part of the fish (at the bottom) starting from near the tail to the head

Use two fingers to pull out the guts, roe, gills, etc and discard them. Rinse the inside with cold running water until it is clean

Pat the fish dry with an absorbent paper towel
Cook the chye poh and mushrooms:
Get one onion and cut into slices. Preheat a pan or skillet, add cooking oil. Stir fry the onion until soft, about 3 minutes. Add chye poh and mushrooms and continue to stir fry for another minute. Add the seasonings and bring to a simmer and cook for another minute. Have a taste. It should be savory with a hint of sweetness. Garnish with chopped green onion. Remove from the heat
Steam the fish:
Bring the water in the steamer to a boil. Get one onion, peel and cut into large wedges, arrange this on a steaming plate and place the fish on top of this onion bed. This prevents the fish from sticking to the steaming plate and it helps to cook the fish evenly on both sides

Steam the fish for 12 minutes over high heat and then turn off the heat and let it sit in the steamer for another 2 minutes

Uncover the lid and you will see some liquid in the steaming plate, pour off the liquid
Serving:
Top the steamed fish with the cooked chye poh and mushrooms mixture. Garnish with few sprigs of fresh cilantro leaves. Serve immediately as part of multi-course meal
Recommended products: