3-ingredient No-cook Almond Coconut Candy – A very simple and easy sweet made with shredded coconut, condensed milk, and almonds. No cooking or baking needed to make this almond coconut candy
Coconut plays a huge role in Indonesian cooking and in other Southeast Asian countries too. Every part of it is being utilized from the milk, juice, meat, oil..you name it! Lots of desserts and savory dishes are made with coconut. This 3-ingredient no-cook almond coconut candy is inspired by coconut candy I had eaten as a kid. This recipe is even easier with no cooking or baking required.
SPECIAL INGREDIENT USED IN 3-INGREDIENT NO-COOK ALMOND COCONUT CANDY
CONDENSED MILK
Well, condensed milk is not new to the majority of you. We use condensed milk to sweeten tea, coffee, in baking and desserts in Asia. It is basically a milk with water removed and sweetened with sugar. It is very sweet and thick. I remember I loved to drizzle some condensed milk on my toast as a kid 🙂 Not a typical way to eat it, but I love condensed milk. The role of condensed milk in this recipe is to sweeten and to bind everything (acts like a glue basically)
This blog post contains affiliate links. I earn a small commission when you made purchase at no extra cost to you. Learn more.
WHAT KIND OF COCONUT IS USED IN THIS RECIPE
This recipe calls for
shredded unsweetened coconut
. This version is different than the fresh grated coconut you get from Asian store. It is drier compare to the fresh grated coconut and no cooking required.
VARIATION YOU CAN DO WITH 3-INGREDIENT ALMOND COCONUT CANDY
Chocolate-covered
You can melt semi-sweet or bitter-sweet chocolate in microwave or with double boiler and then dipped the almond coconut candy halfway or entirely coated with chocolate. Let them solidfy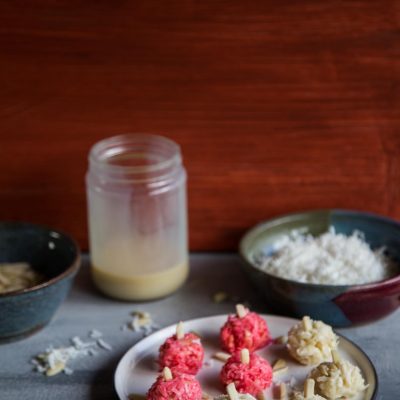 A very simple and easy sweet made with shredded coconut, condensed milk, and almonds. No cooking or baking needed to make this almond coconut candy
INGREDIENTS
1

cup

shredded unsweetened coconut

1/3

cup

condensed milk

1/3

cup

slivered almond
INSTRUCTIONS
Mix all the ingredients in the mixing bowl. If you want to color them, drop a small amount of gel food color and stir to mix

Lightly spray both of your palms with cooking spray and then scoop about 2 Tbsp of the coconut mixture and roll into 1 1/2 to 2 inch balls. Place them on top of parchment paper-lined tray and then refrigerate for at least 30 minutes to let them harden
Other variation:
You can dip these chilled coconut candies in melted semi-sweet chocolate and let the chocolate solidify in the refrigerator