Thai-Style Steamed Whole Fish – Whole fish is steamed and then dressed in Thai-inspired sweet, tangy, savory, and spicy dressing. Totally delicious and easy.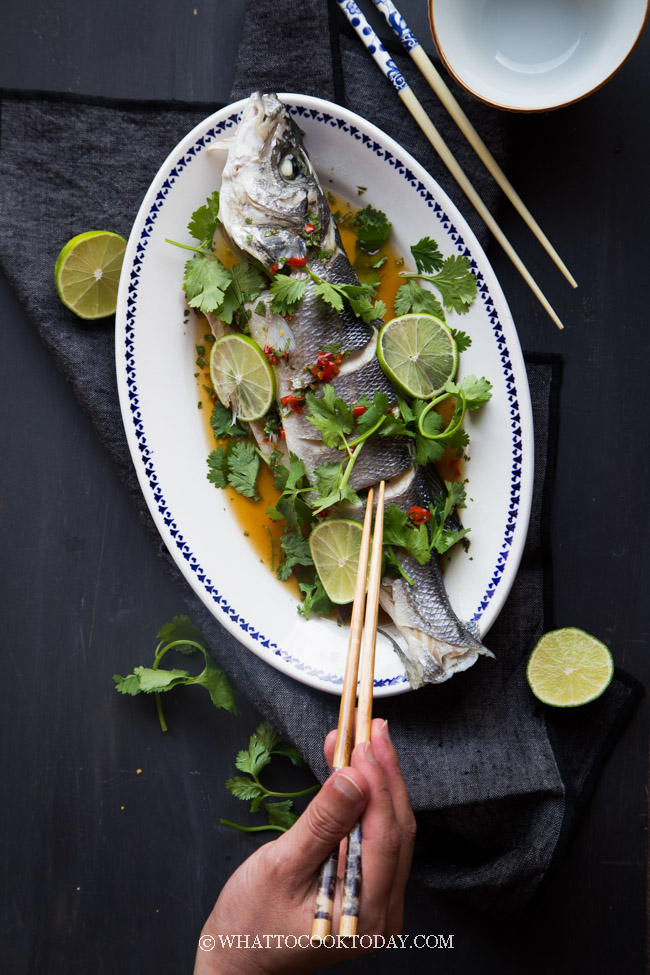 EATING A WHOLE FISH IS COMMON IN ASIA
I love to eat fish. Steam it, deep-fried it, pan-fried it, grill it, or even raw like sashimi. I eat them with heart-shaped pupils in my eyeballs. Each time when my dad knew that I was going back home to visit, he would stock lots of fresh fishes in the fridge and my mom will cook them in different ways each day. Such a treat.
I can probably say that most Chinese prefer to eat their fishes whole, meaning with head, bones, and tail still in tact. Everyone will share the same fish and picking the meat off of the fish with their eating utensils.
HOW TO CHOOSE FRESH WHOLE FISH
Choosing fresh whole fish is easier than you think. Here are few tips my mom often tell me.
1. Look at the eyes
The eyes shouldn't be gray or cloudy. It looks good in general
2. Look at the fish
The overall color should looks fresh and not off-color
3. Use your nose
Fresh fish doesn't smell overpowering fishy 😉 It should smell like the ocean, or fresh water. If it doesn't smell right to your nose, don't get it
YOU DON'T HAVE TO PREPARE AND CLEAN WHOLE FISH YOURSELF
I know the thought of having to clean the whole fish can be intimidating. I used to feel that way too. Scaling the fish is easy but can be messy sometimes with the scales flying all over. I always ask the fishmonger to remove internal parts and scale the fish for me at the grocery store. At most Asian stores, I need to pay a bit extra for them to do that.
WHY YOU'LL LIKE THIS THAI-STYLE STEAMED WHOLE FISH
1. EASY TO FIND INGREDIENTS
You don't even need to make a trip to Asian grocery store to make this dish. All the ingredients can be easily sourced at pretty much at any of your favorite grocery stores that carry whole fishes
2. REFRESHING DRESSING
This Thai steamed whole fish is very refreshing. The dressing is sweet, sour, savory, spicy.
TIPS FOR MAKING THIS THAI-STYLE STEAMED WHOLE FISH SUCCESSFULLY AT HOME
1. Clean and scale the fish
I highly recommend having this done by the fishmonger. It can be done at home if you are used to do that. Otherwise, it will save you some time.
2. Cut shallow slits at an angle(about 3) at the thickest part of the fish
This helps to cook the fish evenly


3. Prepare dressing ingredients
Make sure you get this step done before the fish is done cooking


4. Pat the fish dry
5. Set up steamer
I use a wok filled up with water and then set a trivet on it. Bring the water to a boil. Set the fish on a plate (round or oval plate, it's up to you as long as it fits) and place on top of the trivet


6. Cook the fish
Fish doesn't take a long time to cook, not even a whole fish, depending on the size of your fish, probably ranging from 10-20 minutes. In this case about 11 minute. Do not turn off the heat yet
5. Pour dressing
Uncover the lid and pour the dressing on top of the fish and steam for another 30 seconds


6. Remove from the heat and garnish
Garnish with fresh cilantro leaves and serve immediately

OTHER TYPE OF FISHES YOU CAN USE WITH THIS RECIPE
I used sea bass to cook this dish. Other suitable whole fishes for this dish are: grouper, red snapper, pomfret, flounder really…whatever floats your boat.
If you prefer fillet fish, salmon or any white fishes like cod, sole, tilapia will work too.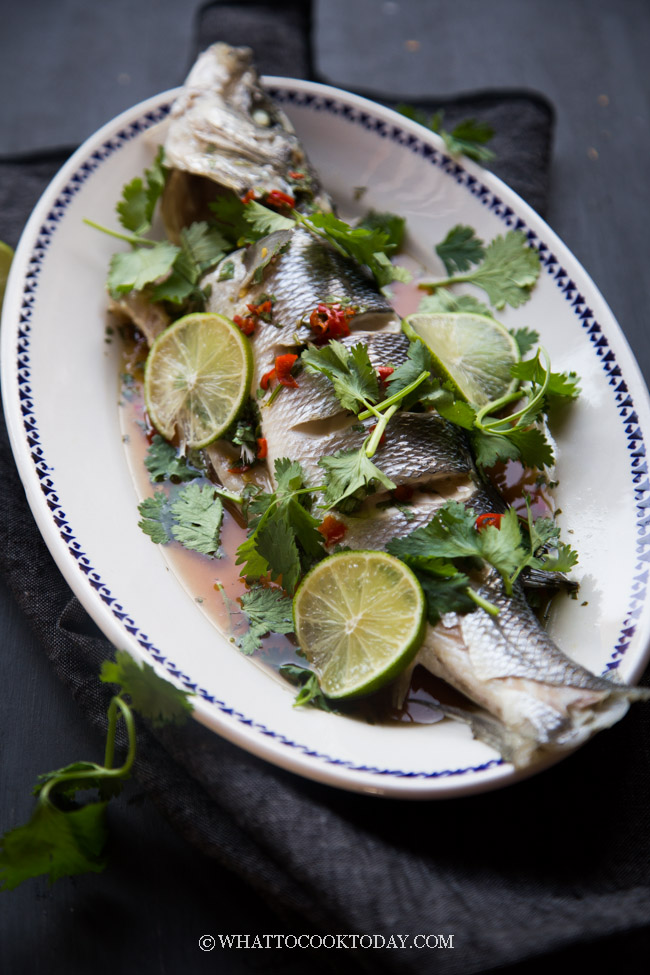 This blog post contains affiliate links. I earn a small commission when you made purchase at no extra cost to you. Learn more.
Thai-Style Steamed Whole Fish
Ingredients
medium-size whole fish such as sea bass, flounder, snapper

gutted and scaled

Dash of salt
Thai dressing:
1

Tbsp

chopped coriander leaves

1

Tbsp

minced garlic

3

Tbsp

lime or lemon juice

1

Tbsp

sugar

2

Tbsp

fish sauce

2

tsp

chopped red chilies
Garnish:
Some coriander leaves/cilantro

roughly chopped
Instructions
Combine ingredients for lemon dressing in a bowl. Set aside
Scaling the fish (If not done already):
Most of the time the internal parts have been removed, but some are not, especially if you buy them from Asian market. You can have them removed for you. You may need to do the "scaling" on your own. Use a knife and scrap the scales off the meat by going on the opposite direction of the scales. It may be messy, as the scales may "fly" all over the places. I recommend getting a clean trash bag big enough for you to do the scaling inside the bag, so the scales will not go anywhere else and you don't have to worry that they will go down your kitchen sink.

Cut slits at an angle on the fish where the flesh is thick, about 3 slits are sufficient. Place the fish on the steaming dish
Steaming the fish:
Bring water in the steamer to a boil. Steam fish over high heat for 11 minutes or until cooked through, the flesh will easily flake if it's cooked. Remove and pour away the steaming liquid. You can see the eyes of the fish will turn opaque in color and the mouth will open up once it is cooked

Drizzle the dressing over the fish and steam again for about 30 seconds. Remove

Scatter the coriander leaves on top as garnish. Serve immediately
So, what's your favorite whole fish recipe? I'd love to hear! I'm a whole-fish person 🙂