This easy and delicious steamed whole fish recipe is one of our family's favorite fish recipes you do not want to miss. It's clean-tasting and very aromatic.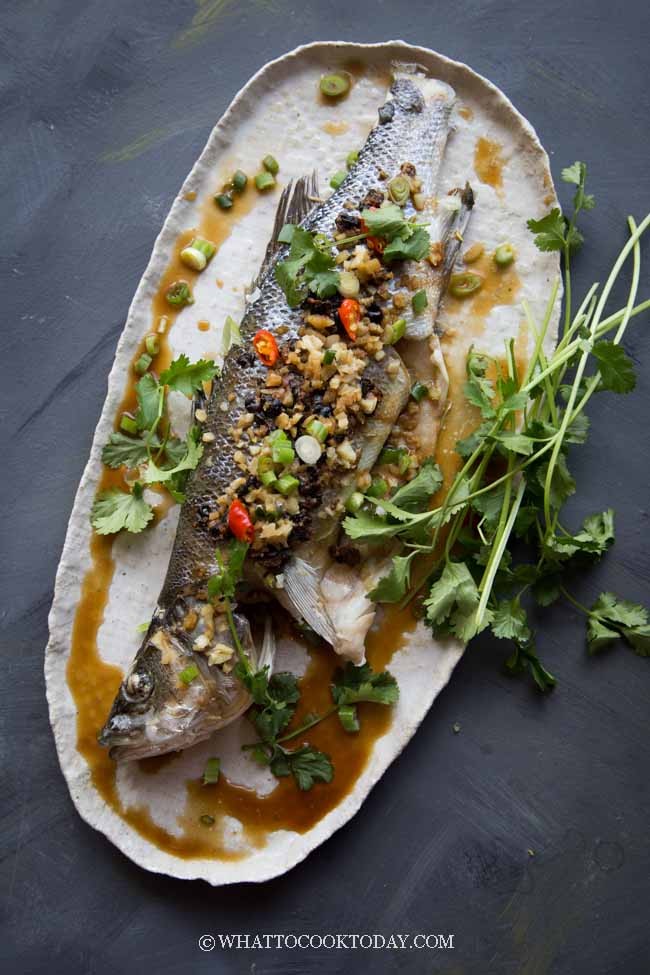 My mom used to make this steamed whole fish with black bean sauce often for dinner. I love seafood of any kind, especially steamed whole fish like this.
WHAT KIND OF FISH TO USE
1. FILLET OR WHOLE FISH: Most Chinese or Asians in general, enjoy eating whole fish like this. I supposed it's the culture that we grow up with and my parents are quite traditional in a sense that they prefer to be served a whole fish instead of fish fillet (without a head and tail). Fish fillet is also not commonly sold back in the days. Here in America, fish fillets are more common that whole fishes. You can definitely use fish fillet if you prefer.
2. TYPE OF FISH
For whole fishes: Many of the Asian fishes are not commonly available here in the U.S., so I usually use whole fish I can easily find at Costco such as sea bass and red snapper. If you have wide access to whole fish, you can use: grouper, pomfret, ribbonfish, kurau.
For fish fillet: You can use codfish fillet, tilapia, or sole.
Related Post: Thai-Style Steamed Whole Fish
SPECIAL INGREDIENT: CHINESE FERMENTED BLACK BEANS (DOUCHI)
Fermented black beans are also known as douchi are basically salted black beans that went through fermentation and process. They are also soft and extremely salty on their own. Douchi is usually used to flavor food and as part of seasonings in Chinese cooking. You can easily find this in any Asian grocery store or at Amazon if you don't have any Asian store nearby.
HOW TO STEAM WHOLE FISH WITH BLACK BEAN SAUCE IN 6 SIMPLE STEPS
1. Clean the fish
I bought mine already cleaned, gutted, and scaled. If yours is not, make sure you remove the guts and all the inner parts, and remove the scale on both sides of the body
2. Get all the ingredients ready


3. Prepare a steamer
I use a wok that can fit in a plate with fish on it. Place a metal steaming rack on the wok, fill up with some water, ideally, the water level shouldn't touch the plate. Bring the water to a boil. If you don't have a steaming rack, use a bowl, but not too tall that you can't close the lid or too small that the plate won't balance.
4. Steam the fish
Finely chop the black beans into little pieces. Put the black beans, garlic, on top of the fish. Cover the lid and steam fish for about 12 minutes over high heat


Uncover the lid and pour in the seasonings and add chopped red chili (if using) let it steam for 1 more minute.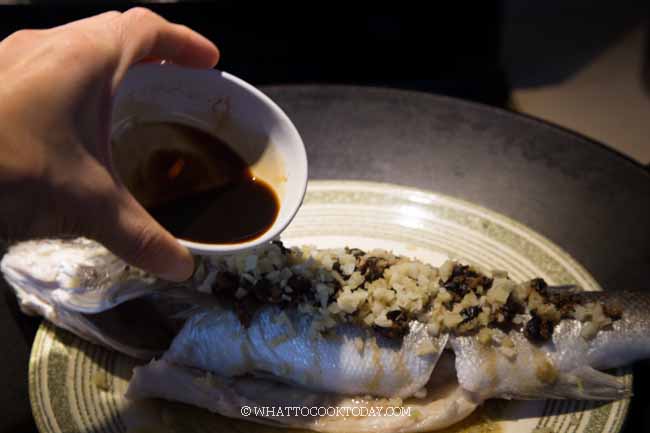 5. Check for doneness
If you pick the meat with a fork or chopstick, the flesh should flake, that means the fish is done. If it doesn't, steam just a bit longer and check again
6. Garnish
Then scattered the green onion on top. Turn off heat and cover with a lid again and let the residual heat soften the green onion on top, about another minute. Remove from the heat and garnish with some fresh cilantro leaves and serve immediately.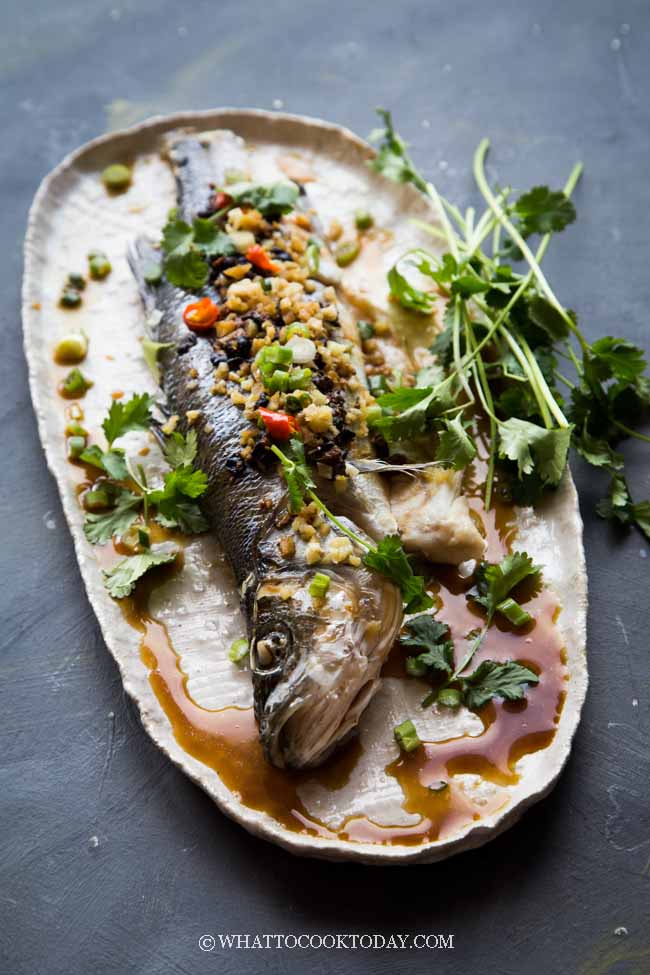 I love to make steam fish because they are pretty quick to cook. I don't like my seafood, especially fish, deep-fried. I personally think the best way to enjoy fishes is to steam them, because you can taste the sweetness and freshness of the fish.

Related Post: Chinese Fish Fillet in Ginger Sauce (姜汁鱼片)
DID YOU MAKE THIS CHINESE STEAMED WHOLE FISH WITH BLACK BEAN SAUCE RECIPE?
I love it when you guys snap a photo and tag to show me what you've made 🙂 Simply tag me @WhatToCookToday #WhatToCookToday on Instagram and I'll be sure to stop by and take a peek for real!

Chinese Steamed Whole Fish with Black Bean Sauce
Ingredients
1

large

whole fish (about 600 gr)

Suitable fishes are: grouper, cod fish, pomfret, ribbonfish, kurau, seabass

1 ½

Tbsp

fermented black beans
Aromatics:
1

Tbsp

minced garlic

1

Tbsp

minced ginger

2

red chilies

seeded and chopped (optional)
Seasonings:
1

Tbsp

soy sauce

1

tsp

sugar

1

Tbsp

shaoxing wine
Garnish:
1

stalk

green onions

finely chopped or thinly sliced

small bunch of cilantro leaves
Instructions
Prepare the fish:
Pat the fish dry with an absorbent paper towel on both sides and place the fish on a plate. The plate should be able to fit into your steamer
Combine seasonings:
Stir all ingredients for seasonings in a small bowl. The sugar won't dissolve completely, don't worry about it
Prepare the steamer:
I use a wok that can fit in a plate with fish on it. Place a metal steaming rack on the wok, fill up with some water, ideally, the water level shouldn't touch the plate. Bring the water to a boil. If you don't have a steaming rack, use a bowl, but not too tall that you can't close the lid or too small that the plate won't balance
Steam the fish:
Finely chop the black beans into little pieces. Put the black beans, garlic, on top of the fish

Cover the lid and steam fish for about 12 minutes over high heat

Uncover the lid and pour in the seasonings and add chopped red chili (if using) let it steam for 1 more minute. Check the fish for doneness. If you pick the meat with a fork or chopstick, the flesh should flake, that means the fish is done. If it doesn't, steam just a bit longer and check again

Then scattered the green onion on top. Turn off heat and cover with a lid again and let the residual heat soften the green onion on top, about another minute. Remove from the heat and garnish with some fresh cilantro leaves and serve immediately