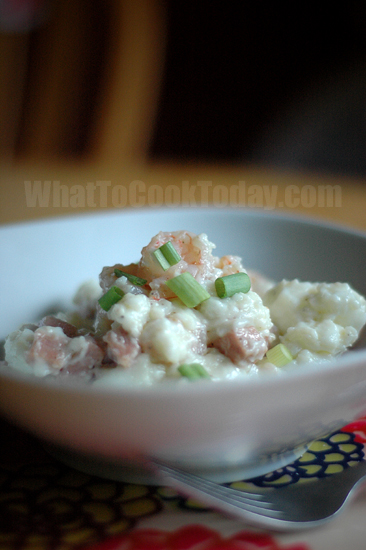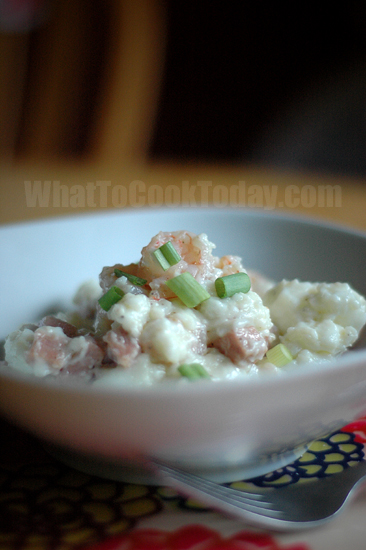 When I first saw this stir-fried milk recipe in Taste of China cookbook by Ken Hom, immediately, I scanned through the ingredient list and BINGO, I got all the ingredients and decided to give it a try.
The title of the recipe definitely intrigued me enough to try it. I was thinking "How can milk be stir-fried?" well, nothing is impossible.
This stir-fried milk is a very popular dish in the province of Guangdong in China and Hong Kong. The milk is really a thick custard, which is then stir-fried with prawns, barbecued Chinese pork/ham, and pine nuts. In a country with almost no dairy products, Cantonese milk dishes date from the Portugese influence over three hundreds years ago. Exposed to the European tradition, the Cantonese created flavorful dishes that cook the milk first to make it more digestible
Honestly, when I first finished making the stir-fried milk I was really doubtful how this whole dish will taste like. It looked like you did something wrong and you ended up with a barf-looking dish, But, I was glad that I was totally wrong. I love the combination of texture of this dish. The milk is scrambled-egg like in texture, contrasting with the crunchy pine nuts, it is really good.
I made this for breakfast but this can be served as main dish as well. It is quite fulfilling and I will definitely make this again.
STIR-FRIED MILK/CHAO NAI (2 servings)
16 fl oz (450 ml) milk
1 tsp salt
1/2 tsp freshly ground white pepper
4 Tbsp cornstarch
1 Tbsp peanut oil
1 1/2 Tbsp peanut oil
1 tsp salt
8 oz (225 g) Chinese barbecue pork or mild ham, coarsely chopped
12 oz (375 g) medium-sized uncooked peeled and cleaned prawns
4 oz (125 g) pine nuts
1 stalk spring onion (chopped) – optional. The original recipe doesn't call for this, but I kinda like it in there
COOKING METHOD:
1. Combine the milk, salt, pepper, and cornflour in a medium-sized saucepan and mix until smooth. Then simmer the mixture over low heat for 8 minutes or until it has thickened to the consistency of soft scrambled eggs.
2. Oil a baking pan, pour in the cooked milk mixture, and allow it to cool thoroughly. Cover with the cling wrapper and refrigerate. This can be done the day before
3. Heat a wok or large frying pan until hot and add the oil and salt. Then add the barbecue pork or ham and prawns, and stir-fry the mixture for 1 minute. Add the milk mixture and pine nuts, and stir-fry for 3 minutes or until the entire dish is heated through. Serve at once