Fish fillet cooked in a savory Asian-style aromatic ginger sauce is made for a perfect and delicious one-pan weeknight meal.
EASY ASIAN FISH FILLET RECIPE
This fish fillet in ginger sauce is truly easy and it is one of our family's favorite. Please don't let its pale unattractive color fools you. My husband was surprised by how good this dish actually was. I first had this fish fillet in ginger sauce at a potluck party hosted by a friend. She actually ordered this as a take-out from one of the local Sichuan restaurants and I really loved it when I tasted it. Inspired by that, I created this at home with the taste that I think pretty close to what we had. I don't use MSG, so there you go, it's hard to match the taste without that, BUT, fret not, this version is still REALLY good!
INGREDIENTS
Most of the ingredients can be easily sourced at your local grocery store without having to go to Asian store.
Fish: I used swai fillet. You can use sole, cod, tilapia
Aromatics: Ginger and garlic
Seasonings: Shaoxing wine (or dry sherry), sugar, salt
Sauce base: Chicken broth + cornstarch as a thickening agent
Garnish: Chopped green onion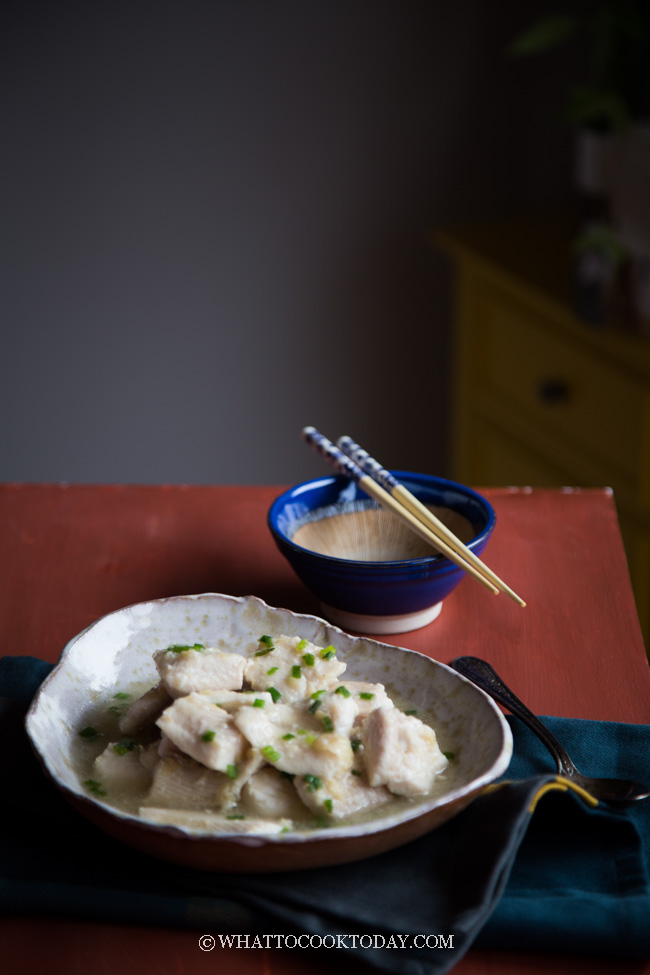 Now that you get all the ingredients ready, let's get cooking shall we?
HOW TO COOK FISH FILLED IN GINGER SAUCE
There's really nothing tricky about this recipe. It's pretty straightforward.
1. Cut the fish into large chunks. If you cut it too small, it will break apart easily when you cook it
2. Preheat a wok/skillet with oil. Stir fry the garlic and ginger mixture for about 3 minutes until aromatic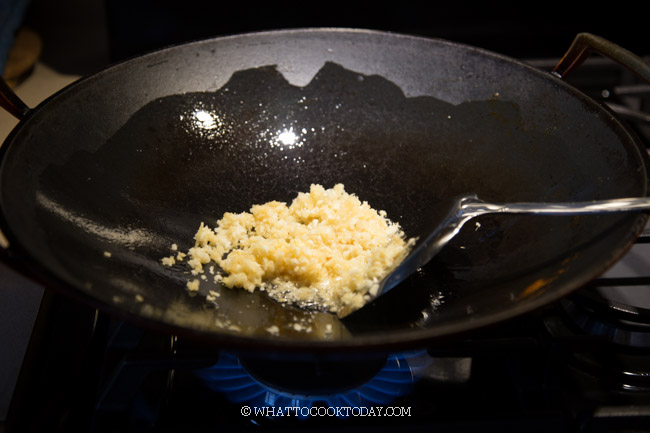 3. Add the chicken broth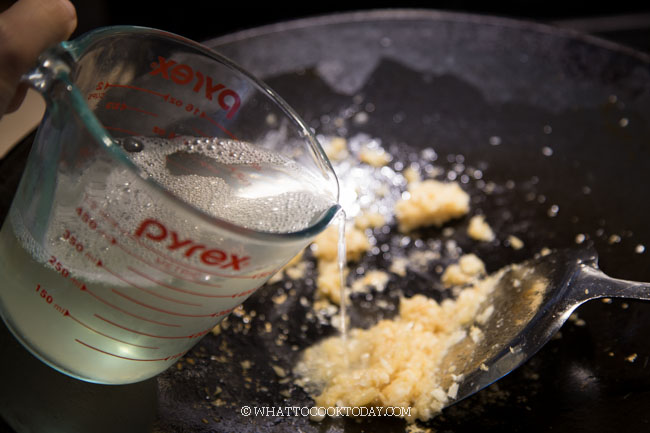 4. Add seasonings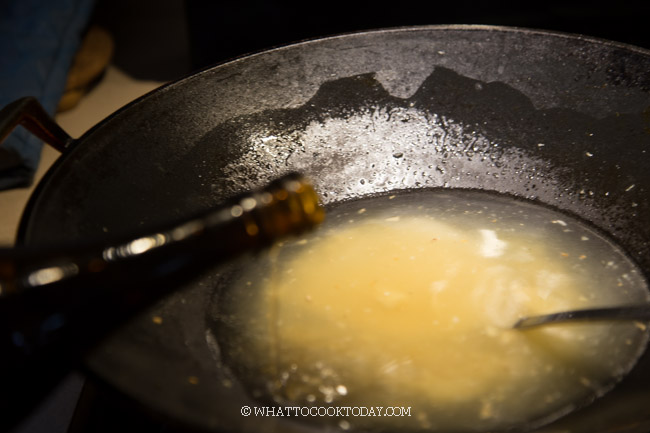 5. Bring it to a boil and then add fish fillet pieces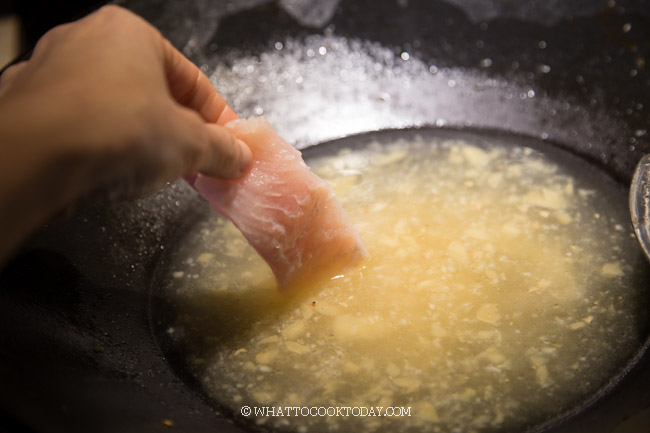 6. Let the fillet pieces cook until they turn opaque white and cooked through (will flake easily), about 2-3 minutes


7. Gently dish out the fish to serving platter. I do this so that I don't overcook and overstir the fish fillet. Bring the broth back to a boil and then add cornstarch mixture (don't forget to give it a good stir before pouring it into the broth)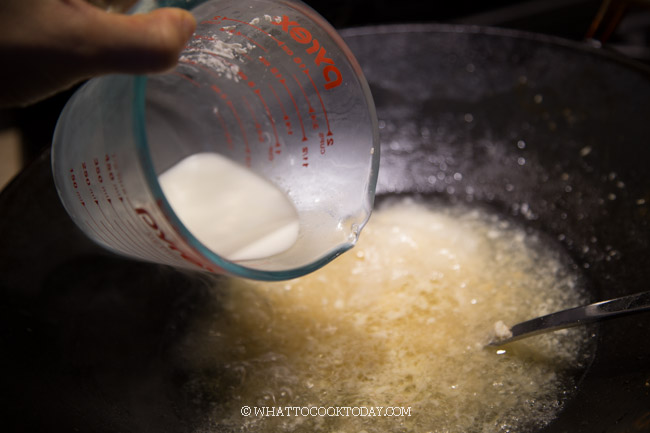 8. Keep stirring until the sauce is thickened and shiny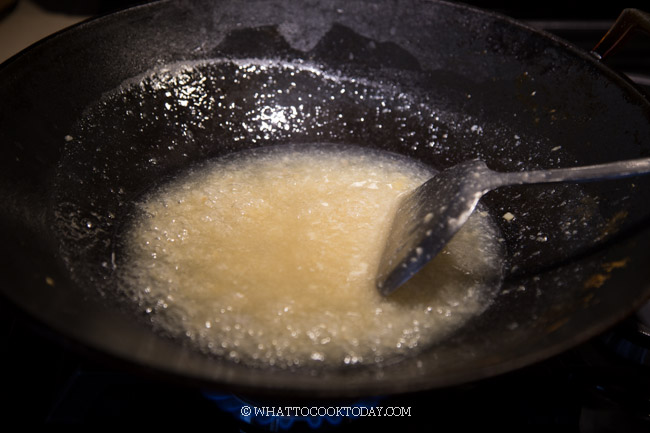 9. Gently add the fish fillet back in to let the sauce coat the fish pieces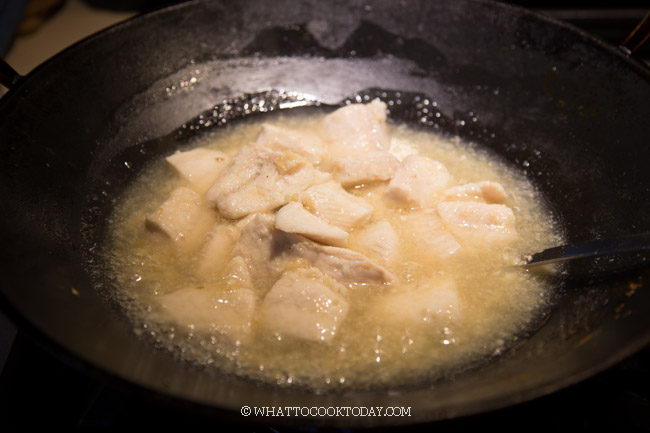 10. Turn off the heat and sprinkle with chopped green onion. Transfer to a serving platter and serve immediately

FOR CONFINEMENT DIET
Double the amount of ginger and use DOM benedictine or glutinous rice wine instead.
That's it! You are done! Serve it with a bowl of plain white rice and trust me, you can eat the plain rice with just the ginger sauce 🙂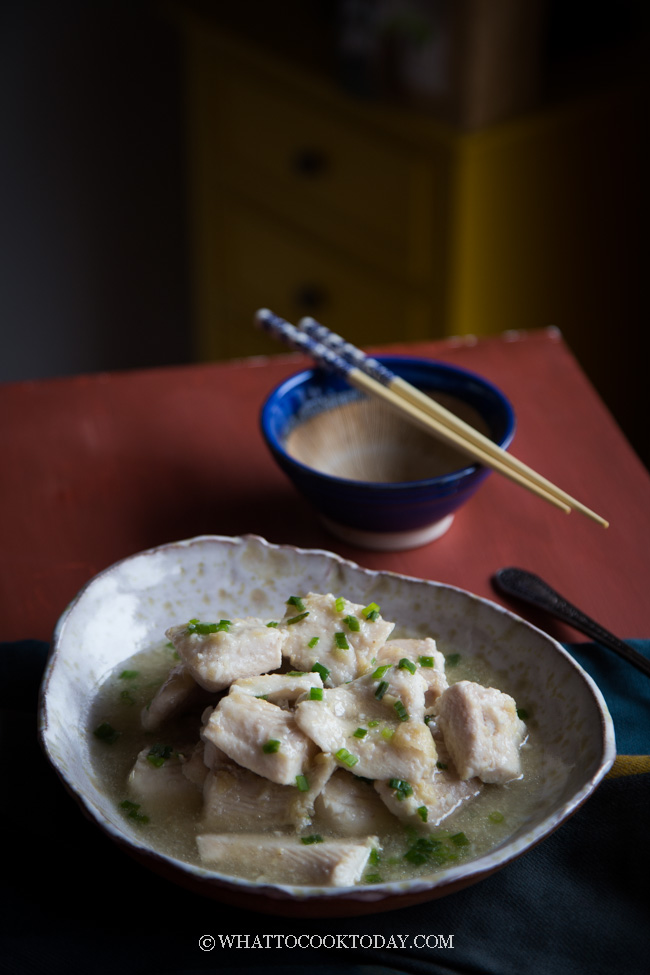 A super easy and delicious Asian-style fish fillet in ginger sauce that I believe you would love to make every week 😉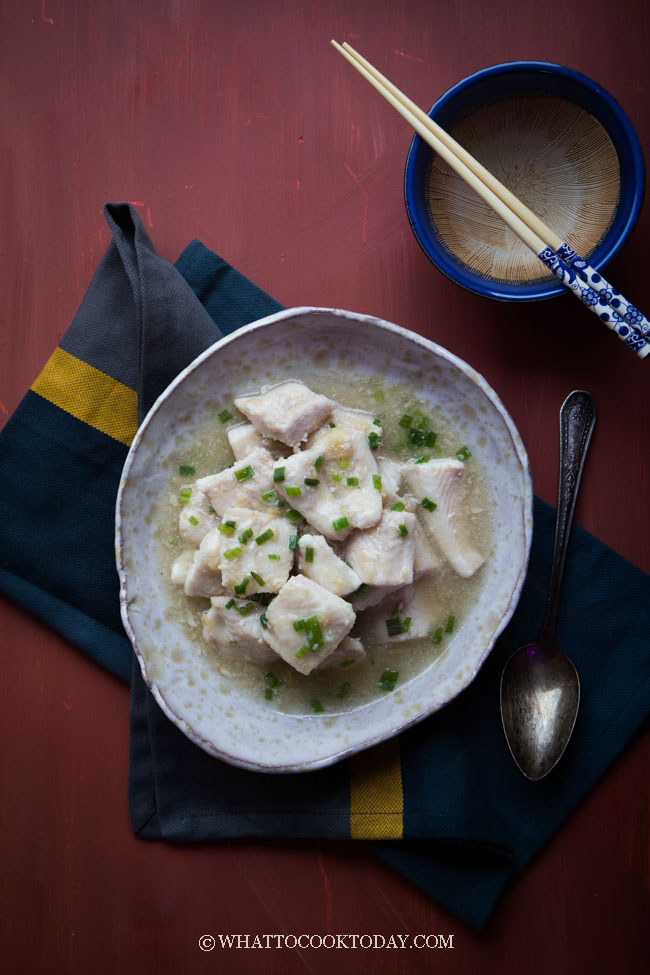 This blog post contains affiliate links. I earn a small commission when you made purchase at no extra cost to you. Learn more.
Chinese Fish Fillet in Ginger Sauce (姜汁鱼片)
Ingredients
1

lb

white fish fillet : sole, swai, cod, or tilapia

2

Tbsp

cooking oil
Aromatics:
2

inch

knob fresh ginger

peeled

3

cloves

garlic

peeled
Seasonings:
1

Tbsp

Shaoxing wine

1

tsp

sugar

½

tsp

salt

or more to taste
Instructions
Place the aromatics in a food processor and finely chop them (or you can manually chop them by hands)

Cut the fish fillet into large chunks, about 2-inch pieces. Don't cut too small or the fish will break apart easily when you cook them

Preheat a large wok or skillet. Add cooking oil. Add ginger and garlic mixture. Stir fry until fragrant, about 2 minutes. Pour in the chicken stock and seasonings and bring to a boil. Add the fish fillet pieces in and let them cook until the fillet changes into opaque white color and cooked through. It shouldn't take too long, about 2 minutes or less

Carefully dish out the fish fillet from the stock into a serving platter. Have a taste for the stock, add more salt if needed. Bring it to a boil and then give the cornstarch mixture a stir and pour in. Continue to stir until the stock is thickened. Gently add the fish fillet pieces back. Gently stir to let the fillet pieces coated in the sauce. Turn off the heat. Sprinkle with chopped green onion. Serve immediately