Seasoned sticky rice filling is wrapped in a delicate wrapper to make a Shanghai version of siu mai. Simply put, it's an irresistible combination.
SHANGHAI STICKY RICE SIU MAI (NOU MI SHAO MAI)
Please note that you will see the words siu mai, shu mai, shao mai interchangeably in this post and they are the same thing. The Cantonese version of siu mai, which is the pork and shrimp siu mai is more common compared to Shanghai siu mai. Shanghai siu mai used sticky rice/white glutinous rice cooked with meat and seasonings and then wrapped in round dumpling wrapper and steamed. I love pork and shrimp siu mai, but I love Shanghai siu mai equally as much.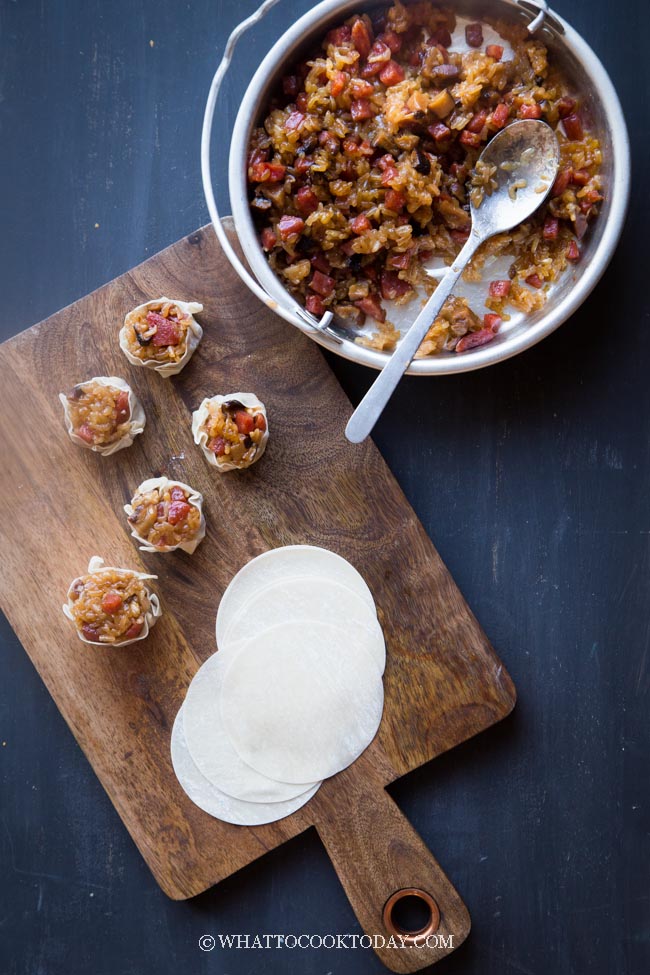 MY VERSION OF SHANGHAI SIU MAI
Most Shanghai siu mai recipes I've seen used ground pork. I prepared mine almost like how I'd make lo mai gai. I used Chinese sausage, which my kids like a lot compared to ground pork.
INGREDIENTS FOR FILLING: Sticky rice, shiitake mushrooms, Chinese sausage, dried shrimp (I didn't use it in this recipe, but it would be awesome to include them)
I keep it simple but it's packed with amazing flavor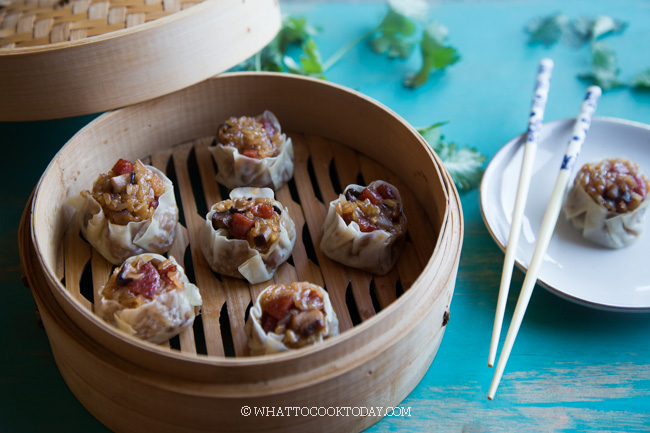 TOP TIPS ON HOW TO MAKE REALLY GOOD STICKY RICE FILLING
1. Save the liquid from soaking the mushrooms
One of the feedback from my husband was that he could taste the mushrooms infused into the sticky rice. I told him that's because of the liquid from soaking the mushrooms
2. Stir-frying
Stir frying the garlic, dried shrimp (if using), Chinese sausage, and mushrooms really brings out the aroma to the next level
3. Pressure cook the sticky rice if possible
Without pressure cooker, one must soak the sticky rice for at least 6 hours or preferrably overnight before steaming or the sticky rice will never cooked through. With a pressure cooker though, I can skip the soaking part and go straight to cooking. That's why it's my favorite method of cooking sticky rice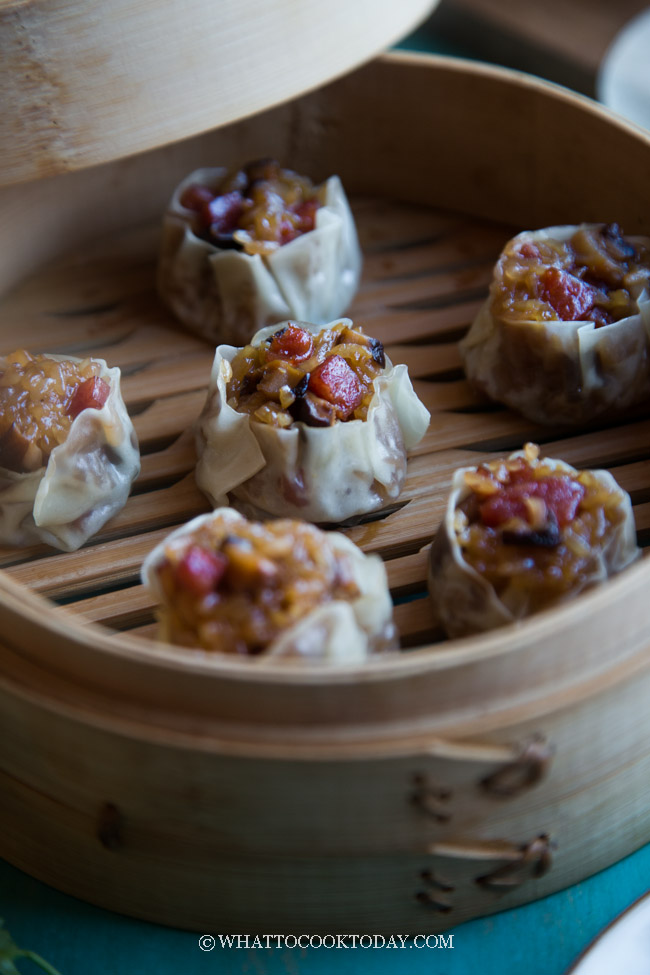 HOW TO PREPARE THE STICKY RICE FILLING
1. Soak the mushrooms and dried shrimp in warm water for 30 minutes and save the liquid from soaking the mushrooms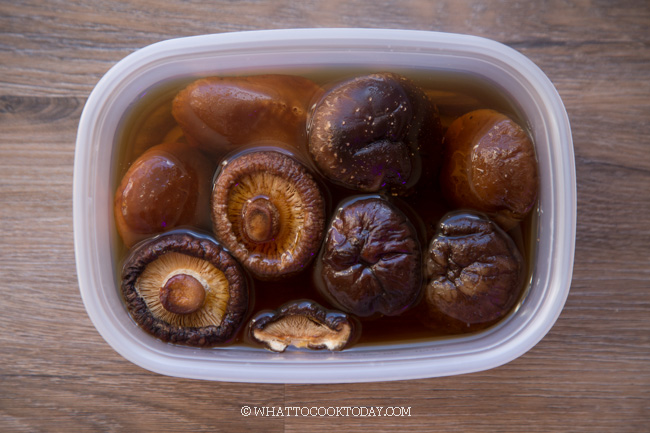 2. Prepare the sticky rice
If you are not using pressure cooker, soak the rice for 6 hours or overnight, otherwise, you can just rinse the rice with clean water and discard the water
3. Saute the garlic for about 30 seconds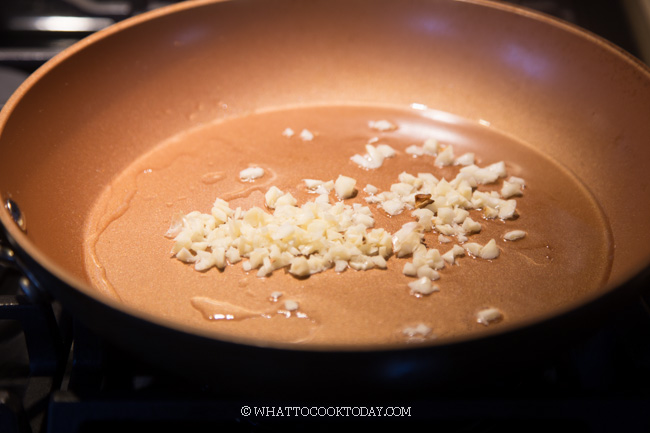 4. Add the dried shrimp (if using), Chinese sausage, and mushrooms


5. Add the sticky rice and seasonings and stir to mix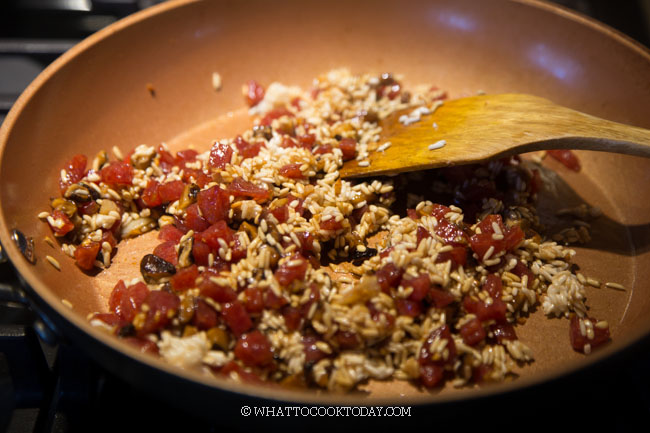 6. Turn off the heat and transfer to a steaming dish (that can fit in your instant pot or steamer)


7. Add the liquid from soaking mushrooms (top up with water if needed)


8. Make sure to push the rice down gently with a spoon to make sure it's covered by the liquid


9. Steam in the steamer over high heat for 30 minutes or in my case, I used Instant Pot pressure cooker and cook on high pressure for 30 minutes


10. Let the filling to cool down a little bit and it's ready to be used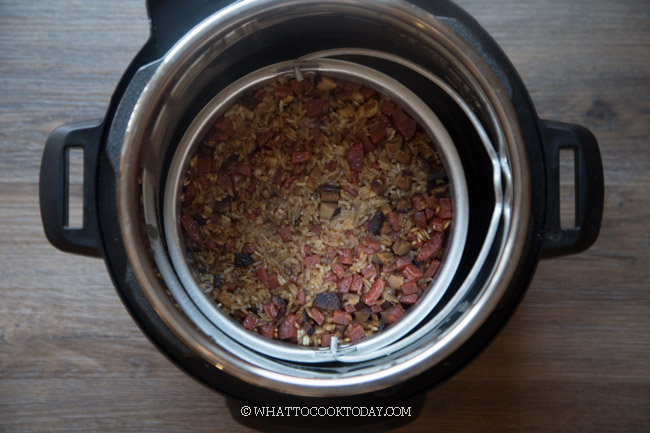 HOW TO WRAP STICKY RICE SIU MAI
I use a store-bought siu mai wrapper. It's usually round in shape


Place the sticky rice filling on the middle of the wrapper and gather the sides around the filling. Use your thumb and index finger to wrap around the dumplings on one hand and use a spoon to press the filling into the wrapper and top up with more to fill it up. Make sure there is enough portion of sticky rice in the dumplings because it helps the wrapper to adhere to the filling.


While still holding the dumpling, place it on a flat surface to flatten the bottom so it can "sit" and thumb and index fingers to shape the dumpling into siu mai shape.

IF YOU MAKE A BIG BATCH
STORING:Leftover can be kept in the fridge for up to 5 days. To keep longer, place them on a baking sheet lined with parchment paper, not touching each other. Pop them in the freezer for about one hour. After that you can moved them to a freezer bag
REHEATING: Just reheat them in the steamer over high heat for 5 minutes and they are as good as new.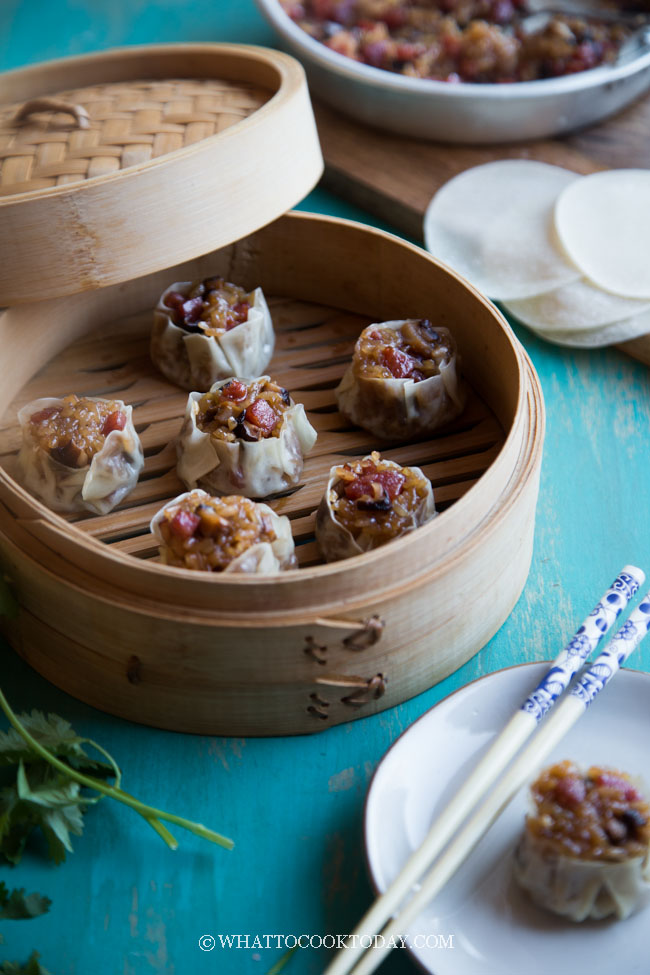 It's hard not to get addicted to Shanghai siu mai. Hubby loves them a lot!

This blog post contains affiliate links. I earn a small commission when you made purchase at no extra cost to you. Learn more.
Shanghai Siu Mai (上海烧卖)
Ingredients
1

cup

glutinous rice

about 200 gr

2

Chinese sausage (lap cheong)

dice

1

Tbsp

dried shrimp

optional, I didn't use in this post

1 ½

cups

liquid from soaking mushrooms + water if needed

2

Tbsp

cooking oil

25-30 Shu mai wrappers
Aromatics:
6

cloves

garlic

peeled and finely minced
Instructions
If you are not using a pressure cooker to cook the sticky rice, you need to soak the rice for at least 6 hours or overnight, otherwise no soaking necessary and just rinse the rice with water. Discard soaking water after that

Soak the shiitake mushrooms in warm water for 30 minutes. Soak the dried shrimp in warm water for 30 minutes too. Save 1 1/4 cup soaking water from soaking the mushrooms. Top up with water if needed. Remove stems from mushrooms and dice into little pieces. Do the same for the dried shrimp
Cook the sticky rice filling:
Preheat cooking oil on a large pan or wok over medium heat. Add garlic and saute for about 30 seconds. Add the dried shrimp, mushrooms, and sausage. Saute for about 5 minutes. Add sticky rice and seasonings. Stir to mix. Turn off the heat
If cooking sticky rice filling with Instant pot pressure cooker:
Transfer the sticky rice filling into a dish (stainless steel or aluminum is best) that will fit into your Instant Pot. Pour the mushroom liquid + water into the sticky rice mixture. Use a spoon to push the rice down to make sure it's covered by liquid. Set a trivet inside the insert of Instant Pot. Set the dish on top

Close the lid and turn the steam release valve to seal. Press "pressure cooker" and "high pressure". Pressure cook on high for 30 minutes. Wait 5 minutes and then release pressure completely
If cooking sticky rice filling on the stove:
Transfer the sticky rice filling into a dish (stainless steel or aluminum is best) that will fit into your steamer. Pour the mushroom liquid + water into the sticky rice mixture. Use a spoon to push the rice down to make sure it's covered by liquid. Steam on high heat for 30 minutes or until the sticky rice is soft
Wrapping:
Place the sticky rice filling on the middle of the wrapper and gather the sides around the filling. Use your thumb and index finger to wrap around the dumplings on one hand and use a spoon to press the filling into the wrapper and top up with more to fill it up

While still holding the dumpling, place it on a flat surface to flatten the bottom so it can "sit" and thumb and index fingers to shape the dumpling into shu mai shape. Make sure there is enough portion of sticky rice in the dumplings because it helps the wrapper to adhere to the filling

Continue until you run out of filling. Brush the bottom lightly with some oil and place in a bamboo steamer or a dish and steam on high heat for 8-10 minutes