Easy Pressure Cooker Lo Mai Gai (Steamed Sticky Rice with Chicken) – Traditional savory steamed sticky rice with chicken you found at dim sum restaurant is pressure-cooked. Seriously no fuss easy recipe and flavorful.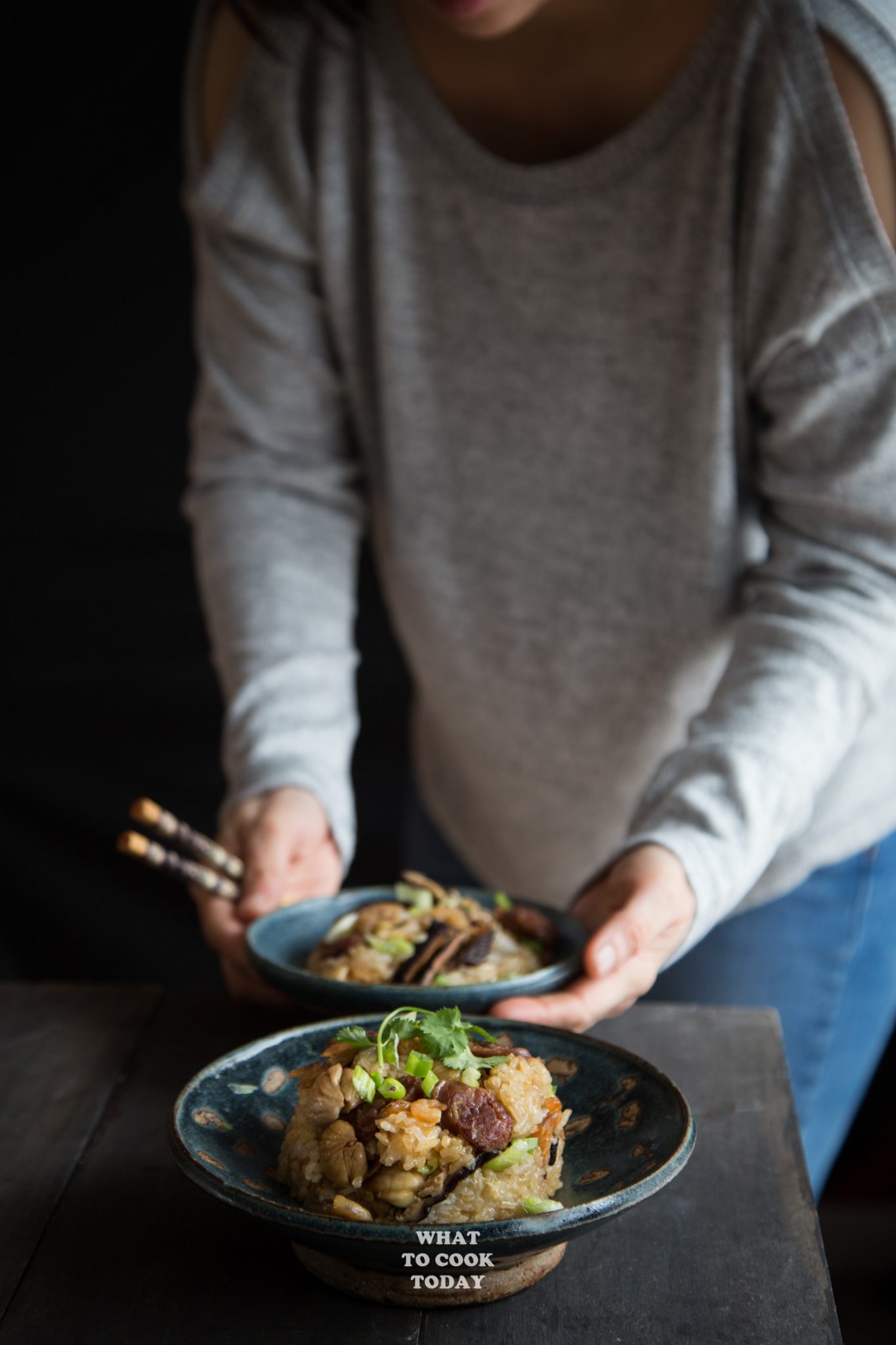 The temperature is absolutely horrible. -5 Fahrenheit!! Which is so perfect to cuddle up at home. I'm so glad the kids don't have school and I don't have to rush to get them to school early in the morning! I'm usually the second one to rise in the morning. My 4-year old is my alarm clock at 6:30 in the morning! Today, I rose at 8 am!!! EIGHT!! I haven't woke up at 8 am in the morning ever since I have kids 7 years ago! Both kids were still asleep too! The husband was the first one to rise because he has to go to work.
It makes me feel how so grateful I am to be able to stay at home with the kids and work from home too, doing what I love doing. No fancy office or fancy office attire, but I was able to work in my PJ down in our basement! I'm still recovering from post-holiday feast! Getting together with family and friends during holiday time is the best! Now, of course it's Tuesday and reality sets in and I need to think of what to cook for lunch!!! I decided to make this Instant Pot Indonesian Chicken Curry for lunch. The chicken was still frozen because I was totally unprepared! But I still manage to make it in 30 minutes! I love pressure cooker! I love Instant Pot for real!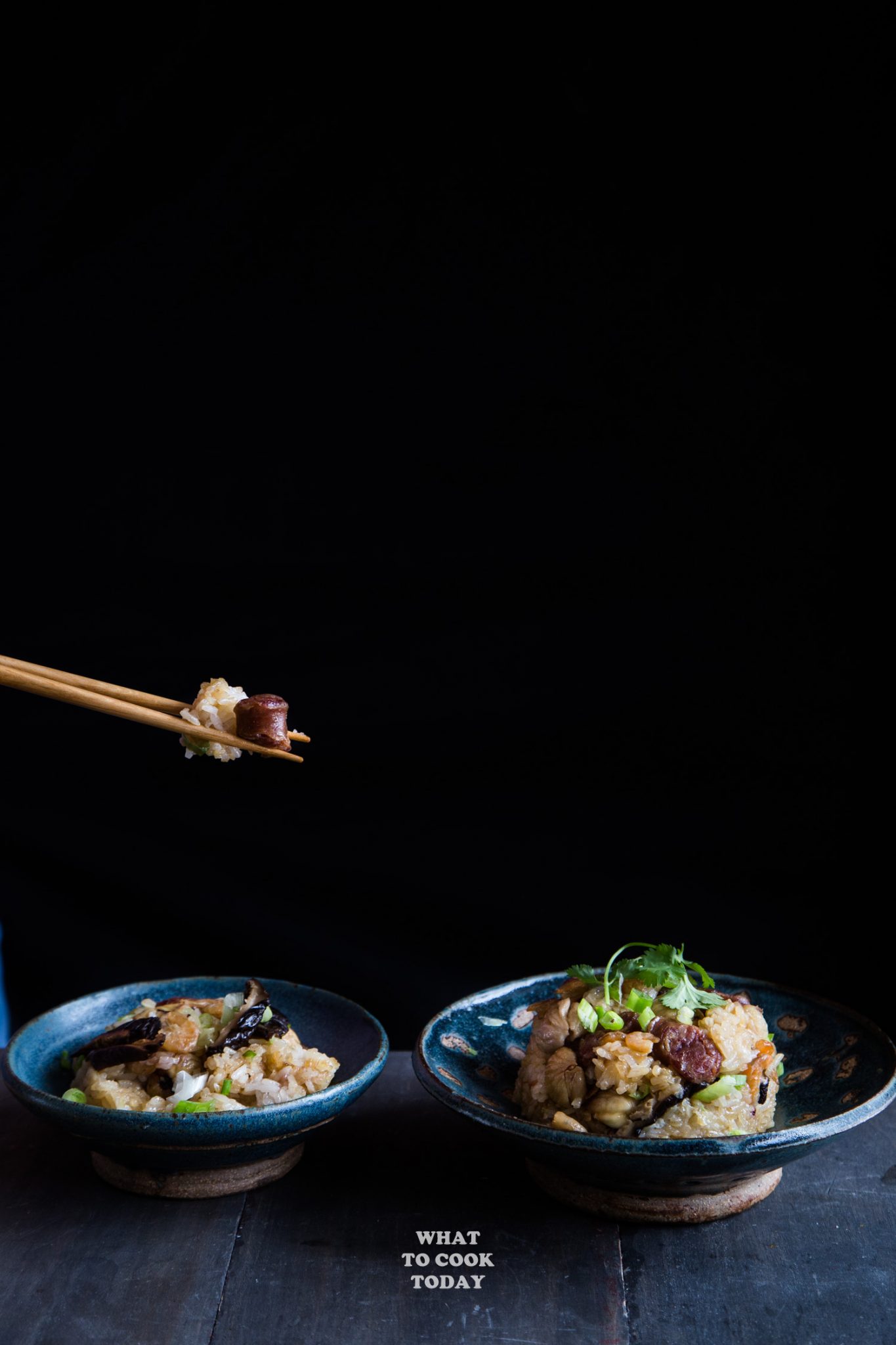 I transferred the curry to another big pot and decided to make this Easy Pressure Cooker Lo Mai Gai (Steamed Sticky Rice with Chicken). Usually I need to plan ahead with this. I need to soak the sticky rice for at least 4 hours, but with Instant Pot pressure cooker feature, no soaking required for the rice. I managed to whip it up in 30 minutes too!! It turns out amazing!!! So people…I made two dishes with Instant pot in less than 2 hours! I'm an Instant Pot convert!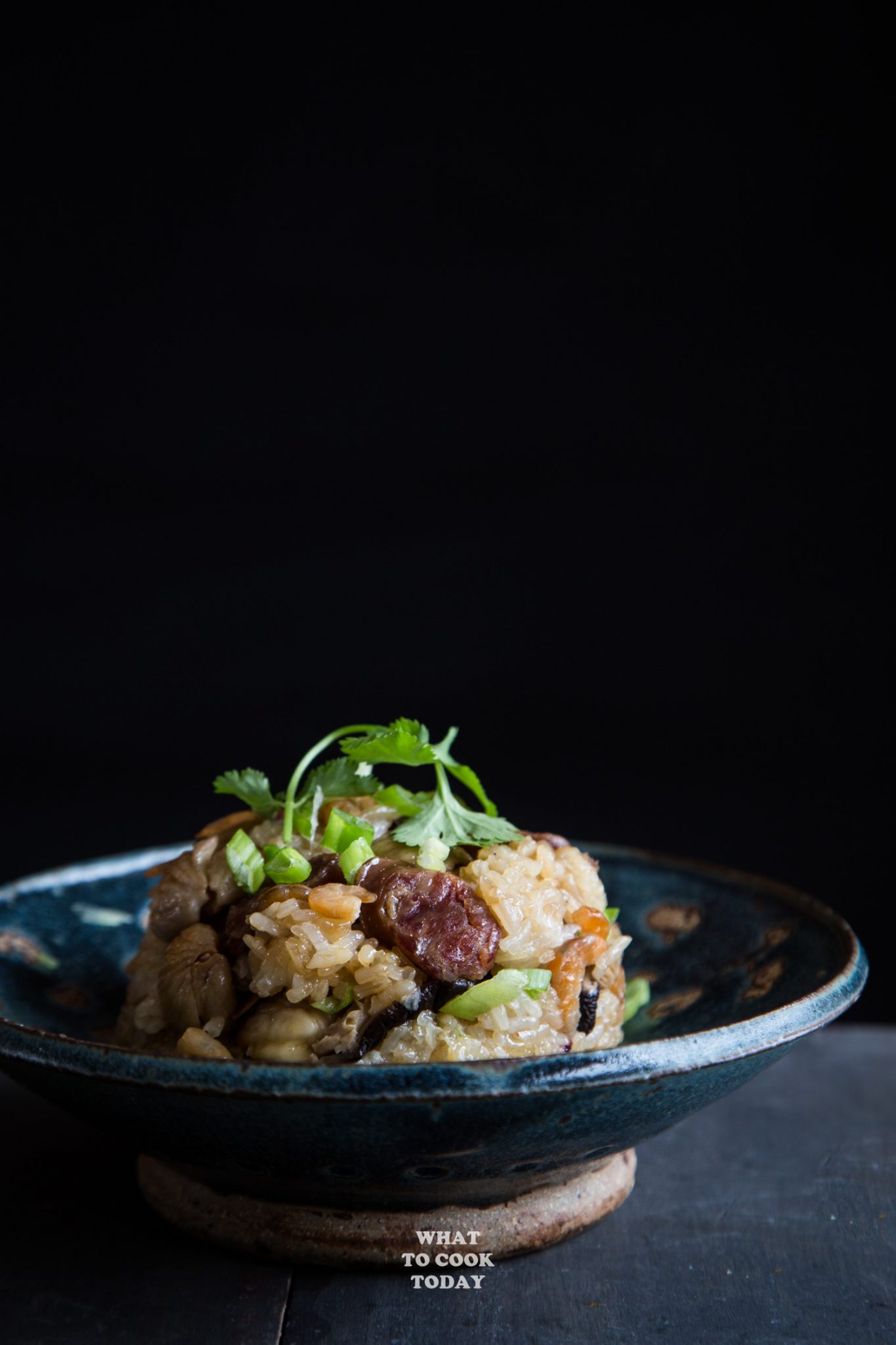 Lo Mai Gai usually needs about 2 hours of steaming time, soaking the rice for 4 hours before that, so, it's almost impossible to make it without planning ahead if you ask me! Now I can pretty much make it whenever I feel like it. For real!
**I updated the cooking time for pressure cooker. Please see notes on recipe card for more details.
*Recipe is written for 6-quart Instant Pot. Cooking time should remain the same for 8-quart size but will take longer to pressurize. For mini duo (3-quart), I suggest to half the recipe and use the same amount of time to cook*
Easy Pressure Cooker Lo Mai Gai (Steamed Sticky Rice with Chicken)
Ingredients
Instructions
Cooking with Instant Pot (pot in pot method):
Pour 2 cups of water in the instant pot. Set the trivet. In a large heat-proof container (that can fit into your instant pot, mine is 6-qt IP). You can use round glass container, stainless steel, or anything that is labeled "oven proof" can be used. If using glass and ceramic material, you may need to add extra 5 minutes to cooking time

Line the container with lotus leaf. Place the rice, chicken, water chestnut, sausage, mushroom, and dried shrimp in the container. Pour in 2 cups of water. Add the seasoning and use a spoon to give it a stir to make sure the liquid is covering the rice. Place on top of the trivet. Close the lid. Turn the steam release handle to Seal. Press pressure cooker, high pressure and set the timer to 30 minutes (see notes)

Once 30 minutes is done. Wait for 10 minutes and then turn the steam release handle to venting and make sure the pressure valve has gone down all the way down before you open the lid for safety measure

For presentation, I sliced the shiitake mushroom and then arrange the mushrooms, chicken, sausage on the bottom of a bowl and then pack the sticky rice on top and inverted it into a plate before serving
Stove-top method:
Get your steamer ready. In a large skillet, heat some oil and saute the dried shrimp until fragrant. Add chicken, Chinese sausage, water chestnut and stir fry until the chicken turns opaque, about 5 minutes. Add the seasonings and soaked rice. Stir to mix everything

Brush the lotus leaf with some cooking oil, place half of the rice chicken mixture on the leaf and then fold the sides of the leaf over, like wrapping a parcel. Secure with kitchen twine if necessary. Repeat with another packet. Place in the steamer and steam for the next 1.5-2 hours. Remove from the steamer and serve immediately
Notes
If not using pressure cooker: Soak the glutinous rice for minimum 4 hours If using pressure cooker: No soaking necessary
Nutrition
Serving:
120
g
Calories:
165
kcal


CHECK OUT THESE OTHER INSTANT POT RECIPES YOU MIGHT LIKE:
TAIWANESE BEEF NOODLE SOUP (NIU ROU MIEN)
CHICKEN MUSHROOMS WITH DOM BENEDICTINE
PORK AND SHRIMP SIU MAI (COOK AND SELL DUMPLINGS)