Traditional savory steamed glutinous rice with chicken you found at dim sum restaurant is pressured cooked in Instant Pot. Seriously no fuss easy recipe and flavorful.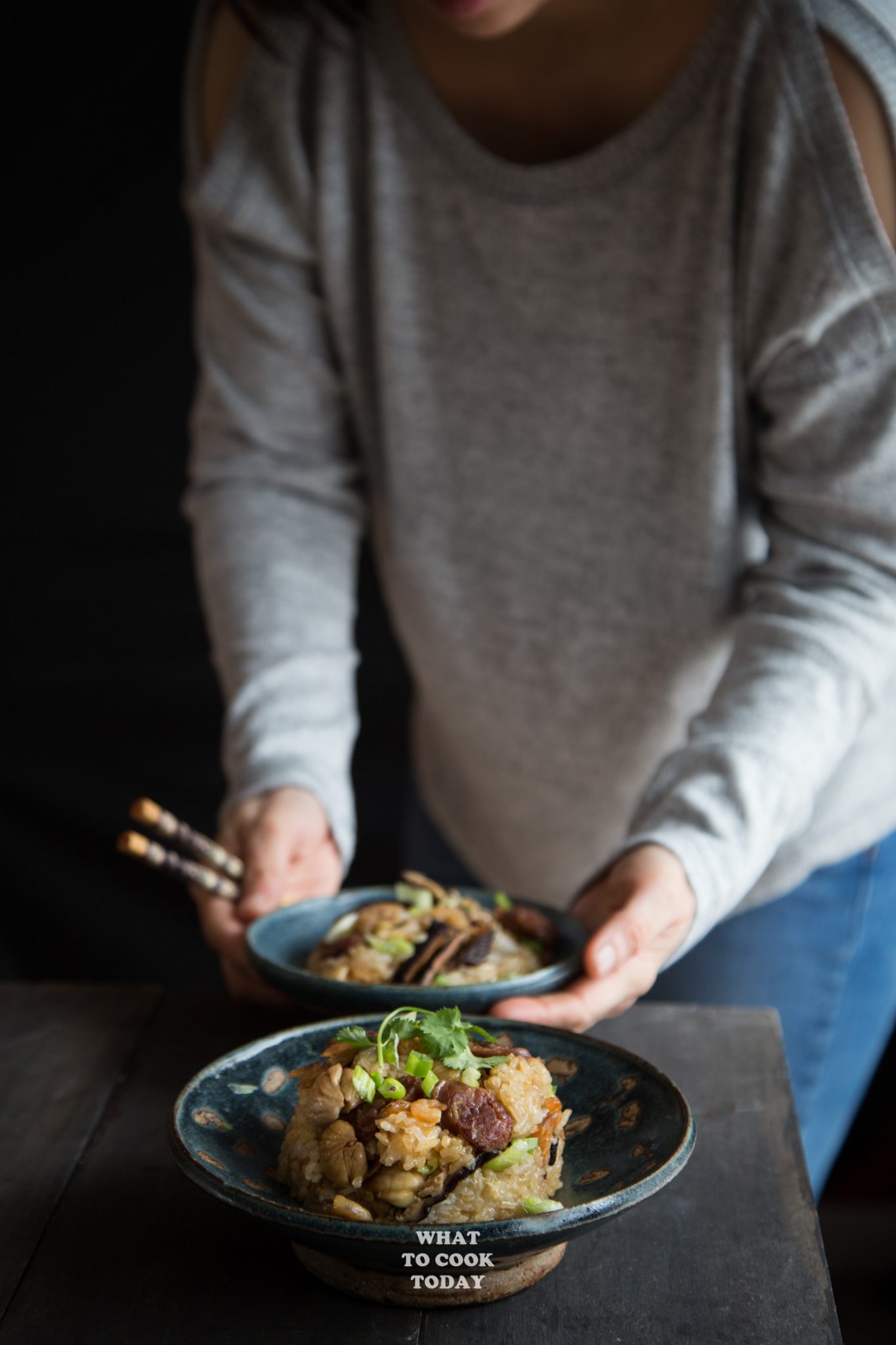 What is lo mai gai?
Lo mai gai is popular Cantonese dim sum dish. Lo mai means glutinous rice in Cantonese. Gai means chicken. The glutinous rice is cooked with umami ingredients like dried shrimp and Chinese sausage and then steamed with chicken wrapped in lotus leaves. The leaves impart quite an amazing flavor to the rice.
Pressure cooker lo mai gai
Without using a pressure cooker, glutinous rice needs to be soaked before cooking to reduce cooking time. With a multi-cooker like Instant Pot, I can make lo mai gai without much planning. I don't have to soak the rice for 4 hours or longer. It may not be an authentic way of cooking lo mai gai, but I can assure you that you will love the end result still.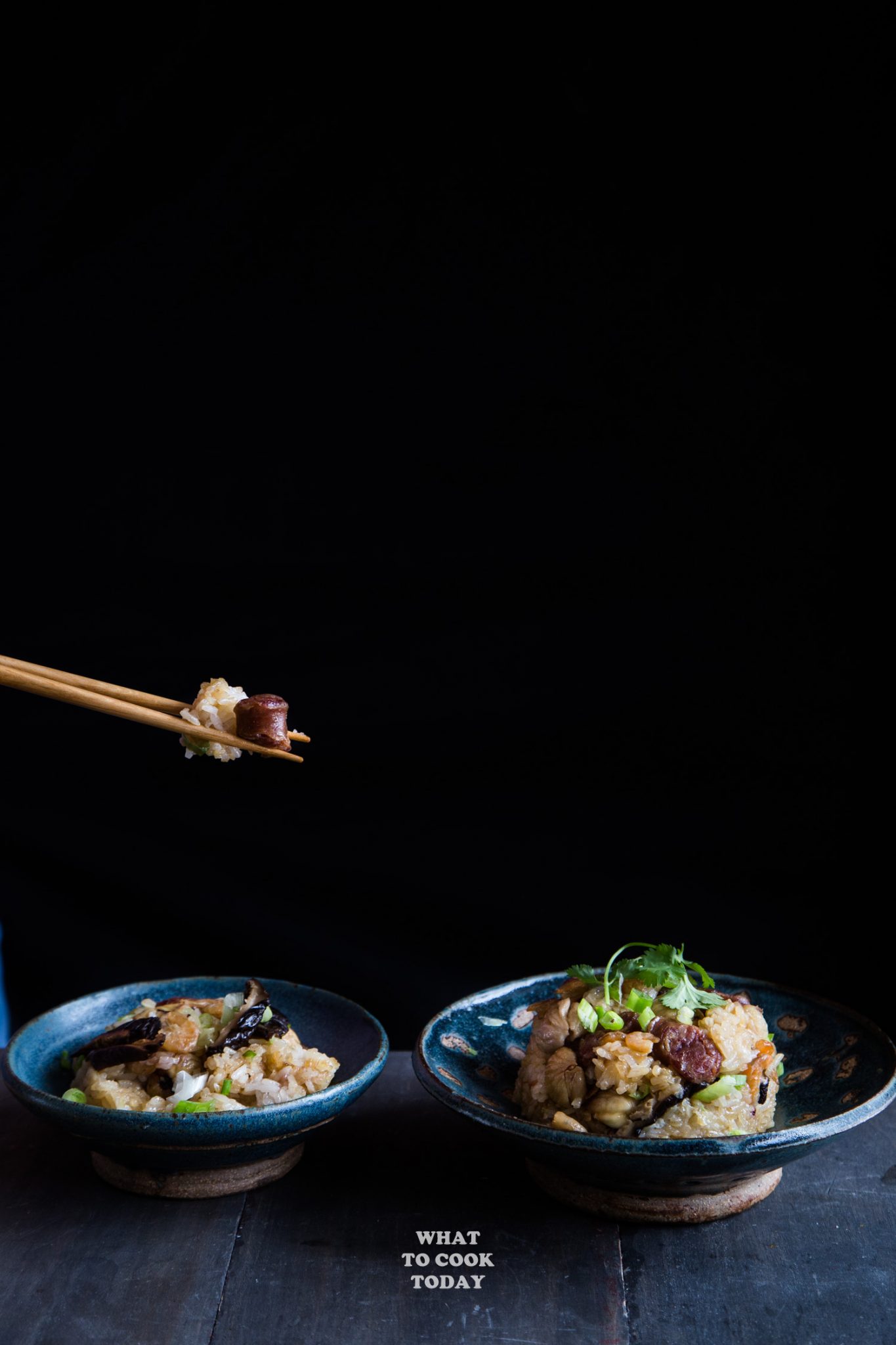 What is glutinous rice
Glutinous rice is not the same as sushi rice or any short-grain rice. Glutinous rice is also known as sweet rice or sticky rice. Glutinous rice is one type of rice and it does not contain gluten. The word glutinous is just to describe the  sticky or "glue" like texture of the rice
How to make lo mai gai with Instant Pot pressure cooker
1. For instant pot, I make one large 7 inches lo mai gai. You can split into 3-4 smaller bowls if you prefer. Sometimes the space is a bit limited with Instant Pot. It's up to you.
Press saute on IP. When it's hot, add oil to the inner pot and saute the Chinese sausage for about 1 minute until lightly char and also some of the oil will render out too.


2. Remove sausage from the pot and set aside


3. Add garlic, purple onion, and dried shrimp until fragrant, about 2 minutes


4. Add the rice and seasonings and cook until fragrant, about 1-2 minutes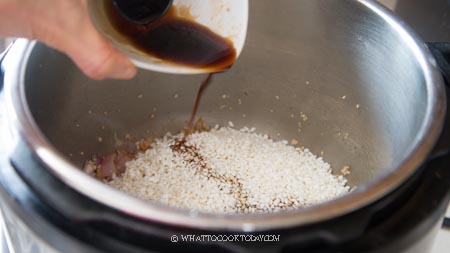 5. Turn off saute mode. Pour in the water and mix everything to combine


6. If you plan to use lotus leaves, brush with some oil, line the 7-inch round pan with the lotus leaves. You can use a round 7-inch stainless steel, aluminum, or metal is recommended, or anything that is labeled "oven proof" can be used. If using glass and ceramic material, you may need to add extra 5 minutes or longer to the cooking time.
Place the marinated chicken, mushrooms, Chinese sausage, chestnuts (if using) at the bottom of the container


7. Add the rice mixture along with the liquid into the container


8. Make sure the liquid covers the rice. Use a spoon to help you gently push the rice into the liquid. Place on top of the trivet


9. Pour 2 cups of water into the inner pot of the instant pot. Set the trivet. In a large heat-proof container (that can fit into your instant pot, mine is 6-qt IP). You can use a round 7 inch glass container, stainless steel, or anything that is labeled "oven proof" can be used. If using glass and ceramic material, you may need to add extra 5 minutes or longer to the cooking time
Close the lid. Turn the steam release handle to Seal. Press pressure cooker, high pressure, and set the timer to 30 minutes


10. Let the lo mai gai sit in the container for 10 minutes. For presentation, place one serving plate on top of the container and then invert upside down (so the bottom is on top now) and garnish with cilantro leaves and/or chopped green onion if you like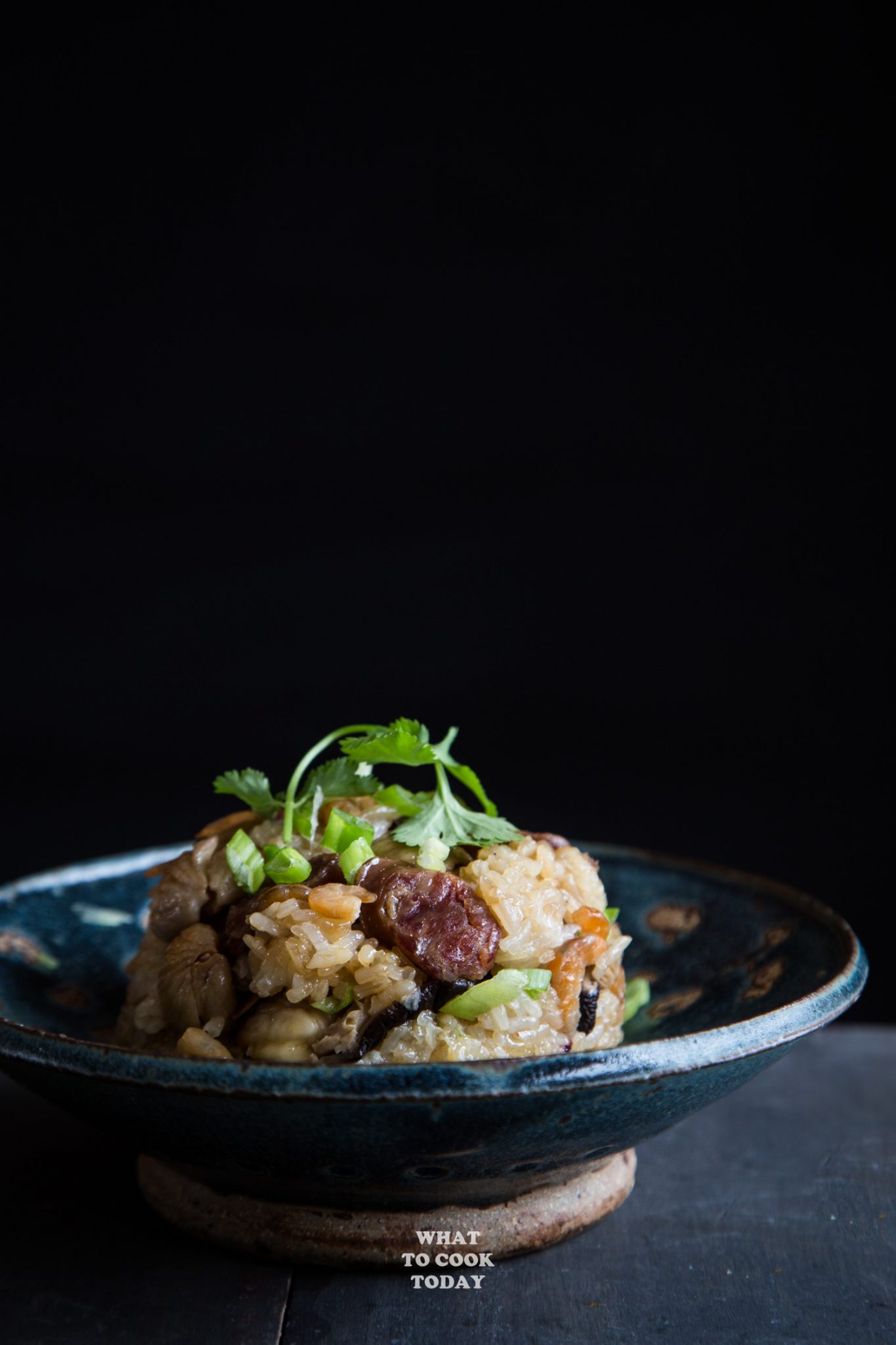 How to keep and reheat leftover
Let it cools down completely and then keep in an air-tight container for 3-4 days. Simply reheat in microwave until it's heated through. You can also reheat in the steamer over medium heat until heated through, about 5-8 minutes.

Variations
Vegetarian options: You can replace the meat and sausage with more mushrooms and/or some seitan or vegetarian meat, beans like chickpeas. Use a vegetarian oyster sauce

Did you make this recipe?
I love it when you guys snap a photo and tag to show me what you've made 🙂 Simply tag me @WhatToCookToday #WhatToCookToday on Instagram and I'll be sure to stop by and take a peek for real!

*Recipe is written for 6-quart Instant Pot. Cooking time should remain the same for 8-quart size but will take longer to pressurize. For mini duo (3-quart), I suggest to half the recipe and use the same amount of time to cook*
Easy Pressure Cooker Lo Mai Gai (Steamed Sticky Rice with Chicken)
Ingredients
2

cups

Glutinous Rice

about 400 grams, see notes

250

gr

boneless chicken thighs

cut into bite-size pieces

1

Tbsp

cooking oil

3

links

Chinese sausage

sliced into 1/2-inch pieces at an angle

2

large

lotus leaves

if using, soaked for 1 hour
If cooking with Instant Pot:
Ingredients need soaking:
Suggested Cooking Equipment:
Instructions
If you are not using a pressure cooker to cook the rice, soak the rice for 4 hours

If using lotus leaves, soak in warm water for about one hour and then trim off the hard stem in the middle of the leaf. Trim the leaf smaller by cutting in half.

Save the liquid from soaking dried shrimp and mushrooms and top up with water to make up for 1 3/4 cups liquid to cook the rice later

Marinate the chicken with seasonings and set aside for 15 minutes

Mix all seasonings for the rice and set aside
Cooking with Instant Pot (pot in pot method):
For instant pot, I make one large 7 inches lo mai gai. You can split into 3-4 smaller bowls if you prefer. Sometimes the space is a bit limited with Instant Pot. It's up to you

Press saute on IP. When it's hot, add oil to the inner pot and saute the Chinese sausage for about 1 minute until lightly char and also some of the oil will render out too. Remove sausage from the pot and set aside. Add garlic, purple onion, and dried shrimp until fragrant, about 2 minutes. Add the rice and seasonings and cook until fragrant, about 1-2 minutes. Turn off saute mode. Pour in the water and mix everything to combine

If you plan to use lotus leaves, brush with some oil, line the 7-inch round pan with the lotus leaves. You can use a round 7-inch stainless steel, aluminum, or metal is recommended or anything that is labeled "oven proof" can be used. If using glass and ceramic material, you may need to add extra 5 minutes or longer to the cooking time

Place the marinated chicken, mushrooms, Chinese sausage, chestnuts (if using) at the bottom of the container. Add the rice mixture along with the liquid into the container. Make sure the liquid covers the rice. Use a spoon to help you gently push the rice into the liquid. Place on top of the trivet

Give the inner pot a quick rinse. You don't need to wash with soap. Nothing sticks to the pot so just a quick rinse is sufficient. We will be using the pot-in-pot method to pressure cook the rice. I don't recommend cooking the rice in the inner pot directly as it seems to trigger the "burn" alert more often than not because the rice is sticky

Pour 2 cups of water into the inner pot the instant pot. Carefully transfer the trivet with the container on top into the inner pot

Close the lid. Turn the steam release handle to Seal. Press pressure cooker, high pressure and set the timer to 30 minutes. Some of you have feedback that you need 45 minutes to cook the rice. Mine is perfectly cooked at 30 minutes. So you need to observe and add extra cooking time as needed

Once the timer is done, wait for 10 minutes and then turn the steam release handle to venting and make sure the pressure valve has gone down all the way down before you open the lid for safety measure

Sometimes, some of the rice grains on top may seem uncooked but once you fluff the rice a little bit on top and close the lid back up and let it sits for another 5 minutes, they will be all cooked through after that

Let the lo mai gai sit in the container for 10 minutes. For presentation, place one serving plate on top of the container and then invert upside down (so the bottom is on top now) and garnish with cilantro leaves and/or chopped green onion if you like
Stove-top method:
Get your steamer ready. In a large skillet, heat some oil and saute the Chinese sausage for 1 minute until lightly charred and aromatic. Remove the sausage from the skillet. Add dried shrimp, purple onion, and garlic until fragrant, about 2 minutes. Add the rice and seasonings and cook until fragrant, about 1-2 minutes. Turn off the heat

You can make one large lo mai gai or make 5 smaller ones. If you use lotus leaves, brush the lotus leaf with some cooking oil. Place 1/5 of the marinated chicken, mushrooms, Chinese sausage, water chestnuts and the rice mixture on the leaf and then fold the sides of the leaf over, like wrapping a parcel. Secure with kitchen twine. Repeat with the rest . Place in the steamer and steam for the next 45 minutes to 1 hour over medium heat (may take longer if you make one large parcel). Remove from the steamer and serve immediately
Notes
Glutinous rice is not the same as sushi rice or any short-grain rice. Glutinous rice is also known as sweet rice or sticky rice. Glutinous rice is one type of rice and it does not contain gluten. The word glutinous is just to describe the  sticky or "glue" like texture of the rice 
Recommended products:
Nutrition
Serving:
1
serving
|
Calories:
522
kcal
|
Carbohydrates:
74
g
|
Protein:
20
g
|
Fat:
15
g
|
Saturated Fat:
3
g
|
Polyunsaturated Fat:
4
g
|
Monounsaturated Fat:
7
g
|
Trans Fat:
1
g
|
Cholesterol:
118
mg
|
Sodium:
1264
mg
|
Potassium:
265
mg
|
Fiber:
3
g
|
Sugar:
5
g
|
Vitamin A:
41
IU
|
Vitamin C:
3
mg
|
Calcium:
57
mg
|
Iron:
2
mg
CHECK OUT THESE OTHER INSTANT POT RECIPES YOU MIGHT LIKE:
TAIWANESE BEEF NOODLE SOUP (NIU ROU MIEN)
CHICKEN MUSHROOMS WITH DOM BENEDICTINE
PORK AND SHRIMP SIU MAI (COOK AND SELL DUMPLINGS)