Sambal Goreng Tempeh (Fried Tempeh in Spicy Sambal) – Crispy fried tempeh is tossed in addicting spicy sambal sauce is a popular Indonesian dish and a great source of meatless protein. Vegan friendly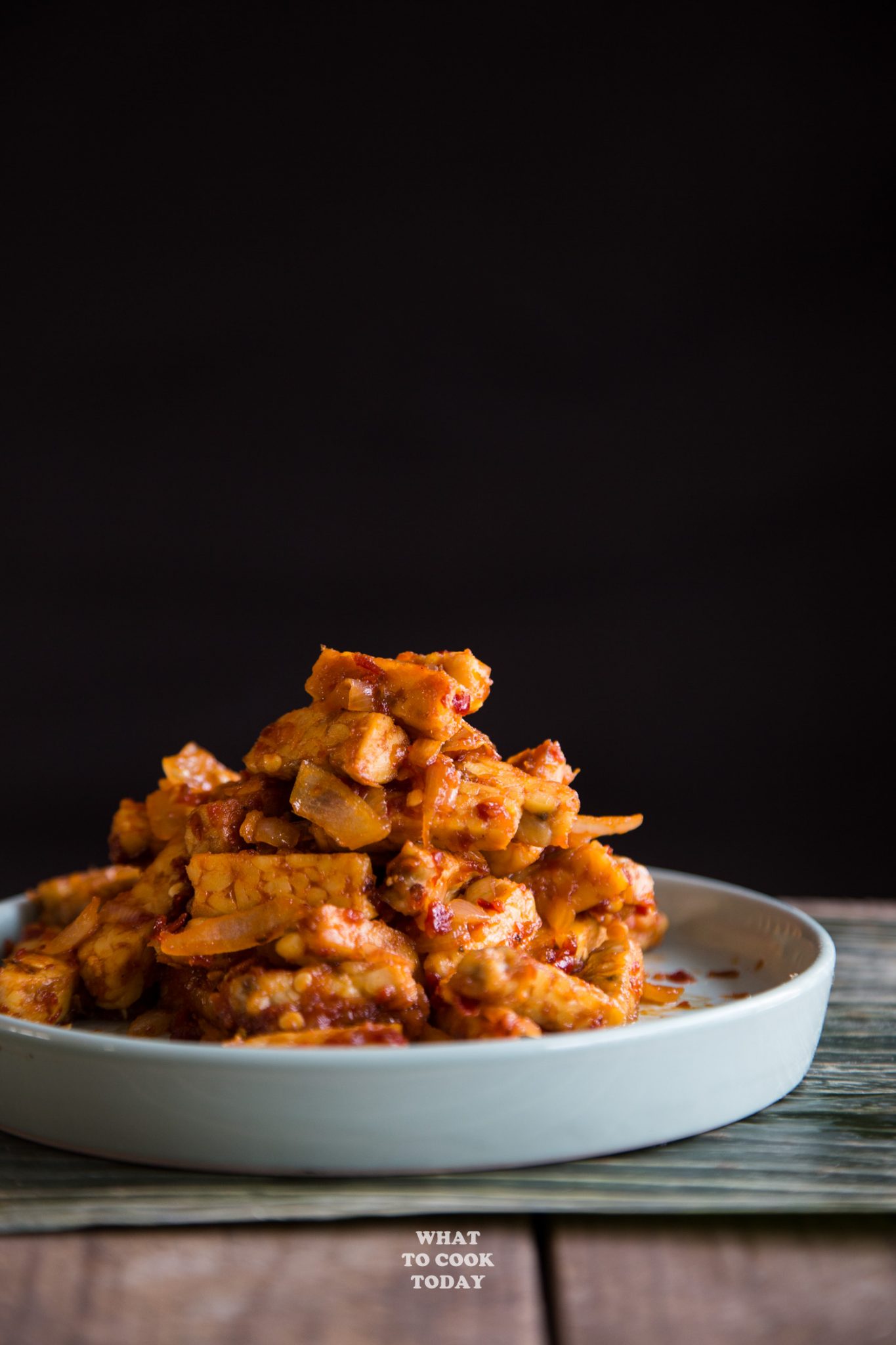 My first post in 2018 🙂 I hope you guys had a great holiday. We had fun hanging out with some friends and kiddos on New Year's eve and counted down at 8 pm. You know…family-friendly New Year celebration 😉 I absolutely tried not to step outside the house unless it's really necessary! The weather is beyond cold! I would rather grow fat and stay warm at home trying to make the best of the last day of the holiday. I can tell you it's going to be hard trying to get back to routine for the kids tomorrow! But life must go on!
Anyway, I thought I started the year posting something a little "healthier". Though the recipe said it's fried tempeh, you don't have to deep fry them. I've made them by just pan-frying and it's still good. Tempeh or translated into soy bean cake is a very common food in Indonesia. It is considered a "cheap" source of protein. It wasn't popular at all (outside of Indonesia) until recently. I've actually found some tempeh here in Minnesota. In Indonesia, tempeh is traditionally made by a fermentation process that involved soybeans and a "starter" (they call it a tempeh starter) in a low acidity environment. The end result is soybeans being knitted together by this whitish mat of mycelium. They are then wrapped in banana leaves and ready to be sold or consumed.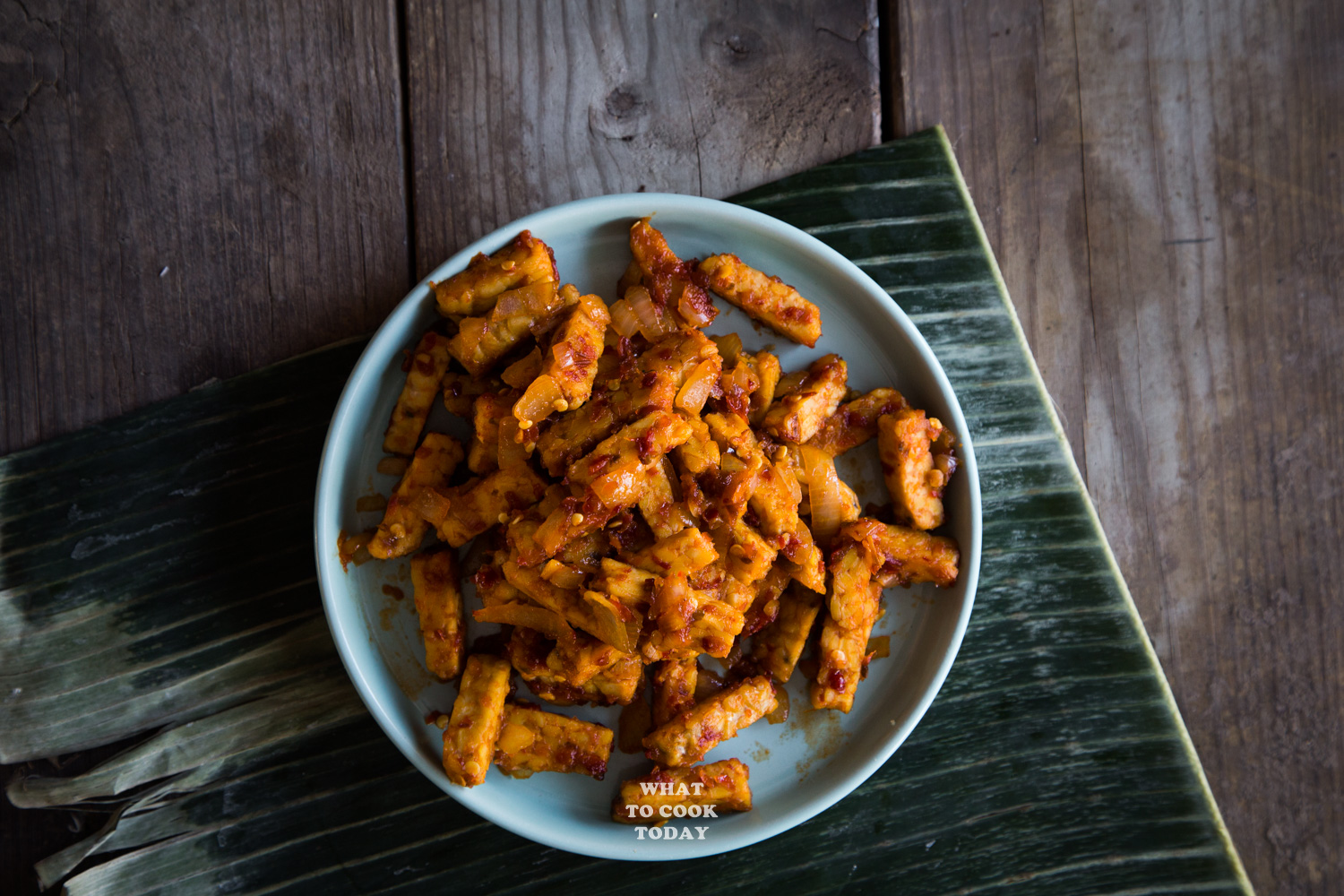 This is the tempeh I bought from Target:

A popular way of preparing tempeh dishes in Indonesia includes deep-frying them and eat them as snacks like this Tempeh Mendoan or cooked with sambal (like this recipe below), cooked into curry, and saute with other vegetables and sambal. Common usage of tempeh in North America that I've seen is using tempeh as patties in a burger. A great source of protein for those who seek vegetarian option.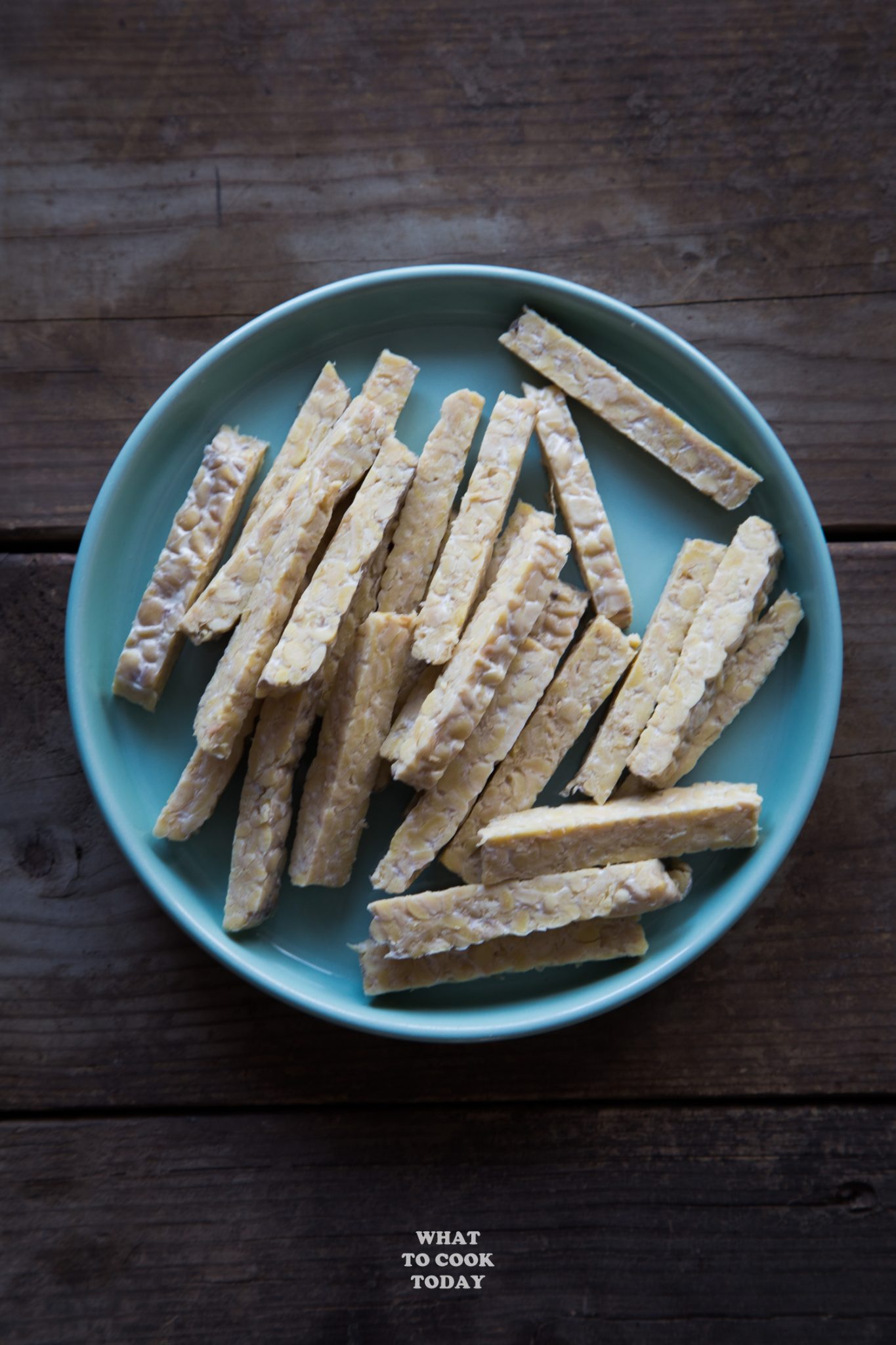 My personal favorite of tempeh dishes is this sambal goreng tempeh. The tempeh is deep-fried or pan-fried and then cooked with a spicy, sweet, and slightly tangy sauce. This goes very well as side dish with nasi lemak /coconut milk rice and lontong sayur /rice cake with vegetables and meat. If you ask me, just a plain steamed white rice will do with this sambal goreng tempeh 🙂

*This post contains affiliate links, which support this site at no extra cost to you
FRIED TEMPEH WITH SPICY SAUCE / SAMBAL GORENG TEMPEH
Ingredients
Optional:
100

gr

roasted peanuts

3.5 oz
Instructions
Place all the ground ingredients in a food processor and process into a smooth paste. Set aside. Preheat about 1-inch of oil to deep fry the sliced tempeh in batches if necessary. Deep fry until they are golden brown. Drain on an absorbent paper towel and set aside. Alternatively, you can also put about 1 Tbsp of oil in a large non-stick skillet and pan fry them on 1 layer until they are crispy

In a large skillet or wok, preheat about 2 Tbsp of oil. Add the ground ingredients and stir fry for 3 minutes. Add shrimp paste, tamarind paste and palm sugar. The sambal turns darker and thicker as the sugar caramelizes. Add roasted peanuts (if you use) ,the fried tempeh and stir to mix everything to make sure the sambal sauce is coating everything evenly. Have a taste and season with more salt and sugar as needed. It should be spicy, sweet, and slightly tangy
Recommended products:
OTHER TEMPEH RECIPES YOU MIGHT LIKE:
HOW TO MAKE YOUR OWN TEMPEH AT HOME
TEMPEH MENDOAN / CRISPY THIN FRIED SPICED TEMPEH
TAHU DAN TEMPE BACEM (BRAISED SPICED TOFU AND TEMPEH)
TEMPEH FRITTERS (PERKEDEL TEMPEH)
KERING TEMPEH