Make this super easy and aromatic Malaysian / Singaporean style nasi lemak using rice cooker or on the stove and serve it with the best homemade sambal nasi lemak.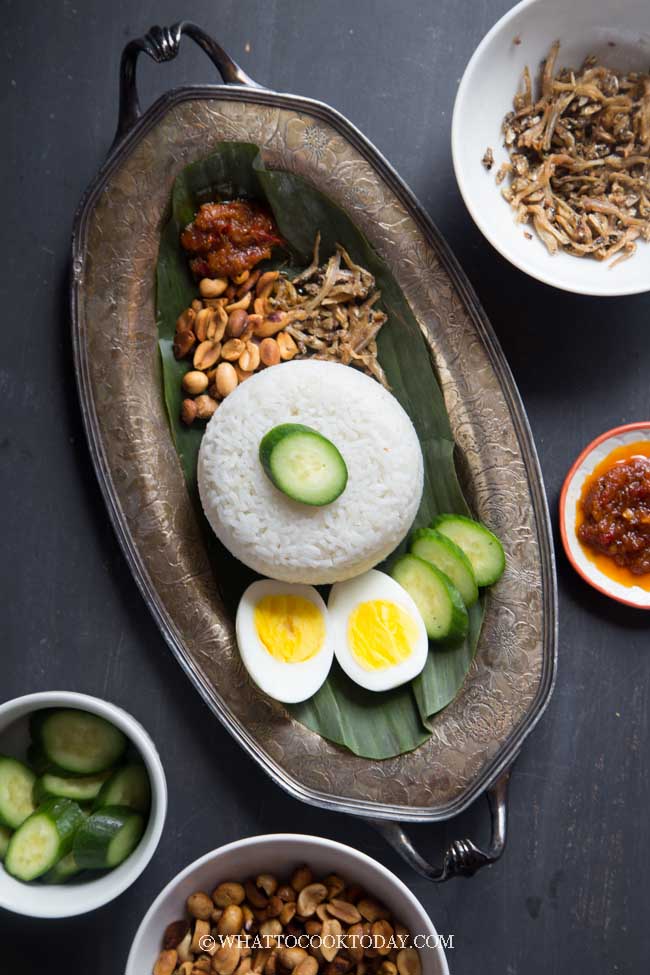 Nasi lemak or coconut milk rice is popular breakfast food in Singapore,Malaysia, and Medan (a city in the island of Sumatra where I grew up). In Jakarta, this is known as Nasi Uduk. Nasi means rice in Indonesian language, and lemak means fat (the fat from the coconut milk). The rice is cooked in coconut milk, and flavored with screwpine leaves (pandan leaves), and lemongrass. It is usually sold wrapped in banana leaves, with cucumber slices, pan-fried anchovies (ikan teri/ikan bilis), fried roasted peanuts, sambal for nasi lemak. Fried chicken wings or fried small fish are also a popular addition to nasi lemak.
MAKE IT SIMPLE OR AS ELABORATE AS YOU WANT
The nice thing about nasi lemak is that you can make it as elaborate as you want, meaning as many side dishes as you wish or as few as just sambal, peanuts, and chicken for example. I prepared the most basic one with hard-boiled eggs, pan-fried anchovies and peanuts, and sambal nasi lemak.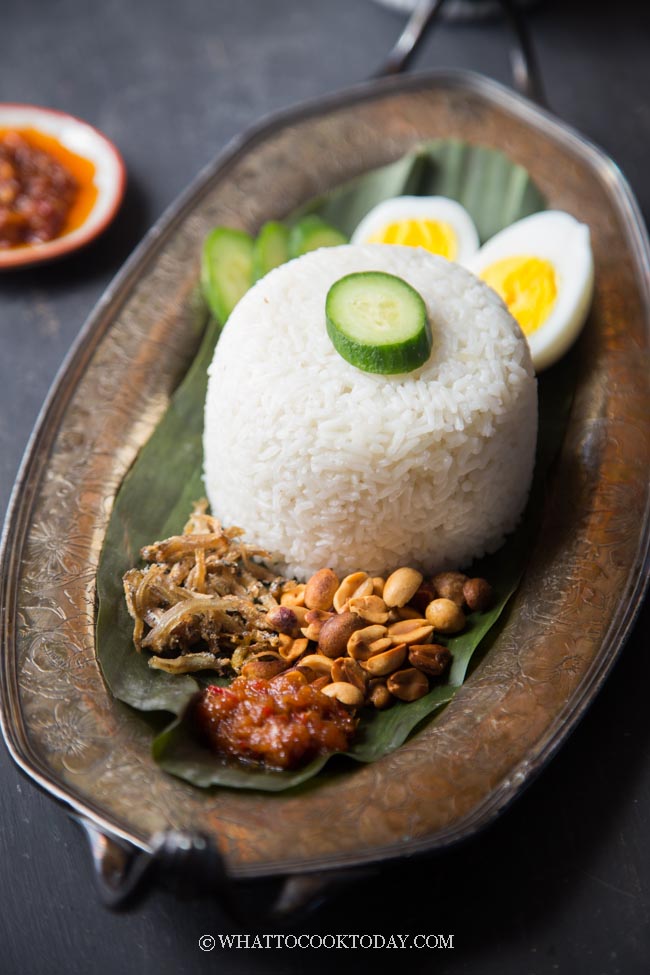 BEST TYPE OF RICE TO USE
I like to use jasmine rice the best because it is fragrant, but you can use any long-grain white rice variety.
BEST COCONUT MILK TO USE FOR NASI LEMAK
Fresh coconut milk: My mom can get freshly squeezed coconut milk from the wet market. Usually, she will ask for first press, which is thicker and undiluted. This is the one you want to use for this recipe.
Canned unsweetened coconut milk: I sadly, only have access to canned coconut milk. It's not the best, but it's good enough. I prefer Thai canned coconut milk as they have a stronger aroma. Here in the U.S., the coconut milk is available as coconut milk and coconut cream (the thick coconut milk). So, I use coconut cream.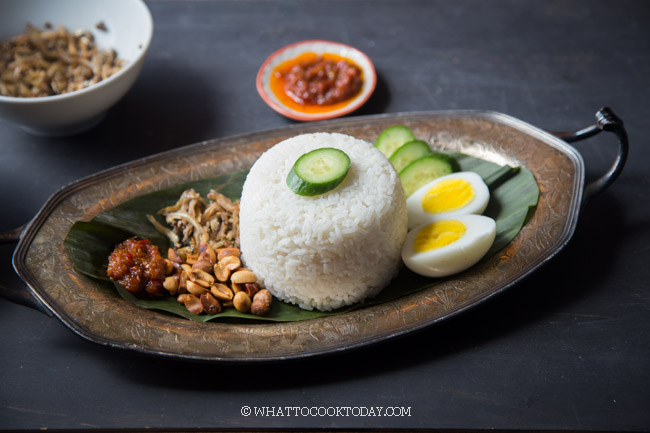 RICE AND WATER RATIO (PLUS COCONUT)
I usually like to use 1:1 ratio (1 cup rice to 1 cup water) if I cook my rice in rice cooker and Instant Pot multicooker. If I cook it on the stove, I will use 1:1 1/2 or sometimes 2. BUT, in this case, because we also flavored the rice with coconut, so we need to add coconut milk. I highly suggest using coconut cream (which is very thick coconut milk). I only add 1/2 cup of coconut cream, but because it's thick, it's enough to flavor the rice nicely without having to add too much to make the rice mushy.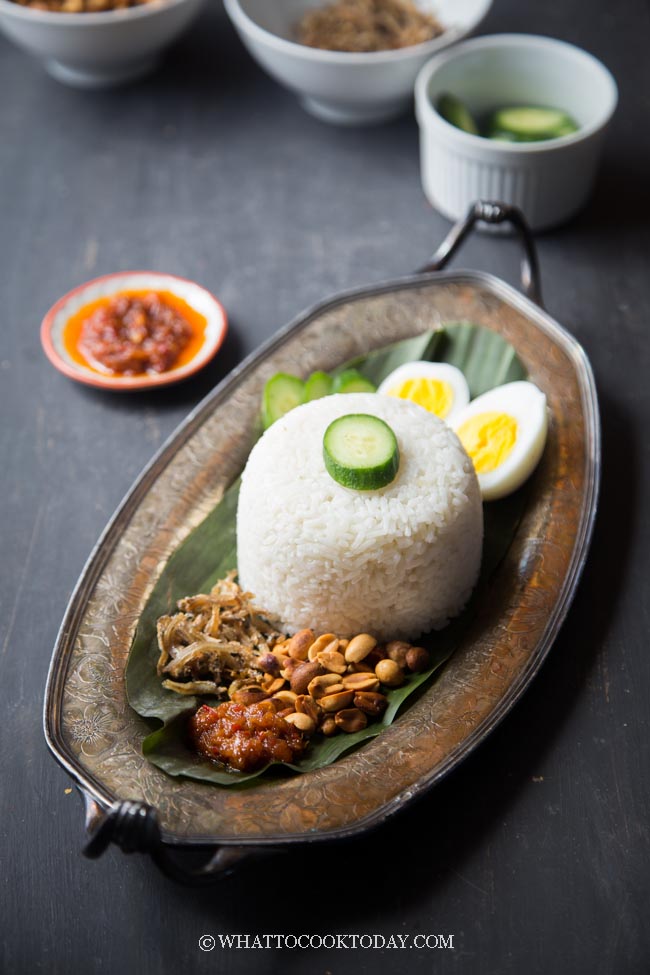 TIPS
1. Whatever cups you use to measure the rice, use it to measure the liquid so it's consistent.
2. Wash the rice until the water runs clear, so the rice won't be sticky and gummy
3. Make sure you wait 10 minutes after the rice is done cooking before you open the lid of your rice cooker, or pot, or Instant pot. This is to let the rice absorbs all the liquid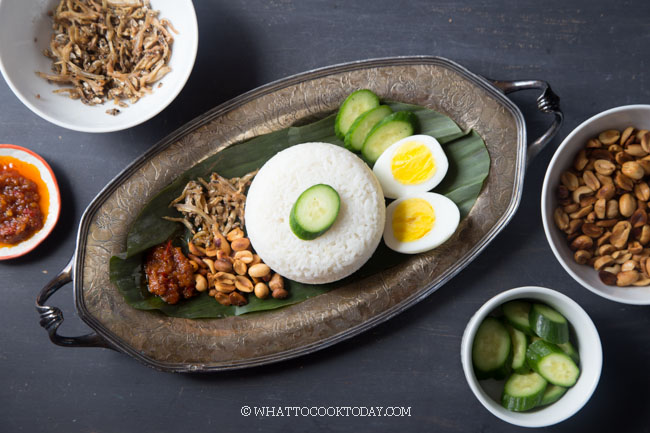 DID YOU MAKE THIS EASY NASI LEMAK RECIPE?
I love it when you guys snap a photo and tag to show me what you've made 🙂 Simply tag me @WhatToCookToday #WhatToCookToday on Instagram and I'll be sure to stop by and take a peek for real!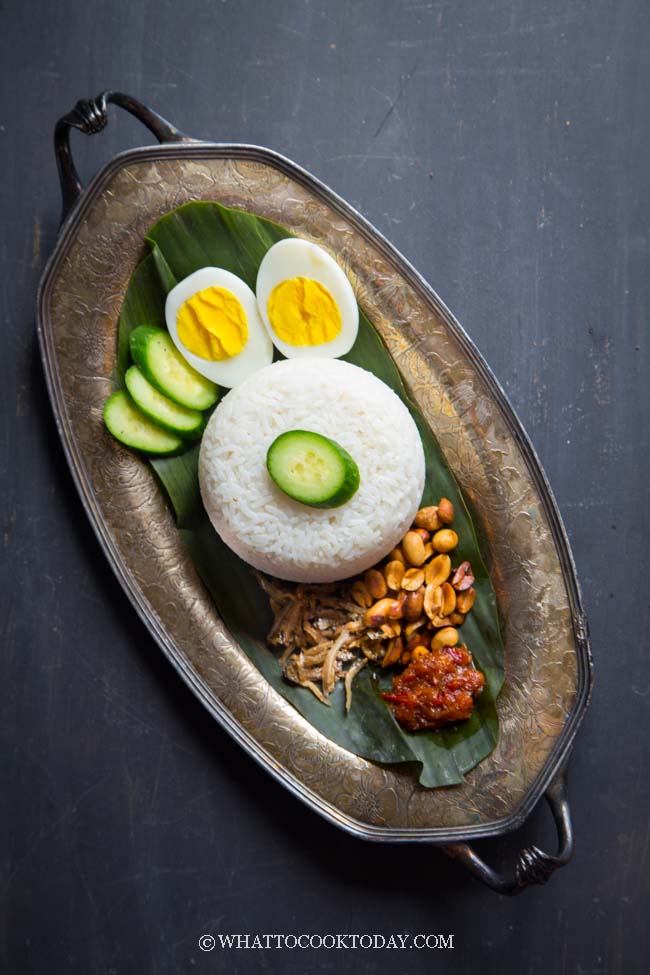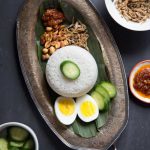 Easy Nasi Lemak (Singapore/Malaysia Coconut Milk Rice)
Ingredients
Coconut milk rice:
3

cups

jasmine rice

or any white long-grain rice

½

cup

coconut cream

(thick coconut milk)

3

cups

water

add another 1/2 cup if cooking on the stove

2

pandan leaves

(screwpine leaves-knotted)

1

stalk

lemongrass

(bruised)
Fried anchovies and peanuts:
Garnish:
1

small cucumber

(washed and thinly sliced)
Serving suggestion:
Instructions
Cooking the rice:
If you have a rice cooker, life couldn't be any easier, just put everything in the rice cooker and press the cook button. Wait 10 minutes before opening the lid to fluff the rice

If you don't own one, use a heavy-bottom pot. Bring the water, coconut milk, pandan leaves, and lemongrass to a boil and then add the rice. Bring it back to a gentle simmer and then close the lid. Cook for 5 minutes and then give it a stir to prevent coconut milk from catching. Close the lid back and cook for another 5 minutes. Turn off the heat. Wait 10 minutes before opening the lid to fluff the rice
Fried anchovies:
Preheat a medium-size pan with 1 tsp cooking oil. Add anchovies and pan fry until crispy. Add a small pinch of salt and sugar and dish out. In the same pan, add another 1 tsp of oil. Add the peanuts and cook until the peanuts are lightly brown. Add a pinch of sugar and salt. Turn off the heat and give it a good stir to mix everything. Remove from the heat
When ready to serve:
Portion the rice on the plate. Place the sambal, dried anchovies and peanuts, and few slices of cucumber on the side of the plate. Ready to go
Recommended products:
YOU MAY ALSO LIKE THESE