Nasi Pandan Wangi (Aromatic Pandan Rice) – White rice grains are infused with the flavor of aromatic pandan by using pandan juice. Can be made with rice cooker, Instant Pot, or stove-top
I figured it only makes sense after posting how to make pandan juice and pandan extract that I posted this nasi pandan recipe. This is a super easy side dish that can be cooked on regular pot on your stove, rice cooker, and also Instant pot if you have one.
I won't bore you with what pandan leaves are because you can read about it there and also in my how to make pandan juice and extract post. All I can tell you again is that pandan leaves are one of the quintessential ingredients in Southeast Asian cooking. You will see lots of recipes, savory or sweet call for pandan leaves, or pandan juice, or pandan extract.


[disclosure]
MY FAVORITE KITCHEN GADGETS TO COOK RICE
I hardly ever cook rice on the stove! It's almost safe to say that most Asians own rice cookers 🙂 Rice cooker is an important kitchen gadget in an Asian kitchen. I've been using this rice cooker forever and still loving it. Then come Instant Pot that allows you to cook rice too. I'm not buying Instant Pot for cooking rice, but I love its electric pressure cooker feature. Both rice cooker and Instant Pot are my favorite ways of cooking rice. Hands down!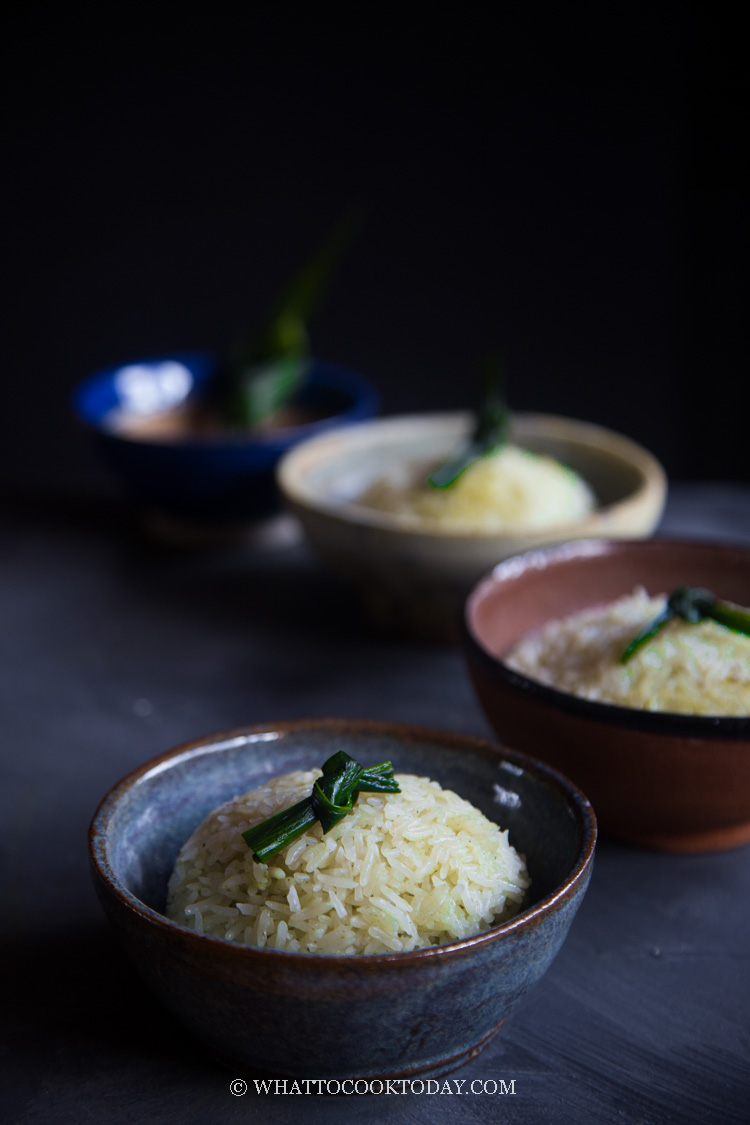 TIPS FOR MAKING GOOD NASI PANDAN
It doesn't matter which route you choose to cook the rice, these are the fundamentals to make good rice in general.
1. RINSE THE RICE
Don't worry about washing away nutrients when you do that. You are not. The rinsing is to get rid of extra starches from the surface of the rice. These extra starches will make your rice sticky and clumps together easily
2. DRAIN ALL WATER
After rinsing, make sure you drain off all water COMPLETELY. Use a strainer will ensure you get rid of the water. This step is to ensure the amount of water used to cook the rice is accurate
3. FORGET ARTIFICIAL PANDAN EXTRACT
I haven't found one that I like. I strongly encourage you to use homemade pandan juice. It's really not hard I promise!
4. DON'T RUSH
I know we all have tons of things to do, but once the rice is done cooking, don't open the lid right away. Allow 10 minutes as the rice will continue to absorb the liquid. So you'll have soft fluffy rice. Fluff the rice with a fork or rice paddle after that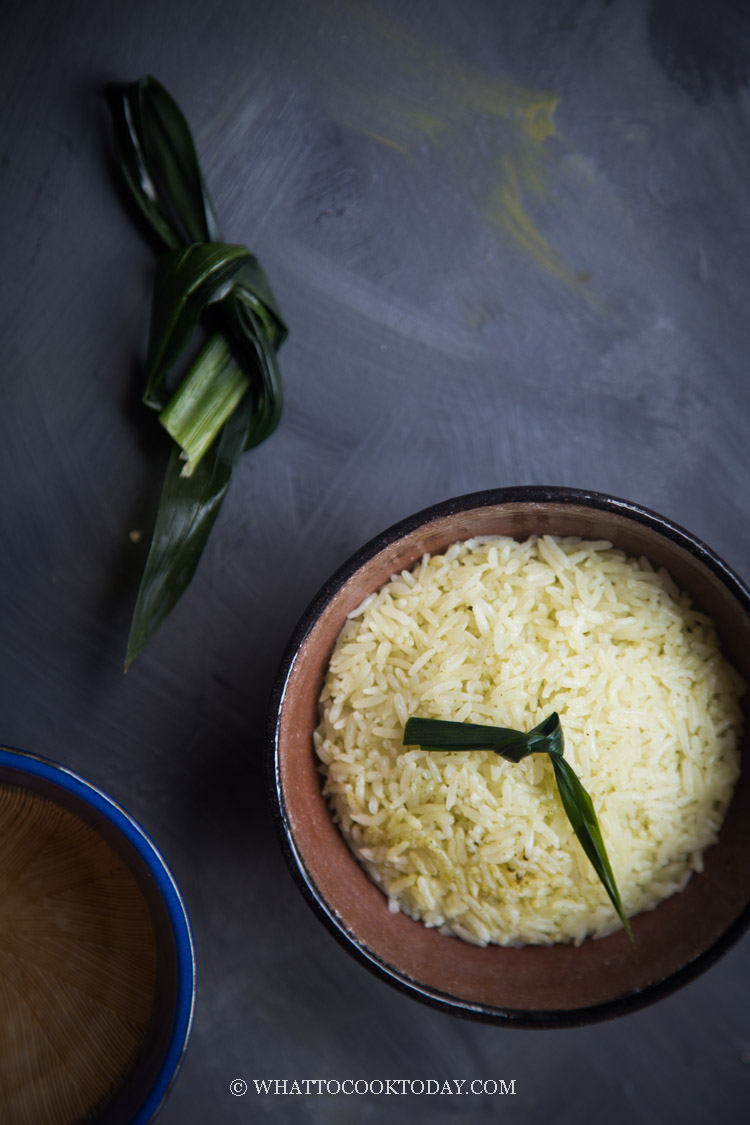 WHAT TO SERVE WITH NASI PANDAN
Just like regular plain rice, nasi pandan pretty much goes with everything. Just a few suggestion what you can serve it with:
Pressure Cooker Burmese Beef Potato Curry
Ayam Panggang Bumbu Kecap
Urap Sayur
Gulai Telur Padang
Ayam Goreng Kremes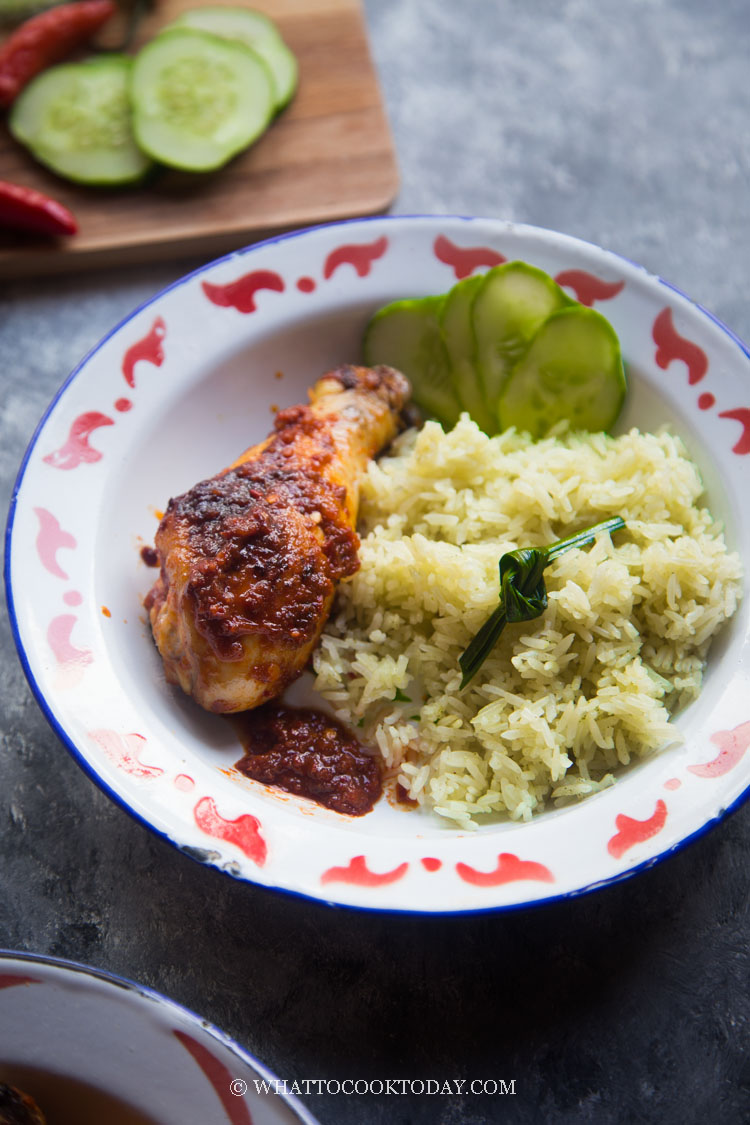 *Recipe is written for 6-quart Instant Pot. Cooking time should remain the same for 8-quart size but will take longer to pressurize. For mini duo (3-quart), I suggest to half the recipe and use the same amount of time to cook*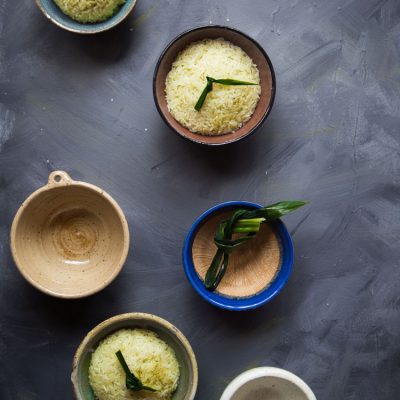 Nasi Pandan Wangi (Aromatic Pandan Rice)
White rice grains are infused with the flavor of aromatic pandan by using pandan juice. Can be made with rice cooker, Instant Pot, or stove-top
PIN RECIPE
PRINT RECIPE
Instructions
Wash the rice grains in several rinse of water until the water runs clear. Drain off water completely. Use a strainer if necessary to make sure you get rid of all excess water. This is important so your liquid measurement is accurate
Cooking on stove top:
Bring the water, pandan juice, coconut milk, and salt to a simmer in large pot. Add rice grains in. Give it a stir. Lower the heat to let it gently simmer. Close the lid and let it cook for the next 20 minutes. After 20 minutes. Turn off the heat and let sit for 10 minutes

Uncover the lid. The rice should have absorbed all the liquid and cooked through. Fluff the rice with a fork
Cooking with rice cooker:
Place the rice and the rest of the ingredients in the inner pot of rice cooker. Give it a stir. Close the lid and set your rice cooker setting. My rice cooker takes about 20 minutes. Fluff the rice with the rice paddle when it's done
Cooking with Instant Pot "Rice" feature:
Place the rice and the rest of the ingredients in the inner pot of Instant Pot. Give it a stir. Close the lid. Turn the steam release valve to seal. Press on "Rice" button. It will take less than 10 minutes for the rice to cook. But keep in mind it will take about 5 minutes or so for the Instant pot to pressurize and then wait 10 minutes before unlocking the lid to fluff the rice. Stir in the coconut oil, it will melt when it comes into contact with the hot rice
Cooking with Instant Pot "Pressure Cooker" feature:
Place the rice and the rest of the ingredients in the inner pot of Instant Pot. Give it a stir. Close the lid. Turn the steam release valve to seal. Press on "Pressure Cooker" button, and then "high pressure". Set the timer to 3 minutes. Keep in mind it will take about 5 minutes or so for the Instant pot to pressurize and then wait 10 minutes before unlocking the lid to fluff the rice. Stir in the coconut oil, it will melt when it comes into contact with the hot rice