Urap Sayur (Salad with Spiced Grated Coconut Topping) – Indonesian salad made with steamed/boiled vegetables dressed with spiced grated coconut topping. A Javanese specialty that can be served as a main dish or side dish. Gluten-free and Vegan-friendly #AsianSaladFeast
As the weather is improving and I can hopefully start to transition from puffy winter coat to light jacket, I can't help but think of lighter recipes and all the colorful produce Spring and Summer have to offer. When I was asked to join the #AsianSaladFeast link party, the first thing that popped up is this Indonesian urap sayur. I haven't had urap for the longest time ever.
WHAT IS URAP?
Urap or sometimes known as Urab is basically an Indonesian salad, one of the popular Javanese salad, made with steamed or boiled vegetables. The vegetables are usually the combination of several of these: spinach, water spinach (kangkung), mung bean sprouts (tauge), green bean/long beans, papaya leaves, cassava leaves, and cabbage. Of course, you can use whatever vegetables your heart desire, but those are pretty common combinations. I used spinach, mung bean sprouts, and green beans in this recipe.
The spiced grated coconut topping is what makes urap special. The grated coconut is cooked with spices and herbs and so it is very aromatic and picks up the orange hue from the chili paste used in the recipe. The topping is usually sprinkled on generously on the salad before serving.
WHERE TO FIND GRATED COCONUT?
Grated coconut is available in majority Asian grocery stores. They are usually at the frozen section. If you really can't find grated coconut, you may use desiccated coconut. Desiccated coconut is so much drier though and so, if you use it, you need to add some coconut milk for hydration.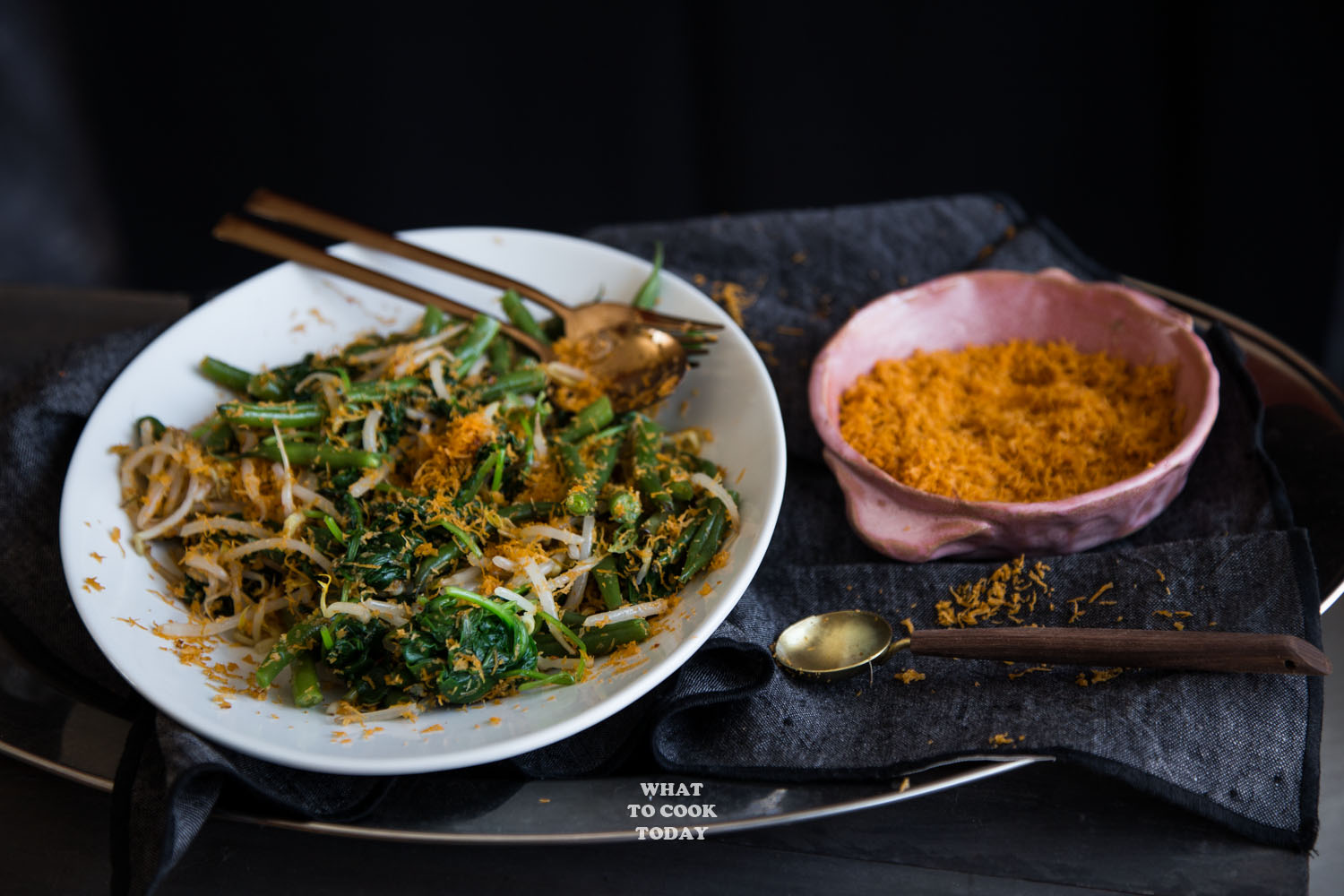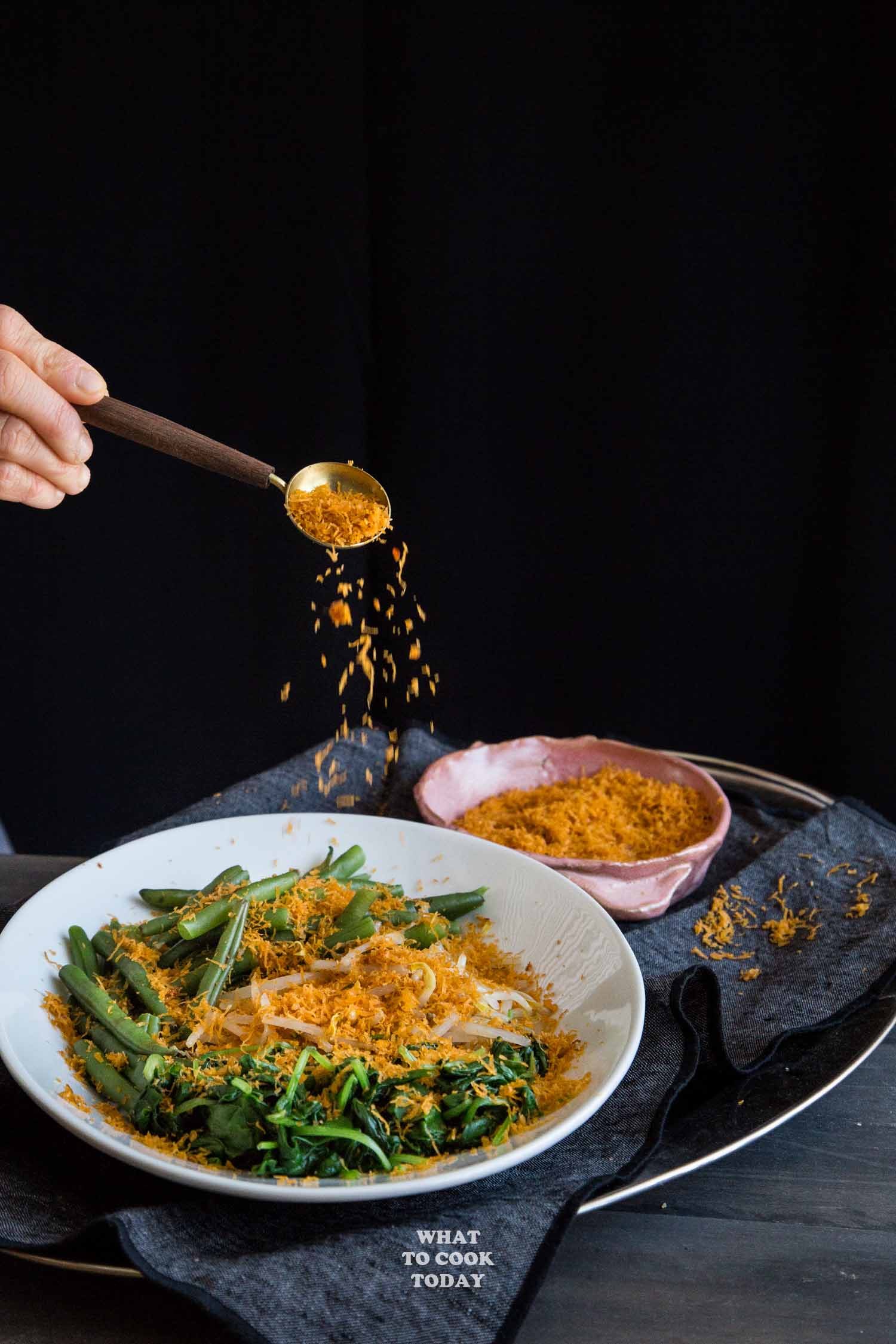 HOW TO SERVE URAP?
Urap is typically served as a side dish. It's commonly seen as one of the side dishes for Nasi Tumpeng and Nasi Kuning. Urap can be served on its own too as a salad with protein like Tofu and Tempeh or other meat dishes such as: Ayam Goreng Kremes, Ayam Goreng, Ayam Penyet
WHAT ELSE CAN I USE THE SPICED GRATED COCONUT TOPPING FOR?
I made a double batch of the spiced grated coconut topping so that I can also use this on other salad. It works really well with other salad greens or sprouts too.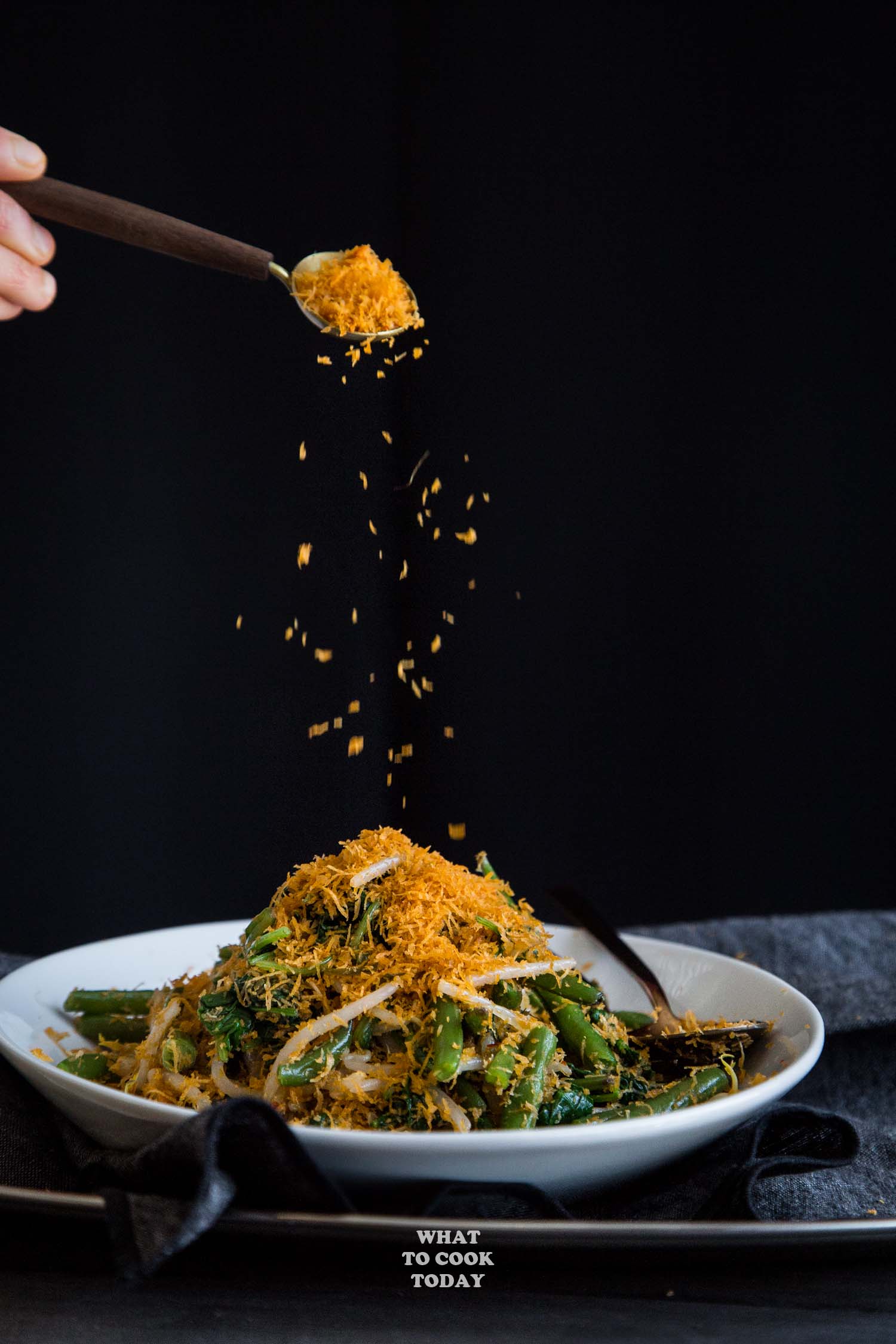 OTHER SPECIAL INGREDIENTS IN THIS RECIPE:
All these ingredients are readily available at Asian grocery store. Also check out my Southeast Asian Pantry for more details if you are interested.
1. Kaffir Lime Leaves
This leaf really has no close substitution if you ask me. It's available at Asian Grocery store, sometimes in the freezer section or in the refrigerated aisle during Summer when it's abundant.
Your closest substitution would be: zest of lime and lemon thyme
2. Galangal
Galangal is in the ginger family, but taste or smell nothing like ginger. If you can't get a hold of fresh galangal, feel free to use the powder as I did in this recipe. Galangal powder is usually not difficult to find at Asian grocery store
3. Tamarind Paste
Tamarind is very commonly used in Southeast Asian cooking to add that tartness. It has that hint of sweetness and tartness at the same time. The aroma is incredible too. Closest substitution would be: lime juice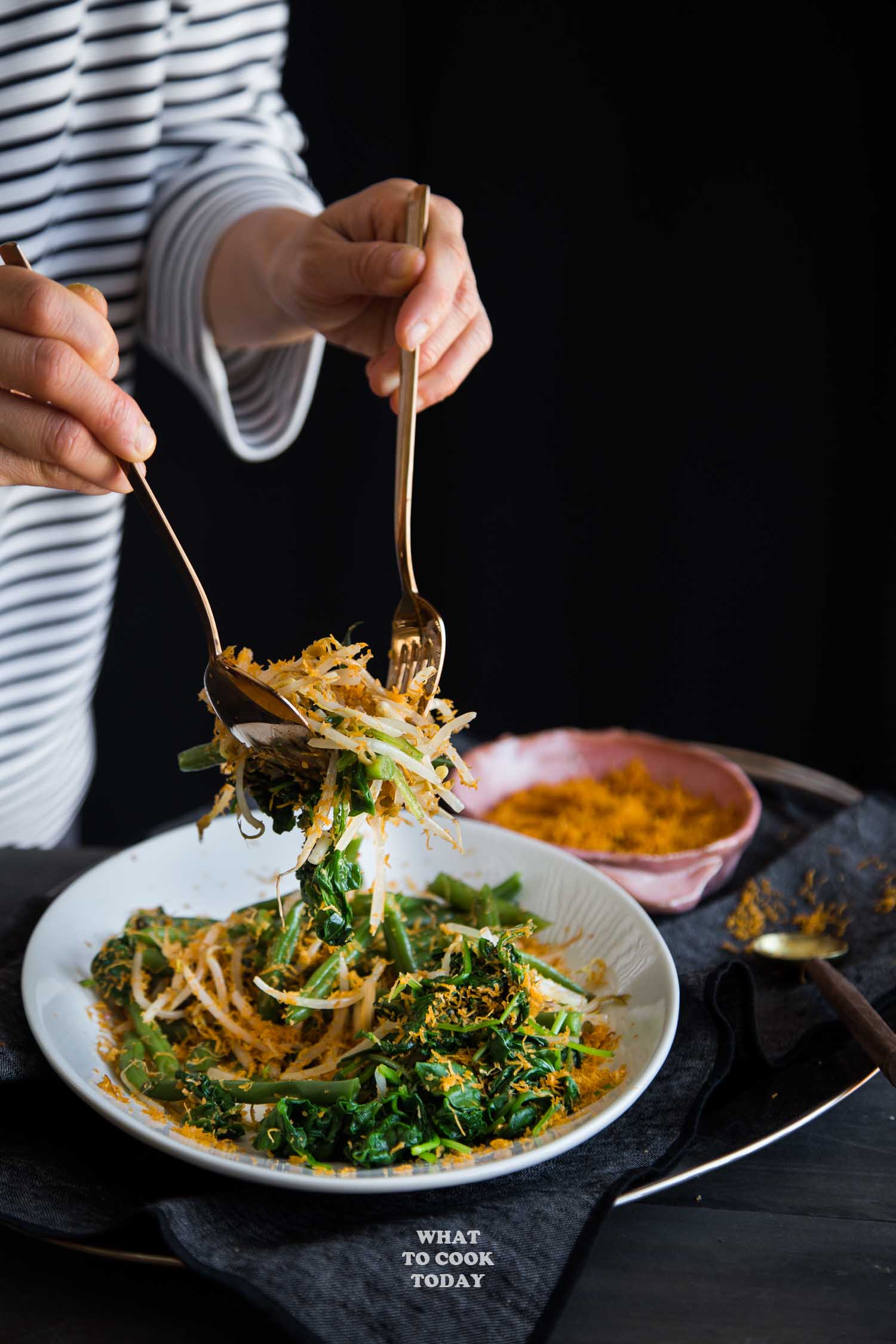 There are 13 other food bloggers who are joining this #AsianSaladFeast. Indeed it is a feast. Don't forget to check them out too. Thank you Kimchimari for including me in this feast!!!
Tofu Salad with Iceberg Lettuce and Sweet Corn by Kimchimari
Thai Larb Salad by Wok & Skillet
Gado Gado Salad by Brunch-n-Bites
Paleo Asian Coleslaw by What Great Grandma Ate
Vietnamese Chicken and Rice Vermicelli Salad by Nut Free Wok
Authentic Thai Fish Salad by Healthy World Cuisine
Thai Seafood Salad (Yum Talay) by A Taste of Joy and Love
Crunchy Thai Eggplant Salad by Grits & Chopsticks
Springtime Sushi Bowl by The Sasha Diaries
Burmese Ginger Salad (Gin Thoke) by Love is in My Tummy
Shabu Shabu Cold Noodle Salad by Chopstick Chronicles
Japanese Potato Salad by V for Veggy
Broccolini Sesame Dressing by Daily Cooking Quest
*This post contains affiliate links, which support this site at no extra cost to you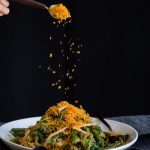 Urap Sayur (Salad with Spiced Grated Coconut Topping)
Ingredients
Vegetables:
5

oz

green beans or long beans

cut into 2-3 inch pieces

8

oz

fresh mung bean sprouts

pick off the brown tails

8

oz

spinach,water spinach, papaya leaves, or cassava leaves

1

tsp

cooking oil
Paste:
3

-4 red Thai chili

optional

2

large red chili such as Fresno peppers

1

tsp

galangal powder

2

cloves

garlic

peeled

3

shallots

peeled
Instructions
Preparing the paste:
Place all ingredients for paste in a food processor. Mini food processor works best when you chop or grind in small batch like this. Process into a paste and set aside
Preparing the vegetables:
You can choose to steam or boil the vegetables you use. I briefly blanch the spinach in boiling water for 1 minute, mung bean sprouts for 30 seconds (you don't want it to turn into mush), and green beans for 2 minutes. Refresh with cold water to preserve those fresh green colors and to prevent overcooking the veggies. Arrange on a serving platter
Preparing spiced coconut topping:
Soak the tamarind in 1 Tbsp of hot water and let it sit for 5 minutes. Use the back of the spoon to mash the paste. Strain off the juice and discard solid

Use kitchen shears to cut the rib in the middle of the leave and then cut the leaves into thin strips

Preheat a skillet or wok. Add cooking oil and stir fry the paste you made earlier until fragrant, about 5 minutes. Add all the ingredients for the coconut topping and tamarind juice, continue to stir fry until the mixture is dry, about 10 minutes or so. Remove from the heat and store in an air-tight container once it cools down completely. They can be stored in the refrigerator for up to 2 weeks
Serving:
Generously sprinkle the coconut topping all over the vegetables you prepared earlier. Give it a toss and serve. Simple as that


You might also be interested in these recipes made with coconut too:
ONDE ONDE / KLEPON / GLUTINOUS RICE BALLS

DADAR TELUR PADANG (INDONESIAN THICK OMELETTE)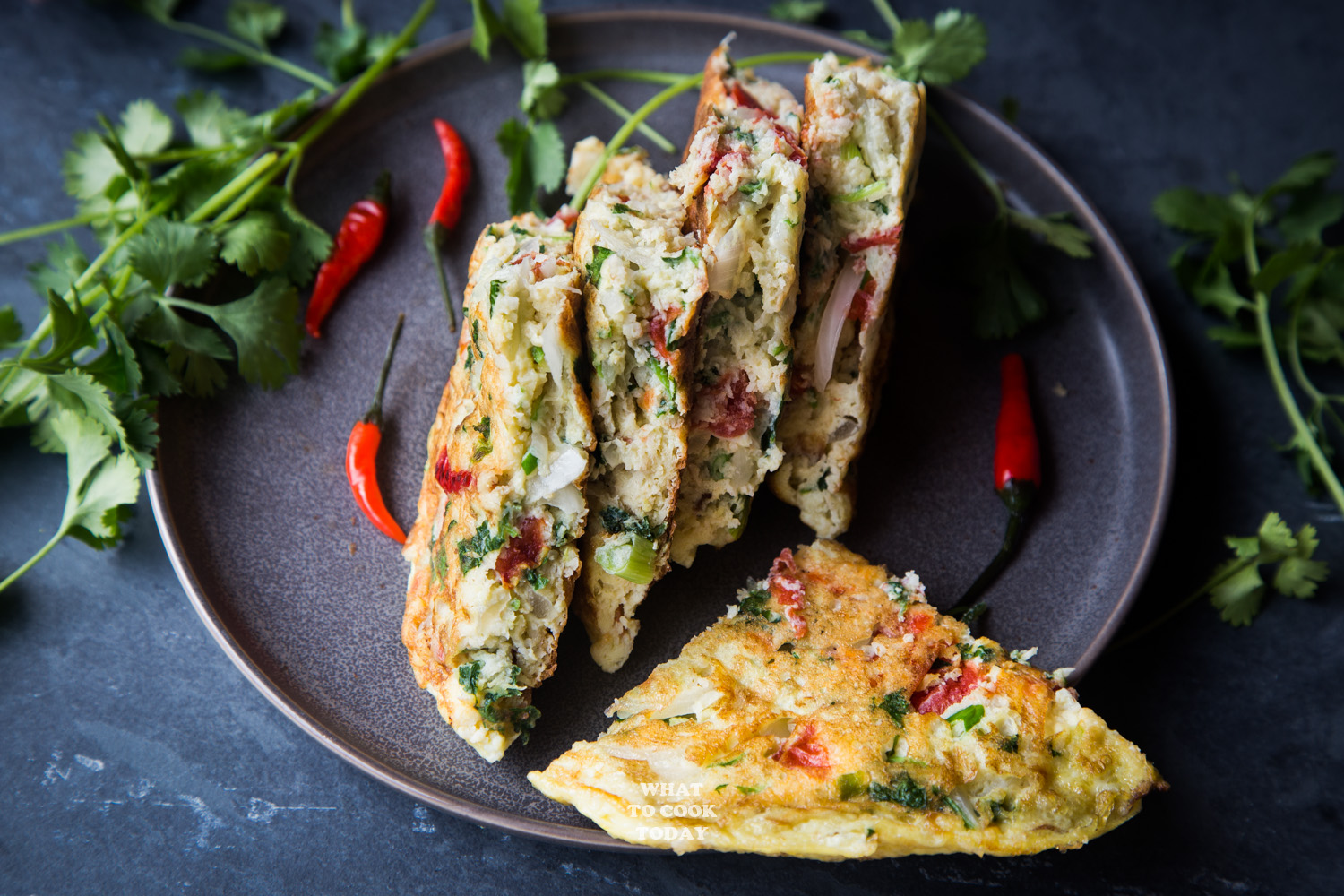 KUE DADAR GULUNG (CREPES STUFFED WITH COCONUT)