Make this popular Indonesian kue dadar gulung filled with aromatic and sweet inti filling. All the tips you need to know to create the dadar (bopeng) texture on the kue dadar.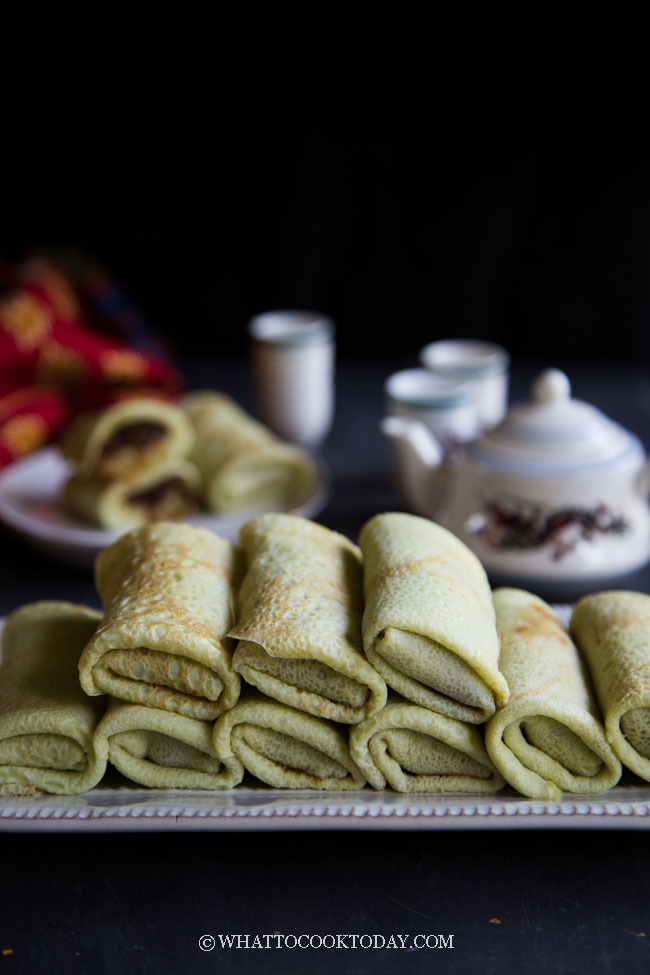 This kue dadar gulung or kuih ketayap is one of the results of my many afternoon experiments. After making the Onde Onde, I still had quite a bit of grated coconut left and so I went ahead and made this Kue dadar gulung. Kue dadar is one of the Indonesian popular snacks/desserts. You will see this being sold at pushcarts all over the places in Indonesia. This tasty kue dadar is stuffed with sweetened coconut filling, or we call it inti in Indonesia, are usually characterized by its green color because of the pandan juice and also for its unsmooth dadar texture on the crepe. We call it "bopeng" in Indonesia. Read on to find out how to create that every time without failing!
WHY YOU WILL LIKE THIS KUE DADAR GULUNG RECIPE
1. Can be prepared ahead
The crepes batter and coconut filling can be prepared 48 hours in advanced
2. Natural coloring
The crepes is flavored with pandan juice, which gives its natural green color and not to mention very aromatic
3. Consistent dadar / bopeng texture on the crepe each time
The recipe is pretty fool-proof and doesn't require much "skill". Read on to find out how to consistently get the desired texture.
INGREDIENTS
1. ALL-PURPOSE FLOUR
You can use either bleached or unbleached all-purpose flour. I won't recommend whole wheat, at least not for kue dadar like this.
2. EGGS
Any white or brown chicken eggs will work for this recipe.
3. PANDAN JUICE
The pandan juice gives an incredible aroma to kue dadar. Refer to this How To Make Pandan Juice and Pandan Extract. You can skip this if you don't want to and just use regular water.
4. THIN COCONUT MILK
I use regular Asian style canned coconut milk and thin it out with water. This is necessary to get the right consistency for the batter that is pourable and not too thick.
5. GRATED UNSWEETENED COCONUT
This is widely available at the Asian store in frozen form. If you can't find any, you can use desiccated coconut and soak it with coconut milk because desiccated coconut is dry and has no more coconut milk in it so, it's necessary to rehydrate it.
6. COCONUT SUGAR
I highly recommend using coconut sugar instead of brown sugar if you can. Coconut sugar has this amazing aroma that brown sugar doesn't have.
7. PANDAN LEAVES
Pandan leaves lend their amazing aroma to the filling when you cook it. They are usually available in frozen form, though sometimes I do find fresh leaves in the Summer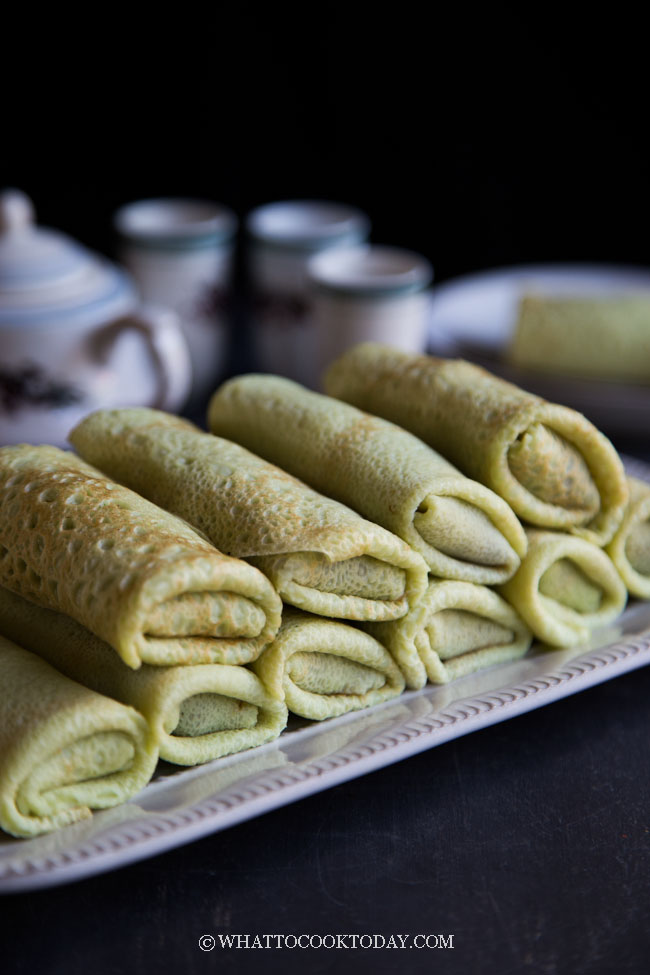 HOW TO MAKE KUE DADAR – KUIH KETAYAP WITH NICE DADAR TEXTURE
1. PREPARE THE INTI FILLING
Place all the ingredients in a medium sauce pan and cook until the water is absorbed and the coconut is dark brown in color and it's dry. Make sure the inti is really dry.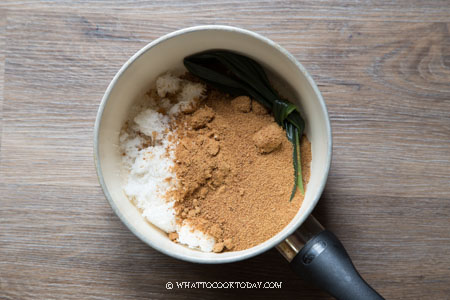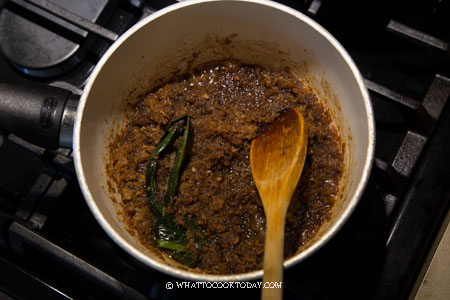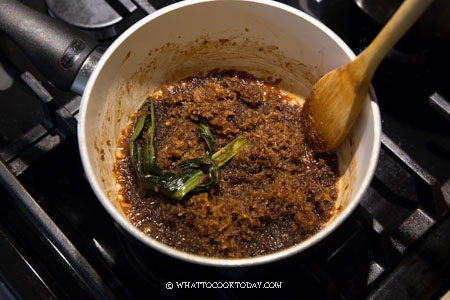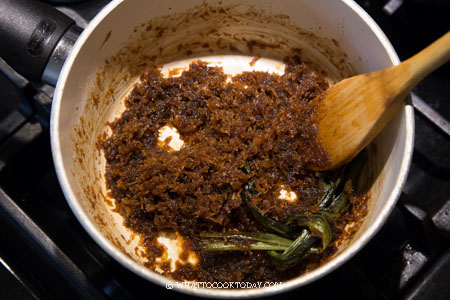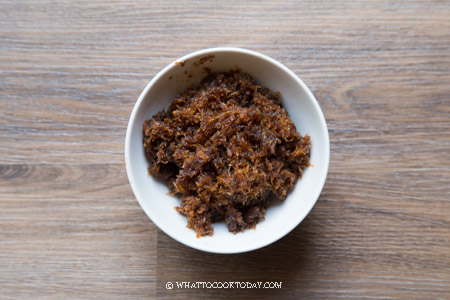 2. PREPARE THE BATTER
Place the flour and salt in a large mixing bowl. Stir to mix. Made a well in the center and crack in the eggs. Use a rubber spatula to break the eggs and start to incorporate the flour from the side while gradually add in the pandan juice and then the thin coconut milk. Mix until the batter is smooth. Strain the batter if necessary to get rid of lumps. You can keep the batter in the fridge up to 48 hours if you are not cooking it right away, otherwise, proceed to cook. There's no need to rest the batter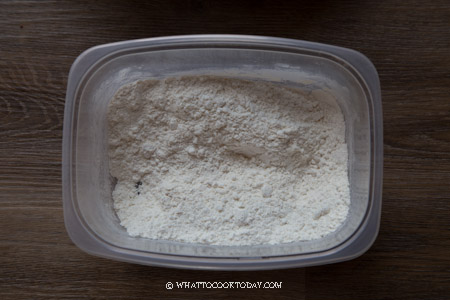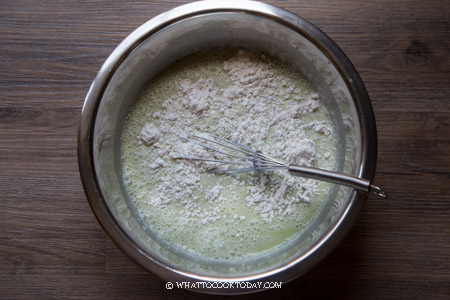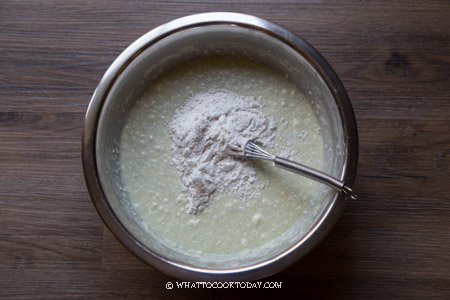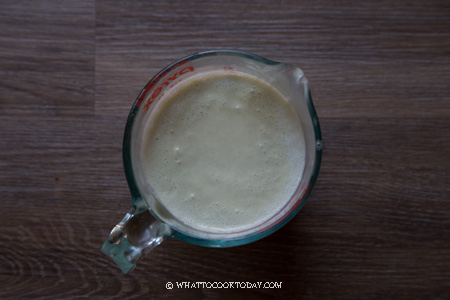 3. HOW TO MAKE CREPE SKIN WITH NICE DADAR TEXTURE
– Preheat a non-stick skillet over medium-high heat (not all the way high though, but hot enough). **IMPORTANT TIP 1**: The heat is important in creating the "rough" (dadar) texture on the surface of the crepes.
– Rub the non-stick skillet with oil using a paper towel (optional). I didn't do this. Ladle about one ladleful, about 1/3-1/2 cup of the batter into the middle of the pan and swirl the pan to cover the base of the pan quickly to make a thin pancake about 8 inches in diameter. You will see the top starts to bubble up.


– **IMPORTANT TIP 2**:Once the crepe is golden brown and you see the rough texture, which happens in about 3-4 seconds, lower the heat a little bit to let the crepe cook through without burning. Cook until when you shake the pan, the crepe loosen. Remove from the pan and repeat with the rest of the batter and don't forget to stir the batter each time.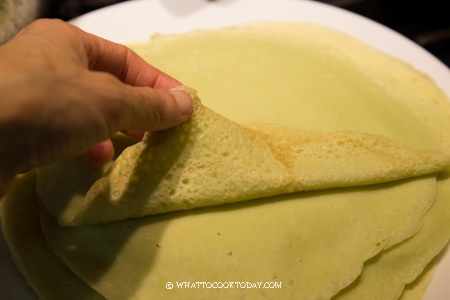 4. HOW TO WRAP KUE DADAR
– Place about 1-2 Tbsp of the filling near the edge of the lower half of the crepe you prepare earlier.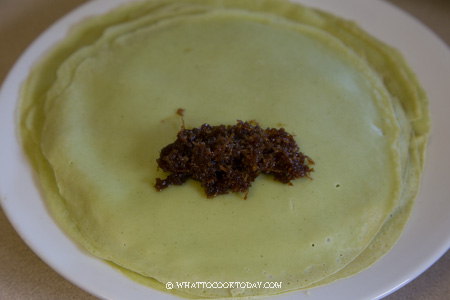 – Fold the bottom over once.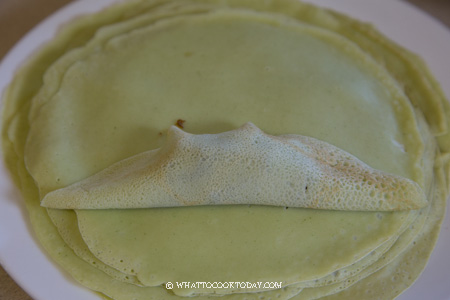 – Then fold the right side and left side to the middle.


– Roll up to the other end.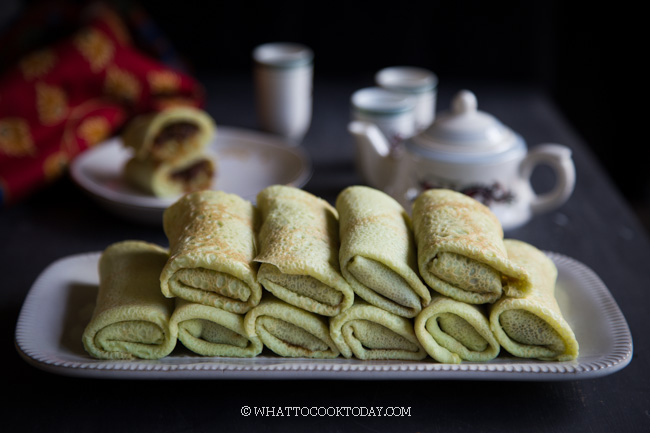 HOW TO STORE LEFTOVER KUE DADAR GULUNG – KUIH KETAYAP
1. Wrapped kue dadar need to be kept in the refrigerator.
I suggest to only wrap as many as you are able to finish the same day if possible. You can always wrap more the next day.
2. Leftover crepe skin can be kept in the refrigerator for a maximum of 3 days.
Make sure they cool down completely before you store them. They can be stacked up and then cover with a plastic wrap. Simply remove from the fridge and ready to wrap with inti filling.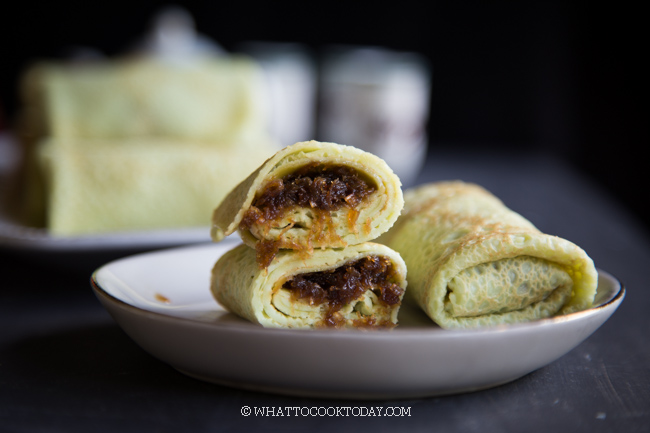 DID YOU MAKE THIS KUE DADAR – KUIH KETAYAP RECIPE?
I love it when you guys snap a photo and tag to show me what you've made 🙂 Simply tag me @WhatToCookToday #WhatToCookToday on Instagram and I'll be sure to stop by and take a peek for real!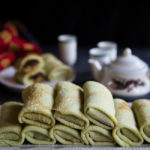 Kue Dadar Gulung - Kuih Ketayap
Ingredients
The crepe:
200

gr

all-purpose flour

½

tsp

salt

2

large

eggs

about 100 grams total

275

ml

pandan juice

250

ml

thin coconut milk

mix 100 ml of coconut milk with 150 ml of water
The filling:
200

gr

grated unsweetened coconut

or 100 gr dry desiccated coconut

100

ml

coconut milk

only if you use dry desiccated coconut

200

gr

coconut sugar

or use palm sugar/gula Jawa/gula Melaka

150

ml

water

¼

tsp

salt

3

pandan leaves

knotted
Instructions
Preparing the inti filling (I suggest to do this one day before):
Place all the ingredients in a medium saucepan and cook until the water is absorbed and the coconut is dark brown in color and it's dry. If you use desiccated coconut, stir in the coconut milk and continue cooking over medium heat, make sure not to hard boil it or it will curdle. Cook until the coconut milk is absorbed by the desiccated coconut. Make sure the inti filling is really dry. Set aside to cool down completely before covering and store in the fridge or it will create condensation and make the inti wet
Preparing the batter:
Place the flour and salt in a large mixing bowl. Stir to mix. Made a well in the center and crack in the eggs. Use a rubber spatula to break the eggs and start to incorporate the flour from the side while gradually add in the pandan juice and then the thin coconut milk. Mix until the batter is smooth. Strain the batter if necessary to get rid of lumps. You can keep the batter in the fridge up to 48 hours if you are not cooking it right away, otherwise, proceed to cook. There's no need to rest the batter
Making the crepes:
Preheat a non-stick skillet over medium-high heat (not all the way high). This is important in creating the "rough" texture on the surface of the crepes. It needs to be hot enough when the batter first touch the hot pan to create that large pores

Rub the non-stick skillet with oil using a paper towel (optional). I didn't do this. Lift the pan up from the fire with one hand and ladle about one ladleful, about 1/3-1/2 cup of the batter onto the middle of the pan and swirl the pan to cover the base of the pan quickly to make a thin pancake about 7-8 inches in diameter. They don't have to be perfectly circle. Just do your best. Lower the heat immediately to medium-low

Cook until when you shake the pan, the crepe loosen. Remove and set aside. Refer to video on how to cook the crepe

Continue to do this until you run out of batter. Don't forget to give the batter a stir each time before ladling into the pan
Wrapping:
Place about 1-2 Tbsp of the filling near the edge of the lower half of the crepe you prepare earlier. Fold the bottom over once, then fold the right side and left side to the middle and over once more to make a cylinder shape. Repeat with the rest of the crepes and filling. Serve at room temperature as a snack with a tea or coffee
Storing:
Wrapped kue dadar need to be kept in the refrigerator. I suggest to only wrap as many as you are able to finish the same day if possible. You can always wrap more the next day.

Leftover crepe can be kept in the refrigerator for a maximum of 3 days. Make sure they cool down completely before you store them. They can be stacked up and then cover with a plastic wrap. Simply remove from the fridge and ready to wrap with inti filling
Recommended products:
8-inch non-stick skillet pan
Nutrition
Serving:
100
g
|
Calories:
289
kcal
|
Carbohydrates:
49
g
|
Protein:
6
g
|
Fat:
8
g