This versatile Indonesian sambal Balado is good as a condiment to many other Indonesian recipes and now you can make it without much fuss with this easy recipe.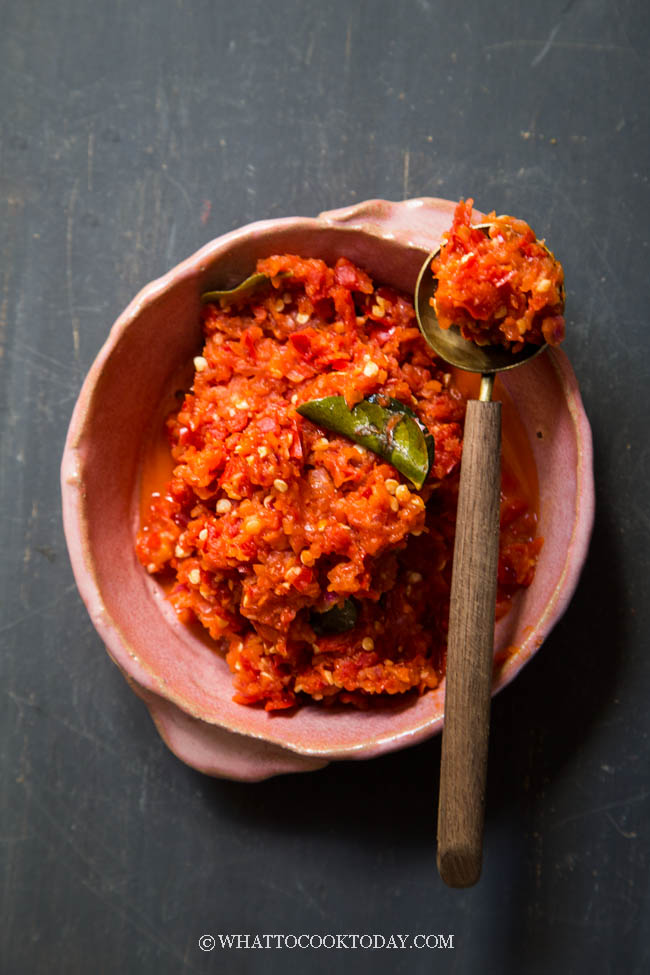 WHAT IS SAMBAL?
Sambal or loosely translated as chili sauce, is deeply rooted in Indonesian cuisine. There are so many varieties of sambal across Indonesia alone I can't even tell you exactly how many are there out there. The term sambal simply means chili sauce, usually made with either red or green chili peppers. The peppers are usually also made with other aromatics such as shallots, garlic, shrimp paste (not always), and sometimes you'll also see herbs like kaffir lime leaves, lemongrass in certain sambal. The texture of the sambal can be smooth to rustic (more coarse looking). Some sambal is raw (sambal mentah), meaning, no cooking is involved, some sambal is cooked (sambal masak), like the sambal balado I'm sharing here.
WHAT IS SAMBAL BALADO ?
Sambal Balado or Sambalado is native to the Padang (Minang) cuisine in West Sumatra, which means "with chili". Lado means chili in the Minang dialect. While typical sambal is usually served as a condiment on the side, Balado is usually cooked with other food to make for example Sambal Terong Balado (Eggplant Balado), Telur Balado (Egg Balado), Ayam Balado (Chicken Balado), Udang Balado (Shrimp Balado), Squid Balado (Cumi Balado), Dendeng Balado (usually made with Beef), Kentang Balado (Potato Balado), etc. You get the idea! Pretty much anything!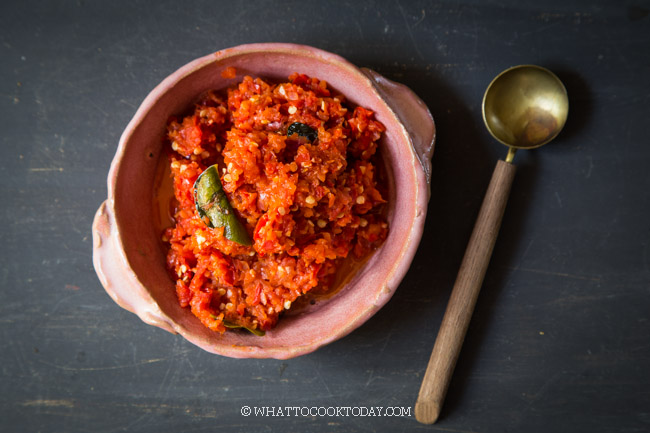 HOW TRADITIONAL SAMBAL IS MADE
Before the food processor and blender came into contact with human's life, a mortar and pestle (ulekan) are used to make sambal, which gives its coarse rustic texture and look. The older generations believe that sambal made with ulekan tastes better. I made my sambal with a food processor most of the time 🙂 (lazy people's problem!)
INGREDIENTS FOR SAMBAL BALADO
1. SHALLOTS
Shallots are very commonly used in Indonesian cooking. Feel free to substitute with purple onion, which I often do.
2. GARLIC
The recipe doesn't call for much garlic, but it does add some nice flavor to sambal Balado
3. RED CHILI
You can use fresh Cayenne peppers or red jalapeno (which I did). You can also use this premade Garlic Chili Sambal made by Huey Fong. Mom approves of this 😉 She said it actually tastes good using this premade sambal.
4. TOMATO
The tomato gives a nice base to this sambal Balado.
5. COOKING OIL
The oil is needed to stir fry the sambal to deepen the flavor.
6. LIME JUICE
Sambal Balado has a slight zing to it thanks to the lime juice.
7. SUGAR
Sambal Balado is spicy, tangy, with a very slight hint of sweetness. The amount of sugar is not a lot, but it's needed to bring out the flavor of the sambal
8. KAFFIR LIME LEAVES (OPTIONAL)
Kaffir lime leaves are not typically used in sambal balado, but I love the aroma of it. Feel free to omit if you don't want to.
HOW TO MAKE SAMBAL BALADO FROM SCRATCH
1. GRIND THE INGREDIENTS: Place shallots, chili (if using fresh chili), tomato, and garlic in a food processor and finely or roughly chop them. It's up to you if you want it more fine consistency or more rustic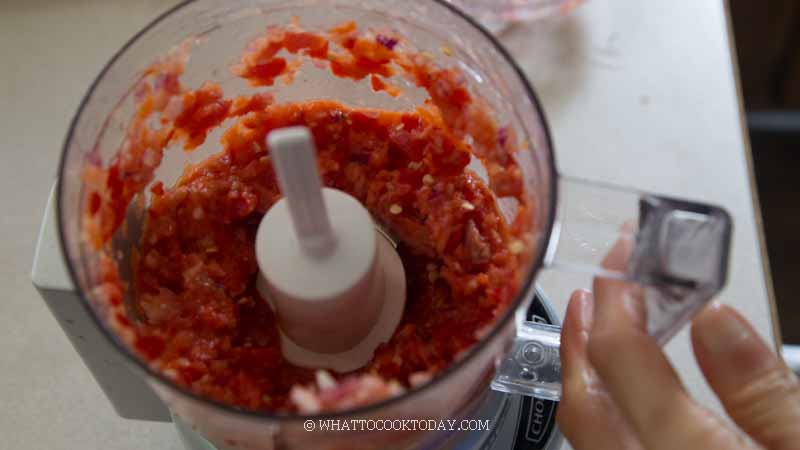 2. STIR FRY : Preheat a skillet with cooking oil. Add the ingredients you chopped above (if using premade garlic sambal chili, don't add it in yet) and kaffir lime leaves and stir fry until fragrant, about 3 minutes.After that you can add in the premade garlic sambal chili (if not using fresh chili), stir fry another minute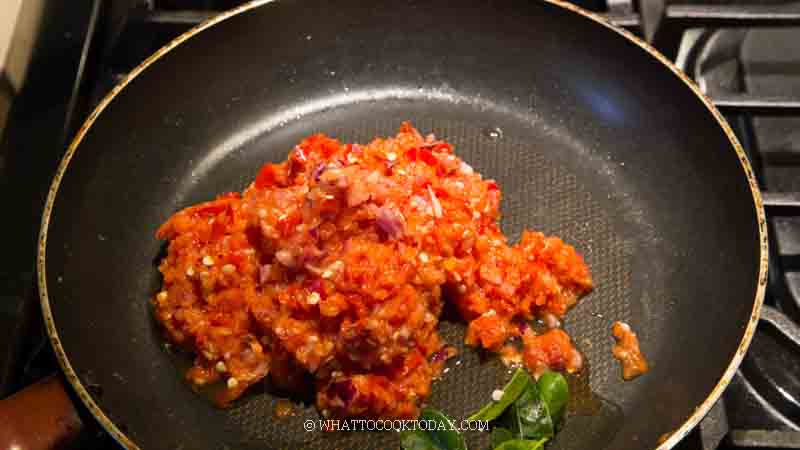 3. ADD LIME JUICE AND SEASONINGS:
Squeeze in lime juice, salt and sugar to your taste. Continue stir fry until the mixture is dry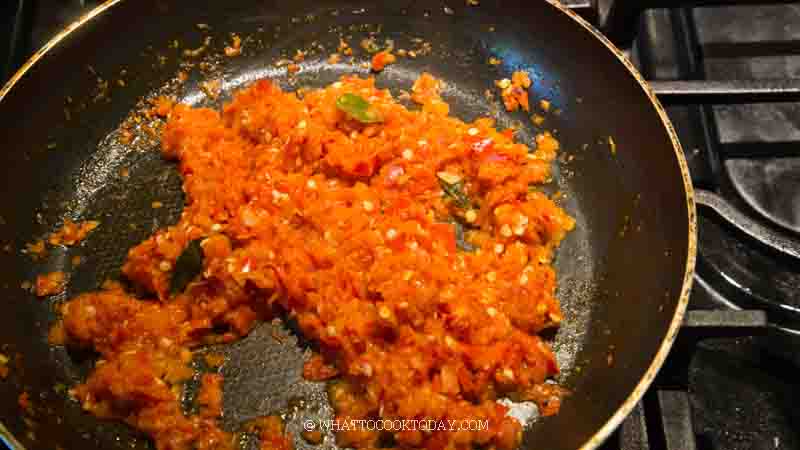 4. TO MAKE A BALADO DISH: If you are preparing a balado dish, this is the point you add your other cooked ingredient in and toss with the balado sauce, otherwise, remove from the heat and serve as a condiment to your meal.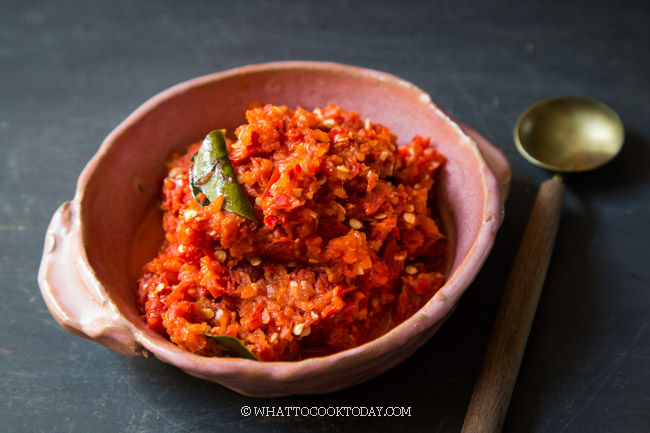 HOW TO STORE LEFTOVER SAMBAL BALADO (OR ANY TYPE OF SAMBAL)
REFRIGERATOR: Sambal can be stored in an air-tight glass jar for up to one week in the refrigerator.
FREEZER: For longer storage, I recommend portioning the sambal into smaller portions and freeze them. They can be kept frozen for up to 3 months. So if you make the sambal in big bulk, this is the storing method you want to go for.
OTHER INDONESIAN SAMBAL YOU MIGHT LIKE
Sambal Tauco Udang Cabe Ijo (Shrimp with Bean Paste and Green Chili)
Sambal Andaliman
Sambal Terong Balado
Sambal Kecap Pedas (Spicy Sweet Shallots Chili Sauce)
Sambal serba guna / All-purpose chili sauce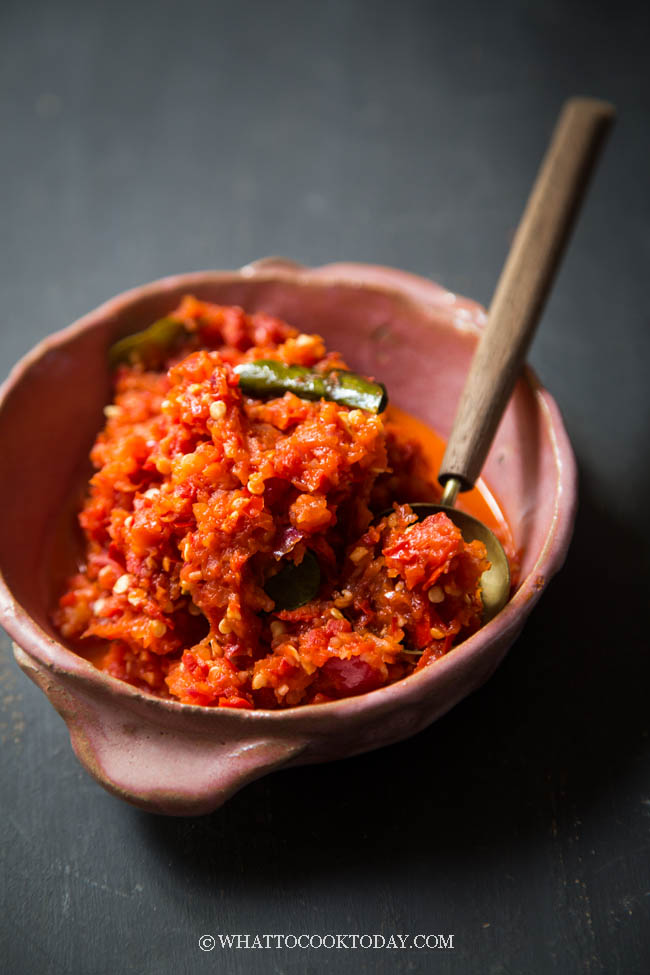 DID YOU MAKE THIS SAMBAL BALDO RECIPE?
I love it when you guys snap a photo and tag to show me what you've made 🙂 Simply tag me @WhatToCookToday #WhatToCookToday on Instagram and I'll be sure to stop by and take a peek for real!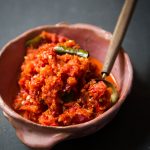 Easy Sambal Balado (Indonesian Sambal Chili Sauce)
Ingredients
Ingredients to grind:
100

gr

red chilies

you can use any varieties. See notes 1

4

Thai chilies

optional, if you want extra spicy

100

gr

shallots

or purple onion (see notes 2 if using purple onion)

2

cloves

garlic

1

large

tomato

seeded
Seasonings:
2

tsp

sugar

½

tsp

salt

or to taste

Juice of 1 lime
Instructions
Place shallots, chili (if using fresh/dried chilies), garlic, and tomato in a food processor and you can either blend them until fine or roughly chop for a more rustic look

Preheat a skillet with cooking oil. Add the ingredients you chopped above (if using premade garlic sambal chili, don't add just yet) and kaffir lime leaves and stir fry until fragrant, about 5 minutes. Add the premade garlic sambal chili (if not using fresh chili) and seasoning and stir fry for another minute

Continue to cook until the mixture is no longer wet and dry
Storage:
Let the sambal balado cool down completely and store in a glass jar container for up to 1 week in the fridge
Notes
1. You can also use premade chili like this. If you are using dried chilies, make sure you soak them in warm water until soft and proceed with recipe. I used red jalapeno peppers
2. If you use purple onion, I highly recommend cut them into large slices or chunks and then stir fry briefly in a bit of oil before grinding to get rid of the bitter taste. The raw purple onion tastes bitter if you grind them