Eggplants are pressured cooked or steamed until soft and then smothered in addictingly spicy sambal chili. A much healthier, delicious take than deep-fried eggplants.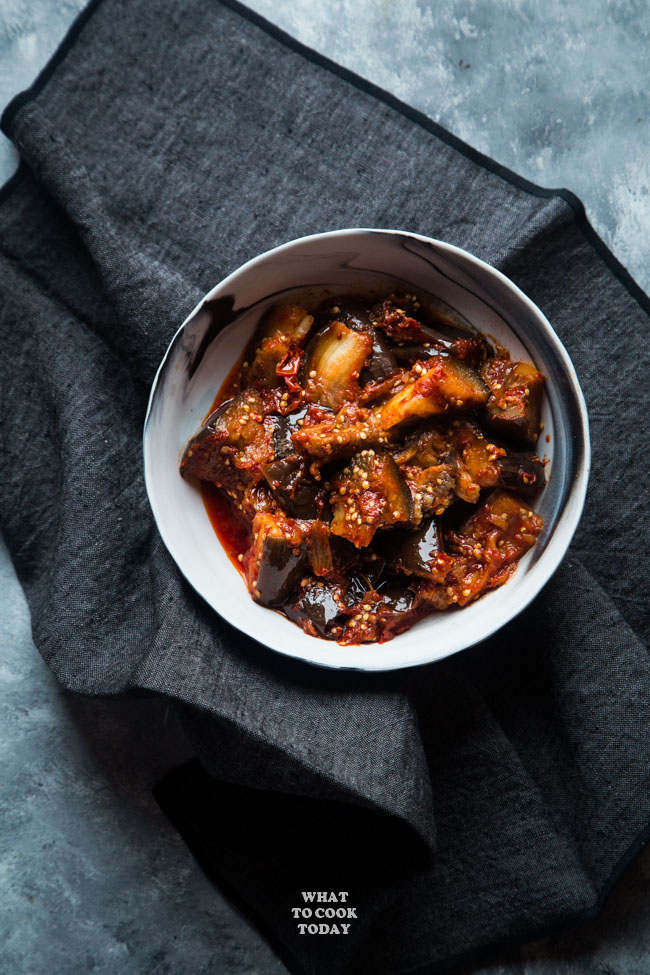 Whenever I cook sambal terong balado, I gotta make sure there is rice around to go with it 🙂 Whenever a sambal is involved, rice is mandatory!
WHAT IS BALADO?
Balado is an Indonesian type of sambal originated from West Sumatra, Padang cuisine to be exact. It is basically a ground red chili stir-fried with shallots, garlic, herbs like bay leaves, kaffir lime leaves, lime juice, tomatoes in a generous amount of oil that makes the balado looks shiny and appetizing.
DIFFERENT VARIETIES OF BALADO
You can pretty much balado the heck out of anything 🙂 There are shrimp balado, egg balado, squid balado, chicken balado, fish balado…you get the gist of it! And then, of course, this eggplants balado or sambal terong balado.
WHAT KIND OF EGGPLANTS TO USE IN THIS RECIPE
In Indonesia, eggplants are called terong. Terong ungu (purple long eggplants) are more common in Asia. But the bigger much darker skin eggplants can be used for this recipe too. They taste pretty much the same if you ask me.
HOW TO CHOOSE EGGPLANTS
1. Choose smaller size
Bigger eggplant tends to taste bitter and has more seeds
2. The shape
Longer shape eggplant has less "juice" compares to rounder shape. It's perfect to be used for sambal terong balado
3. Physical appearance
Make sure the eggplant does not have any bruises or cut on the outer skin. There is no sign of mold either
HOW TO PREVENT EGGPLANTS FROM TURNING BLACK AFTER CUTTING
Once the flesh is exposed to the air, it will get oxidized and turns brown if you leave them in the open air for too long. To prevent this you can prepare a large pot of water with 1 teaspoon of salt in it. Place the cut eggplants inside the water and this will help to prevent or slow down the discoloration.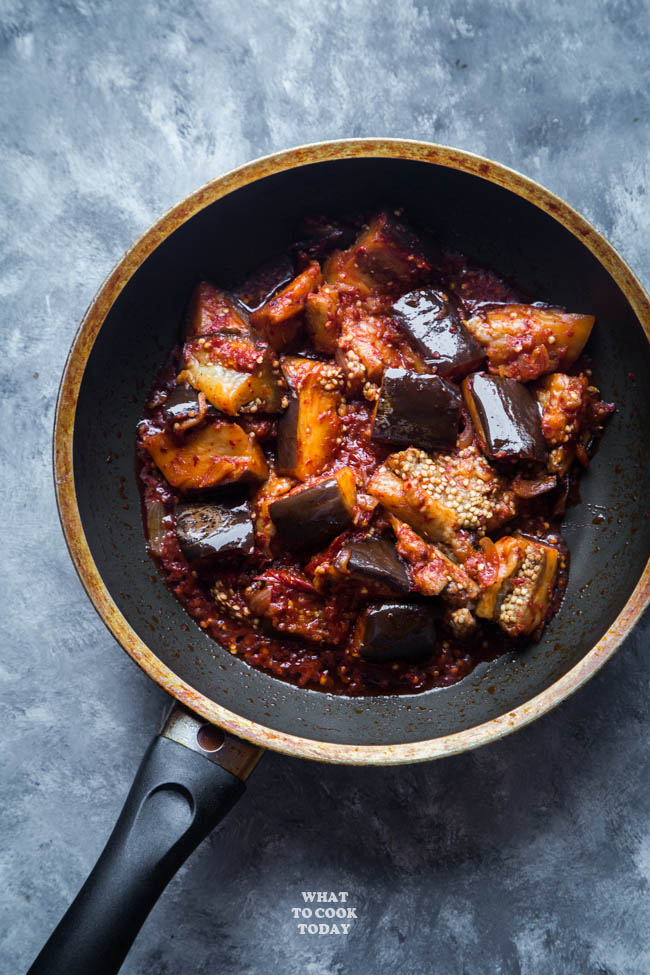 PRESSURE COOKING THE EGGPLANTS ARE MUCH BETTER THAN DEEP FRYING
Raw eggplants have a texture like sponge. They taste plain on their own and absorb pretty much anything you cook them in. Eggplants taste good when they are soft and almost mushy if you ask me. Traditionally, sambal terong balado is made by deep frying the eggplants pieces and smothered them with balado. Can you imagine all the oil that the eggplants absorb? super greasy!! Pressure cooking the eggplants will achieve the same softness without all the oil!!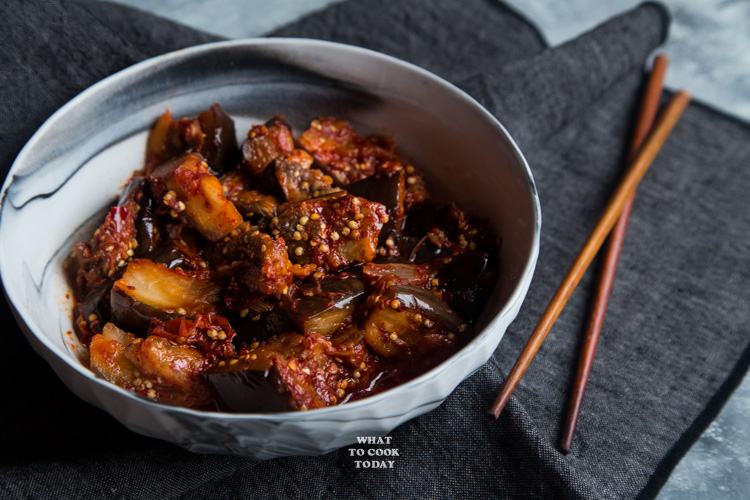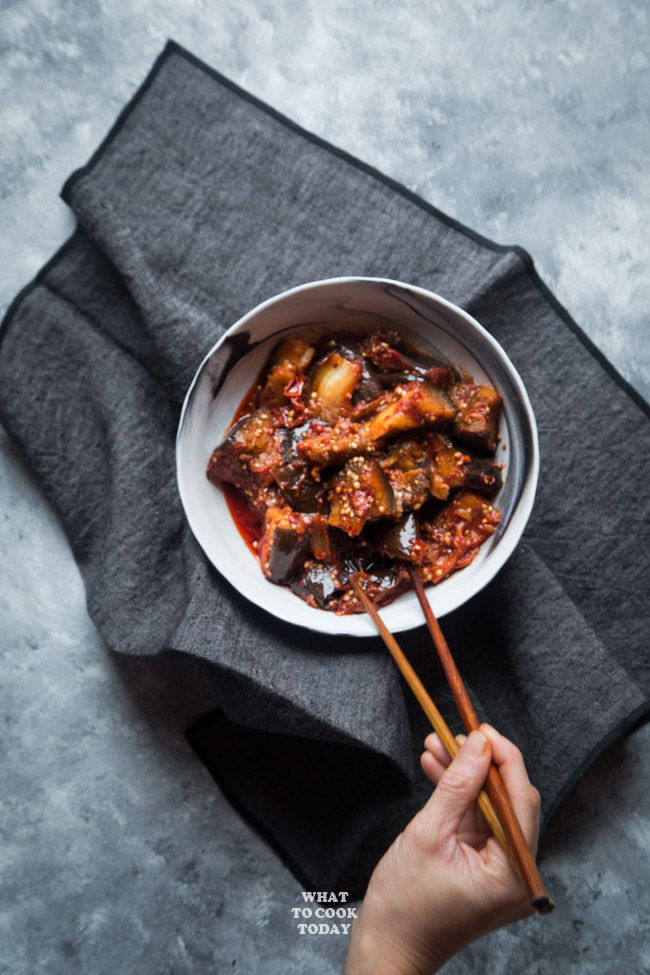 Now, just make sure you do cook some rice to go with the sambal terong balado because you gonna need it to eat it with those delicious balado. There is another one of my favorite Indonesian eggplant recipe called Sambal Terong Bakar (Roasted Eggplant with Sambal) you might like too 😉
*Recipe is written for 6-quart Instant Pot. Cooking time should remain the same for 8-quart size but will take longer to pressurize. For mini duo (3-quart), I suggest to half the recipe and use the same amount of time to cook*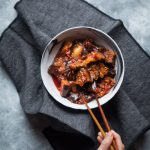 Easy Sambal Terong Balado (Eggplants with Sambal) - Healthier version
Ingredients
500

gr

long purple eggplants

or you can use dark purple kind
Sambal balado:
100

gr

red chiles

see notes

100

gr

shallots

peeled

2

cloves

garlic

peeled

1

large

tomato

quartered

1

Tbsp

cooking oil
Seasonings:
1

tsp

salt

or more to taste

1

Tbsp

sugar

or more as needed

1

lime
Instructions
Prepare eggplants:
Rinse the skin of the eggplants clean with water. Pat dry. Trim off the stem. Halve and then cut into about 3-inch pieces. Make sure you cut them into roughly equal in size so they cook evenly. If you don't cook the eggplant right away, place the cut eggplants into the pot of water to prevent them from turning black while you are cutting the rest
Pressure cooking the eggplants:
Pour 1 cup of water inside the inner pot of the instant pot. Arrange the eggplant in a collapsible veggie steamer that you can fit inside the inner pot. Cover the lid and turn the steam release valve to seal. Press pressure cooker, high pressure, and set timer to 3 minutes

When the timer is up, wait 5 minutes and then release pressure completely
You can steam the eggplants if you don't have pressure cooker:
Bring the water in the steamer to a rolling boil. Place the eggplant pieces on a steaming rack or a plate and steam on high heat for 20 minutes or until the eggplants are fork-tender
If you choose to bake/roast the eggplants in the oven:
Preheat oven at 400 F (210 C). Line a baking sheet with an aluminum foil. Place the eggplant pieces on the baking sheet. You may need to rub with a bit of oil for a better result. Bake for about 15 minutes or until tender and proceed to "put everything together" step
Prepare sambal balado while the eggplants are cooking:
Place all the sambal balado ingredients in a food processor or use immersion blender. You can either roughly chop them for that rustic look or process them into finer texture

Preheat a large skillet and pour in the sambal mixture along with the aromatics. Stir fry for about 5 minutes and then add the seasonings. Keep stirring to prevent sambal from scorching. Have a taste. It should be savory, lightly sweet, with a hint of tang. Add more salt and/or sugar if needed
Put everything together:
When the eggplants are done cooking, add the eggplants pieces onto the skillet and stir to mix everything. Transfer to a serving platter and serve immediately
Notes
If you can't find fresh cayenne pepper (cabe keriting), you can substitute with dried Chile de Arbol or Guajillo. Just soak them in water until soft and then proceed with recipe
Recommended products: