Learn how to make my mom's super delish sambal tauco udang. It's savory, sweet, aromatic, and spicy. Just make sure you have extra rice!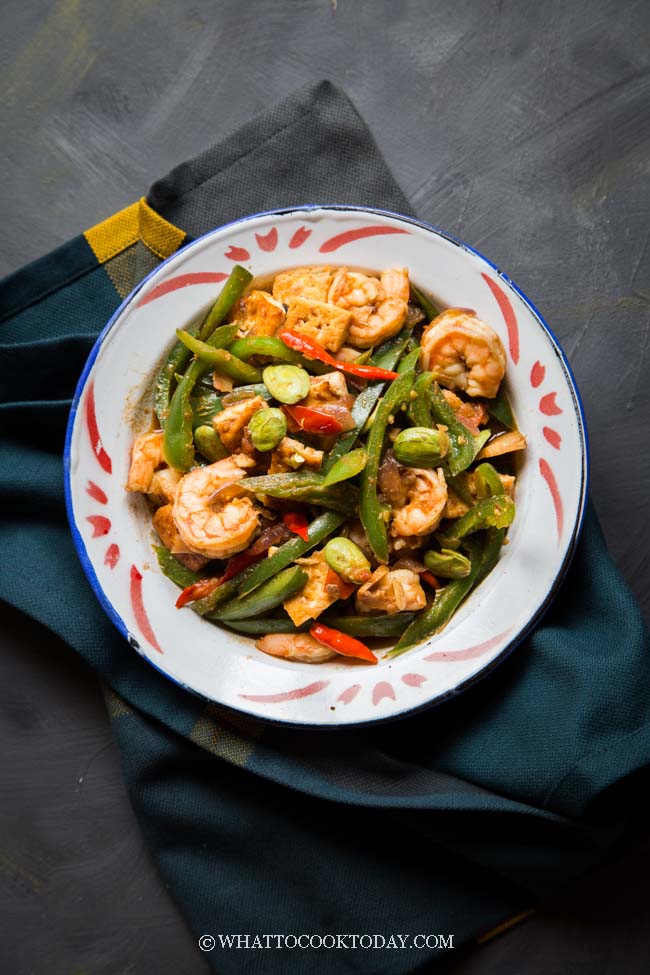 TAUCO UDANG MEDAN
Tauco means the Chinese fermented bean paste (tau cheo) and udang means shrimp. Medan is the city I lived in as a kid. This tauco udang I'm sharing here is my mom's signature dish. You may think that the combination of bean paste (or sometime calls Preserved beans/Fermented beans) or tauco (in Indonesian) and shrimp sound a bit absurd, however, this is another one of my favorite Indonesian Chinese dishes. It goes so well with rice and lontong (rice cakes)
There are slight variations when it comes to tauco udang. When my mom made tauco udang, she loves it with lots of slices of green chilis (cabe ijo) and few of red chili, but mainly it's cabe ijo. You can call this sambal tauco udang cabe ijo too. It may sound spicy to you, however, all the chilis are seeded, hence that reduces the heat significantly.
INGREDIENTS
1. STINK BEANS (PETE/PETAI)
I like stink beans and love to have them in sambal tauco udang, but you can omit if you don't like them. They can be found in the frozen section at the Asian grocery store. Sometimes labeled as sator beans or sataw beans. Split them in half before cooking because there might be worms inside (don't be alarm, it's normal). Simply remove the worms and wash the beans cleaned with running water.
2. GREEN CHILIS
In Medan, my mom would use cabe keriting ijo (green long curly chilis). These are not available where I am. You can use serrano peppers or jalapeno peppers. They work just fine!
3. RED CHILIS
My mom would also use cabe keriting merah (red long curly chilis). You can substitute with Thai red chili (which is very spicy) or cayenne peppers.
4.TOMATO
Most people don't add tomato in sambal tauco udang, but both my mom and I love it with tomato. So, it's up to you
5. SHRIMP
Use good-quality large uncooked shrimp. Do not use store-bought cooked or cocktail shrimp
6. HOT WATER
Mom said it's important to have hot water so that you don't lower the temperature of what you are cooking in the wok. This is a pretty common practice when it comes to stir-frying
7. EXTRA FIRM TOFU
I won't suggest using silken or soft tofu. Go for extra firm so the tofu will retain its shape better when being cooked
8. SOY BEAN PASTE (FERMENTED BEAN PASTE / TAUCO)
Tauco is available in several different forms. There are ground/paste version and also whole beans version. You can use either one
9. SHALLOTS
Indonesian cooking usually use shallots, but more often than not, I use purple onion and it works great
10. GARLIC
Use fresh garlic instead of the one in the jar packed with acid. I would not recommend that
11. GALANGAL
This recipe calls for fresh galangal, but if you don't have one, you can use galangal powder
12. SUGAR
The final taste of tauco udang is savory and sweet, so the addition of sugar is necessary. Usually regular white sugar is used.
WATCH HOW I MADE SAMBAL TAUCO UDANG CABE IJO
HOW TO MAKE SAMBAL TAUCO UDANG CABE IJO
1. Heat oil in a wok or skillet. Briefly fry the stink beans until fragrant, about 2 minutes. Remove from the wok/skillet


2. Add galangal pieces and stir fry for about 2 minutes or until fragrant. If you are using galangal powder, skip this step and go straight to no.3


3. Add shallots and garlic and stir fry for about 3 minutes or until fragrant and soft. Add tauco (soybean paste) and galangal powder (if using galangal powder instead of fresh galangal) and stir fry another minute.


4. Add both green and red chili, stir fry for another minute.


5. Add the shrimp and stir fry until they started to turn pink.


6. Add hot water and bring to a boil.


7. Add the tofu pieces, petai, and sugar. Have a taste.


8. Remove from the heat and serve immediately with a rice or lontong

POSSIBLE VARIATIONS FOR SAMBAL TAUCO UDANG
1. Add tempeh (tempe) pieces
Cut the tempeh into cubes and add them in when you add the tofu pieces
2. Add turkey berry (pea eggplant /leunca)
These little round seeds are often added to tauco udang or other spicy dishes in Indonesia. They are slightly bitter in taste but pair well with curry or sambal dishes like this
3. Add potato cubes
Some people may omit tempeh and tofu and use cubed potatoes. Add this when you add the hot water to the wok/skillet and let them cook until just soft
HOW TO STORE AND REHEAT LEFTOVER SAMBAL TAUCO UDANG
REFRIGERATOR: Leftover can be stored in the refrigerator for up to 3 days.
FREEZER: If you make big batch as part of meal prep, portion them out into smaller servings and stored in freezer-proof container or bags.
REHEAT: Simply reheat on the stove without thawing (if frozen) until heated through. You can reheat in the microwave too.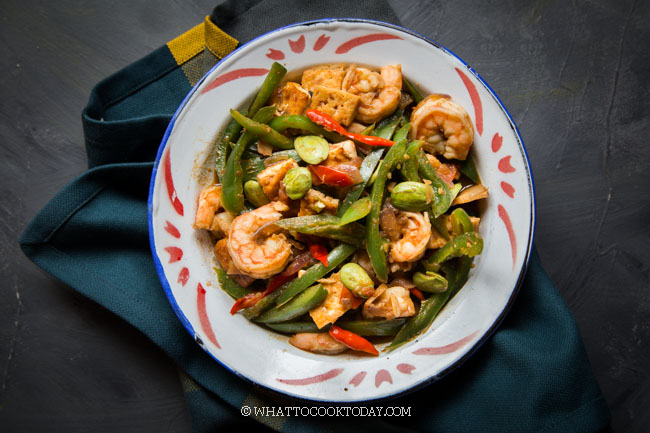 DID YOU MAKE THIS SAMBAL TAUCO UDANG RECIPE?
I love it when you guys snap a photo and tag to show me what you've made 🙂 Simply tag me @WhatToCookToday #WhatToCookToday on Instagram and I'll be sure to stop by and take a peek for real!
Sambal Tauco Udang Cabe Ijo (Shrimp with Bean Paste and Green Chili)
Ingredients
2

Tbsp

cooking oil

divided

15-20

Stink beans/petai

optional

15-20

fresh long green chilis like serrano. I use 1/2 lb (450 gr) of Jalapeno peppers

stemmed, seeded and cut into strips

4

red Thai chili

stemmed, seeded and cut into strips

1

large

tomato

quartered

500

gr

shrimp

1 1/2 lbs, peeled and deveined

⅓

cup

hot water

350

gr

extra firm tofu

about 12 oz, cut into bite-size cubes
Aromatics:
5

shallots

peeled and thinly sliced, or use 1 small purple onion

3

cloves

garlic

peeled and minced

1

inch

fresh galangal

or use 1 Tbsp galangal powder
Instructions
Preheat about 1 Tbsp of oil and pan fry the tofu until golden brown on all sides. You may skip this if you want, but I like it pan-fried before adding to the mixture below

Heat oil in a wok or skillet. Briefly fry the stink beans until fragrant, about 2 minutes. Remove from the wok or skillet and set aside. Add galangal and stir fry for another minute. Add shallots, garlic, tauco and stir fry for about 3 minutes or until fragrant and soft

Add both green and red chili, stir fry for another minute. Add the shrimp and stir fry until they started to turn pink. Add hot water and bring to a boil. Add the tofu pieces, petai, and sugar. Have a taste. The final taste should be savory with some sweetness. Adjust by adding more tauco if it's not salty enough to your taste

Remove from the heat and serve immediately with a rice or lontong