Learn how to make soft yet lightly chewy onde onde filled with aromatic coconut sugar. The first bite will create that burst of melty coconut sugar inside your mouth. Made with natural pandan and blue pea flower extract for natural colors. All the tips you need to know.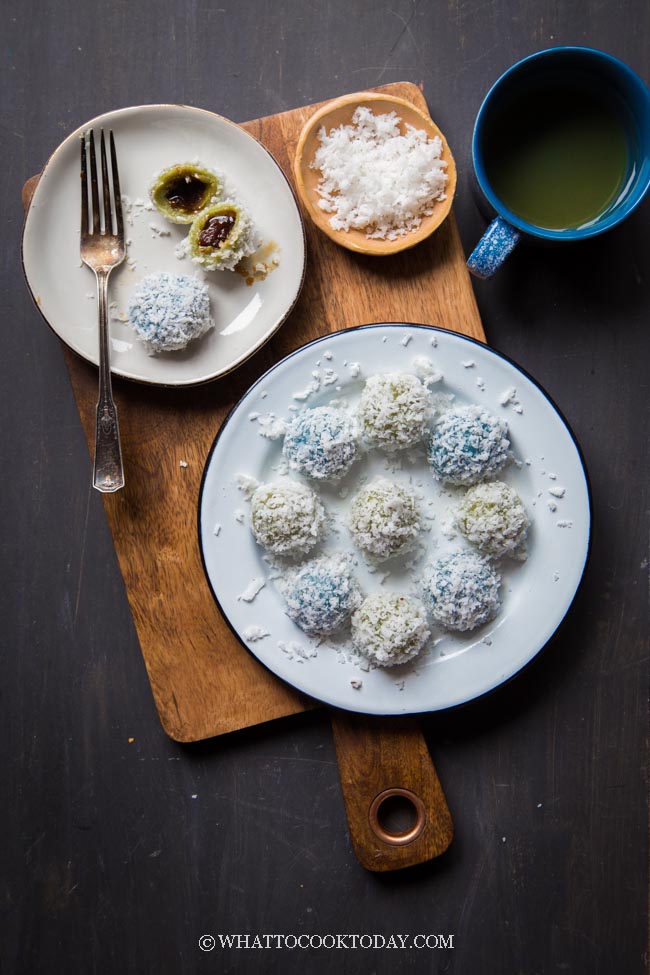 My kids love Onde Onde or Sweet Glutinous Rice Balls I made. I was thrilled that she does because another reason of me cooking so much is that so I can share with my kids the food I grew up eating (I think I've said that 10,000 times! forgive me!) Onde onde or ondeh ondeh is one of the popular snack/desserts in Southeast Asia. In Indonesia, they are called klepon too. It was also one of my Dad's favorite sweets. Making this Onde Onde was rather a bittersweet feeling. Sweet because it was so easy to make and such a tasty snack. Bitter because I don't think I have yet fully recovered from losing my Dad and this reminded me of him. I know he's smiling from up there seeing me making this Onde Onde. This is for you Dad (and your two grandkids you've never met in person)
SPECIAL INGREDIENTS FOR ONDE ONDE
1. Glutinous Rice flour
Glutinous rice flour is not the same with rice flour. So make sure you get the right one as the regular rice flour will not give the same texture. DO NOT substitute with any other starches. There is no substitute for glutinous rice flour in this recipe.
2. Unsweetened grated coconut
This is usually available at Asian grocery store,usually in the frozen form. Make sure you get the finely grated and not long shredded pieces.
3. Palm sugar / Coconut sugar
This is the "star" of onde onde. The filling of onde onde is made with only palm sugar. Known as gula Melaka or gula Jawa/ Gula Aren in Indonesia. They are usually in dark brown color. Closest substitution is coconut sugar, which is what I use
HOW TO MAKE ONDE ONDE FROM SCRATCH (PANDAN FLAVOR AND BLUE PEA EXTRACT)
1. STEAM GRATED COCONUT
If the grated coconut is a bit wet, squeeze out any excess liquid. Steam the grated coconut with a bit of salt over high heat for 5 minutes. Remove and set aside


2. PREPARE PANDAN DOUGH
Mix glutinous rice flour and sugar in a mixing bowl. Bring pandan juice to a boil


Pour this into the flour mixture


Use a spatula to stir to combine at first because it is still too hot to knead the dough with your hand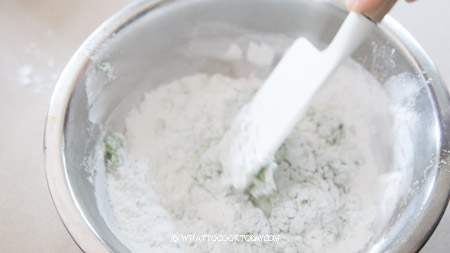 When it's not too hot anymore, use your hand to knead into a rough dough


Add the oil and continue to knead until the dough is smooth and elastic. Cover and set aside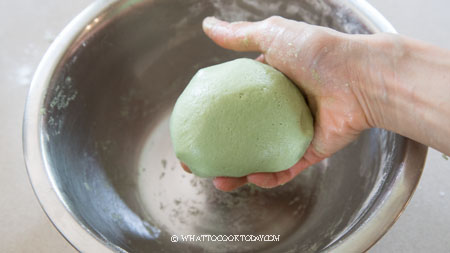 3. PREPARE BLUE PEA FLOWER DOUGH
Repeat the same steps for this dough. Pour the hot boiling juice into the flour mixture.


Use a spatula to stir to combine at first because it is still too hot to knead the dough with your hand. You will get a ragged dry dough at this point. When it's not too hot anymore, use your hand to knead into a rough dough. Add the oil and continue to knead until the dough is smooth and elastic. Cover and set aside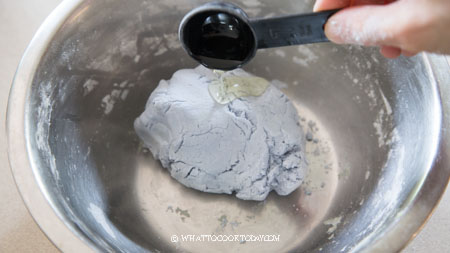 4. FILL AND SHAPE
Bring a large pot of water to a boil over medium heat before you start filling and wrapping. You want to boil the onde onde right away after you fill and shape them. The longer they sit, the more likely they are going to be leaking out sugar when you boil them. Divide each dough into 15 pieces and roll into balls.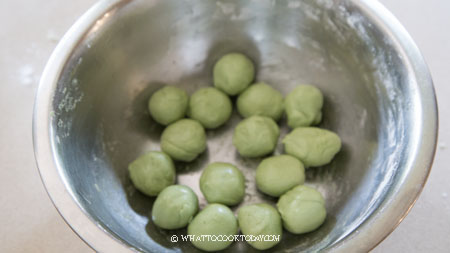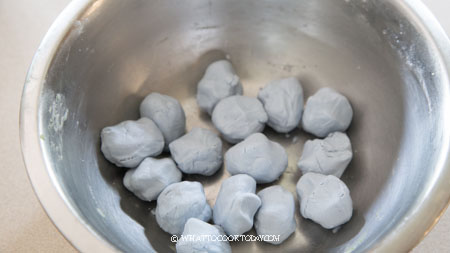 Work with one ball at a time while keeping the rest covered. Use your thumb to make an indentation on the ball


Fill it up with coconut sugar


Gather the sides to seal and roll into a smooth ball. It is important to roll it into smooth balls. Dab your fingers with some water if necessary to make sure that it's smooth when you roll it. Any seam is a potential for the coconut sugar to leak out when you boil them


5. COOKING
The water should be simmering by now. Boil the onde onde right away and then continue to fill and shape the next one and boil until they float to the top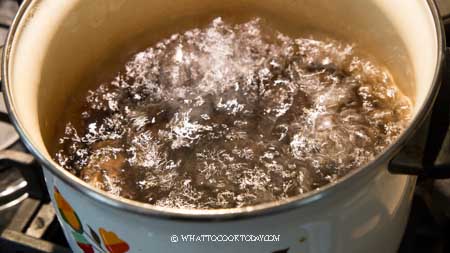 Once they float to the top, let them cook for another 1-2 minute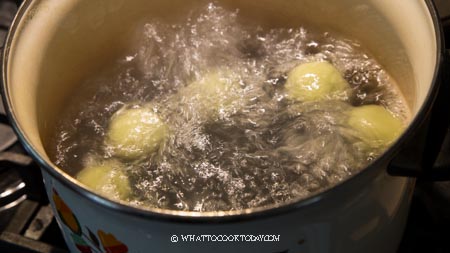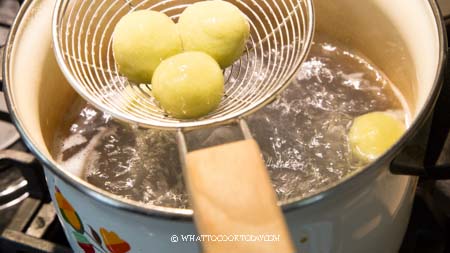 6. ROLL WITH GRATED COCONUT
Remove with a slotted spoon and roll in the grated coconut. Serve at room temperature, as a dessert or your afternoon tea snack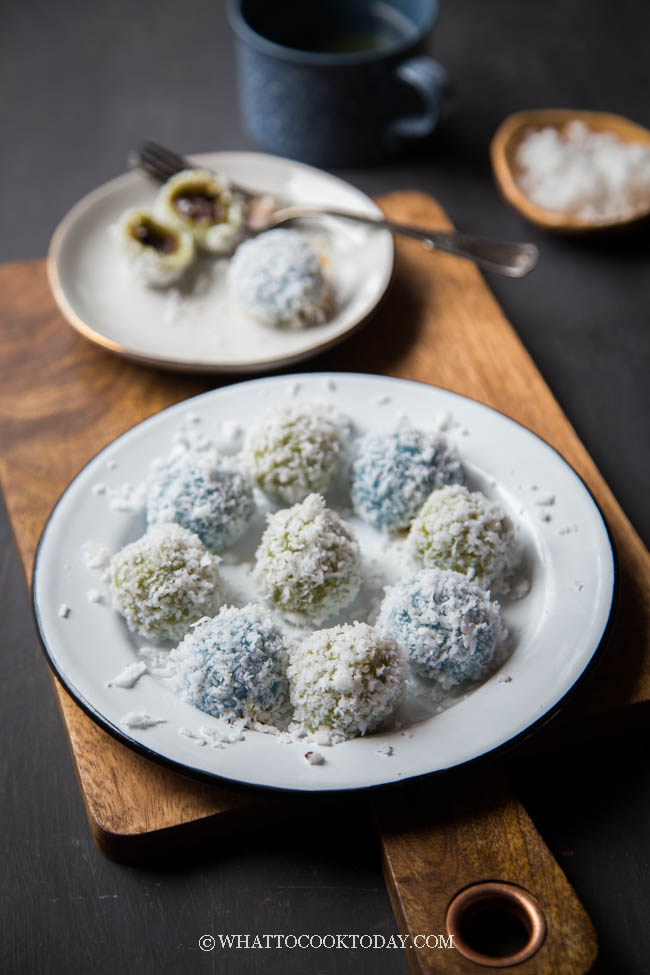 IMPORTANT TIPS
1. MAKE SURE THE LIQUID IS BOILING HOT
It is important to bring pandan juice and the blue pea flower extract to a boil and pour it directly into the flour mixture. This is the part that creates that flexible dough that won't crack when you shape them
2. ADD THE OIL LAST
Adding the oil last and continuing to knead will give you smooth non-sticky dough that is easy to work with. Don't skip the oil. You need it
3. DAB WITH WATER IF NECESSARY
After you fill the dough with palm sugar, make sure you roll it really smooth. If the dough feels dry, which it shouldn't if you keep them covered and use hot boiling water to make the dough, then dab the dough with a bit of water with your fingers and roll until it is smooth and no cracks. Any cracks will leak out the melted coconut sugar when you cook them later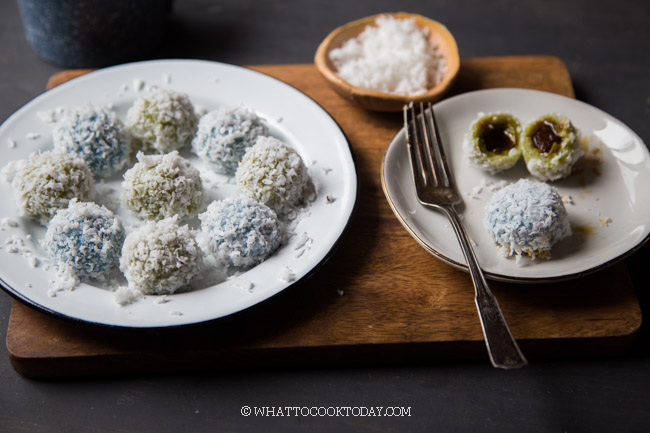 4. BOIL THE ONDE ONDE RIGHT AWAY
Once you have wrapped the filling, you want to boil them right away. If you let them sit longer, the sugar will start to leak out. This is very important
HOW TO STORE AND REHEAT ONDEH ONDEH
STORAGE: Ideally ondeh ondeh is best consumed on the same day. BUT, if you have leftovers, you can transfer them to a container with a tight lid and keep them in the refrigerator.
REHEATING: They will harden after refrigeration. You can reheat by using moist heat like a steamer. Steam them over boiling heat for 2-3 minutes and they will soften again. You can also reheat them in the microwave. Cover them with a wet paper towel and then microwave on high for about 10 seconds or less, you need to monitor.
HOW TO STORE UNCOOKED ONDEH ONDEH
IN THE REFRIGERATOR: I won't recommend storing in the fridge anymore as the sugar moisten the dough and turn into a sticky mess!
IN THE FREEZER: For longer storage, keep them in the freezer. Put the shaped ondeh ondeh on a baking sheet lined with a parchment paper, not touching each other. Let them freeze for 1 hour. Then transfer to a freezer-friendly container or bag and seal tightly to prevent freezer burn. You can keep in the freezer for no more than one month for the best result. Simply boil in the water without thawing when you are ready to serve. Cooking time may be slightly longer because they are frozen
DID YOU MAKE THIS ONDEH ONDEH / KLEPON RECIPE?
I love it when you guys snap a photo and tag to show me what you've made 🙂 Simply tag me @WhatToCookToday #WhatToCookToday on Instagram and I'll be sure to stop by and take a peek for real!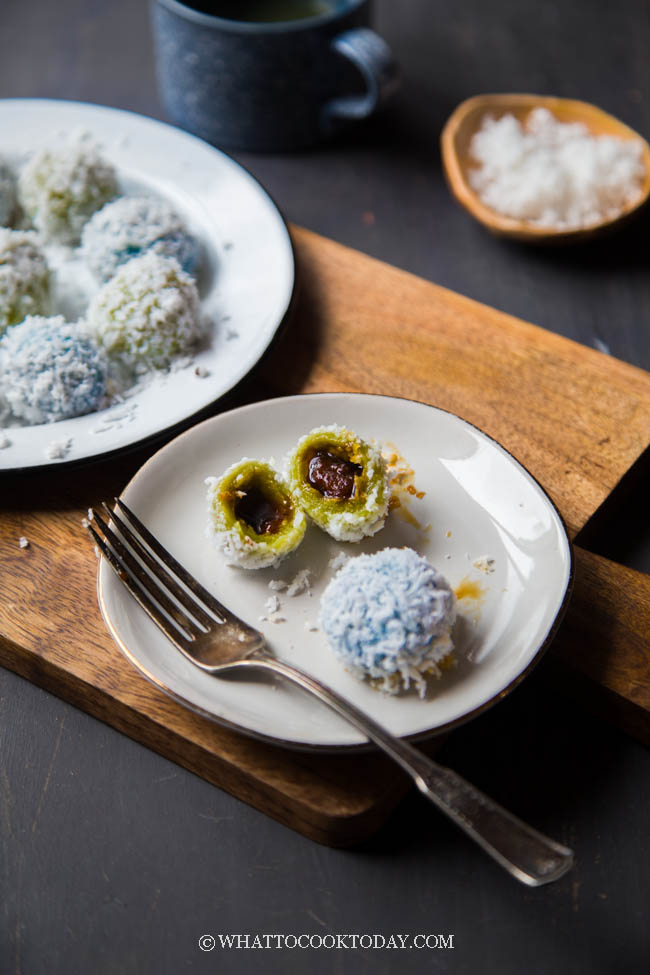 The recipe was first published in 2017 and updated in August 2020 after a few rounds of testing to update with a better recipe and process, and also to update with new photos, and a video.
Onde Onde (Ondeh Ondeh) - Klepon
Ingredients
Coat with:
200

gr

grated coconut (unsweetened)

8 oz

¼

tsp

salt
Instructions
If the grated coconut is a bit wet, squeeze out any excess liquid. Steam the grated coconut with a bit of salt over high heat for 5 minutes. Remove and set aside

Cut or shave the block of gula Melaka/gula Jawa into small tiny pieces. Set aside
To prepare pandan flavor dough:
Mix glutinous rice flour and sugar in a mixing bowl. Bring pandan juice to a rolling boil and then pour this into the flour mixture immediately. Use a spatula to stir to combine at first because it is still too hot to knead the dough with your hand. You will get a ragged dry dough at this point. When it's not too hot anymore, use your hand to knead into a rough dough. Add the oil and continue to knead until the dough is smooth and elastic. Cover and set aside
To prepare blue pea flower dough:
Put the blue pea flower in a saucepan with 100 ml of water and bring to a boil and then turn off the heat and let the flower steep in the hot water for 10 minutes. Strain and pour this back into the saucepan and bring it back to a rolling boil and then measure out to get 80 ml of juice. Make sure the juice is really hot

Pour the hot boiling juice into the flour mixture. Use a spatula to stir to combine at first because it is still too hot to knead the dough with your hand. You will get a ragged dry dough at this point. When it's not too hot anymore, use your hand to knead into a rough dough. Add the oil and continue to knead until the dough is smooth and elastic. Cover and set aside
Fill, shape and boil right away:
Bring a large pot of water to a boil over medium heat before you start filling and wrapping. You want to boil the onde onde right away after you fill and shape them. The longer they sit, the more likely they are going to be leaking out sugar when you boil them

Divide each dough into 15 pieces and roll into balls. Work with one ball at a time while keeping the rest covered. Use your thumb to make an indentation on the ball and then fill it up with coconut sugar. Gather the sides to seal and roll into a smooth ball. It is important to roll it into smooth balls. Dab your fingers with some water if necessary to make sure that it's smooth when you roll it. Any seam is a potential for the coconut sugar to leak out when you boil them
Boiling:
The water should be simmering by now. Boil the onde onde right away and then continue to fill and shape the next one and boil until they float to the top. Once they float to the top, let them cook for another 1-2 minute
Roll in grated coconut:
Remove with a slotted spoon and roll in the grated coconut. Serve at room temperature, as a dessert or your afternoon tea snack