Learn how to make squishy and rich bika Ambon or Kuih Bingka (honeycomb cake) with this easy, no-fuss recipe that gives you an amazing honeycomb texture. All the tips you need to know to make bika Ambon successfully.
WHY IT'S CALLED BIKA AMBON
Bika Ambon is one of the very popular cakes originated from my hometown Medan. Why is not called bika Medan then you would ask. LOL. There are few speculations. One of them is because bika ambon was first sold at the intersection of Ambon street and Sei Kera street. The other is because it was brought by the Ambonese people to Medan and the Medanese loved the cake and started making and selling it.
It is actually considered a delicacy. It is made famous by this one shop who started selling only Bika Ambon cake and a few years later, the whole street of Mojopahit is filled with other shops selling Bika Ambon too. Those shops are especially busy during the holiday season like Chinese new year, Eid al Fitr, Christmas, I mean..you name it, any occasion. People purchase them mainly for gifting. You will see people packing tens of boxes of these cakes to bring back home all across Indonesia and to overseas too.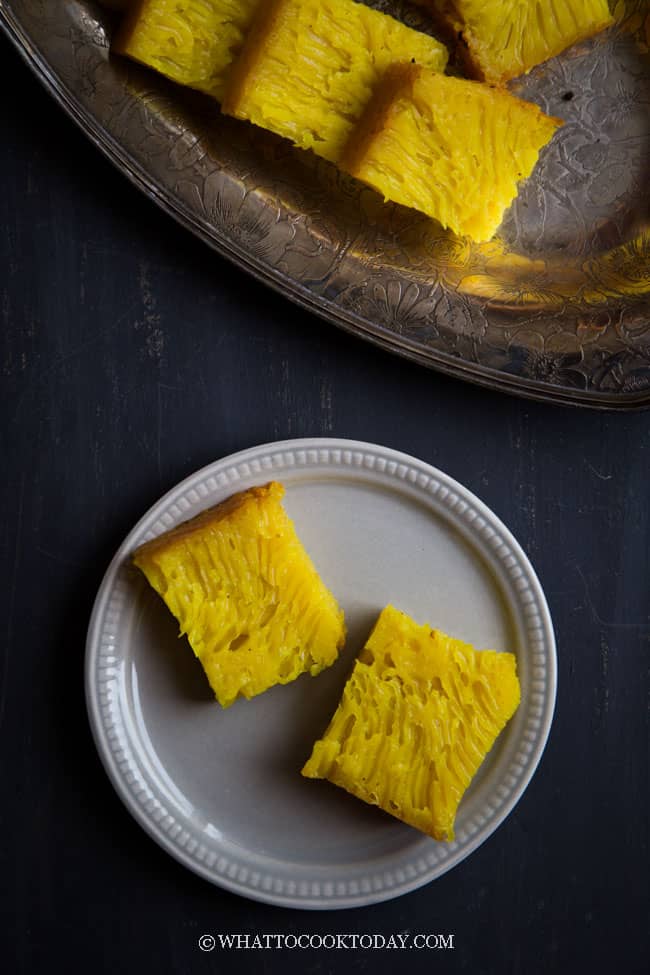 HOW BIKA AMBON IS TRADITIONALLY MADE IN INDONESIA
I haven't had Bika Ambon for a really long time. I always thought it was difficult to make. In Medan, Bika Ambon is traditionally made using Palm Wine (Tuak in Indonesian) instead of yeast. Palm wine is an alcoholic beverage made from the sap of palm tree (according to wikipedia) and it is used in many other cakes back in the old days. I saw my grandma used tuak often in her other baking. Here in Minnesota (or perhaps in the U.S. I must say), I don't have access to Palm Wine and so yeast is used. The result is still really good.
WHY YOU WILL LIKE THIS RECIPE
1. TASTE LIKE THE REAL THING
I'm not kidding! I was beyond thrilled to have made this probably at least 5 times and they always turned out great. The cake is squishy, soft, with that amazing kaffir lime leaves aroma.
2. NO FANCY EQUIPMENT NEEDED OR DIFFICULT TO FIND INGREDIENTS
All the ingredients can be easily sourced. You may need to get kaffir lime leaves from the Asian store, but if you are lazy, you can always get it from Amazon. You don't need to do fancy set up to bake the cake either. Just need your oven to bake the bika ambon. That's it.
3. GREAT HONEYCOMB TEXTURE
Seeing those tubes running from top to bottom just made my day. In Indonesia we call this bika ambon bersarang. Bersarang means honeycomb-like.
4. NO MIXER NEEDED
You don't need a mixer. Only a whisk or spatula to whisk the ingredients
5. USE WHOLE EGGS
Most recipes needs only a certain amount of yolks but not the whites and you are left with egg whites, which you can use for something else, BUT, this recipe uses whole eggs which means you need fewer eggs and no hassle of separating egg yolks from egg whites
6. NICE NATURAL COLORS FROM YOLKS AND TURMERIC
Since we use whole eggs, turmeric is added for a more intense yellow that usually comes from a recipe that uses only yolks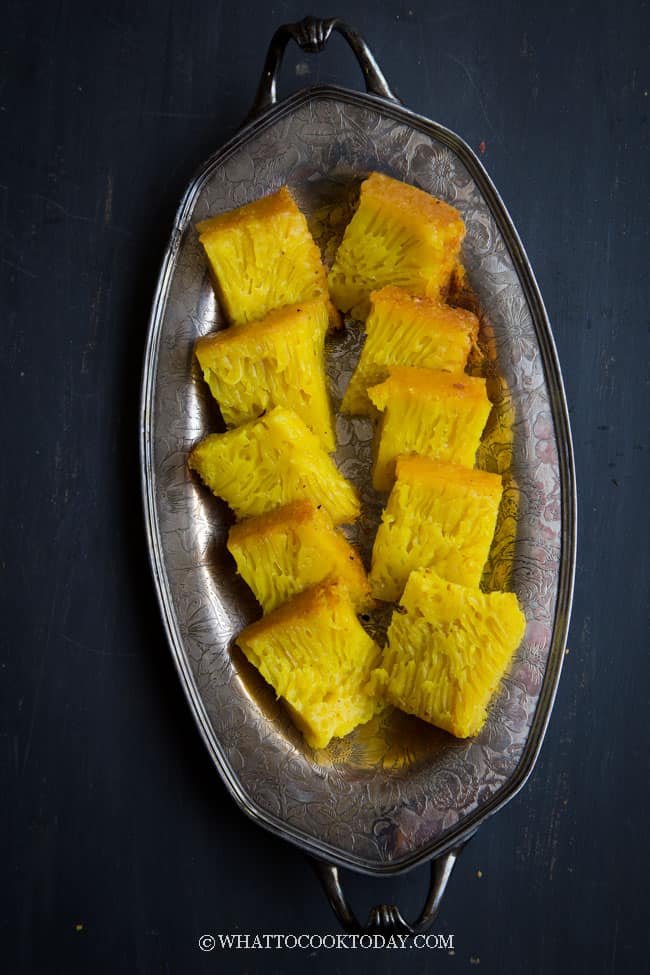 INGREDIENTS
This recipe uses pretty common ingredients with an exception on kaffir lime leaves, which you may need to find at Asian grocery store or get it online from Amazon. (affiliate links)
Tapioca flour
Turmeric powder
Lemongrass stalk
Instant yeast (my favorite instant yeast) or Active dry yeast would work
Eggs
Coconut Milk
Kaffir Lime Leaves
Sugar
Salt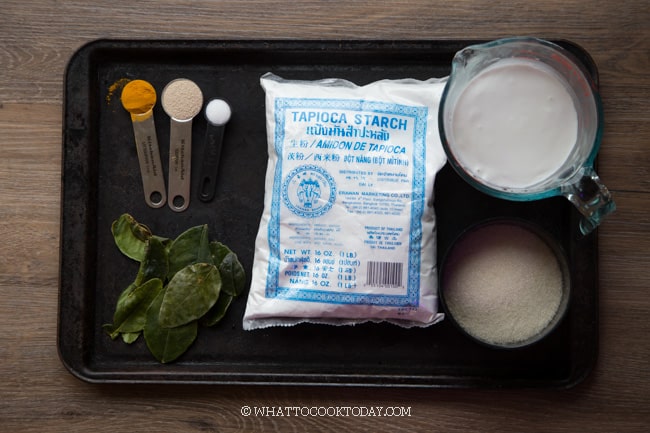 MATERIAL OF THE PAN MATTERS
I highly recommend using a metal cake pan like aluminum with at least 2 inches height such as this or this. It conducts heat better and the cake cooks in a timely manner.
HOW TO MAKE AUTHENTIC BIKA AMBON AT HOME
1. PREPARE STARTER (BIANG)
Place flour, sugar, and yeast in a bowl. Stir to mix. Cover and let it rests for 15 minutes.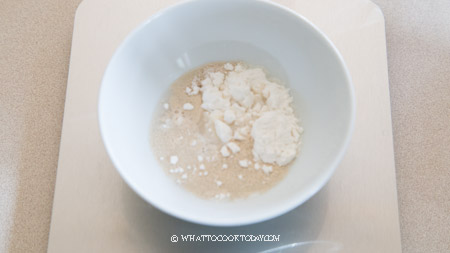 The starter will double in size and foamy. If it doesn't, your yeast is no longer good. Do not proceed with the recipe until you get a new yeast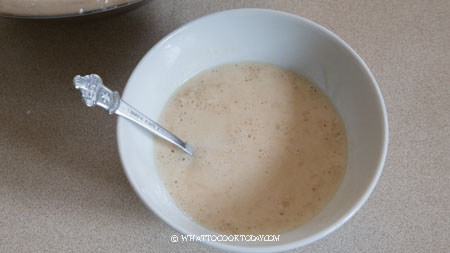 2. PREPARE COCONUT MILK MIXTURE
Place the coconut milk, salt, sugar, turmeric powder, lemongrass stalk,kaffir lime leaves in a saucepan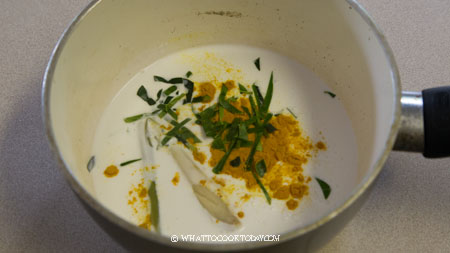 Cook on low heat until sugar melts and do not let the coconut milk to boil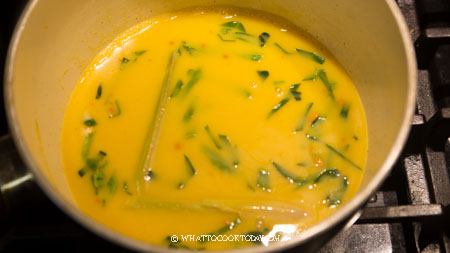 If you have a thermometer, check to make sure it is between 105-115 F (40-46 C). This is a lukewarm temperature for the yeast. If you don't have a thermometer just dip your clean finger in there and it should be comfortably warm. We don't want to kill the yeast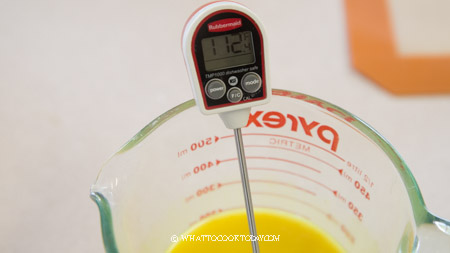 3. PREPARE THE BATTER
Mix tapioca starch with salt, crack in 3 eggs and whisk to combine


Add the coconut milk mixture and stir until combined.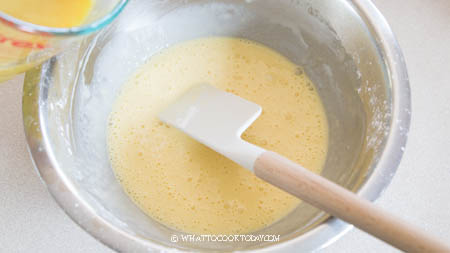 Stir in the starter and whisk to combine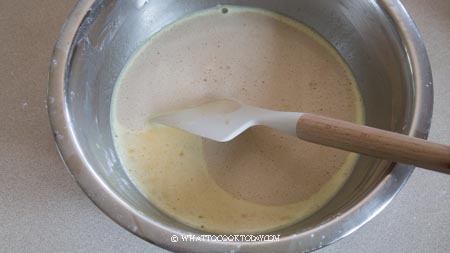 3. REST THE BATTER
Cover with a plastic wrap and let it sit in a warm place for 3-5 hours (do 5 hours if you can). Since it is winter here when I made this, I use my oven "breadproof" function and let the batter sit in there. The batter will have lots of bubbles because of the yeast and has a nice fermentation aroma.


30 minutes before the end of fermentation, preheat the oven to 330 F and place the empty pan on top of a baking sheet and put it in the oven to let it preheat
4. BAKE THE CAKE
Give your batter a gentle stir as the tapioca flour tend to settle at the bottom. Pour the batter inside the pan. Place it on the middle rack and bake for 50-60 minutes or until the cake is dry to touch on the surface and springs back when you gently push it.  If it's still wet, bake for another 5 minutes and check again.


If it's dry after that, increase the temperature to 350 F (both top and bottom heat) and remove the baking sheet. I use convection mode/fan mode to create that top and bottom heat environment and bake for another 15 minutes or until a toothpick inserted into the middle of the cake comes out clean


The cake should be dry to touch and bounces back when you gently press it. Let the cake cools down completely before cutting, may take 3-4 hours

5. UNMOULDING THE CAKE
Run a plastic knife around the edges to loosen the cake and you can gently peel the cake off the pan without much problem. The texture of the cake is very resilient and bouncy
You will not be disappointed with the result. The texture and taste are just spot on!


The cake is soft and you can bend it without tearing the cake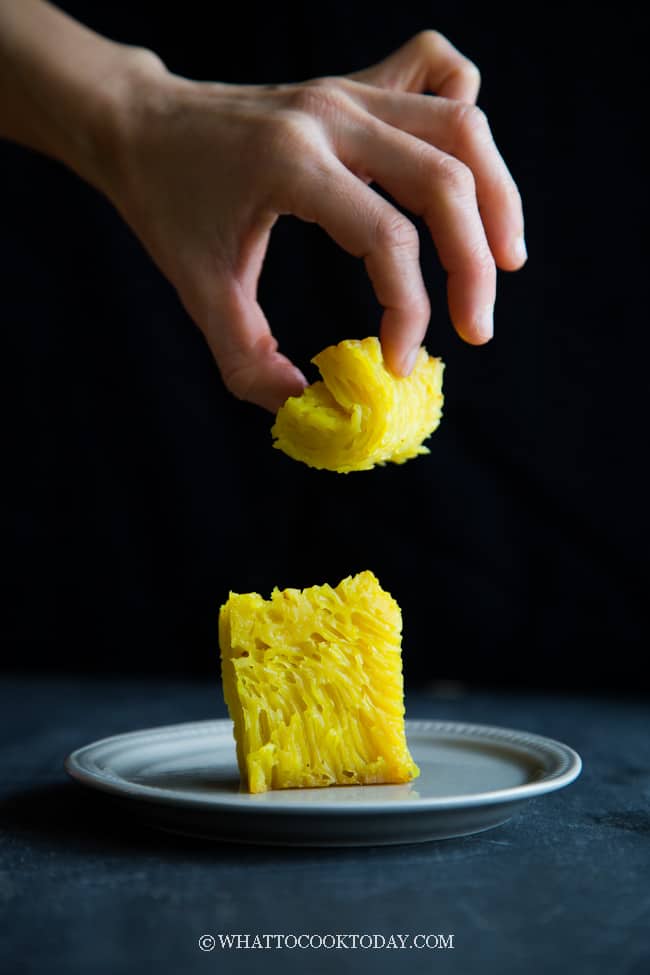 The squishiest ever too!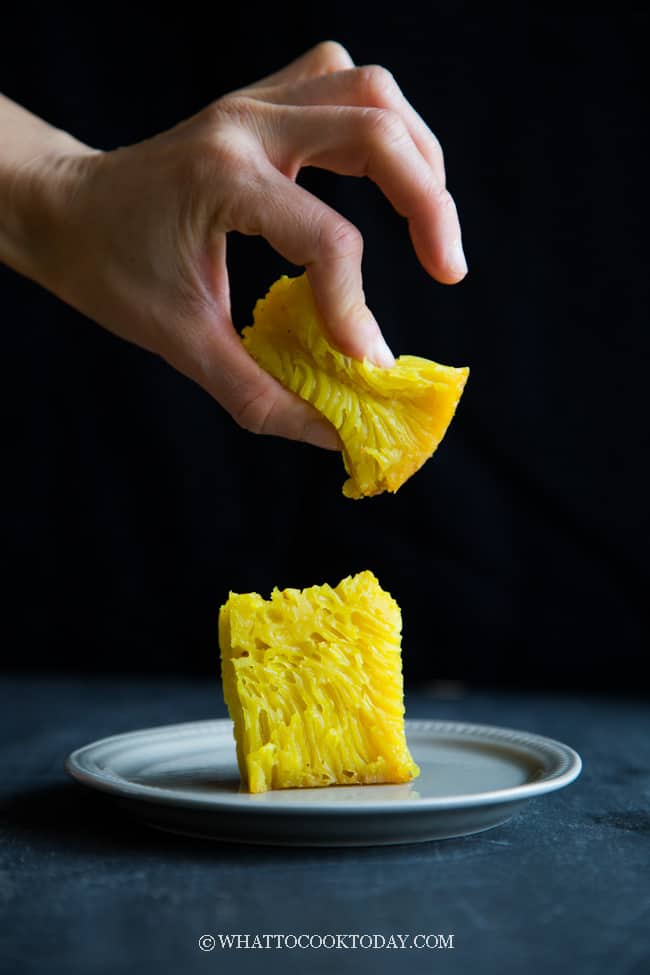 CAN I COOK BIKA AMBON ON THE STOVE IF I DON'T HAVE AN OVEN?
I have recently tried to cook bika ambon on a stove using a non-stick saucepan with a lid in two different experiments. Both times they took way too long (almost 2 hours) just for the cake to cook and the result is not significantly different with oven method. The bottom of the cake gets easily burnt too. I feel like there are too many variables here: material of the saucepan, the heat on the stove is not consistent, etc..etc. It's hard to cook it on the stove because too low of the heat and the tapioca starch will sink to the bottom and you end up with a custard and too high of the heat the bottom of the cake get burnt before it gets cooked through. I decided to stick with the oven method because the heat is more consistent and I can control the temperature.
My two kids and hubby love this bika ambon for sure!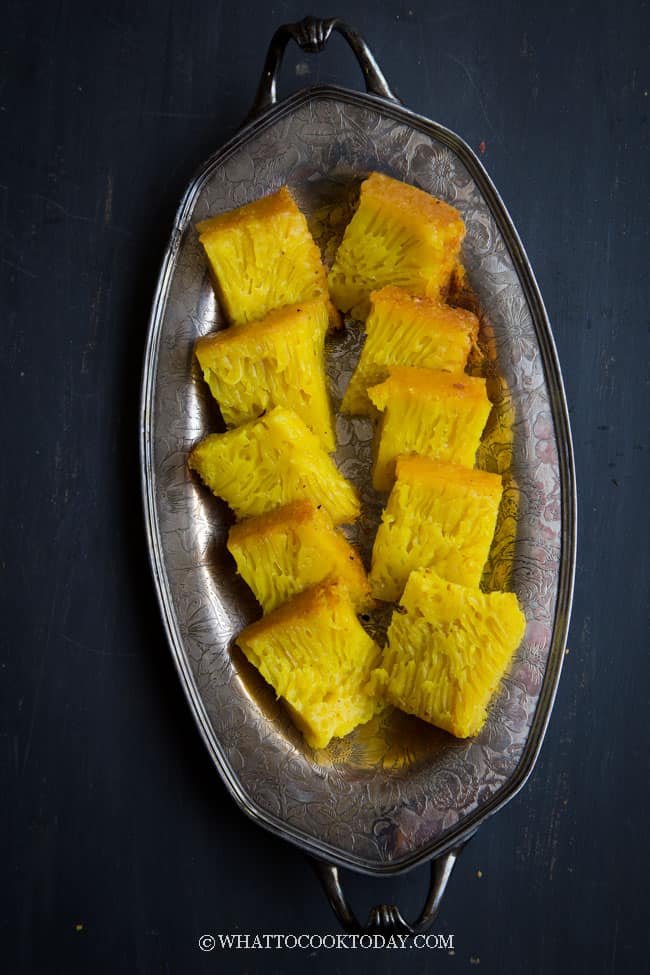 TROUBLESHOOTING
1. No bubbles after 3-5 hours of resting the batter
This could be caused by:
-The yeast is no longer active
-The coconut milk mixture is too hot and the yeast is killed when you mix it in
2. No honeycomb texture
This could be caused by:
–The yeast is no longer active and you don't get many bubbles after fermentation but you bake the cake anyway
–Did not preheat the empty pan and the starch separates from the eggs
–The oven is too warm or not warm enough
Oven temperature is very crucial when it comes to baking bika ambon. Too hot and the honeycomb won't form. Not hot enough the starch will separate from the eggs and your bika ambon turns into custard
3. The cake is dense
-Again, the yeast may be no longer active and doesn't leaven the cake
-You may want to check your oven. If the oven is not warm enough then the starch will separate from the eggs creating a dense layer instead and if it's too hot, the cake will collapse and shrink when you pull it out making the cake all dense and leathery instead of springy
4. The cake collapses
The batter could be too watery. Make sure you measure the ingredients correctly with a scale if possible. OR The cake is not cooked through and it will collapse when you pull it out from the oven. You really need to know your oven and make sure your oven temperature is accurate too
HOW TO STORE LEFTOVER BIKA AMBON
STORING: Bika Ambon can be stored in the refrigerator for up to a week max. They do tend to harden once it is refrigerated.
REHEATING: Simply steam them over high heat for 1 minute and they are as good as new or you can microwave them by placing them on a plate and then cover with a damped paper towel and microwave on high for a minute or until heated through and soften.

Recipe was originally adapted from Kitchen Tigress in 2017 and I standardize the recipe for easy measuring and add some aromatics to the batter.  Sept 23,2020 update: After vigorous many rounds of testings again (5 batches in one week LOL), I decided to use "starter (biang)" and change some techniques of baking and cooling down for consistent honeycomb texture.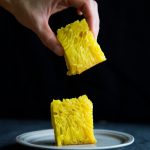 Bika Ambon Panggang / Kuih Bingka (with honeycomb texture)
Ingredients
For 5 to 6-inch square cake (A good size to start if it's your first time baking):
Starter (biang):
1

tsp

yeast

3 grams, active dry yeast or instant yeast would work

7

gr

all-purpose flour

1/2 Tbsp

7

gr

sugar

1/2 Tbsp

15

ml

warm water

1 Tbsp
For 7 or 8 inch square cake:
Starter (biang):
2

tsp

active dry yeast

6 grams

14

gr

all-purpose flour

1 Tbsp

14

gr

sugar

1 Tbsp

30

ml

warm water

2 Tbsp
Instructions
Prepare starter:
Place all ingredients for the starter in a bowl. Stir to mix. Cover and let it rests for 15 minutes. The starter will double in size and foamy. If it doesn't, your yeast is no longer good. Do not proceed with the recipe until you get a new yeast
Prepare the coconut milk mixture:
I use canned coconut milk. Shake the can before opening because the water separates from the milk. Place the coconut milk, salt, sugar, turmeric powder, kaffir lime leaves, lemongrass in a sauce pan. Cook on low heat until sugar melts and the mixture is warm but do not let the coconut milk to boil. Remove from the heat and discard the leaves after that and make sure the mixture is warm and not hot (we don't want to kill the yeast later)

If you have a thermometer, check to make sure it is between 105-115 F (40-46 C). This is a lukewarm temperature for the yeast. If you don't have a thermometer just dip your clean finger in there and it should be comfortably warm
Prepare the batter:
Mix tapioca starch with salt, crack in 3 eggs and whisk to combine. Add the coconut milk mixture and stir until combine. Stir in the starter and whisk to combine
Let the batter rest:
Cover with a plastic wrap and let it sit at a warm place (about 30-32 C/86-90 F degrees) for 3 to 5 hours. Do 5 hours if you can, the honeycomb texture is better when I proof it longer. Since it is winter here when I made this, I use my oven "breadproof" function and let the batter sit in there. It helps to speed up the fermentation
Preheat empty pan in the oven:
The batter will have lots of bubbles and foamy because of the yeast activity. It should also has a pleasant aroma from the yeast fermentation. 30 minutes before the end of fermentation, preheat your oven to 330 F (165 C), bottom heat only, which is what most conventional oven is. If you use a convection oven (top and bottom heat), you may want to lower the temperature by 15-20 degrees.

Put your empty baking pan on top of another baking sheet and put it in the oven to preheat it together with the oven. Brush the bottom of the pan with oil and line with parchment paper or banana leaves. Brush the banana leaves with some oil. Don't oil the sides of the pan, just the bottom

When the oven is done preheating, give the batter a really good stir as the tapioca flour tends to settle at the bottom. Stir in all the bubbles. Make sure everything is mixed in. Pour the batter inside the preheated pan and place it on the middle rack and bake for 45-50 minutes or longer for 5-6 inch cake. It may take 60-80 minutes for 8-9 inch cake. The cake should be no longer wet on top and springs back when you touch it. There is no need to open the oven door during baking. If it's still wet after the instructed baking time, bake a bit longer in a 5 -minute increment. Check again

After the cake surface is dry and springs back when you touch, remove the extra baking sheet and increase the temperature to 350 F (180 C) using both bottom and top heat. Use convection mode (fan mode) if your oven has one, this will create that top and bottom heat environment. If your oven doesn't have a convection oven, and only broiler (top heat), then turn this on. You need to watch out if you use a broiler as it may brown very quickly. I would use a low broiler if you can choose between low or high heat. Bake for another 15 minutes or until the toothpick inserted in the middle of the cake comes out clean and no longer wet. If it is, bake it a bit longer

Remove from the oven and let it cools down completely inside the pan placed on a cooling rack. This may take 3-4 hours
Unmoulding cake from the pan:
Run a plastic knife around the edges to loosen the cake and you can gently peel the cake off the pan without much problem. The texture of the cake is very resilient and bouncy
Serve:
Slice the cake with an oiled knife to desired size. Cake can be stored at room temperature for up to 3 days. After that, store in the refrigerator. They may harden because of there's coconut oil, which will harden at a cold temperature just like butter. You can reheat in the microwave for 10 seconds or so or until just warm or use a steamer to heat it up until just warm
Recommended products: