Nasi Sayur is a popular rice dish all across Indonesia and there are many versions. In a nutshell, nasi sayur usually is served with vegetables, other entrees (usually meat dishes), stir-fried rice noodles, and side dishes.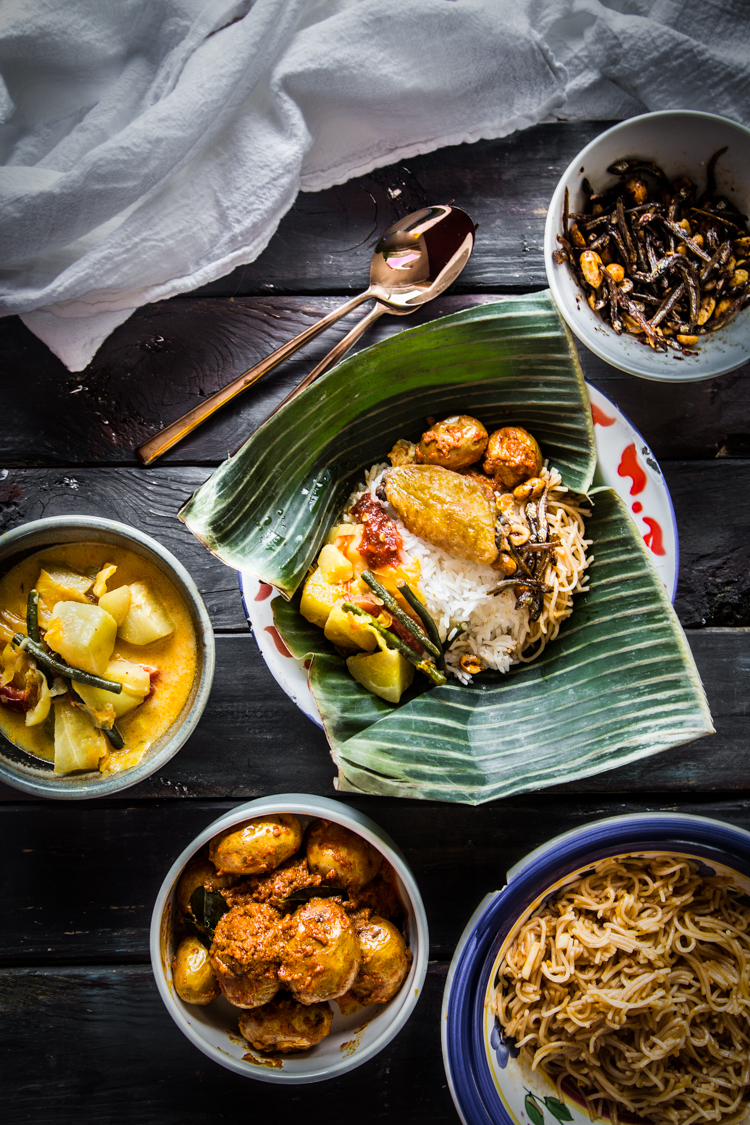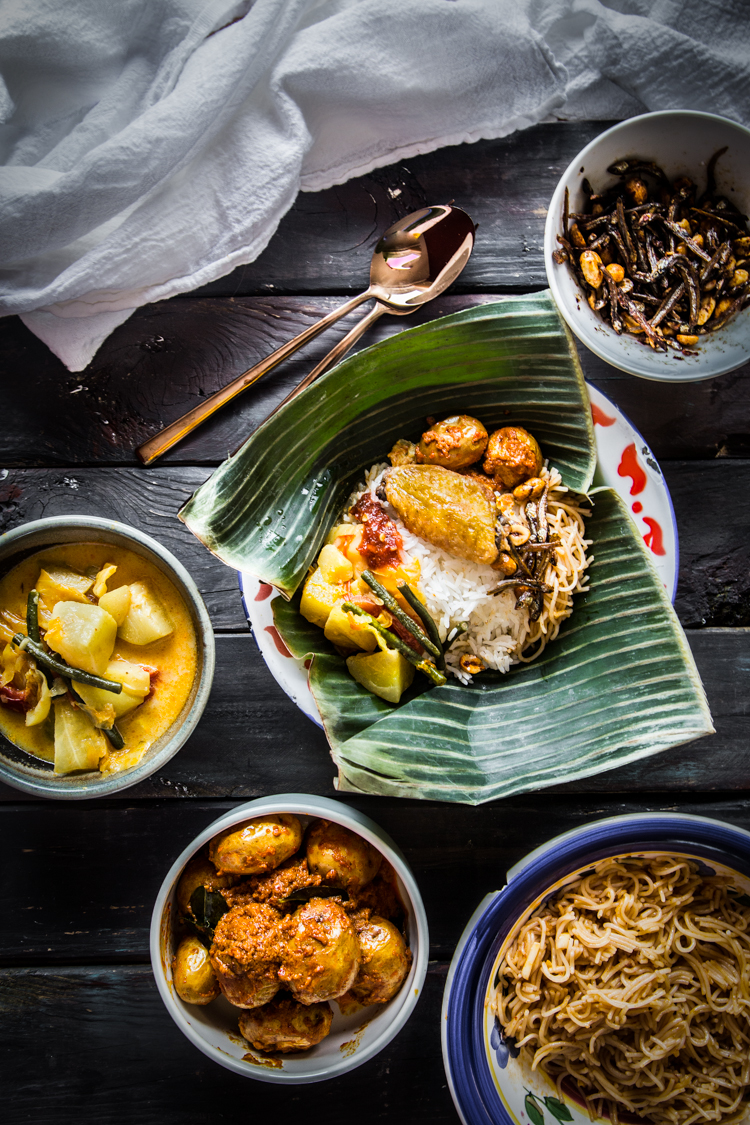 Back in 1998 when I first came to the U.S, I still remember having to go to the public computer lab at the campus to chat with my brother who was in Australia. Do you guys remember ICQ ? That's where we chatted online. You can see the other person, only live chatting. I got all butterflies in my stomach with this technology. I seriously did. I thought it was so cool already! Fast forward almost 20 years later, look at what we have! the kids get to Facetime with grandma and grandpa back in Indonesia. They get to see each other. I no longer need an International phone card to talk to my mom. Do people still sell International phone cards these days ?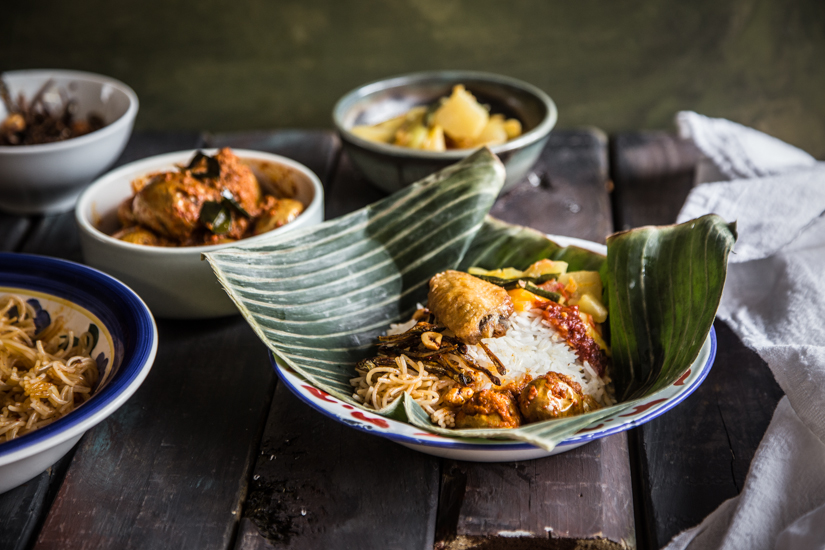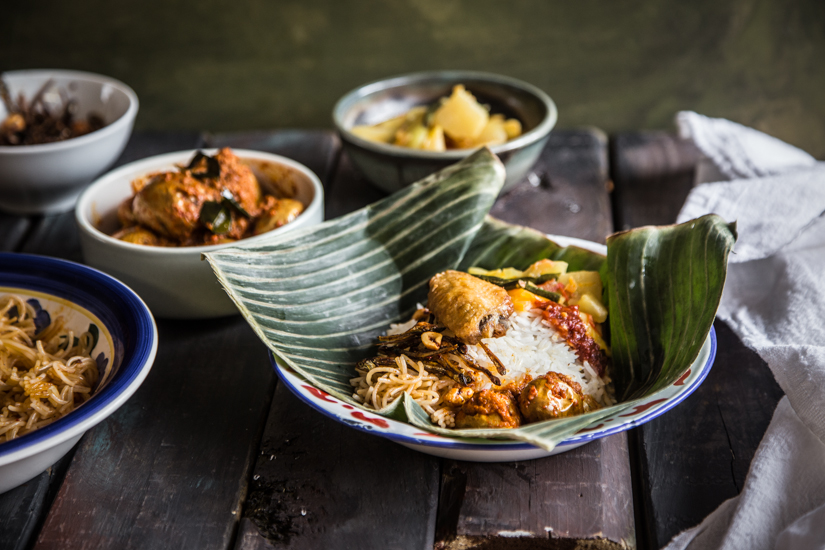 Mom is on Facebook, Youtube, Whatsapp, and not sure what else. Sharing photos and videos is a seamless experience in this modern day. My mom WhatsApp (yeah..WhatsApp has become a "verb"?) me a photo of what she had for breakfast in Medan, which was this nasi sayur I'm about to write the recipe here. I was literally drooling looking at her photo because I haven't had nasi sayur for ages. It's actually pretty similar to the idea of lontong sayur. Just replaced the lontong with rice and you have yourself a nasi sayur.
Nasi sayur is a very general term if you ask me. It's not uncommon to have two to three carbs in a nasi sayur. This nasi sayur medan here has rice, stir-fried rice noodles, and rendang potatoes all in one dish. Noodles and rice combination in one dish is a very common scenario in Indonesia cuisine.
There's really no hard and fast rule as in what you can put in your nasi sayur. Pretty much everything can go with the rice.
BASIC COMPONENTS OF NASI SAYUR
1. Vegetables in Coconut Milk (Sayur Lodeh)
2. Potato Rendang (recipe in this post)
3. Sambal Anchovies with Peanuts
4. One protein item (can be egg, meat or fish). Usually sambal telur (egg sambal), fried chicken, fried fish, or meat rendang)
5. Spicy Sambal
6. Stir-fried Bee Hoon (Rice Noodles) (recipe in this post)
VEGETARIAN NASI SAYUR
1. Vegetables in Coconut Milk (Sayur Lodeh)
2. Sambal goreng tempeh (just omit the shrimp paste)
3. Potato Rendang (recipe in this post)
4. sambal telur (egg sambal)(if you consume eggs)
5. Stir-fried Bee Hoon (Rice Noodles) (recipe in this post)<
But you can have as few as just 2 items to go with the nasi sayur or more than 6 items. The sellers of nasi sayur usually charge base on how many items you put in a nasi sayur. The more you have of course the more it's going to cost you (but still very affordable!). I have to admit it can be quite a bit of work trying to prepare all 6 items. I usually cook or prep some of the things a day or few days before. I make more sayur lodeh (enough for 4 of us to eat for 2 days (4 meals)). Then I just need to add protein of choice for second day.
Here I will share with you the recipe for basic stir-fried bee hoon (rice noodles) and potato rendang and how to assemble nasi sayur Medan.
Now you too can eat like the local 😉 and I couldn't help but smile. How could I not when I was about to scoop all those inside my mouth!!!

Indonesian Vegetables with Rice (Nasi Sayur Medan)
Ingredients
For Stir-fried Bee Hoon:
8

oz

of rice stick noodles

soak for 30 minutes and drain

2

Tbsp

cooking oil

3

cloves

garlic

peeled and finely minced

1

Tbsp

all-purpose chili sauce

2

Tbsp

of soy sauce

Salt to taste

1

stalk green onions

finely chopped
For Potato Rendang:
2

lbs

of small round baby potatoes

unpeeled and washed

2

– 3 oz long red chilis

depend on how spicy you want it to be, soaked in warm water until soft before blending, if you can't find long red chilis, use red dried chilis

1

red Thai chili

for some heat if you like -optional

1

tsp

of shrimp paste

2

cloves

garlic

peeled

3

shallots

peeled

½

inch

ginger root

1 cm, peeled

1-

inch

of turmeric root or about 3 tsp ground turmeric powder

2.5 cm

1½

inches

galangal root or 4 tsp of galangal powder

4 cm, peeled

Pinch of salt to taste

1

stalk of fresh lemon grass

trim the stalky ends and cut into two and bruised with heavy objects

3

fresh kaffir lime leaves

tear each leaf a bit to release flavor

1

turmeric leaf

optional

2

fresh bay leaves

3

cardamom

1

cup

coconut cream

2

Tbsp

of cooking oil

Salt to taste
Instructions
Preparing Stir-fried Bee Hoon:
Preheat a large skillet or wok with some oil. When hot enough, add in the garlic and saute for 30 seconds, add in the chili sauce and saute for another 30 seconds. Add in 1 cup of water and bring to a boil. Add in the rice noodles and drizzle in the soy sauce. Stir to mix everything and cook until the rice noodles are soft and absorb most of the water. Have a taste and add a pinch of salt to your taste. Cut the bee hoon into shorter strands with kitchen shears. Sprinkle with some green onions and dish out into a serving platter
Preparing the potato rendang:
Place the chili and other ingredients all the way to galangal and blend them into a paste, you may need to add a little bit of the water in there to get it going

Preheat a large heavy-bottomed pot. Add in the cooking oil. Stir fry the ground spices until fragrant, about 5 minutes. Add lemon grass, kaffir lime leaves, turmeric leaf (if using), bay leaves, cardamom, and continue to stir fry until fragrant, about 1 minute. Add in the potatoes, bring to a gentle boil and reduce the heat to let it simmer gently, uncovered until all the liquid is almost gone and the coconut cream has reduced to oil, this may take about 20-30 minutes for the potatoes to be fork tender but not mushy. Have a taste towards the end of boiling to see if you need more salt

When all the liquid is gone and you have nice looking orange-color oil left. Turn off the heat. Discard of the stems and leaves. The rendang tastes even better the day after. So you can definitely prepare one day ahead
Assembling the Nasi Sayur:
Wipe both sides of the banana leaves with damp towel. The shiny side should be facing you. Cut it into a size that will fit on a serving plate (as shown in photo). Scoop about 1 cup of rice on the banana leaves. Take about 1 to 2 potato rendang, 1 to 2 spoonful of stir-fried bee hoon, sprinkle of sambal anchovies with peanuts, fried chicken, ladle some of the veggies from sayur lodeh and some of the broth over the rice. A small/big scoop of spicy sambal on the side and you are ready to tuck in !