Kue Bakul (Chinese Nian Gao/Sweet Sticky Rice Cake) – Learn how to make this traditional Chinese nian gao with a steamer, slow cooker, or Instant Pot. This recipe is so easy and no fuss.
Having some kue bakul or known as nian gao in Chinese around the house for lunar new year celebration is not unusual in our house and I know for many others too. Like I've mentioned before, lots of Chinese food carry auspicious meaning. The reason many people wants to have nian gao for lunar new year celebration because they want a "higher year". By just saying the word "nian" means "year" or "sticky" in different writing but in same phonetic sound. Gao means "cake" or "high/tall". I think you can see what I'm trying to say here…A high year (prosperity) 🙂 We simply call it "ti kue" in Hokkian, which means sweet cake.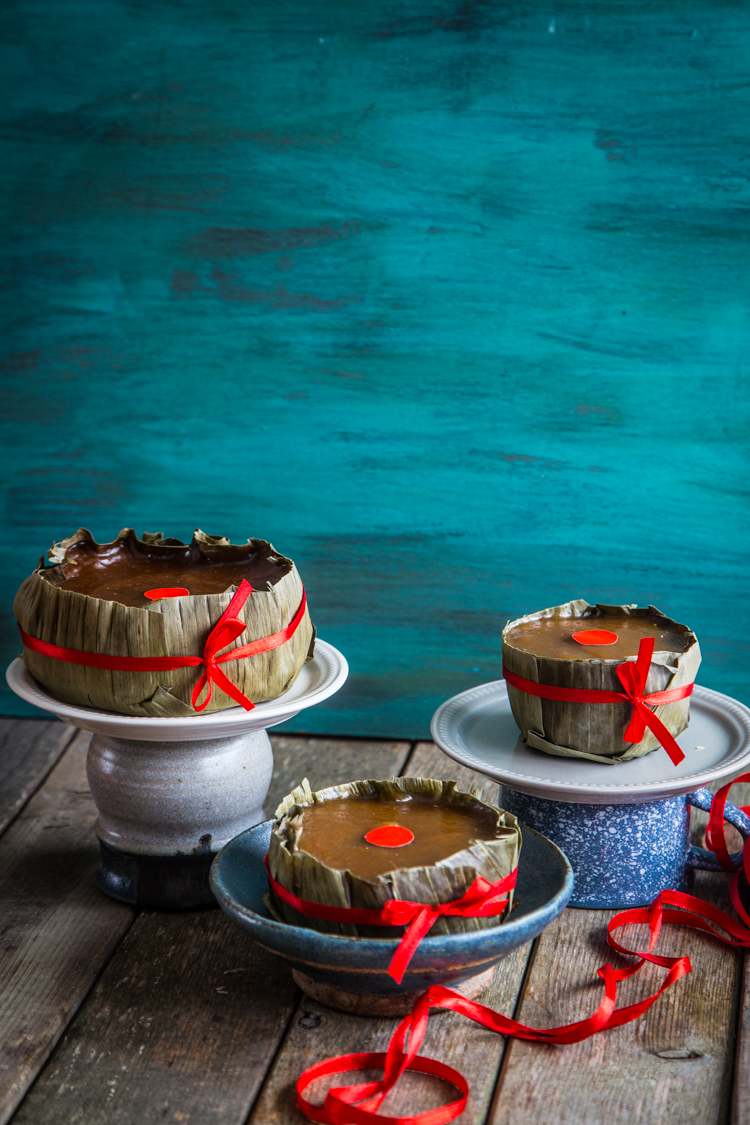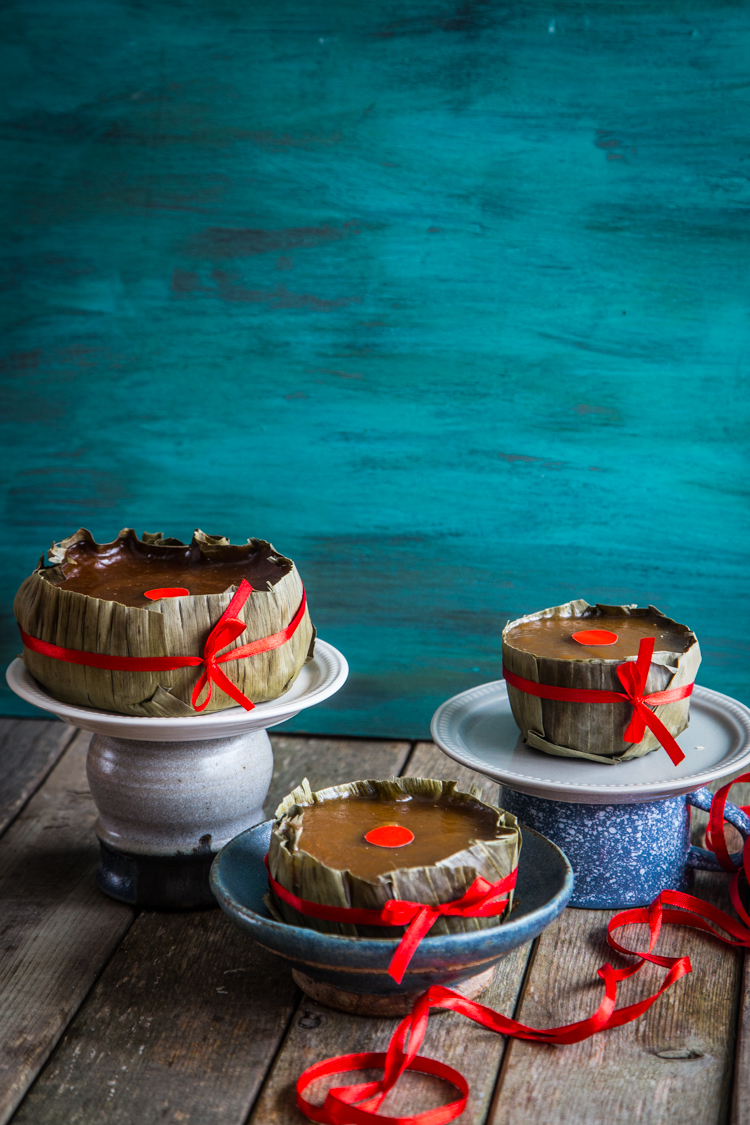 WHAT'S THE STORY BEHIND NIAN GAO?
My mom told me one story behind the reason of having nian gao around during lunar new year. Most Chinese believe that the "Kitchen God" resides in every house. He will do "yearly report" on how each family is doing throughout the year. So, by offering the nian gao, the Kitchen God will have trouble saying too many things (not so good things we've done), because the mouth is full of pretty sticky rice cake 😉 I sure don't mind a prosperous year and a good report from the Kitchen God. I thought that was a pretty entertaining story 🙂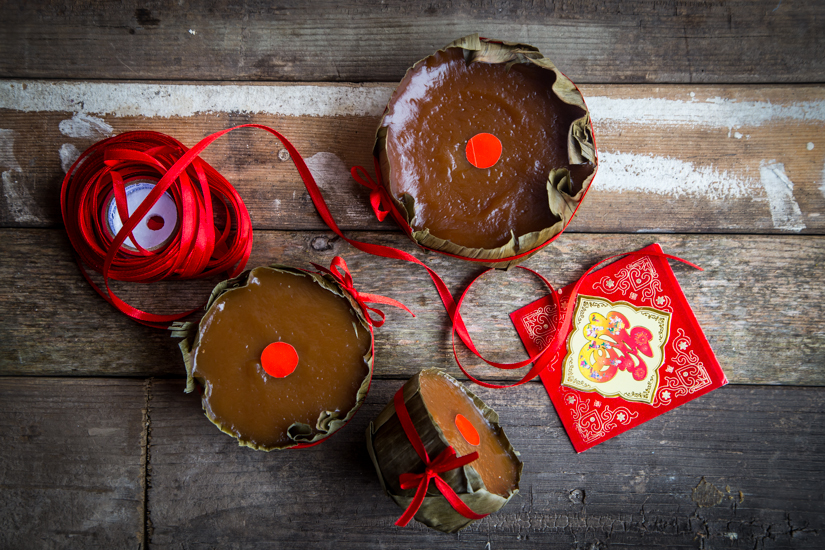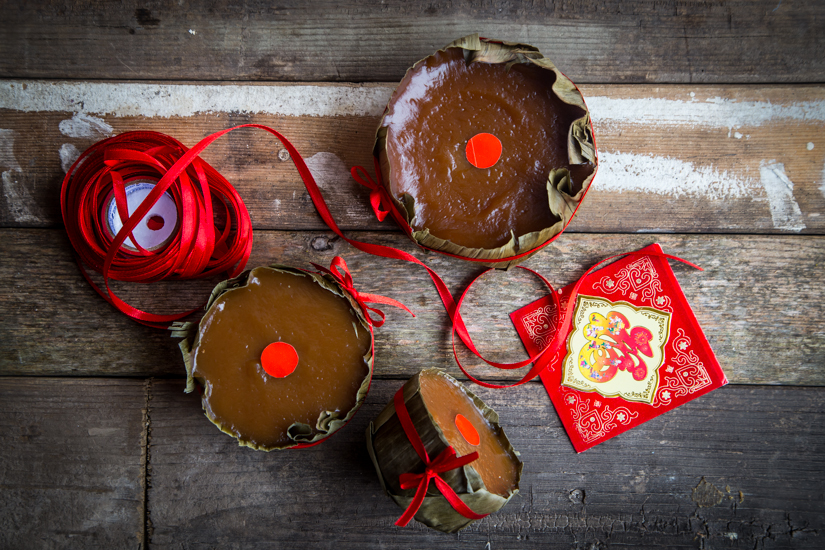 But another reason why I wanted to make this nian gao is simply because I want my kids to know about this tradition. Yes, they are 5 and 2 years old ! A bit young to understand much, but my 5 year old described it as "squishy, mushy, and delicious" ha..ha…!! I don't think they are mushy, but hey…I'll take the delicious !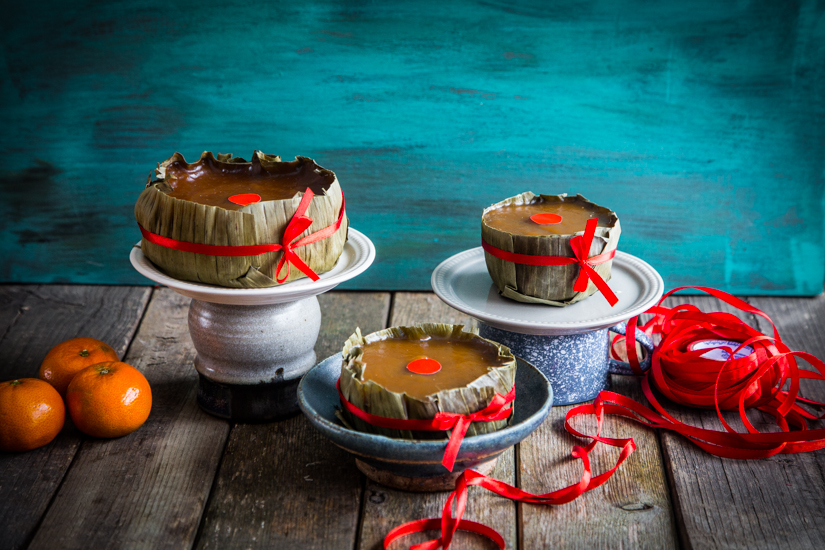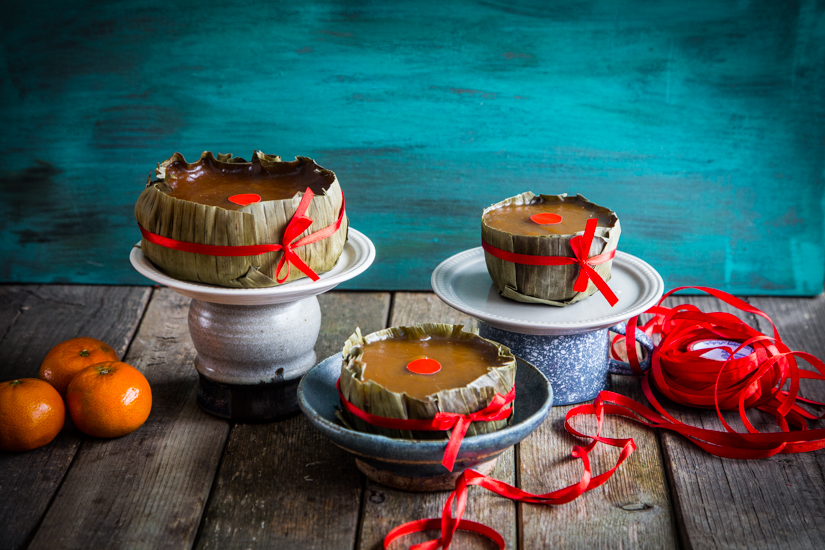 My mom usually cut some red paper to put on top of the nian gao and usually on fruits too. The Chinese loves red for important celebration like Chinese New Year 🙂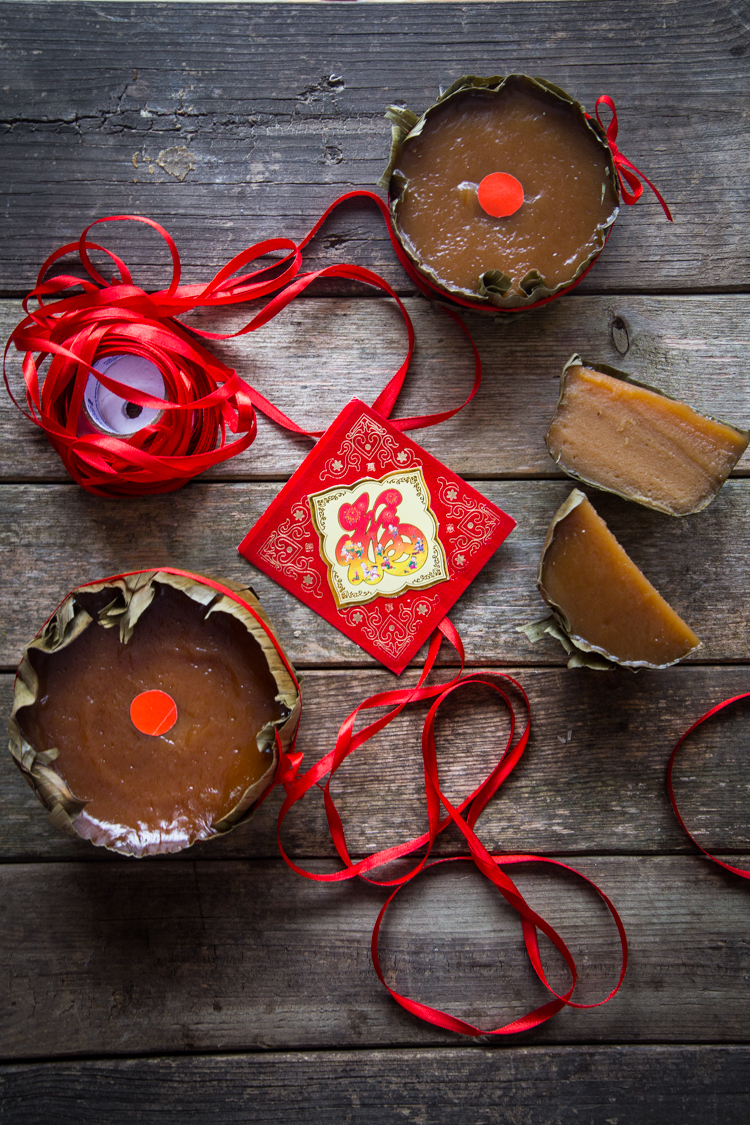 HOW TO STORE NIAN GAO ?
Glutinous rice gives you a very filling sensation and no matter how big of an eater you are, let's face it, no one can eat 2 to 3 large nian gao in one day (not a good idea to do so either!). Here's what to do:
1. Individually wrap them in plastic wrap and then place in freezer bag and store them in the freezer. It will last pretty infinitely
2. When ready to serve them, thaw it out in the refrigerator overnight and ready to be reheat again (with steamer or microwave) to be eaten as is
3. If you are going to cook them with eggs, just proceed with the recipe below after thawing from refrigerator, no need to be reheated.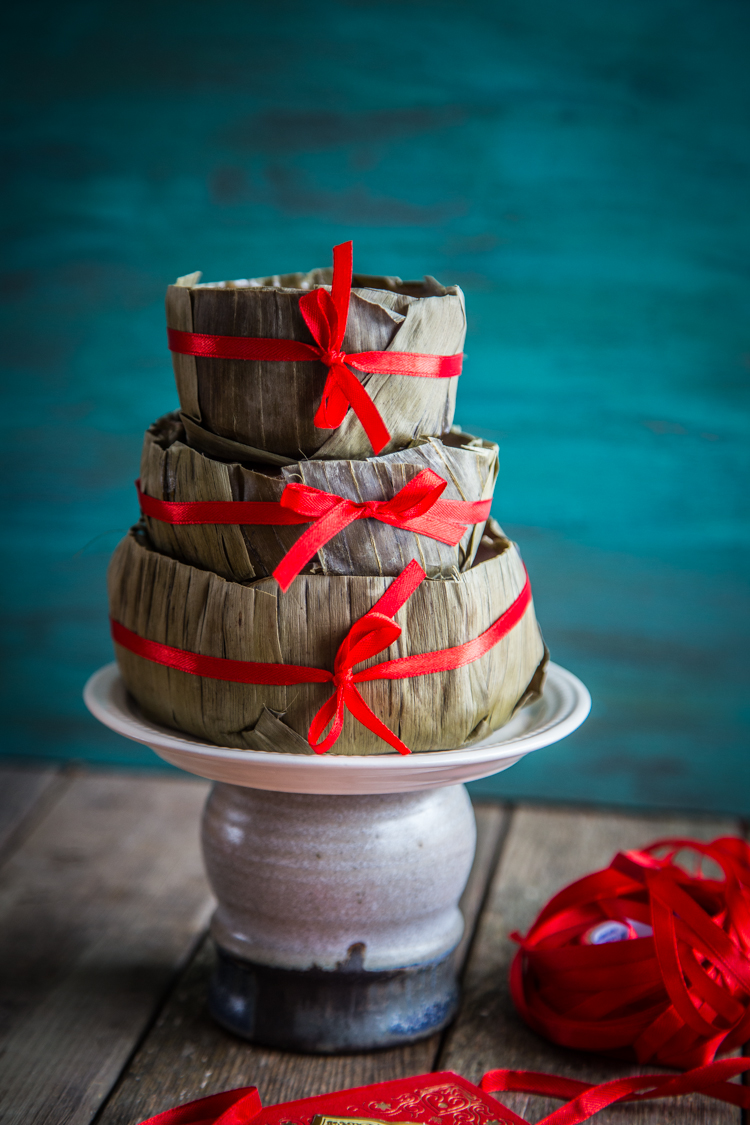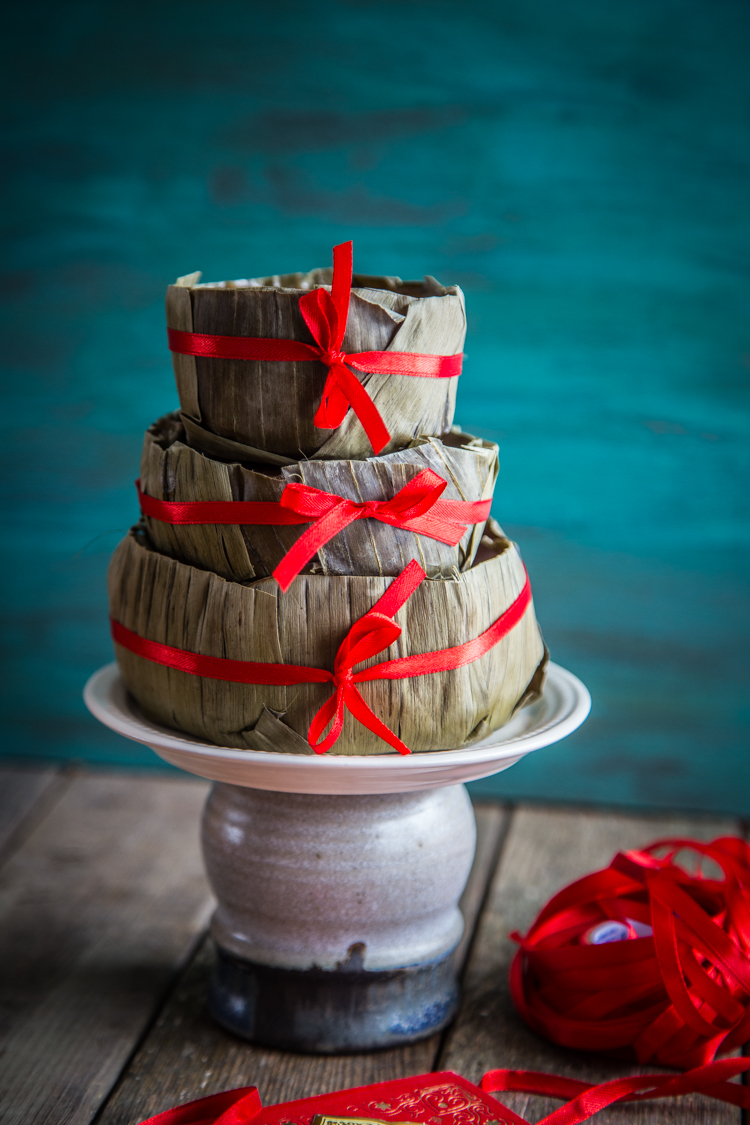 This was the third time I made the nian gao. I always like nian gao wrapped in banana leaves. My mom said they cost more too. I love the aroma of the banana leaves imparted to the nian gao. I will definitely make them again next year 🙂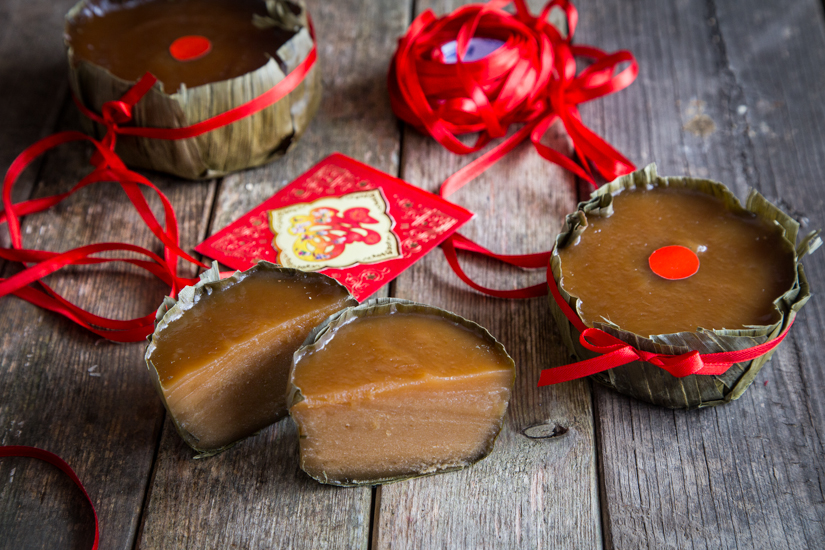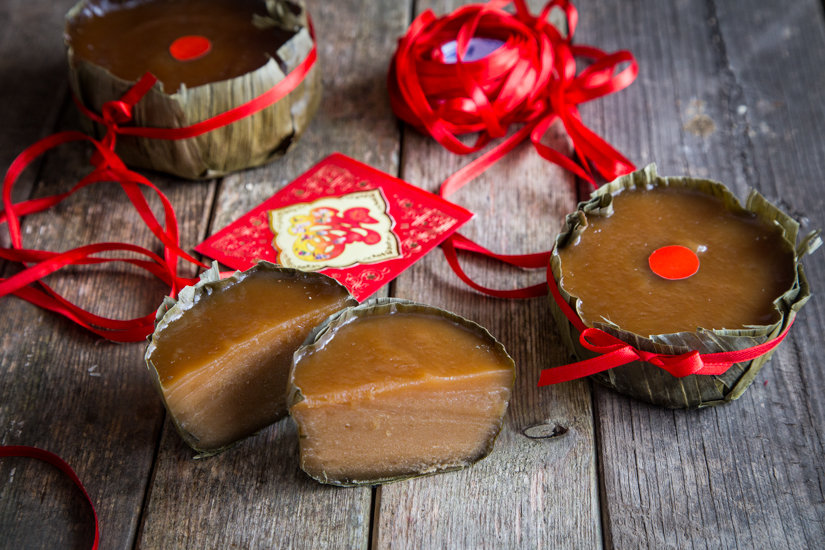 This post contains affiliate links, which support this site at no extra cost to you. Learn more.
Recipe is adapted from
Nasi Lemak Lover
*Recipe is written for 6-quart Instant Pot. Cooking time should remain the same for 8-quart size but will take longer to pressurize. For mini duo (3-quart), I recommend to half the recipe and use the same amount of time to cook*
Kue Bakul (Chinese Nian Gao/Sweet Sticky Rice Cake)
Learn how to make this traditional Chinese nian gao with steamer and slow cooker method. This recipe is so easy and no fuss. Instant-pot recipe is included.
Print
Ingredients
To pan fry nian gao with eggs:
Instructions
Blanch the banana leaves in hot boiling water for about 5 minutes to soften it. Then pat dry and set aside

Place the sugar and water in a saucepan and bring to a gentle simmer or until sugar is melted. Remove from the heat and let it cool down a little bit

Gradually stir in the glutinous rice flour into the sugar mixture. Stir to mix until they are smooth. You should have a brown color batter. Strain this batter into a place where you can easily pour the batter later if you see any lumps
Steamer method:
Prepare the steamer by bringing the water to a rolling boil. I use a 5-inch diameter pyrex glass to steam the cake, so I cut the banana leaves into 5-inch width and about 7-8 inch length. Line the leaf horizontally and then vertically like a "+" (overlapping at the bottom of the dish) and then diagonally like an "X" to make sure I cover all the side and bottom of the dish. Repeat this pattern for 2 more times. Pour the batter into the dish, leaving about 1/2-inch on the top. You can use a scissor to trim off any excess banana leaves around the top of the dish. I just leave them. Repeat with the rest of the steaming dish

Place them inside the steamer and steam on high heat for 1 1/2 hours and then lower the heat and let it steam for another 1 1/2 hours. You need to refill the water in the steamer throughout the cooking process. Don't let it dry out

The nian gao will still appear soft at the end of cooking time and that's very normal. You need to let the nian gao cool down completely. Wrap them up with plastic wrapper and they will be ready in 2 days. At day 3, the nian gao will be much more firm and can be sliced. After day 3, I recommend to wrap them up and keep them in the refrigerator or they can start to get moldy (because we don't put preservatives). They can keep for months in the freezer however

If you want to pan fry them with eggs, just slice the nian gao to your desire size, and then dip them into the egg batter and fry them until golden brown (mine were tads too dark in the photos). Serve immediately
Slow cooker method:
Bring a large pot of water to a boil. Place the nian gao inside the slow cooker and then very carefully pour in the boiling water into the slow cooker up to the point where you fill up the batter. Cook on low for 8-10 hours. It will still appear somewhat soft, but that's normal. Remove from the slow cooker and let it cool down completely then wrap them up and let them sit at room temperature for 2 days before you can eat or cook it with eggs
Instant pot method:
Pour 2 cups of water into the inner pot. Set the trivet. Line a 6 or 8-inch round heat-proof container with banana leaves. Cut the banana leaves into about 7-8 inch length. Line the leaf horizontally and then vertically like a "+" (overlapping at the bottom of the dish) and then diagonally like an "X" to make sure I cover all the side and bottom of the dish. Repeat this pattern for 2 more times. Pour the batter into the dish, leaving about 1/2-inch on the top. You can use a scissor to trim off any excess banana leaves around the top of the dish. You can use parchment paper too

Place this on top of the trivet. Close the lid. Pressure release valve to seal and press pressure cooker, high pressure and set timer to 45 minutes and then wait 10 minutes to release pressure Let it cool down completely at room temperature for 2 days. After day 3, I recommend to wrap them up and keep them in the refrigerator or they can start to get moldy (because we don't put preservatives). They can keep for months in the freezer however