Learn how to make this super easy yet amazingly delicious gluten-free baked Chinese sticky rice cake (nian gao). Crusty top with soft and chewy middle will seriously knock your socks off! 
BAKED CHINESE STICKY RICE CAKE (BAKED MOCHI CAKE)
My life is seriously changed forever after I tried this baked nian gao. All these years, I've been making steamed nian gao and it's a must in our house to celebrate Chinese New Year. The Chinese wants to start the year (nian) high (gao) 😉 I decided I need to try the baked version.
This baked nian gao, YOU MUST TRY! I mean it! Even if you don't celebrate Chinese New Year, this naturally gluten-free cake with its crusty top, soft, chewy, and stretchy middle is just so addicting! If you have eaten mochi before, that's exactly how the texture is like, only that this has a crusty top for that amazing contrast of texture!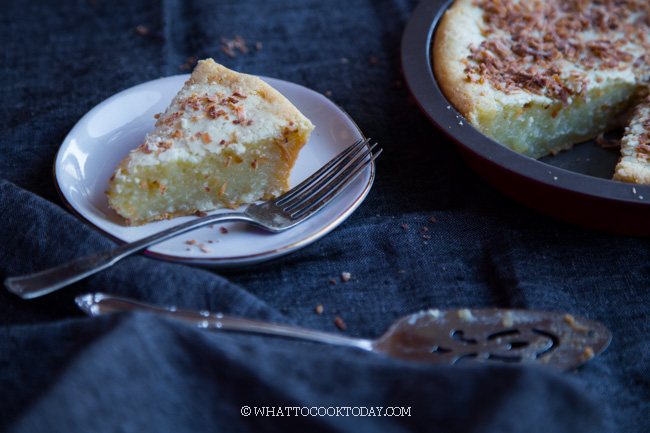 INGREDIENTS
It is so easy to make and I must say the cake is impossible to fail. For real! The cake is made with 6 common ingredients: glutinous rice flour (sweet/sticky rice flour), coconut milk (or you can use cow's milk), sugar, eggs, butter, and sweetened toasted coconut. You can easily find glutinous rice flour in non-Asian grocery store too these days.
HOW TO MAKE BAKED NIAN GAO (IN FEW SIMPLE STEPS)
1. TOAST THE COCONUT
Toast the shredded coconut on a dry pan over medium heat until golden brown or you can to this in the oven. Place the coconut on a baking sheet and bake at 350 F for 5 minutes or until just lightly golden brown


2. MIX DRY INGREDIENTS
Mix the glutinous rice flour, salt, and sugar. Make a well in the middle


3. ADD WET INGREDIENTS
In this case: coconut milk, eggs (lightly beaten), melted butter. Grease the baking pan with solid butter on the bottom and side of pan


4. STIR UNTIL BATTER IS SMOOTH AND RUNNY
Use a sieve to strain the batter if necessary, to get rid of any lumps


5. BAKE AT PREHEATED OVEN AT 350 F
Pour the batter into a baking pan and bake at 350 F for 30 minutes


6. TOP WITH TOASTED COCONUT
The cake will rise a little bit after 30 minutes of baking


Top with toasted coconut on top of the cake and bake again for another 30-40 minutes until slightly golden brown on the edge and toothpick inserted into the middle of the cake comes out clean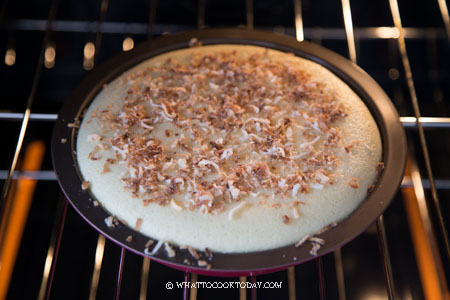 7. COOL DOWN 
Transfer to a cooling rack to let it cool down for at least 1 hour before cutting

The minute I sliced this cake, my two kiddos ate two slices each!! They love baked nian gao a lot! They say "So soft and chewy and crispy (referring to the crusty top!)"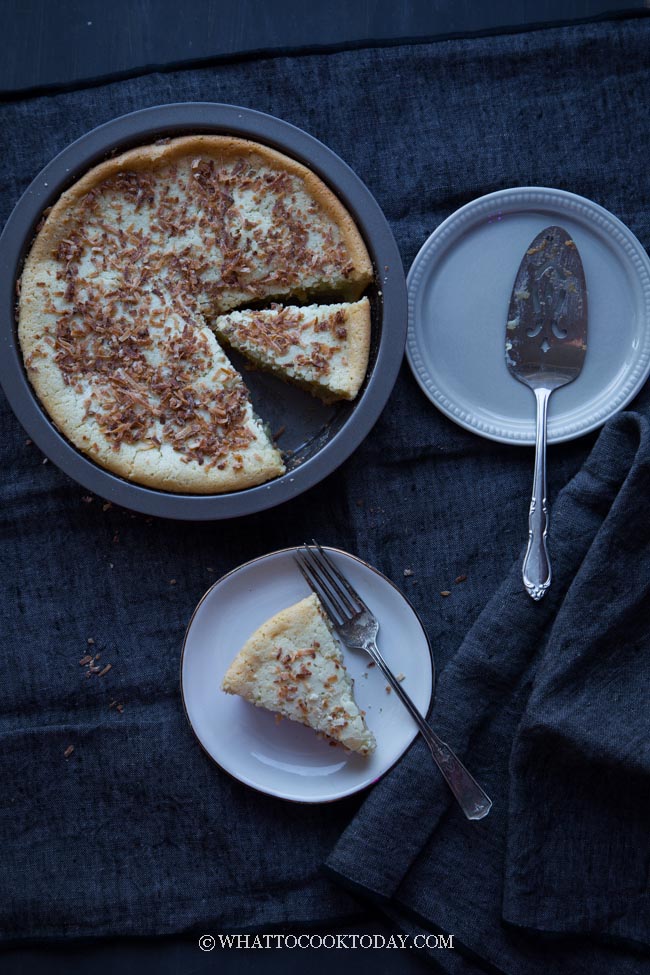 GREAT ALTERNATIVE TO TRADITIONAL STEAMED NIAN GAO
If you can't be bothered to make traditional steamed nian gao, this baked nian gao is truly a great alternative to celebrate Chinese New Year. Sure it's a bit unorthodox, but it is also a nian gao (year high ;)) and can be eaten as is. Most people don't eat traditional steamed nian gao as is. They will make Sweet Potato Nian Gao Sandwich or fry the nian gao with eggs.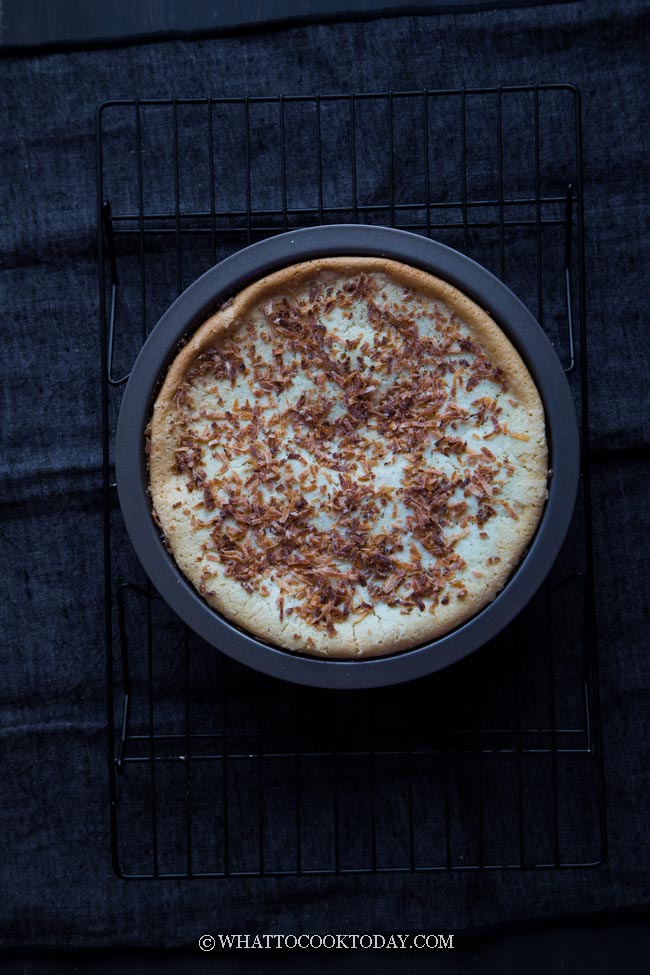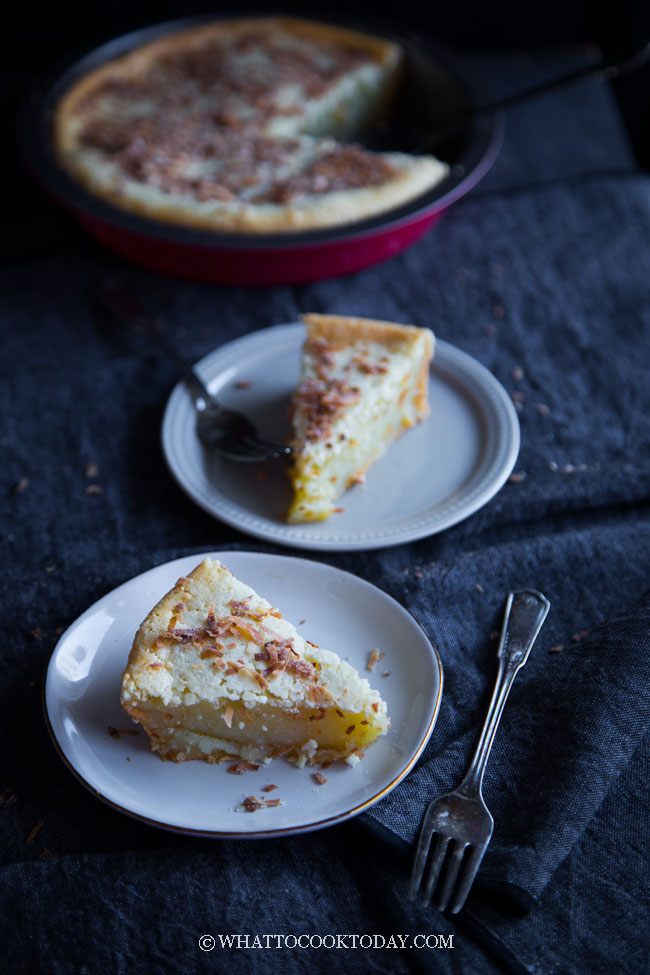 HOW TO STORE LEFTOVER
1. Room temperature: they can be kept at room temperature for about 2 days
2. Refrigerator: Store the rest in the fridge in an air-tight container or wrap it up in cling wrap for about one week in the fridge
3. Freezer: Wrap it up nicely in a cling wrap and put it in a freezer bag. It can be kept frozen for up to 3 months. Simply thaw in the fridge before serving and then warm it up in the microwave or toaster oven/oven at 350 F for 5-8 minutes until they are warm and back to its soft and chewy texture
I think this is one of the things I'm going to make every year now to celebrate Chinese New Year 🙂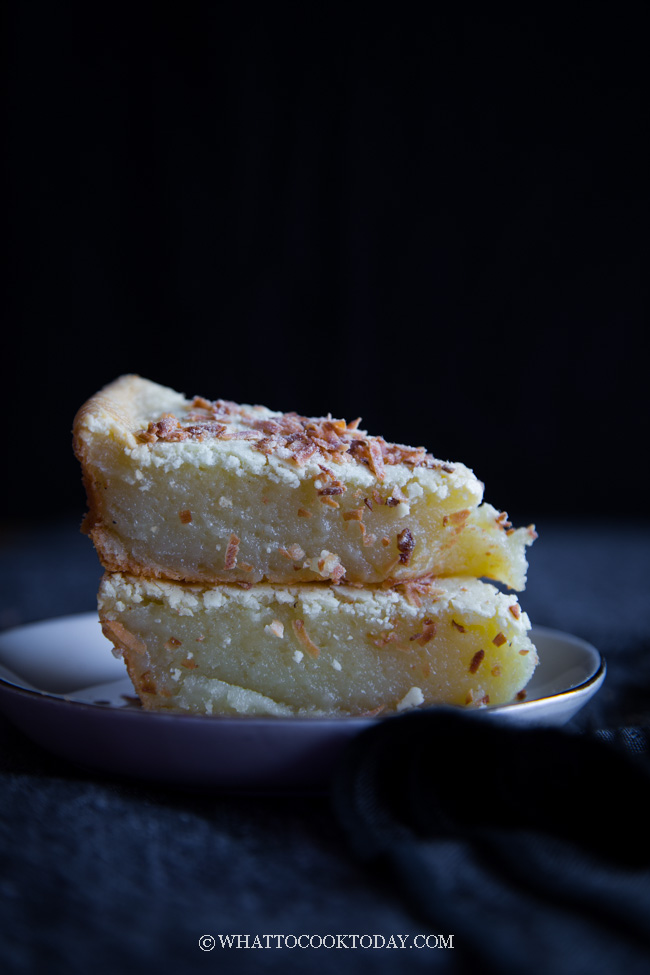 You may want to try this baked red bean nian gao with an orange scent too.
Did you make this easy baked nian gao recipe?
I love it when you guys snap a photo and tag to show me what you've made 🙂 Simply tag me @WhatToCookToday #WhatToCookToday on Instagram and I'll be sure to stop by and take a peek for real!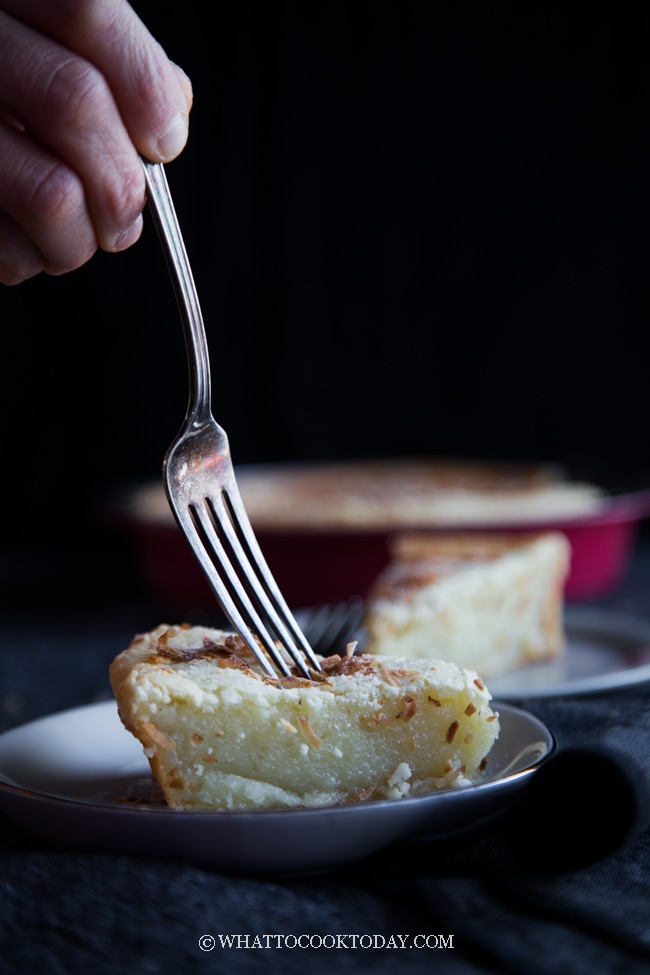 Recipe is adapted from here. I used coconut milk instead of cow's milk, reduce the sugar amount, and standardized the recipe for easier measuring.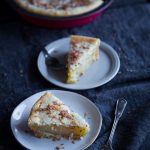 Baked Chinese New Year Sweet Nian Gao
Ingredients
5

gr

sweetened shredded coconut

Butter

to grease the pan
Instructions
Toast the coconut:
Place the coconut on a dry pan over medium heat and toast until lightly golden brown. Remove from the heat and set aside
Make the batter:
Preheat oven to 350 F. Melt 20 gr of butter on a small pan, let it cool down a bit. Lightly whisk 2 eggs and add in coconut milk and melted butter and whisk again to mix

Mix all the dry ingredients in a large mixing bowl. Make a well in the center and pour in the wet ingredients while mixing with a spatula until you get a smooth runny batter. Strain this batter if you see any lumps. The batter should be smooth and runny
Baking:
Use a small amount of solid butter to grease the bottom and the side of the baking pan

Pour the batter into the pan and bake in the preheated oven, 3rd rack from the top for 30 minutes

After 30 minutes, the cake should have risen up a little bit. Gently sprinkle the toasted coconut you made earlier on the surface of the cake. Bake again for another 20 minutes (took a total of about 50 minutes for mine)The side of the cake will be lightly golden brown and the middle of the cake will no longer be jiggly. If you insert a toothpick in the middle of the cake, it may have some sticky crumbs but it shouldn't be wet

Let the cake cool down for at least 1 hour before attempting to cut
Storing:
The cake can be kept at room temperature for about 2 days. After the cake has cooled down completely, you can wrap it up with plastic wrap and keep in the refrigerator for up to one week. They won't be as soft as when it was first made, but it won't be tough either and still nicely chewy. You can warm it up in the microwave for few seconds and it will be softer if that's what you prefer
Recommended products: