A mixture of roasted peanuts and toasted sesame seeds are mixed with caramel and cut into shapes to give you such simple yet super addicting Chinese-style peanut sesame brittle.

PEANUT CANDY (FAH SUNG THONG)
I remember getting so addicted to eating this sesame peanut brittle when I was a kid. Still am now. We call them "Teng Teng Kacang" at the hometown where I grew up. A very popular brand calls "ASLI" is well known to make really good peanut candy. They are actually popular for gifting during Chinese New Year too. The combination of crunchy and slightly salty peanuts, nutty sesame seeds and sweet taste of the caramel are just crazily addicting as you can imagine! So I know I need to make this so my kids know what I've been missing and to add to my Chinese New Year Food Recipes (Menu Planning) 😉
INGREDIENTS
This sesame peanut brittle is actually so easy to make with just a few ingredients that most people already have in their pantries.
1. Roasted unsalted peanuts: Make sure to get the roasted peanuts. They are more flavorful
2. Toasted white sesame seeds (you can even use black sesame seeds too): make sure the seeds are toasted too. They add more flavor
3. Vinegar or lemon juice: the acid helps to prevent crystallization of the sugar
4. Water: the water helps the sugar caramelize more evenly especially if caramelizing sugar is sort of new to you
HOW TO MAKE CHINESE SESAME PEANUT BRITTLE (THE FOOLPROOF WAY)
1. GET THINGS READY BEFORE YOU START MAKING THE SUGAR SYRUP (HIGHLY IMPORTANT)
The sugar syrup hardens very quickly and our goal here is to work quickly. So before you start cooking, you need to get all the things you need on your kitchen counter:
– Chopping board
– 2 large parchment papers (about 12 x 12 inches): Brush one side of the paper with cooking oil
– Rolling pin
– Knife: brush with cooking oil
2. PEANUT SESAME MIXTURE
Mix roughly chopped roasted peanuts, toasted white sesame seeds, and salt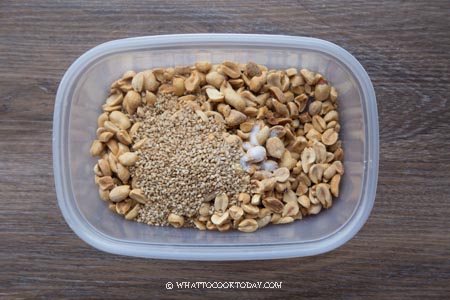 3. MAKING THE SYRUP
-Put one piece of parchment paper on the cutting board you prepare earlier (greased side up)
-Put sugar, water, and vinegar in a small saucepan (that has a glass lid if possible) and cook over low heat until sugar started to melt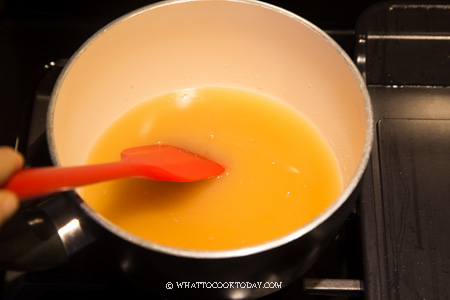 -Close the lid and increase the heat to medium


The sugar will continue to cook and bubbles and slowly turning into light amber color


4. TEST THE SUGAR WITH COLD-WATER METHOD
-Scoop a tiny amount of the syrup and drop it into room temperature water. Let it cools down a bit and pick up the syrup and it is hard and will not bend. This is the "hard crack" stage, which is suitable for brittle. If you have a candy thermometer, it is about 300° F–310° F. That's what makes the brittle hard and crunchy
-Once you have that light ambler color, turn off the heat and quickly stir in the peanut mixture and stir to combine


4. SHAPING AND CUTTING
-Carefully and quickly pour and spread this mixture on the parchment paper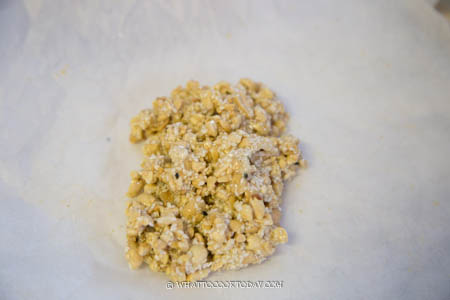 -Cover with another piece of parchment paper (greased side down).


-Use a rolling pin to roll the peanut candy out into about 1/2 inch thickness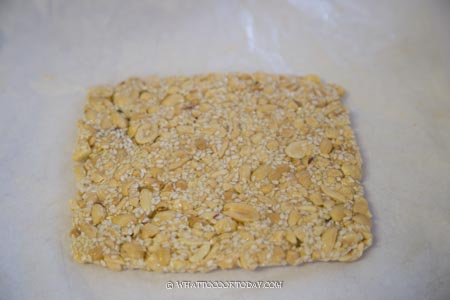 – Use a knife to cut into the desired size when they are still warm. They are hard to cut and will break into small pieces if you cut them when they have cooled down completely. They will still appear a bit softer because they have not cooled down completely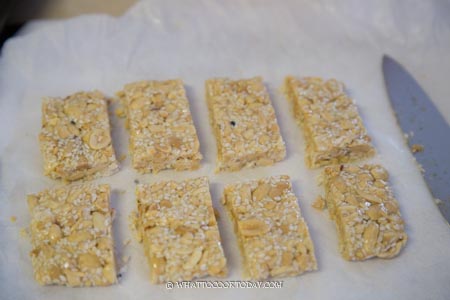 My kids love this sesame peanut brittle a lot! They find it addicting too 🙂

TOP TIPS YOU NEED TO KNOW TO PREVENT SUGAR FROM CRYSTALLIZING
1. Mix sugar with water
You can definitely make caramel without water, but the water does help to evenly caramelize the sugar
2. Add acid
In this case, I add white vinegar. It helps to prevent crystallization when you are cooking the caramel
3. Do not stir
It's a big no no to stir the sugar when you are trying to caramelize it. The sugar will stick to the spoon or spatula and crystallize
4. Cover with a lid
As the sugar cooks, the lid helps to capture the water that evaporates and helps to keep the sides of your saucepan clean and sugar unlikely to stick to the saucepan
VARIETIES YOU CAN MAKE
1. Nuts: Instead of peanuts you can also use cashew, walnuts, hazelnuts
2. Sesame seeds: Both white and black sesame seeds can be used
These sesame peanut brittle are perfect as edible gifts for really..any ocassions! or just for your own eating pleasure 😉

Easy Sesame Peanut Brittle (Fah Sung Thong)
Instructions
Prepare peanut mixture:
Toast the white sesame seeds on a dry pan until fragrant and slightly golden brown. Do the same with the peanuts. Let them coold down. You can do this few days before too. I get store-bought roasted peanuts and toasted sesame seeds and so I skip this step

Roughly chop the peanuts into smaller pieces or use rolling pins or food processor to break them into smaller pieces, but not into powder

Place chopped peanuts, salt, and sesame seed in a mixing bowl. Stir to mix
Get things ready before cooking the sugar:
Get a chopping board, knife sprayed with cooking spray or rub some oil on it,  2 large parchment papers , a rolling pin ready. The sugar hardens very quickly and so we need to get things ready

Place 1 of the parchment paper on the cutting board, greased side up. We are going to pour the brittle here later on top of the parchment. The other parchment paper will be placed on top of the brittle so that the rolling pin will not stick to the brittle
Cooking the sugar syrup:
Get a small saucepan that has a glass lid. Put sugar, water, and vinegar in a small saucepan (that has a glass lid if possible) and cook over low heat until sugar started to melt

Close the lid and increase the heat to medium. The sugar will continue to cook and bubbles and slowly turning into a light amber color, about 10-12 minutes
Test the sugar using cold-water method:
Scoop a tiny amount of the syrup and drop it into room temperature water. Let it cools down a bit and pick up the syrup and it is hard and will not bend. This is the "hard crack" stage, which is suitable for brittle. If you have a candy thermometer, it is about 300° F–310° F. That's what makes the brittle hard and crunchy. Turn off the heat and stir in the peanut sesame mixture until they are coated with the syrup
Shaping and cutting:
Carefully and quickly pour and spread this mixture on top of the greased parchment paper you prepare earlier, cover with another piece of parchment paper, greased side down. Use a rolling pin to quickly flatten the brittle into one layer, about 1/2-inch thickness

Use a knife to cut into the desired size when they are still warm. They are hard to cut and will break into small pieces if you cut them when they have cooled down completely. They will still appear a bit softer because they have not cooled down completely

Let them cool down completely over a wire rack and then store in an airtight container and they can be kept for up to 1 month
Recommended products: