Slices of soft and chewy sticky rice cakes are stir-fried with veggies, a protein of choice and savory sauce. A super easy savory version of using Chinese nian gao.

This stir-fried nian gao rice cakes recipe is one of my favorite easy meal I like to make not only for Chinese New Year, but it fits perfectly into weeknight or weekend meal. I just love to make stir fries because they are quick and the family just loves it.
SHANGHAI CHAO NIAN GAO (炒年糕)
Nian (sticky) gao (cake) is basically a sticky rice cake made with mainly glutinous rice flour. It has become one of the auspicious Chinese New Year foods because of its homophone with other words like nian (year) gao (high), which means may you reach higher every year. This nian gao rice cake is slightly different with the sweet sticky rice nian gao I made.
The sweet version is usually not stir-fried as you can imagine. It's usually cut into slices and pan-fried with eggs or to make this sweet potato nian gao sandwich


This recipe uses plain nian gao log that is cut into slices. They don't have any taste on its own and are meant for stir-fries or "noodle" soup. They are similar to the Korean Tteokguk rice cakes. Both made with sticky rice flour. The Korean version is the only one I can find in our Asian grocery store here and they are usually in the refrigerator section, you may find some in freezer too. Notice that they are labeled as "Rice Cake", but actually they are made with both sticky/glutinous rice and regular rice flour (though more of the glutinous rice flour in composition), but I supposed for simplicity, it is often just called rice cake.
HOW TO PREPARE THE NIAN GAO RICE CAKE OR TTEOKGUK
Once refrigerated, the rice cakes loose their elasticity completely. They turn hard like a rock pretty much and you'll be wondering how can these thing be so stretchy and flexible once heated? Anyway, my point is, don't be shocked! It is that way! Look at this whole block of tteokguk before soaking.

Here's how to get them ready for cooking:
1. SOAK
If you get yours from the refrigerator section, then soak in water for at least 2 hours or you can soak overnight. If you get the frozen version, thaw first and then soak. There is also a dried version, which also requires soaking overnight in the water.


2. DRAIN OFF WATER
Once they are done soaking, drain off the water completely and now they are ready to be used.

HOW TO MAKE THIS EASY CHAO NIAN GAO
1. COOK THE MEAT FIRST
Preheat wok/skillet over high heat and then add cooking oil and cook the chicken (or whatever you choose) first. This will avoid overcooking the chicken. Then dish the chicken out on a plate and set aside


2. AROMATIC AND VEGGIE NEXT
Wipe the skillet/wok clean if needed. Add more cooking oil and bring the heat back and cook the garlic and then add Napa cabbage and then bok choy


3. ADD RICE CAKES, SEASONINGS, BROTH AND THEN COVER WITH A LID


4. ADD THE CHICKEN BACK
Once the rice cakes soften, uncover the lid and give it a stir to mix everything and add the chicken back and stir everything to mix


5. ADJUST TASTE AND GARNISH
Adjust taste to your liking by adding more soy sauce and/or small pinch of sugar as needed. The final taste should be savory. Garnish with chopped green onion


So, what do you think? Not that difficult, is it?


Most Asians like the chewy and soft texture of rice cakes like this. The rice cakes on their own taste plain but once you make them into stir fry, they pick up the taste and flavor of the seasonings and other things you cook them with.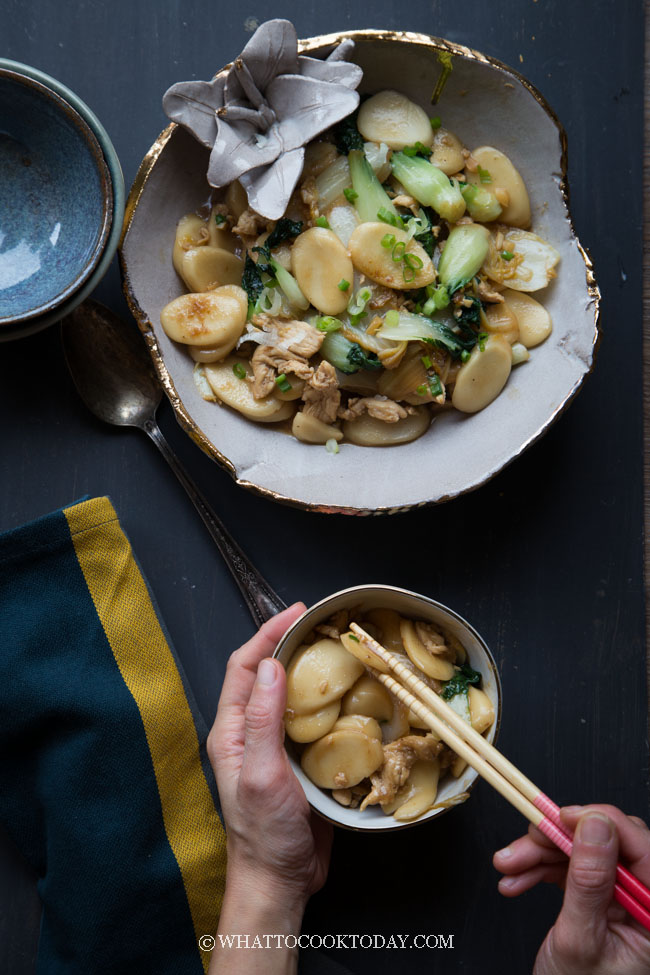 This blog post contains affiliate links. I earn a small commission when you made purchase at no extra cost to you. Learn more.
Easy Chinese Stir-fried Nian Gao Rice Cakes
Ingredients
1

lb

Chinese or Korean Rice Cake

450 gr

2

Tbsp

cooking oil

divided

3

cloves

garlic

finely chopped or grated

8

oz

boneless chicken thighs/breast

250 gr, cut into thin strips (see notes)

5

oz

Napa Cabbage

150 gr, cut into large chunks or shred

3.5

oz

baby bok choy

100 gr

¼

cup

chicken broth
Garnish:
2

stalks

green onion

finely chopped
Instructions
Prepare the rice cakes:
If you get the refrigerated rice cakes or dried rice cakes, soak them in the water for at least 2 hours (overnight for dried rice cakes). If you use frozen ones, thaw in the refrigerator and then soak

Drain off the soaking water and the rice cakes are ready to be used
Marinate the meat:
Place the chicken or meat of your choice in a mixing bowl along with the marinade ingredients and marinade for 30 minutes or overnight in the refrigerator
Cooking:
Preheat a large skillet or wok over high heat. Add 1 Tbsp cooking oil and swirl to cover the base of the skillet or wok. Add chicken and stir fry until the chicken pieces turn opaque and cook through. Dish out the cooked chicken

Wipe the wok clean if necessary. Bring the skillet/wok back to high heat. Add another 1 Tbsp of cooking oil. Add garlic and stir fry for about 20 seconds. Add the napa cabbage and stir fry for about 2-3 minutes. Add bok choy and stir fry another minute

Add rice cakes, seasonings, and broth. Give them a quick stir. Cover with a lid and cook for about 3 minutes or until the rice cakes soften

Uncover the lid and give it a good stir to mix everything. Add the chicken back into the skillet/wok and give it a stir. Have a taste and add more soy sauce as needed

Garnish with chopped green onion and serve warm
Notes
You can use any protein of your choice like ground meat, or slices of beef or pork loin. This dish is also perfect to use any leftover turkey or rotisserie chicken. You can also opt for meatless protein like using extra-firm tofu slices