Juicy minced pork and shrimp are wrapped in wonton wrappers and fried to perfection (or steamed) to resemble ancient Chinese tiny money bags.
MONEY BAG DUMPLINGS
Speaking of Chinese food with auspicious meaning, let me add another one to the bunches, money bag wontons or money bag dumplings. These savory meat dumplings are shaped to resemble the purse used to store gold and silver by the ancient Chinese. Prosperity and wealth are big things in Chinese culture. Money bag wontons are often seen during the Chinese New Year celebration.

HOW TO WRAP MONEY BAG WONTONS
1. Get a square thin wonton wrappers
I only had round wonton wrappers and that's what I used. The square ones will actually make slightly bigger money bags compare to the round one. Either way will work
2. Place the filling in the middle of the wrapper and wet the edge with water


3. Gather the edge towards the middle and slightly twist and pinch to seal while pushing out air while wrapping it


4. Cut pandan leaves into 3 mm strings, about 10-12 cm in length and tie it around the money bags and trim off excess leaf

FRIED OR STEAMED (YOUR CALL)
Of course, my kids like the fried money bag wontons (who doesn't like fried crispy wontons), but these cute little money bags can be steamed too for a healthier version.
TIPS FOR FRYING MONEY BAG WONTONS
1. Control the heat
Fry them over medium heat. You don't want the outside to turn dark before the meat filling is cooked through
2. Fry in an upright position
Make sure you fry them in an upright position to make sure the meat filling, which is at the bottom part of the money bag is cooked through and the pandan leaf don't get burn badly

These money bag wontons are easy to make. The most tedious part is wrapping them and tie the leaf on each one. You can totally not tie any leaf on the money bag too. It's really just more for a presentation.
CAN BE MADE AHEAD
I suggest to fry them or steam them first and then let them cool down completely and place them on a baking sheet lined with parchment paper without touching each other and pop into the freezer for about 1 hour. They won't be completely frozen but can be transferred to freezer bag or container and they won't stick to each other anymore. When ready to be serve you can reheat the fried version in air fryer or oven at 300 F for about 10-15 minutes until crispy. The steamed version can just be easily steamed again over high heat for 10 minutes.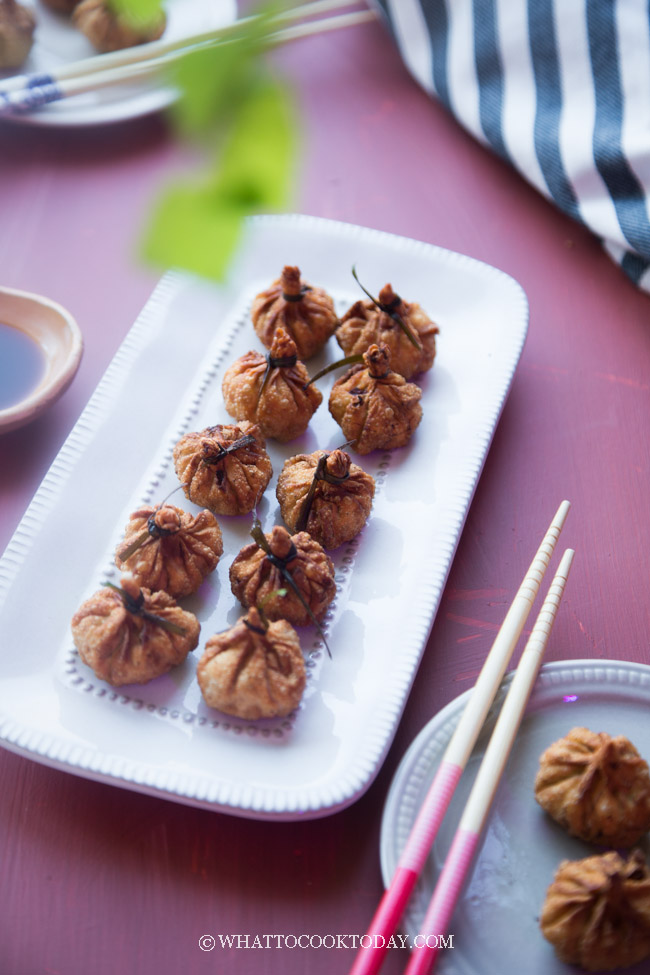 This blog post contains affiliate links. I earn a small commission when you made purchase at no extra cost to you. Learn more.
Chinese Money Bag Wontons (Fried or Steamed)
Ingredients
250

gr

ground/minced pork

200

gr

shrimp

6

water chestnuts

finely chopped
Aromatics:
1

tsp

grated fresh ginger

1

tsp

grated garlic

2

stalks

green onion (green part only)

finely chopped
Soy vinegar dipping sauce:
Instructions
This step is optional. If you want to tie the money bags with strings, soak the pandan leaves in hot water until soften. Wipe dry and cut into about 3mm width strings
Prepare the dipping sauce (optional):
Place all ingredients for dipping sauce in a small bowl and stir until sugar dissolves. Set aside
Prepare the filling:
Place the pork and shrimp in a large mixing bowl. Add the aromatics and seasonings. Use chopsticks to stir the meat in one direction until pasty and everything is combined. Cover with plastic wrap and let it marinade for at least 1 hour or overnight if you have the time
Wrapping:
Place about 1-2 tsp of the filling in the middle. Wet the edges with water. Gather the edges towards the middle and gently twist and press to seal

Use one pandan string to tie the money bag and then trim off the excess leaf. Continue with the rest
Frying:
Preheat about 1-inch oil until it's really hot and then lower to medium. Gently place the money bags into the oil to let them be in upright position. This is to ensure the bottom (the filling part) is cooked through first without burning the pandan leaves. Fry until golden brown, about 2 minutes and then turn over to fry the top part briefly, about 1 minute or less. Remove to absorbent paper towel and repeat with the rest
Steaming:
If you choose not to fry, place the money bags in steamer lined with parchment paper and then steam over high heat for 10 minutes or longer if you make bigger ones
Serving:
Serve as is or with soy-vinegar dipping sauce