Pork floss is wrapped in Chinese spring roll wrappers and then deep fried or baked to give you that crispy savory mini rolls that are commonly seen during Chinese New Year celebration.
Today I'm sharing with you another one of my childhood favorite savory snacks that are usually very popular during Chinese New Year celebration. Like Christmas, the Chinese New Year celebration also involves lots of cookies, desserts, and sweets. We visit relatives' and friends' houses during the first 15 days of Chinese New Year (so we tried!) and each house usually is stocked with jars or containers of cookies, sweets, and sometimes cakes. So imagine by the time I got to the 5th house! I don't even want to look at the cookies and all the other sweet stuff anymore LOL! BUT, I always had room for savory snacks, especially when it comes to mini pork floss rolls like this. Oh yes! You gotta hide them from me so I wouldn't keep munching on them. They are small, they are crispy, they savory…seriously, everything a girl like me is looking for!

PORK FLOSS (ROU SONG)
What in the world is pork floss or even shrimp floss, beef floss, chicken floss? Unless you grew up in Asia or familiar with this local snacks, chances are you won't know what the heck is this meat floss, shrimp floss or fish floss! In Chinese the meat version is called rou (meat) song (floss). In Indonesia, we call this "abon". The most common one is abon sapi (beef floss) because of the large Muslim population in Indonesia. Meat or seafood is cooked until the muscle fiber falls apart and can be torn or shred easily and then partially dried in the oven and stir-fried again until it is completely dry and light in weight. They are seasoned and sometimes made into hot spicy version. Imagine a 10 lbs of meat will only yield approximately about 2 lbs of floss. It is quite a bit of work if you ask me. Meat or seafood floss can be easily found in Asian grocery store and so I do not prepare the pork floss from scratch.
WHAT YOU NEED
You really only need four things (if we count water):
1. Ready-made pork floss (or other kinds of your choice)
2. Spring roll wrappers
3. All-purpose flour mixed with water (to seal the rolls)
HOW TO WRAP MINI PORK FLOSS ROLLS
These mini pork floss rolls aren't hard to make. But let's be honest that it's rather time-consuming. If you have someone to help you wrap, that's the best! I don't! I mean, I do have 2 kids, but I would rather do it on my own ha..ha…!These mini rolls are tiny and especially with my rough big fingers, the rolls just don't look as neat when I wrapped them. But, it can be done!
1. CUT THE SPRING ROLL WRAPPERS INTO SMALLER SIZE
I cut them into 9 smaller pieces, you don't have to make them that small. You can cut them into 4, they will make larger rolls, but still smaller than regular size spring rolls.


2. PLACE THE FLOSS IN THE MIDDLE TOWARDS THE BOTTOM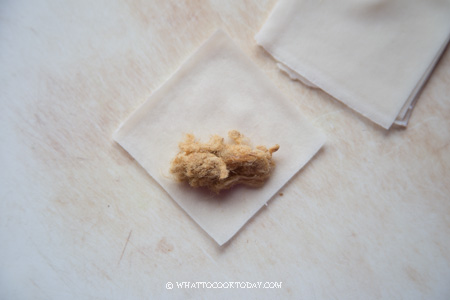 3. ROLL IT UP ONCE


4. THEN ROLL ONCE MORE


5. FOLD BOTH SIDES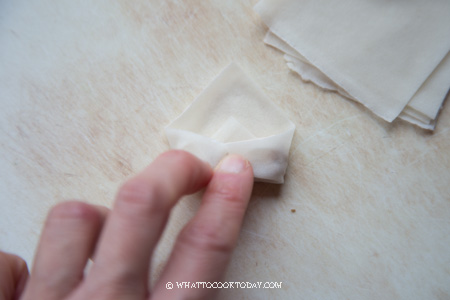 6. BRUSH THE TOP WITH FLOUR PASTE AND THEN ROLL UP ALL THE WAY TO SECURE THE ROLLS


7. THEN DEEP FRY OVER MEDIUM HEAT UNTIL GOLDEN BROWN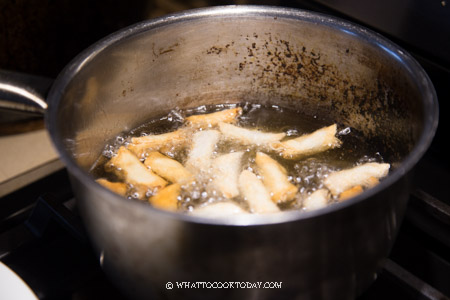 8. PLACE ON ABSORBENT PAPER TOWEL TO ABSORB EXTRA GREASE

BAKE THE ROLLS FOR HEALTHIER VERSION
Preheat oven to 425 F. Line baking sheet with aluminum foil. If you have a wire rack, put this on the baking sheet and then arrange the rolls on top. Lightly brush each roll with a bit of cooking oil. Bake for 10 minutes or until you are happy with the color, lightly golden brown.
WHAT ELSE CAN I USE MEAT FLOSS FOR?
For simplicity, I just refer to meat floss, but really, any kind of floss are great to go with a bowl of plain congee (which was what I used to do as a kid), filling or topping for bread and pastries, filling for spring roll (like in this recipe), or as a snack on its own (which was also what I loved to eat as a kid).

These were gone like so much faster than me wrapping them one by one! LOL!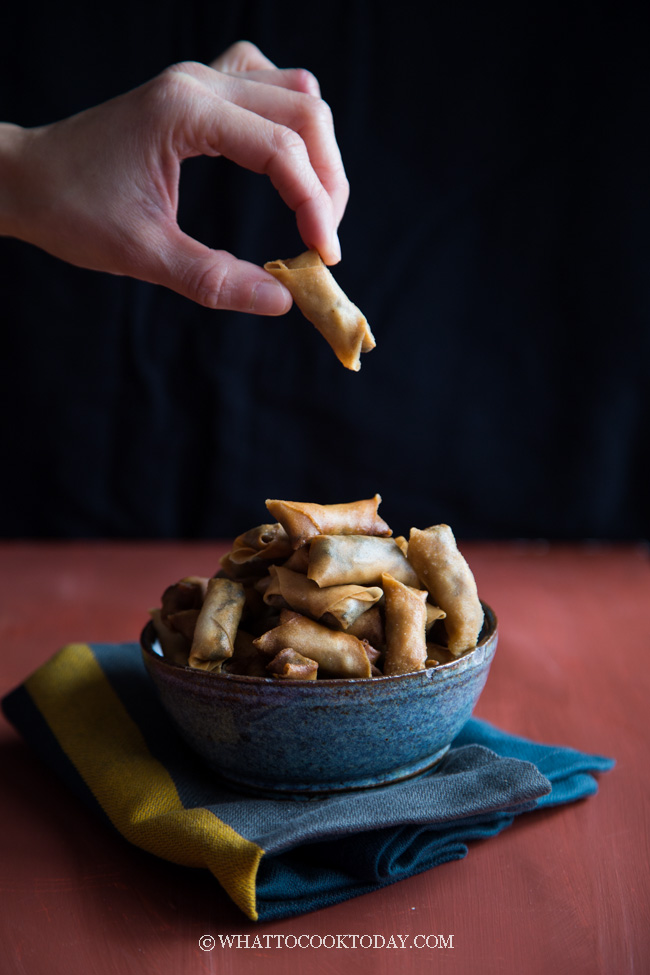 This blog post contains affiliate links. I earn a small commission when you made purchase at no extra cost to you. Learn more.
Easy Crispy Mini Pork Floss Rolls
Ingredients
200

gr

ready-made pork floss

or floss of your choice, you might have a bit leftover

10

sheets

large spring roll wrappers

1

Tbsp

all-purpose flour + 2 Tbsp water

Cooking oil

for deep frying or for brushing the rolls if you bake them
Instructions
Cut the spring roll wrappers into 9 small pieces (or 4 pieces if you want larger rolls, it's up to you)

Place the pork floss in the middle towards the bottom of the wrapper and roll the bottom up and then roll again once and fold both sides. Brush the top with the flour paste and then roll up all the way to secure the rolls. Repeat with the rest
Deep-fried version:
Preheat about 2-inch of cooking oil in a small pot over medium heat. Take care not to fry over high heat, or the floss will get burn inside. Fry until golden brown over medium heat. Fry in batches and try not to crowd the pot

Place on absorbent paper towel. Repeat with the rest
Baked version:
Preheat oven to 425 F. Line baking sheet with aluminum foil. If you have a wire rack, place this on top of the baking sheet. Arrange the rolls on top. Lightly brush each roll with some oil and then bake until golden brown or until you are happy with the color, about 10 minutes or so
Storing:
Let them cool down completely and they can be stored in an air-tight container for up to one week (never last that long in our house though!)