Nian gao and sweet potato slices are made into sandwiches and then deep fried with an eggless crispy batter are perfect for using up the leftover nian gao. Perfect for gluten-free and vegans too.
FRIED NIAN GAO FRITTERS (KUE BAKUL FRITTERS)
Nian gao is abundance during Chinese New Year celebration. Mom always makes sure there are some nian gao around the house. You can read more about what nian gao means for CNY celebration and how I made nian gao from scratch. Most people do not eat nian gao plain just like that, though you could. I used to when I was a kid. I love to eat them plain just like that too. Mom likes to fried nian gao with eggs and also this fried nian gao with sweet potato sandwich.
The nian gao is sliced and then sandwiched in between sweet potato slices (or the other way around) and then dip in batter and fried until crispy. When you bite into it, the nian gao will be soft and stretchy. The sweet potato is soft and slightly sweet. The batter is crispy. If you ask me, it's an amazing combination!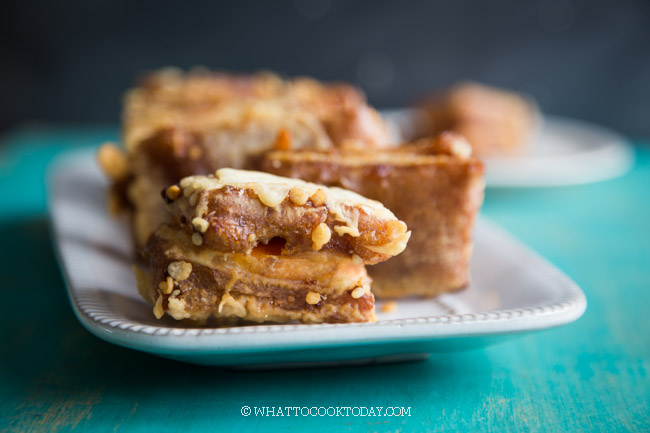 NIAN GAO CRISPY BATTER
Most batter recipes used to make this nian gao sweet potato sandwich have eggs. Not that I have anything against eggs, but I have my favorite crispy batter that stays crispy recipe that is light and crispy. So I used it as the batter for this recipe. You only need: rice flour, ice-cold water, salt, baking powder. You can read all the details on why this crispy batter recipe works on the link above too.
TOP TIPS YOU NEED TO KNOW
1. Don't use fresh nian gao
Freshly made nian gao is very sticky, stretchy and difficult to cut. Nian gao usually can be kept at room temperature for 3 days or sometimes up to 7 days. After that, I like to store them in the refrigerator (up to 6 months). They will get really firm after you store in the refrigerator and very easy to slice to make this recipe after that
2. Check your baking powder
Baking powder is used to make the batter airy in this recipe. Make sure your baking powder is still good. You can check its freshness by taking 1/2 tsp of baking powder and pour 1/4 cup of boiling water over it. If it bubbles up violently, you are good to go, if not, you need to toss it away
3. Only prepare the batter when you are ready to fry
Do not prepare the batter ahead and let it sit around. Only pour the ice-cold water into the flour mixture when your oil is ready to fry and sandwiches are waiting to be dipped into the batter. This will ensure your fried products won't end up getting soggy fast and absorbs too much oil

HOW TO MAKE REALLY GOOD FRIED NIAN GAO SWEET POTATO SANDWICH
STEP ONE: PREPARE NIAN GAO AND SWEET POTATO
1. Slice the nian gao and sweet potato into roughly about equal sizes


2. Place nian gao in between the sweet potato slices or you can do 2 nian gao slices and 1 sweet potato slice sandwiched in the middle (like in the recipe video)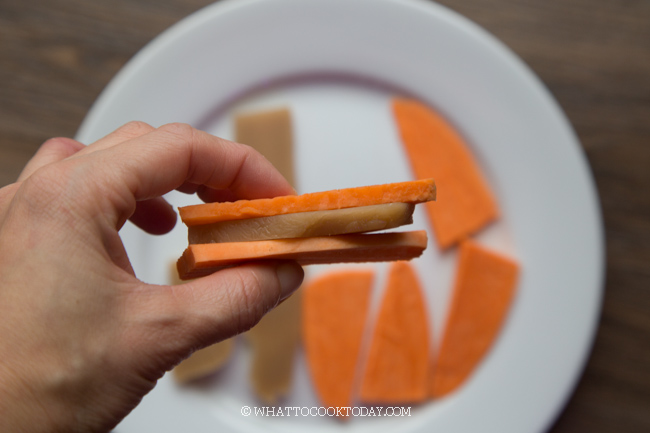 3. Once the sandwich is ready, preheat cooking oil for frying and you can start preparing the batter


STEP TWO: PREPARE CRISPY BATTER
1. Whisk flour, salt, and baking powder in a mixing bowl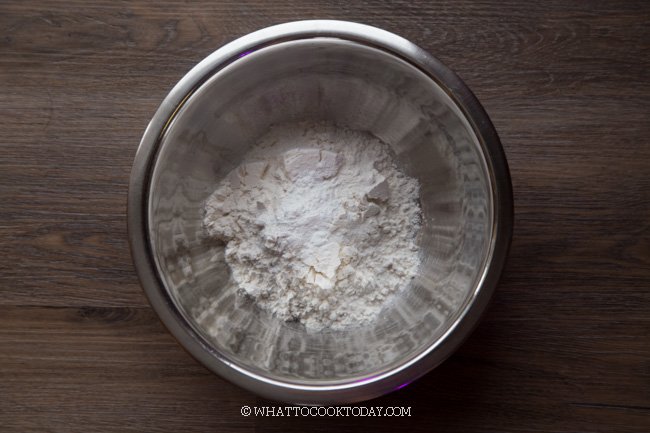 2. Pour in the ice-cold water


3. Stir until combined


4. Dip the sandwich in the batter, make sure it coats evenly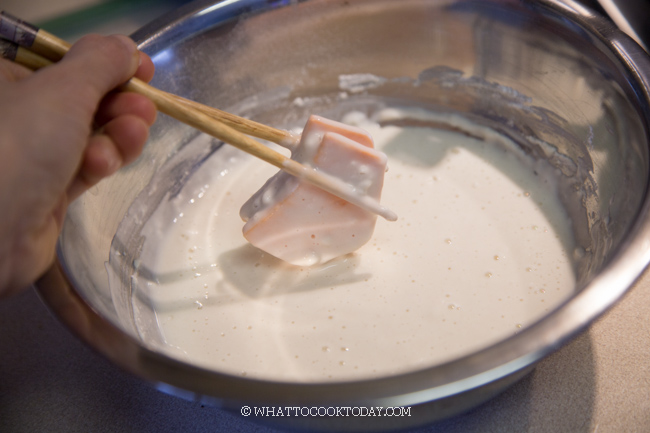 5. Fry over medium heat until golden brown and the sweet potatoes are cooked through, about 3-4 minutes. Fry only 3-4 at the times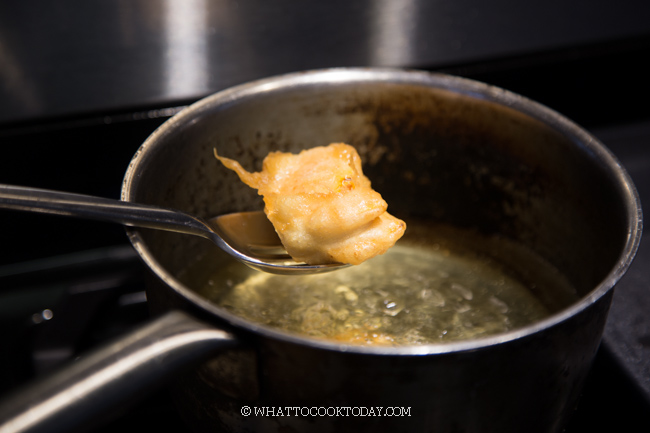 6. Place them in the rack and keep warm in the oven to keep them crispy before serving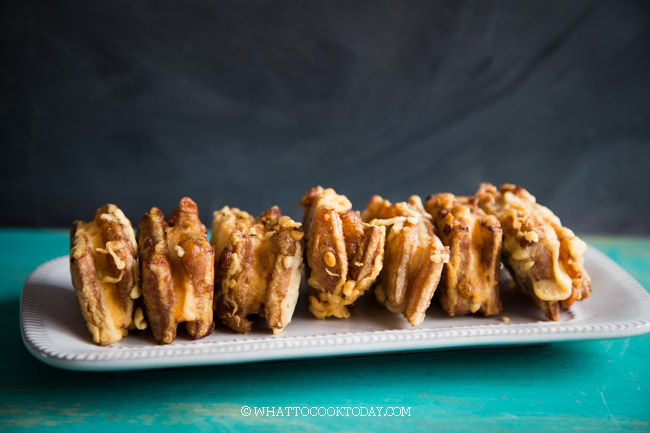 VARIATIONS
You can use other root vegetables like taro, or purple sweet potatoes too.
This is two slices of sweet potatoes with one slice of nian gao sandwiched in between


In the video, I did two slices of nian gao with one slice of sweet potato sandwiched in between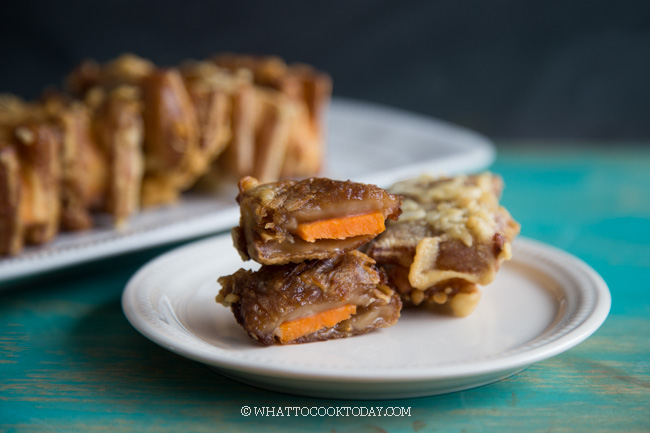 LEFTOVER FRIED NIAN GAO CAN BE KEPT FROZEN
Once they've cooled down, place them on a baking sheet, not touching each other and let them freeze in the freezer for 1 hour, then transfer to freezer bags and they can be kept for up to 1 month
When ready to serve, you can reheat in the air fryer at 350F for 5 minutes or 350F in the preheated oven for 15 minutes or until they crisp up.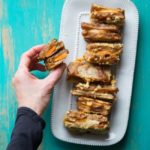 Fried Nian Gao Sweet Potato Sandwich
Ingredients
20

slices

Nian gao

(about 4 x 5 cm piece) see notes

10

slices

sweet potato (peeled)

cut to about the same size with nian gao slices

Cooking oil

for deep-frying
Instructions
Prepare nian gao and sweet potato:
Cut nian gao and sweet potato into about 1/4-inch slices and about the same size. They won't be perfect square or rectangles, but that's okay as long as they are roughly about the same size and thickness
Prepare crispy batter:
Once you have that ready. Prepare the crispy batter by mixing the flour, salt, and baking powder and whisk to mix

Preheat about 1-inch of cooking oil for deep-frying. When you are ready to fry, pour the ice-cold water into the flour mixture and whisk to mix until combined
Frying:
Once the oil is hot, lower the heat to medium, pick up the sandwich and coat it with the batter and fry until golden brown or the sweet potatoes are cooked through, about 3-4 minutes. Make sure the heat is not too high or the outside will brown too quickly before the inside cooked through

Remove and place on an absorbent paper towel, repeat with frying another 3-4 at a time. Place the fried nian gao on a cooling rack in the oven to keep them warm while you are frying the rest. The nian gao sandwich will stay crispy for roughly about one hour at room temperature
Notes
You can use 2 slices of sweet potatos to sandwich 1 slice of nian gao OR 2 slices of nian gao to sandwich 1 slice of sweet potato. It's really up to you and there's no right or wrong here.