Soft and chewy nian gao (sticky rice cake) is coated with a light and airy egg batter and pan-fried to perfection. A great way to use leftover nian gao from Chinese New Year.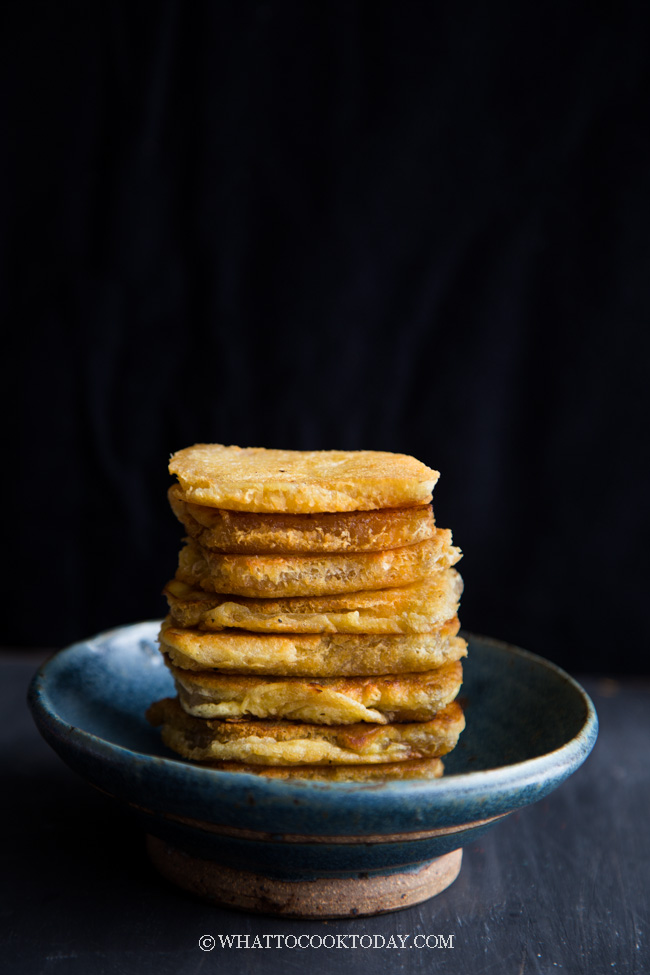 Most people who celebrate Chinese New Year will have leftover nian gao and wondering what they can do with the leftover nian gao. This pan-fried nian gao with egg is an easy recipe that my family loves. Light and airy thin batter coating the outside of nian gao, while soft, chewy and stretchy nian gao on the inside.
NIAN GAO WITH EGG RECIPE
I had this fried nian gao with egg recipe in my how to make Nian Gao post, but I think it deserves a post of its own 😉 This is one of my favorite ways of using up nian gao I made for Chinese New Year. It's super easy and you pretty much have all the ingredients in your pantry already.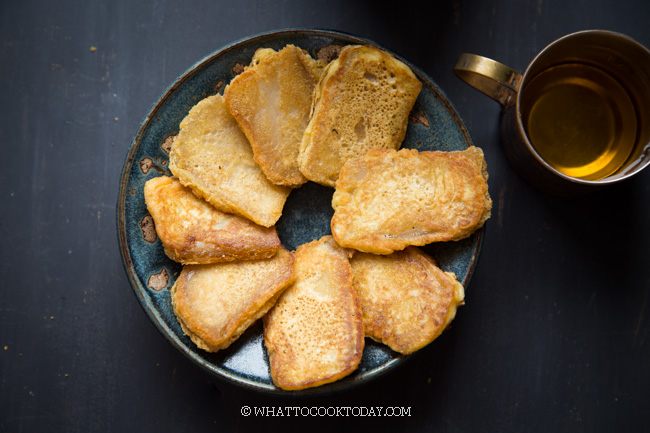 HOW TO PAN FRY NIAN GAO WITH EGG
1. SLICE NIAN GAO AND PREPARE THE EGG BATTER
Pro tips:
-It is best to use nian gao that has been refrigerated, though its possible to use freshly made nian gao too, it's just more difficult to slice because it's soft and sticky.
– Do not slice the nian gao too thick, about 1/4-inch thickness is good
– Only prepare the batter when you are ready to pan fry the nian gao. The batter shouldn't be sitting around for too long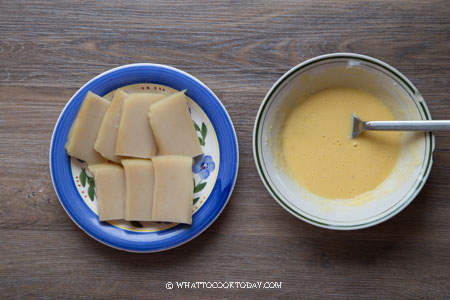 2. DIP NIAN GAO SLICE IN THE EGG BATTER

3. PAN FRY OVER MEDIUM HEAT UNTIL GOLDEN BROWN
Pro tips:
It is important to control the heat so the batter won't get burn while the nian gao on the inside isn't soft and chewy just yet.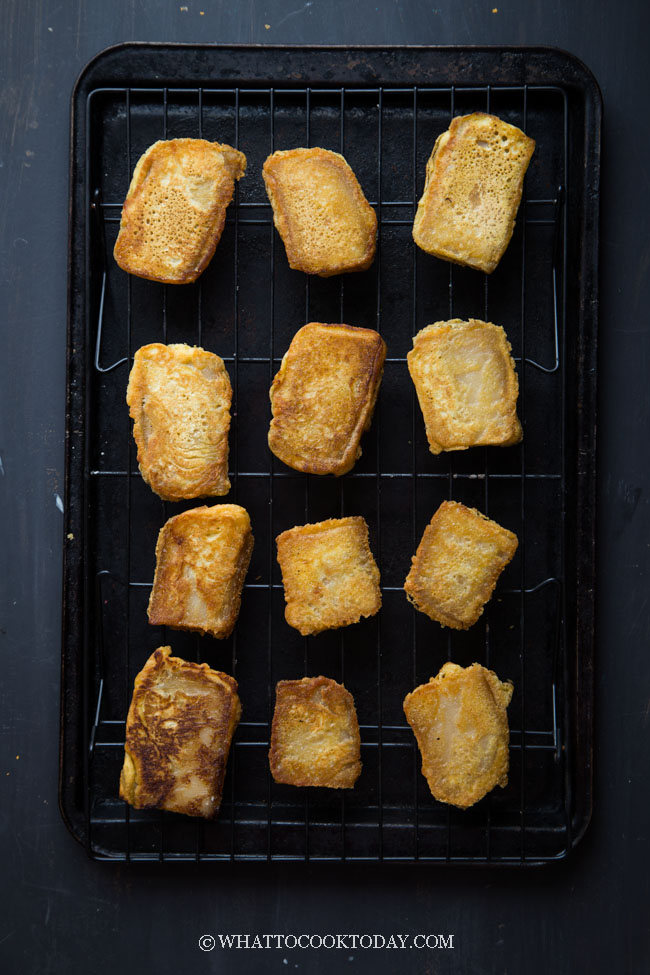 Easy as that!

EGGLESS BATTER
If you prefer to use eggless batter, use this crispy batter that stays crispy recipe that I posted a while ago. It works pretty well too.

HOW TO SERVE
Pan-fried nian gao with egg is usually serve as a "snack". It is usually served immediately after pan-frying as is, without any dipping sauce, not that you need any. Perfect to go with that afternoon tea.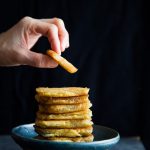 Pan-fried Nian Gao with Egg
Ingredients
12

slices

Nian Gao

about 4 x 3 inch, 1/4 to 1/2-inch thick slice each
Instructions
Remove banana leaves from the nian gao (if any). Cut the nian gao into about 4×3 inch pieces, about 1/4-inch thick

Prepare the batter by whisking all the ingredients. The batter will be slightly thick
Pan-frying:
Add about 2 Tbsp of cooking oil in a large non-stick pan. Heat it over medium heat. Dip the nian gao slice into the egg batter and then place on the pan to fry over medium heat. Do not be tempted to crank up the heat or they will turn dark quickly and the nian gao is still not soft and chewy inside (I used nian gao that has been refrigerated, so it's solid hard). Pan fry until golden brown and remove to absorbent paper towel. Repeat with the rest
Leftover:
If you have leftover, they can be stored in the refrigerator for up to 3 days.For longer storage like in the freezer, simply arrange the fried nian gao on a baking sheet lined with parchment paper, not touching each other and freezer for one hour and then transfer to freezer bag.
Reheating:
If you keep in the refrigerator, simply reheat by in the in the toaster oven, oven, or air fryer at 375 F for 5 minutes to crisp it back up. If frozen, do not thaw, reheat with the same method for 10 minutes
Recommended products: