Crispy Batter that Stays Crispy-Super simple recipe to get a crispy batter that stays crispy for a long time. I find it hard to believe that this is it!
I hate to deep fry food. The splattering oil, my hair, the clothes and pretty much everything else is infused with the smell of grease. I swear if I walk out there people will look at me like a walking fried chicken or something! That's the reason why we got an air-fryer. We hardly deep fry any food, but the air fryer is very useful for crisping up food, heating food, roasting potatoes, and duck, chicken, and other things. Anyway, I'm not here to sell an air-fryer (even though my husband said I had been pitching about it everytime I used the air fryer). Back to the topic, I hate to deep fry but I'm not gonna lie that I enjoy deep-fried food (who doesn't). Every now and then I do have some recipes that required some deep-frying.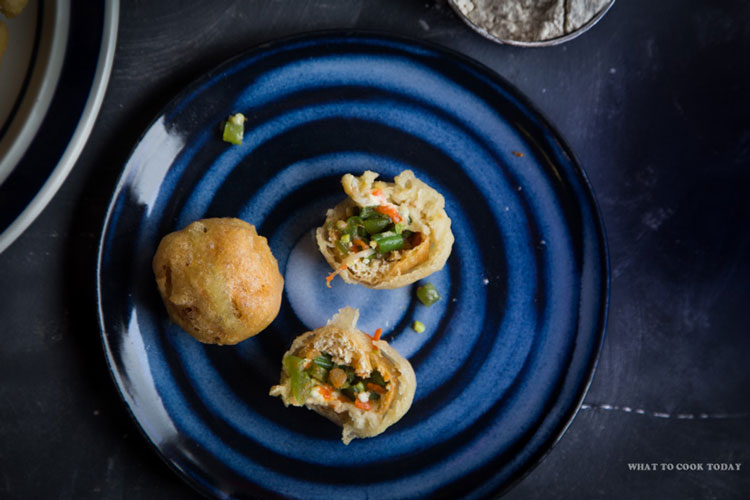 ANY SECRET INGREDIENT THAT MAKES THE FRIED BATTER CRISPY?
No. You only need 4 ingredients to make this batter. All-purpose flour, salt, ice cold water, and baking powder. I found this batter recipe that is so crispy and not only that, it stays crispy even after one hour I let the fried food sit at room temperature.
WHY DOES THIS CRISPY BATTER RECIPE WORK?
If you look at the ingredients, they are nothing peculiar and seriously you don't need to be a rocket scientist. It is all simple science.
1. Ice cold water
The are some arguments about using ice-cold water. Some said it will lower the temperature of the oil too much and resulted in a soggy batter. Some said that the cold batter prevents the flour to absorb the oil too much and therefore resulted in a light crispy batter. Using ice-cold water definitely makes the batter crispy and light (most importantly, stays crispy too!!)
2. Not over-stirring the batter
If you use all-purpose flour, which this recipe does, it has gluten in it and if you over stir the batter, gluten will develop and makes the batter gummy and absorbs a lot of oil when you fry it and you know what's next! SOGGY!
3. Baking powder
The baking powder provides that light and airy-ness to the batter
TIPS TO ENSURE THIS CRISPY BATTER THAT STAYS CRISPY WORKS FOR YOU
1. PAT DRY
Make sure you pat dry the ingredient you are going to fry really dry. Water is a nemesis here. A reader suggested dredging the ingredient in thin layer of flour before dipping into batter and fry. That's a great idea too.
2. MAKE SURE BAKING POWDER IS FRESH
Make sure it is fresh. If you are not sure, scoop about 1/2 tsp of the baking powder and add 1/2 cup of boiling water over it. It should bubble up vigorously. If it's not, it's time to toss it away
WHAT CAN I USE THIS CRISPY BATTER RECIPE FOR?
Pretty much anything that calls for batter. Vegetable fritters, onion rings, potato, seafood like fish, shrimp, oyster, etc.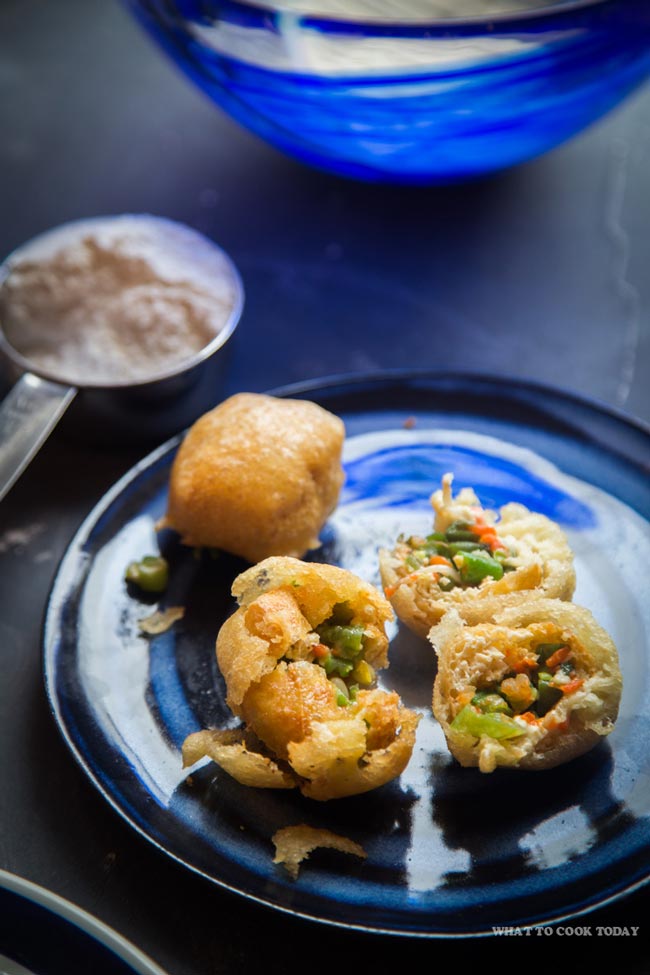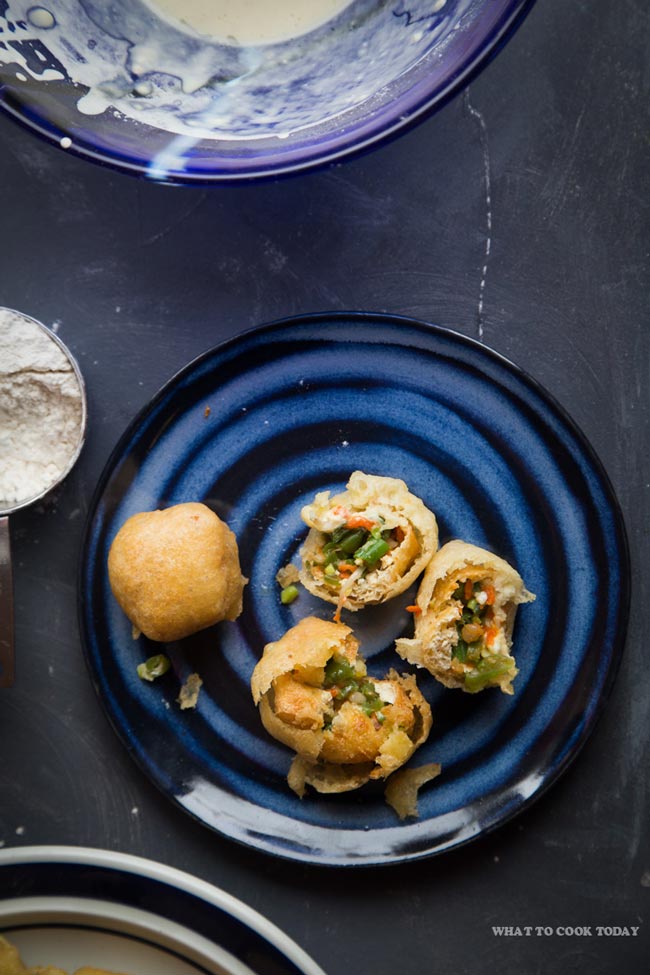 Recipe is adopted from Food.com

DISCLOSURE: This post contains affiliate links, which support this site at no extra cost to you. Learn more.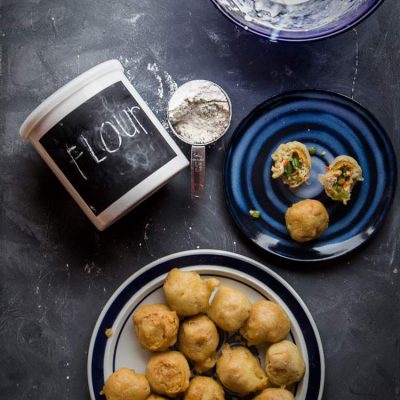 Crispy Batter that Stays Crispy
Super simple recipe to get a crispy batter that stays crispy for a long time. I find it hard to believe that this is it! This recipe is good for about 1 lb food to be fried
PIN RECIPE
PRINT RECIPE
Ingredients
1

cup

all-purpose flour

1

Tbsp

baking powder

1

tsp

salt

1

cup

ice-cold water
Recommended tools:
Instructions
Place the flour, baking powder, and salt in a mixing bowl. Stir to mix everything. Only prepare your batter when you are ready to fry your food. So, preheat the oil for deep-frying in a medium to large pot

When the oil is hot enough. Usually about 375 F if you have deep-fat fry thermometer. Some may require lower temperature, so follow your recipe. Pour in the cold water into the flour mixture and whisk it. DO NOT overmix. It's fine if you see lumps in the batter. If you over mix the batter, it will turn out gummy and absorbs too much oil

Coat the food with the batter and fry the food. Another important note is not to overcrowd and frying too many. If you lower the oil temperature too much, the batter will be greasy, soggy, and almost definitely will not stay crispy (if at all)

You can keep the rest warm in a preheat oven at around 200 F and serve when you are done with frying all. I found that the fried food (in this case fried tofu puffs) stayed crispy at room temperature even after one-hour has passed
Notes
This batter recipe is good for seafood like fish, shrimp, hush puppies, tofu. You can also add spices or seasonings to it if you wish
Make sure the fish or shrimp are patted dry on both sides. This is important so you won't end up with soggy fried fish or shrimp
If using tofu, make sure to press the tofu with a heavy object to make sure you get the moisture out. You'll be surprised by how much water in a tofu. Extra firm is best in this case as less moisture
Some of the items I used to make this recipe:
Thermometer | Deep Pot | Deep Fryer | All-purpose flour

Other recipes with crispy crunchy batter you might like:
Fish and chips


Crispy veggie stuffed tofu (Tahu isi renyah)


Sweet mayonnaise prawn (Mayonnaise udang)